Last Updated on
One definite barrier to home cooking is making the time to actually buy healthy ingredients.
Trader Joe's is the store where I find the most "convenience" foods that are also real foods, so I'm highlighting some ingredients today that can be made into a healthy meal in 5 minutes (or less)! Note: this is not a sponsored post; I'm just a big fan of TJ's. 
Let's get to it, since I want you to read this post and feel so inspired that you immediately want to go shopping for a healthy lunch today, ha.
A bag of pre-washed mild lettuce like this butter and radicchio blend is the perfect base for your 5-minute meal: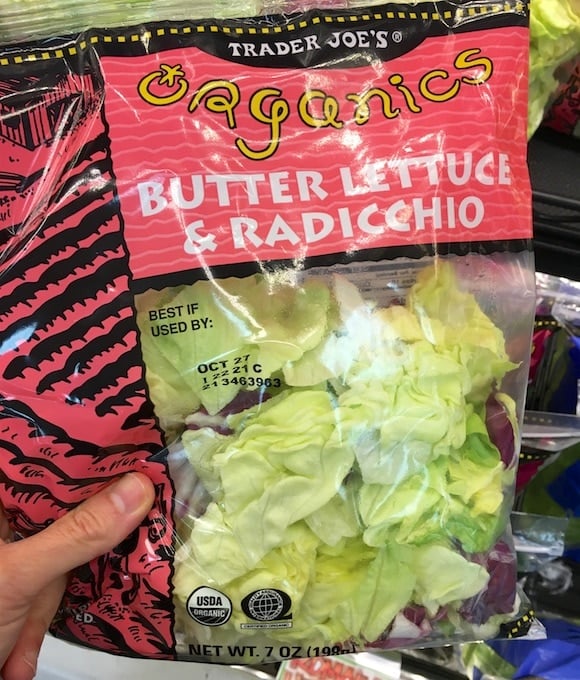 You'll need a big bowl to mix up all of these ingredients. You'll probably have enough for leftovers or for a loved one, too.
To your lettuce, let's just start adding ingredients to make it a satisfying, nutritious meal. I try to eat some cruciferous veg every day, so let's add some of these pre-shredded brussels sprouts (not the whole bag, unless you have an iron stomach; raw cruciferous veggies can be hard to digest for a lot of folks):
These pre-cooked lentils are super convenient, they can be served cold straight out of the container:
For some crunch and healthy fat, these sliced almonds are great, just a tablespoon or so per person is needed:
If you have time to wash and chop a red bell pepper, this will also add some great texture and nutrition to your meal:
I have a sweet tooth, so dried cherries mixed into the salad work well for that:
Going back to healthy fat, I loooove this organic tahini I found at TJ's for the first time recently. It has a mild flavor and it's super spreadable. A spoonful or two can act as a salad dressing:
Finally, there are a few items left that can help round off this salad and make it satisfying enough to last the afternoon. I am loving this wild Alaskan canned salmon that even has an easy flip-top opener:
My vegan friends can go with beans (all TJ cans are made with BPA-free lining):
Or, plant-based friends might also like this eggplant hummus that a lovely blog reader turned me on to after my last Trader Joe's shopping post:
Love this simple ingredient list:
I don't eat that many grains anymore, so I usually get starch in my diet with potatoes. For this 5-minute meal, pre-roasted sweet potato wedges are a life saver (although you'll need to heat them up, they are much tastier that way):
What's a healthy lunch without a healthy dessert? For that, I recommend either dark chocolate:
Or, a handful of grain-free granola, another recent find:
Done and done. I hope you are inspired! Let me know if you like these types of posts and what other stores you might want to go virtually shopping together.