Benefits of Beet Powder + Recipe
This post may contain affiliate links which won't change your price but will share some commission.
Beets are an incredibly healthy food. While many consume beet juice to get the health benefits, there are also some powerful benefits of beet powder. This article reviews the benefits of beet juice powder, plus how to make and use it in your kitchen.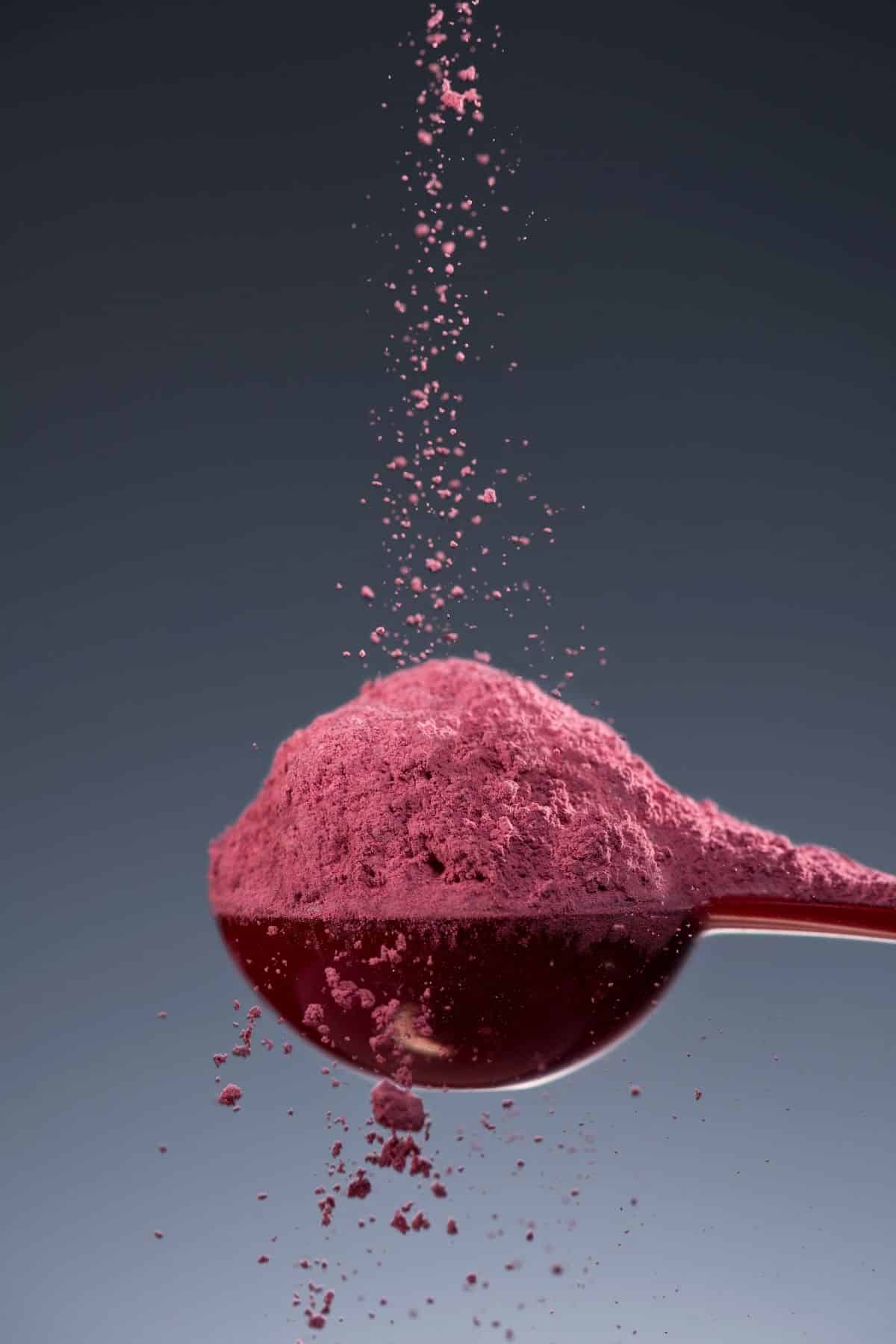 How Beet Powder is Made
To make beet powder, raw whole beets are sliced then thoroughly dehydrated to remove every bit of moisture. The dried beets are then crushed to create a relatively fine powder.
Learn How to Dehydrate Beets.
The fact that the powder is produced from raw beets means that their nutrients are intact – a definite advantage over consuming cooked beets, which tend to lose some of their goodness during the cooking process.
You may also come across fermented beet powder, which some people prefer as the fermentation process creates "good" bacteria that consume most of the beets' natural sugars. Fermented beet powder is also made with dried, organic beetroots.
Buy organic beet powder.
See the end of this article for how to make beet powder at home.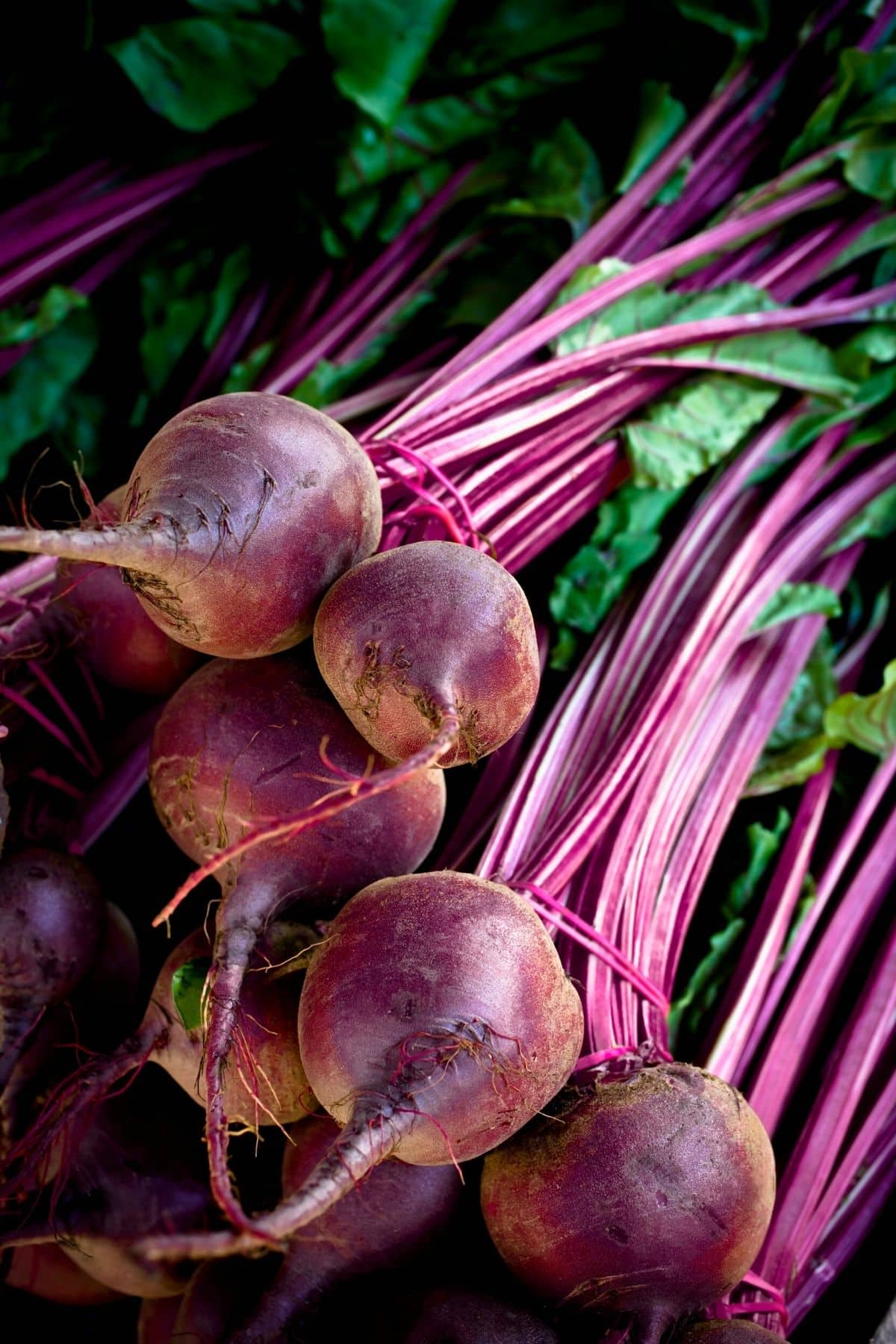 Benefits of Using Beet Powder Over Beet Juice or Whole Beets
1. It's more convenient
Even with the best willpower in the world, few of us have time to prepare everything we eat from scratch. Cooking and consuming whole beets – or using them to make homemade beet juice – is a pretty labor-intensive process. Plus, of course, it involves buying them in fairly large quantities on a regular basis.
Beet powder is more concentrated, with 1 tablespoon equivalent to around 3 medium-sized beets! This makes it much easier to regularly consume the amount you need without all the hassle of preparing beets from scratch.
2. It's less messy
Let's face it – beets have to be the messiest vegetables around, with an unforgiving purple-red color that stains anything it comes into contact with.
This includes everything from your cutting board to your cookware – and, unless you wear gloves, your hands are left bright pink too. Beet powder is just so much easier to use and allows you to get your daily dose without having to clean your kitchen afterward.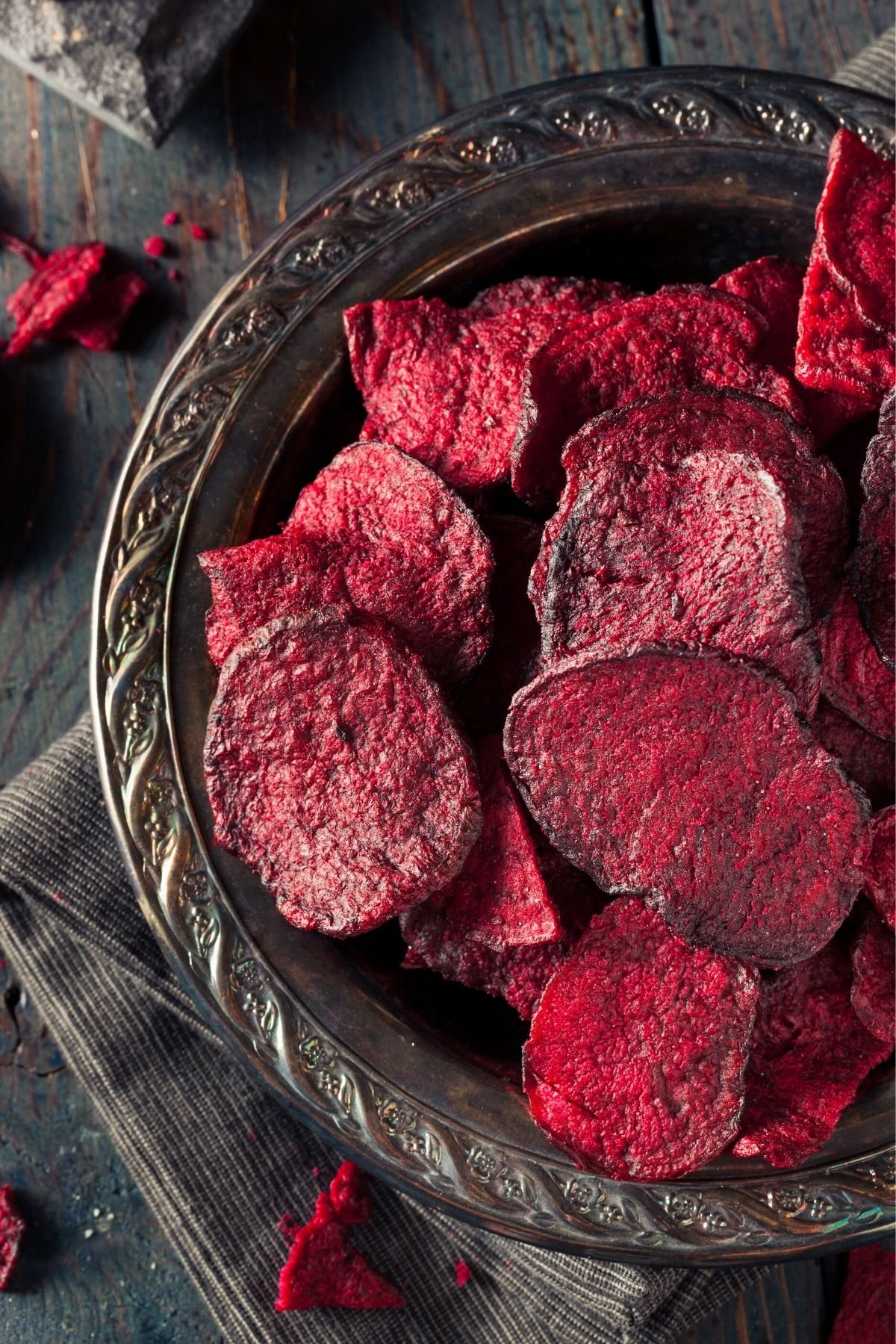 3. It doesn't go bad
Whole beets last in the fridge for a couple of weeks and beet juice will last anywhere from 24 hours to a few days, depending on how it was extracted. Beet powder, on the other hand, has a much longer shelf life.
Stored properly – preferably in a dark-colored, airtight container – beet powder will last anywhere from 6 months to one year without losing its nutritional benefits. 
4. It's more versatile
There are only certain foods or drinks that you can add whole or juiced beets to without significantly affecting their flavor or texture. But it's easy to add beet powder to just about anything, where – apart from adding a nice pop of color – it can go pretty much unnoticed.
This makes beet powder an ideal option for people who don't actually like the flavor of beets.
How to Make Beet Powder at Home
Making your own beet powder is a great option if you happen to grow your own beets and want to make them go further, or if you have some in the refrigerator that you need to use up.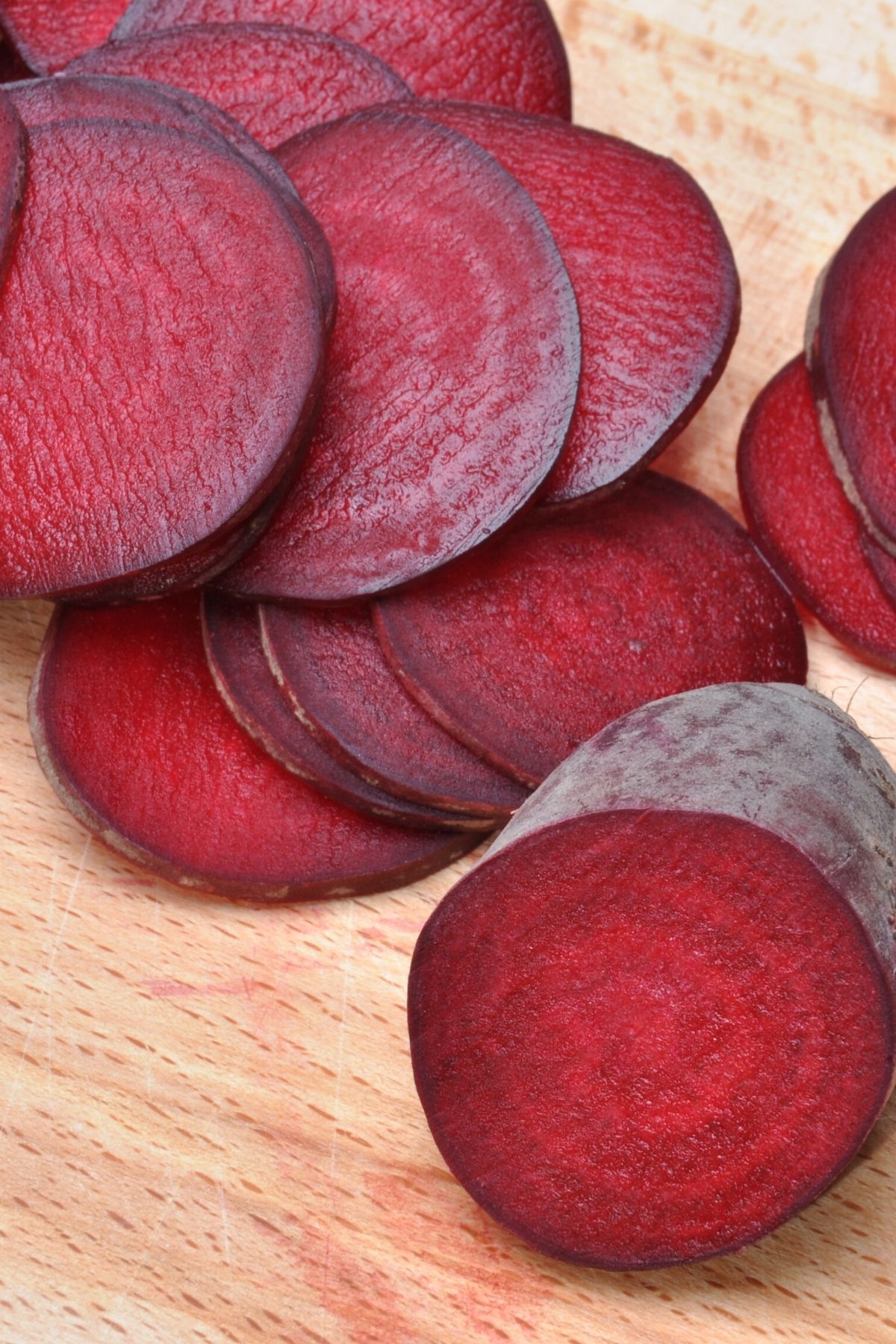 Wash and peel your beets, then cut them into thin slices (a mandoline comes in handy for this).
Dry the slices thoroughly. You can do this in an oven on a VERY low heat, or in a food dehydrator. If you live in the right climate, you can even dry them in the sun, as long as they are adequately covered to protect them from bugs.
Once the beet slices are thoroughly dried, you now have beet chips. To turn them into beet powder, whiz them in a powerful food blender until fine.
You can store your homemade beet powder in a dark-colored, airtight container for up to one year.
How to use beet powder in your kitchen
Beet powder has a pleasantly earthy flavor and a subtle sweetness that means it mixes well into all sorts of foods and drinks. Here are some of my favorite ways to use it:
Stir it into water for a quick and easy drink.
Add it to smoothies. Remember that just one teaspoon is equivalent to one whole beet, so you get lots of bang for your buck.
Use it as a natural and healthy food coloring in baked goods, frosting, and more.
Add it to your morning oatmeal.
Stir it into your pancake mix.
Add it to curries and sauces – it really deepens the color.
Add it to regular hummus to create a healthy and attractive beet hummus.
Use it to turn kid food a pretty shade of pink. They'll love pink applesauce, for example.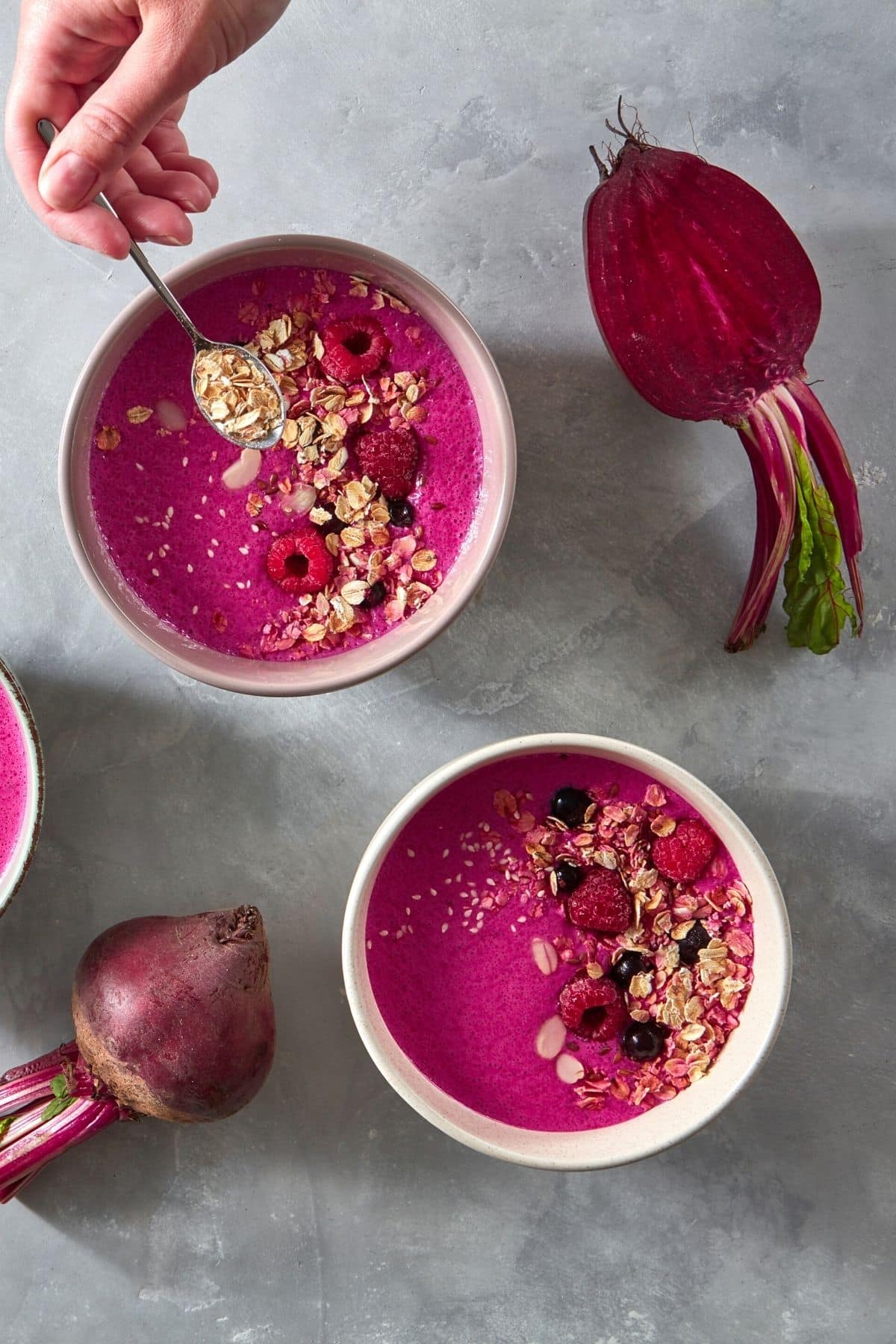 More Beet Juice Resources You Might Like
More Helpful Dehydrator Guides
Print
Benefits of Beet Powder
Here's how to make homemade beet powder in your kitchen.
Total Time: 12 hours, 20 minutes
Yield: 40 1x
1 pound fresh whole red beets, scrubbed well and patted dry (about 4 medium sized beets)
Instructions
Use a sharp knife to cut off the tops and bottoms of the beets.
Then, use a mandolin or your knife to slice the beets thinly.
Place the beet slices on two baking sheets, trying not to overlap the slices. You can also put them on dehydrator trays.
Then, bake or dehydrate the beets at 180°F, or on your oven's lowest setting. It may take up to 24 hours to get the beet slices completely dried out.
Then, place the dried beet slices into the bowl of a food processor fitted with the S blade. Process on high for about 30-45 seconds, or until the beet slices have transformed into a fine beet powder.
Transfer the beet powder to an airtight container and store in the refrigerator for up to several months.
Notes
As beets tend to stain, you may wish to wear plastic gloves when working with fresh beets.
Nutrition
Serving Size:
Calories: 5
Sugar: 0.8 g
Sodium: 8.8 mg
Fat: 0 g
Saturated Fat: 0 g
Carbohydrates: 1.1 g
Fiber: 0.3 g
Protein: 0.2 g
Cholesterol: 0 mg
Keywords: beet powder uses, beetroot powder recipes, how to make beet powder
Conclusions
Whilst preparing fresh beets on a daily basis is more work than most of us want to commit to, adding a scoop or two of beet powder to our food or drinks couldn't be any easier! It really is the perfect way to reap all of the benefits of these vibrant and versatile little veggies, with none of the mess that usually goes with them!
If you like this post, consider following me on social media so we can stay connected. I'm on Facebook, Pinterest, Instagram, and YouTube!
About the Author: Carrie Forrest has a master's degree in public health with a specialty in nutrition. She is a top wellness and food blogger with over 10 million annual visitors to her site. Carrie has an incredible story of recovery from chronic illness and is passionate about helping other women transform their health. Send Carrie a message through her contact form.
Note: this post is for informational purposes only and is not intended as medical advice. Please consult your healthcare provider for recommendations related to your individual situation.
This post may contain affiliate links which won't change your price but will share some commission. We are participant in the Amazon Services LLC Associates Program, an affiliate advertising program designed to provide a means for us to earn fees by linking to Amazon.com and affiliated sites.