Best Ceramic Cookware Sets 2023
This post may contain affiliate links which won't change your price but will share some commission.
Home chefs have more safe and healthy cookware options than ever before. Ceramic cookware is one of the most popular options these days. This article reviews the best ceramic cookware sets in terms of value, versatility, appearance, storability, and functionality.
What is Ceramic Cookware?
Ceramic nonstick cookware is exploding in popularity. Ceramic nonstick cookware is actually standard metal cookware (usually anodized aluminum) that has been coated with a layer of ceramic material. In some cases, the ceramic layer is then coated with a layer of silicon for additional non-stick functionality.
Ceramic cookware is considered to be quite similar to non-stick cookware in the way that it works. The benefit of using ceramic over traditional nonstick pots and pans is that ceramic is believed to be less toxic.
Most brands of ceramic cookware is dishwasher-safe and can be used in the oven up to a certain temperature (each manufacturer will have different recommendations).
One of the biggest appeals of ceramic cookware are the variety of colors that they come in. They can also be made to have a white cooking surface which offers a nice alternative to the ordinary black cooking surface of regular nonstick options.
Is Ceramic Cookware Safe?
While ceramic cookware is generally touted as a safer option that other coated nonstick pots and pans, there is little research to prove whether it is truly safer.
Because ceramic cookware is not coated with materials like Teflon, it contains no Perfluorooctanoic Acid (PFOA) or Polytetrafluoroethylene (PTFE). Both PFOAs and PTFEs have been found to release toxic fumes at high heat, though there is not enough research to definitively prove it is dangerous for cooking.
Read more about what is the safest cookware.
Benefits
Nonstick cookware, especially ceramic-coated cookware like we're discussing in this article, can be a great addition to your kitchen.
It's easy to clean. Due to its nonstick coating, ceramic cookware is a breeze to clean up. Simply rinse and dry. Most ceramic-coated cookware is also dishwasher-safe.
It's great for healthier cooking. Less oil is needed when cooking with ceramic cookware, which means fewer calories.
It's affordable. Avoiding potentially harmful materials like Teflon used to mean shelling out a ton of money for stainless steel or copper cookware. Ceramic cookware contains no Teflon and is a fraction of the price of other materials.
Drawbacks
For all its potential benefits, there are still some drawbacks to ceramic cookware.
It may not be durable. All nonstick coatings eventually start to fade away, and there is little research to prove that ceramic cookware avoids this potential issue. You'll need to be careful not to scratch the ceramic coating over time.
It may not be non-toxic. Not much research has been conducted on ceramic cookware. Ceramic cookware doesn't contain potentially harmful PTFEs or PFOAs, but that doesn't mean it's automatically safer.
It may not be better for the environment. Despite claims that ceramic cookware is more environmentally-friendly, there is nothing to prove this.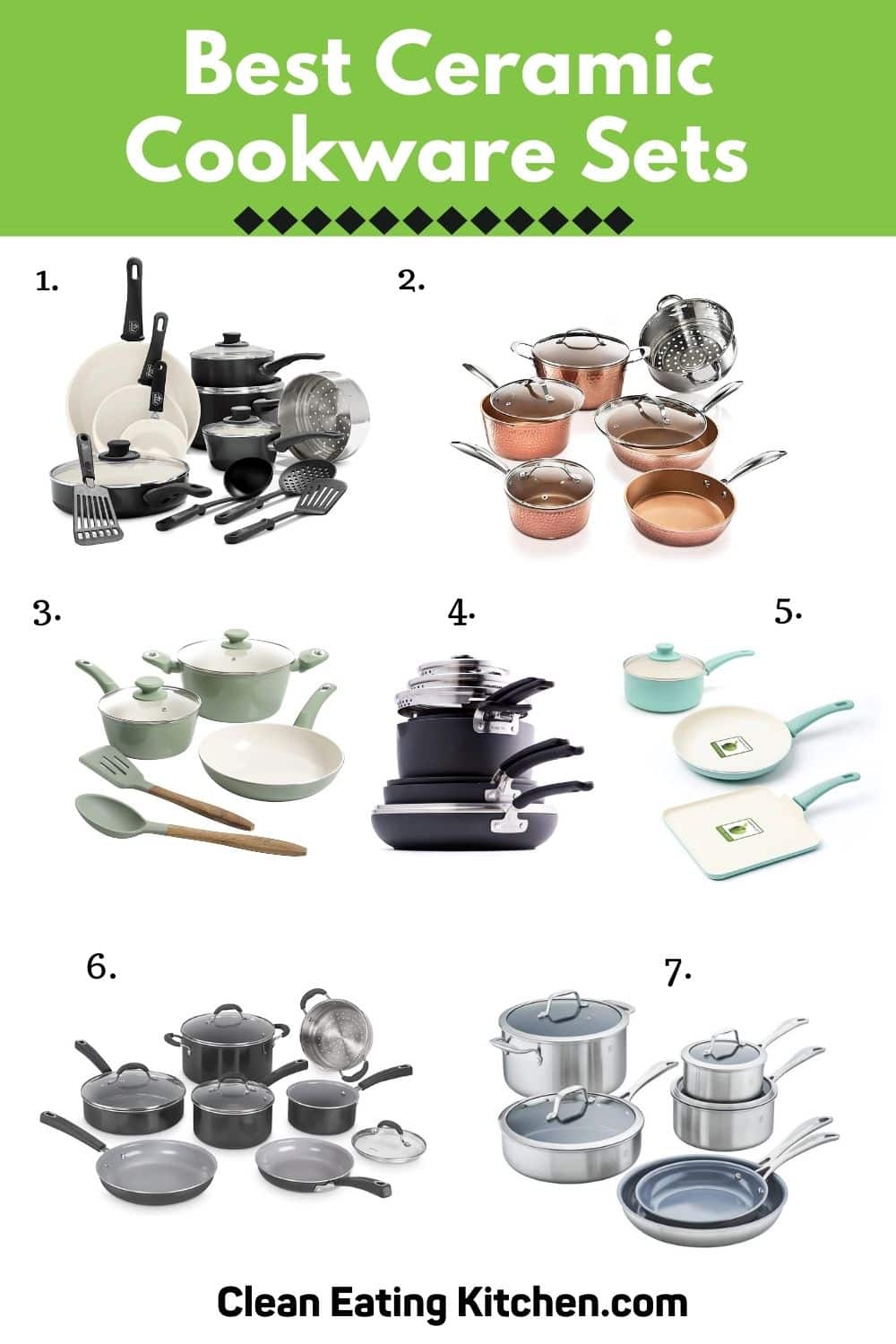 Best Ceramic Cookware Sets
Here are our picks (in no particular order) for the best ceramic cookware sets based on a variety of factors.
1. Best Value
GreenLife Soft Grip Healthy Ceramic Nonstick, Cookware Pots and Pans Set, 16 Piece
Under $100, this 16-piece cookware set comes in 8 different colors and features cool-touch handles. As a bonus, the cookware is made with recycled aluminum and is lead-free and cadmium-free.
The GreenLife pots and pans are dishwasher-safe, but they are only oven-safe to 350 degrees F. Overall, though, this set is an excellent value for the money.
2. Most Versatile
Modeled after traditional hammered copper cookware, this Gotham 10-piece set looks pricier than it is at just over $100. This set is oven-safe up to 500 degrees F to allow for easy stovetop-to-oven cooking.
Not only does this set look beautiful, but it is versatile and functional.
3. Best Look
Gibson Home Plaze Café' Forged Aluminum Non-stick Ceramic Cookware with Induction Base and Soft Touch Bakelite Handle, 7-Piece Set
This Gibson ceramic-coated nonstick set comes in three pastel colors perfect for any home kitchen. With matching utensils, this set is pretty enough to leave out of the cupboard.
4. Most Practical for Storage
GreenPan Levels Stackable Hard Anodized Ceramic Nonstick, Cookware Pots and Pans Set, 11 Piece
Don't sacrifice quality or looks because you're short on space. This sleek 11-piece set is stackable, to save you space in your kitchen.
This GreenPan stackable set is pricey for ceramic cookware, but it's sure to please.
5. Best Basic Set for Beginner Cooks
GreenLife Soft Grip Absolutely Toxin-Free Healthy Ceramic Nonstick Dishwasher/Oven Safe Stay Cool Handle Cookware Set, 4-Piece
Ceramic cookware is perfect for beginners. Easy clean up means more incentive to cook! This 4-piece set has everything a casual cook needs, with bonus cool touch handles.
If you're shopping for a college student or young adult, this may be the set to buy.
6. Best for Everyday Cooks
Cuisinart Advantage Ceramica XT Cookware Set
Everyday cooks need convenient and reliable cookware. This set offers a variety of sizes along with neat features like tapered rims and tempered glass lids.
If you're looking for a brand name and a set that gives you everything you need, this Cuisinart set is your best bet.
7. Best Set for Advanced & Experienced Cooks
Zwilling J.A. Henckels Spirit Ceramic Nonstick Cookware Set, 10-pc, Stainless Steel
This 10-piece set combines the beauty and durability of stainless steel with the nonstick of ceramic.
Experienced cooks will find it well worth the investment as you get a high-quality product with a trusted brand name.
Bonus Recommendations
While not available on Amazon, the Caraway brand of ceramic cookware and bakeware is very popular. Caraway comes in a variety of colors and is popular with influences on Instagram.
FAQs
What are the dangers of ceramic cookware?
Ceramic cookware has not been widely researched. There is currently no scientific evidence that it is safer or more dangerous than other nonstick options.

Ceramic cookware does not contain PFOAs or PTFEs, which have been linked to potential health issues at high temperatures, so it may put health-conscious consumers at ease.
Is ceramic titanium cookware safe?
Titanium is one of the safest materials for cookware. Keep in mind that due to lack of scientific evidence, there is no way to know for sure if ceramic coatings are safe. 

When purchasing ceramic cookware, it's worth making sure the base material is safe. Look for anodized aluminum, titanium, or stainless steel ceramic cookware.
More Cookware Resources You Might Like
Conclusions
Ceramic cookware is a newer nonstick technology that does not contain potentially harmful PFOAs or PTFEs. It's a great option for all home kitchens and makes cooking and clean up easier. With so many different sets to choose from, this article does the work for you.
If you like this post, consider following me on social media so we can stay connected. I'm on Facebook, Pinterest, Instagram, and YouTube!
This post may contain affiliate links which won't change your price but will share some commission. We are participant in the Amazon Services LLC Associates Program, an affiliate advertising program designed to provide a means for us to earn fees by linking to Amazon.com and affiliated sites.