Best Low Acid Coffee
This post may contain affiliate links which won't change your price but will share some commission.
Many people find they are sensitive to the natural acids in coffee, especially if they have issues with GERD or heartburn. Learn the best low acid coffee so that you can still enjoy your favorite morning beverage!
Benefits of Low Acid Coffee
Did you know the average cup of coffee has a pH balance between 4.85 and 5.10? If you're drinking several cups of coffee each day, that can wreak havoc on your stomach, digestion, and even your tooth enamel. Learn more about heartburn and coffee.
Many people love to start their day with a cup of coffee, but those of us who have sensitive stomachs, issues with acid reflux or GERD, or Irritable Bowel Syndrome (IBS), want coffee without so much acid too upset our systems.
That's where low acid coffee comes in! Certain roasts are lower in acid. For example, dark roast coffee is less acidic because it contains fewer compounds that cause your stomach to produce acid. The roasting process helps reduce coffee acidity including chlorogenic acid, quinic acid, and others.
Beans that are 100% Arabica are also lower in acid than their fellow Robusta beans. Interestingly enough, certain regions grow naturally reduced acid coffee beans, such as Sumatra, and parts of Central and South America: Mexico, Nicaragua, Guatemala, Brazil and Peru.
However, most low acid coffee brands go through a process to diminish the level of acid in the brew. For the ultimate taste and experience, look for low acid coffee that is processed naturally with a steam water process.
So whether you suffer from acid reflux, GERD, or just want to be gentle on your belly, these six different low acid coffees will perk you up without the pain!
How To Make Delicious Low Acid Coffee Drinks
The good news about low acid coffee is that you can brew your favorite low acid coffee brand with your preferred method: drip, Moka pot, French press, pourover, etc.
You can also make your favorite espresso drinks with low acid espresso as you normally would. The key to reducing the acid is less about the method of preparing the coffee and much more about which type of beans you use.
Best Low Acid Coffee Brands
To help you narrow down the vast selection of low acid coffee beans, here are my favorite best low acid coffee brands. You may also like my article with the best low-acid coffee at Starbucks.
The "Dark as Night" French roast boasts rich, bold flavor that's gentle on your stomach.
Using all natural water and steam processes to remove the naturally occurring acids from each coffee bean, Trücup coffee is a low acid coffee that can be gentler on the stomach. The brand can likely work for anyone with a sensitive stomach, GERD, peptic ulcer or gastritis.
Compatible with most single-cup coffee brewers.
2. Best Low Acid Instant Coffee: VitaCup Perfect
This dark roast instant coffee is perfect for travel or a busy on-the-go morning. This blend has a deep chocolatey flavor that is certified USDA organic! Just add water, mix, and head out the door.
For a luxurious cup, add it directly to your favorite dairy beverage instead of water. I love this DIY Vanilla Hemp Milk with mine!
3. Best Low Acid Whole Bean: Puroast Coffee
Puroast Coffee boasts 70% less acid than leading coffee brands with traditional beans. These whole beans have a bold, rich taste without any bitterness.
This brew is great for anyone who might have a sensitive stomach, digestive issues, or acid reflux.
4. Best Low Acid Ground Coffee: LucyJo's Coffee
LucyJo's Coffee is a small batch coffee roaster that's family owned and operated in a Certified Organic facility in upstate New York. Their Sumatra roast is a rich dark roast with hints of chocolate and cherry while remaining low in acid.
You can support small business, the earth, and your belly with this brew. Try it as a Protein Coffee for a great healthy option.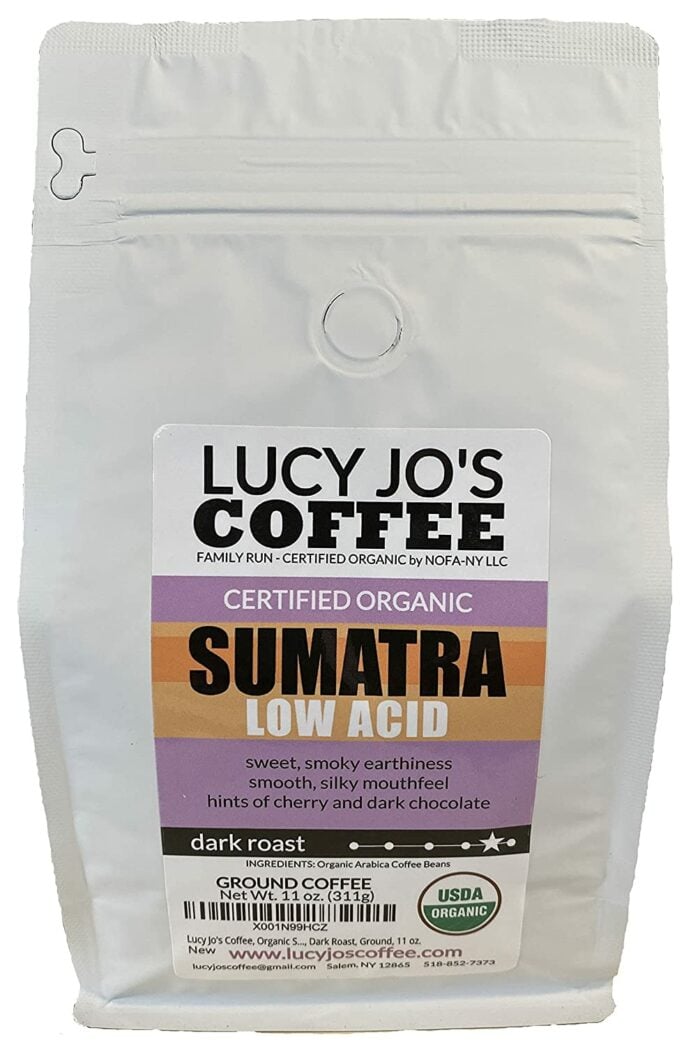 Mastermind Coffee's certified organic dark roast espresso will give you the jolt you need in the morning without the upset tummy.
The blend has a nutty, chocolatey flavor that pairs well with your favorite non-dairy milk or on ice. This summer I've been enjoying my low acid espresso as an iced americano, and it's a great way to beat the heat!
6. Best Low Acid Decaf Coffee: Fabula Coffee
I've cut back on caffeine over the years. On the days where I don't really need the extra boost of energy, I love this decaf medium roast from Fabula.
It's low acid, decaffeinated by Swiss water process, and does not skimp on flavor! It's also certified USDA organic, non-GMO and fair trade. Good for our bellies and our planet.
Bonus Recommendations
If you still find that you are having heartburn or symptoms of gastroesophageal reflux disease with these top picks, you may need to speak with your healthcare professional.
Or, you could also try enjoying your coffee in a decaf version or as a cold brew coffee. Some of these changes can help reduce the ph level and create less acidity in the final cup of coffee.
FAQs About Low Acid Coffee
Are lighter roasts lower in acid?
Actually, the opposite is true! Dark roasts, French roast, and medium-dark roasts are lower in acid than light roast. For bold flavor with lower acid, try a dark or french roast bean. Lighter roasts have higher amounts of acidity overall. Learn more about how to reduce heartburn from coffee.
Can I use a French press for low acid coffee?
You can! Low acid coffee can be brewed in your favorite coffee maker, including a French press.

For convenience, you can purchase low acid ground coffee, or if you buy low acid whole beans you can grind them at home fresh every morning. See my list of the best coffee for a French press.

Or, you can also try making my Herbal Coffee recipe.
Can someone with Irritable Bowel Syndrome (IBS) drink low acid coffee?
For those who suffer from irritable bowel, it's often advised to skip the morning coffee or limit to one cup. But it turns out that you may just need to adjust the type of coffee you drink.

While you should check with your doctor first, people with mild IBS should be able to drink low acid coffee with no trouble. I like my low acid coffee with a little bit of non-dairy milk in my favorite mug!
More Helpful Coffee Resources
Conclusions
Low acid coffee is a great alternative when you want the delicious flavor and feel of coffee but with less acid. Whether you're sensitive to acid or not, these low acid coffees are delicious. Almost everyone can enjoy low acid coffee!
If you like this post, consider following me on social media so we can stay connected. I'm on Facebook, Pinterest, Instagram, and YouTube!
About the Author: Carrie Forrest has a master's degree in public health with a specialty in nutrition. She is a top wellness and food blogger with over 10 million annual visitors to her site. Carrie has an incredible story of recovery from chronic illness and is passionate about helping other women transform their health. Send Carrie a message through her contact form.
Note: this post is for informational purposes only and is not intended as medical advice. Please consult your healthcare provider for recommendations related to your individual situation.
This post may contain affiliate links which won't change your price but will share some commission. We are participant in the Amazon Services LLC Associates Program, an affiliate advertising program designed to provide a means for us to earn fees by linking to Amazon.com and affiliated sites.