Baked chickpeas are a great way to add some crunch to your life, whether as a crispy snack or, my new favorite way, as a topping for salads. I made a cinnamon version last year in a recipe you can see here, but I've updated the recipe to a zestier version that Alan, my husband, dubbed "Chickpea Croutons."
Even though I generally don't use oil in my cooking, this recipe works much better with some oil to get the crispiness; I recommend using coconut oil. I also used 1/4 teaspoon of salt (another usual no-no in my cooking), but a minimal amount used with the other spices is just enough.
These Chickpea Croutons are easy-peasy to make, you just combine everything in a big bowl:
I like to spread them on a parchment-lined cookie sheet for baking (makes for easier clean-up). After about 45-50 minutes in a 400 degree oven, here's what you get:
On another note, it doesn't get much more charming than a stand that runs on the honor system and is guarded by a sleeping puss: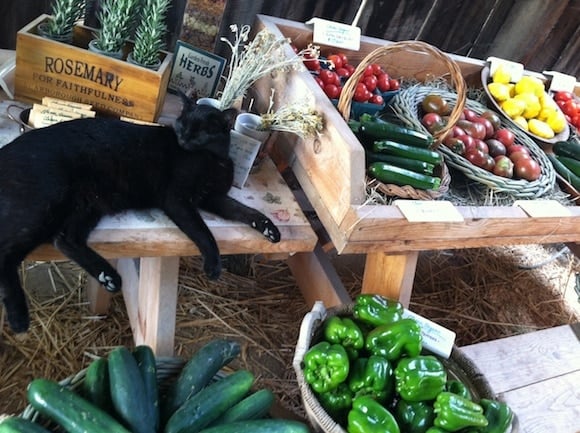 Print
Chickpea Croutons
---
Author:

Carrie Forrest, MBA/MPH

Yield:

8
Ingredients
2 (15-ounce) cans of garbanzo beans or 3 cups
2 tablespoons coconut oil (liquified)
1 teaspoon smoked paprika
1/4 teaspoon cayenne pepper
2 teaspoons Ceylon cinnamon
1/4 teaspoon garlic powder
1 tablespoon dried onion
1/4 teaspoon salt
---
Instructions
Preheat oven to 400 degrees. Rinse and drain garbanzo beans and place in a large mixing bowl.
Pour coconut oil over the beans and use a spatula to stir. Add the spices and stir again to combine.
Spread the chickpeas on a parchment-lined baking sheet and bake for 45-50 minutes, being careful not to let them burn.
Serve hot or at room temperature.
Until Friday, stay cool, take a nap, and eat your veggies. 🙂
My goal is to provide inspiration for healthy, balanced living. You can find more links on my Recipes and Resources pages.
I'd love to have you follow me on my social media accounts, too @carrieonliving: Facebook, Instagram, Pinterest, and Twitter. 
P.S. I also have a Carrie on Living Amazon affiliate store where I list all of my favorite beauty items, kitchen devices, books, and other cool stuff that supports my lifestyle. Your purchase of any item on Amazon helps support my blog so thank you in advance.