I've written a lot about green smoothies before including my Collard Green Smoothie, my Cantaloupe & Spinach Smoothie, and my Sweet Watercress Smoothie. Today, I present you with my Choco-Green Smoothie:
This recipe is an evolution of my Energizing Green Smoothie, but uses cocoa powder for that rich, chocolatey-flavor.
By the way, I've recently updated my thinking on chocolate after watching what Dr. Greger has to say about it. In particular, I thought this video on using cocoa powder to treat chronic fatigue syndrome was fascinating (I don't have CFS, but I was still won over by the data):
I start my smoothie-making process the same each time with some unsweetened non-dairy milk. A high-speed blender takes it from this:
To this, in no time flat:
You wouldn't necessarily want to drink this milk plain because it will taste pretty grassy (I can't think of any other way to describe it) and will separate easily, but it works perfectly as a base of a green smoothie. My ratio is about 1/4 cup seeds (any combination) to 3 cups water.
While I try to get fresh fruit from the farmers' market as much as possible, I've also been buying the organic strawberries from Costco recently:
You could definitely alter the fresh or frozen fruits in this recipe, but I find that it works to have at least some of the fruit fresh so the whole thing blends easier. Un-frozen bananas are a great option. Or, you could also put some of your frozen fruit in the fridge overnight to defrost and use the next morning.
Deciding on your greens is important, too. I tend to rotate between spinach, collard greens, kale, and romaine for my green smoothies. It's actually really important to switch up your greens since some of them are high in oxalic acid and, besides, variety is the spice of life, no?
So once you add your fruit to your non-dairy milk, add your greens on top:
You'll be surprised by how much the greens will shrink down once blended, so just go for the gusto and get as much in there as possible: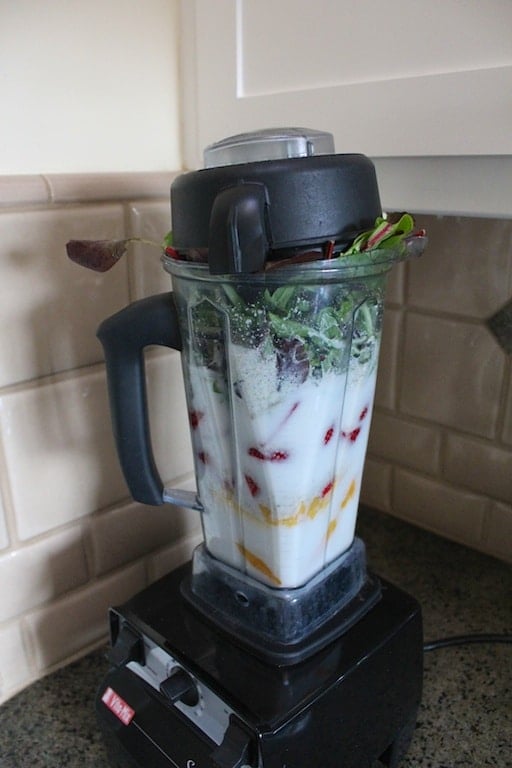 After another blend, it's time to add the final round of ingredients: the chocolate, the frozen fruit, the flax, chia seeds, goji berries, and lucuma powder for added sweetness (totally optional).
Let's talk chocolate for a minute, too. It is really important to me to use fair-trade and organic chocolate, so I buy both the nibs and cocoa powder from Frontier Coop in a bulk size. I've included these in my Amazon store that you can check out here.
You don't necessarily have to use both nibs and cocoa, but I say bring on the chocolate my friends.
This is what you'll have before your final blend:
Then, all of your hard work will be rewarded with a sweet, creamy, chocolatey, nutritious green smoothie:
Print
Choco-Green Smoothie
---
Author:

Carrie Forrest, MBA/MPH

Yield:

4

Category:

Smoothie
Ingredients
1/4 cup hemp seeds
3 cups water
1 ripe mango
1 frozen banana
1 pint fresh organic strawberries
10-16 ounces baby romaine or baby spinach
1 1/2 tablespoons flax meal or ground chia seeds
1 cup frozen pineapple chunks
2 tablespoons cocoa powder
---
Instructions
Combine hemp seeds and water in a high-speed blender and process until smooth (about 15 seconds).
Peel the mango and add to the blender along with the fresh strawberries. Add the banana, romaine or spinach and blend again (about 30 seconds).
Add flax meal or chia seeds, frozen pineapple, and cocoa powder to the blender and process one last time until smooth. Serve cold and refrigerate leftovers for up to 24 hours, tightly covered.
My goal is to provide inspiration for healthy, balanced living. You can find more links on my Recipes and Resources pages.
I'd love to have you follow me on my social media accounts, too @carrieonliving: Facebook, Instagram, Pinterest, and Twitter. 
P.S. I also have a Carrie on Living Amazon affiliate store where I list all of my favorite beauty items, kitchen devices, books, and other cool stuff that supports my lifestyle. Your purchase of any item on Amazon helps support my blog so thank you in advance!