I've tried several times to make crackers or something from vegetable juice pulp as opposed to throwing it away. I'm pleased to report that I finally made a cracker that tastes great! I started with my bowl of greens (kale and parsley) and fruit and vegetables (cucumber, ginger, one blood orange and one lime).
The juice was very, very green!
Rather than using the pulp from all of the veggies including the fruit which might have altered the flavor I was going for, I only saved the pulp from the kale and parsley to use in the crackers.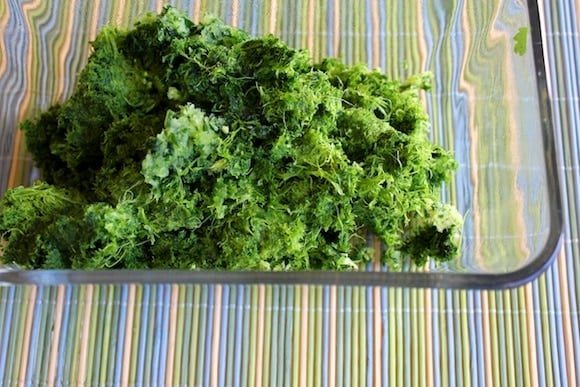 I then used my food processor to mix in the extra ingredients including flax meal, chia seeds, nutritional yeast, reduced sodium tamari, and water:
I then plopped the mixture onto a baking sheet to go into the dehydrator (you could also use your oven if it has a fan and has a minimum temperature setting close to 135 degrees at the most). I recommend an Excalibur dehydrator.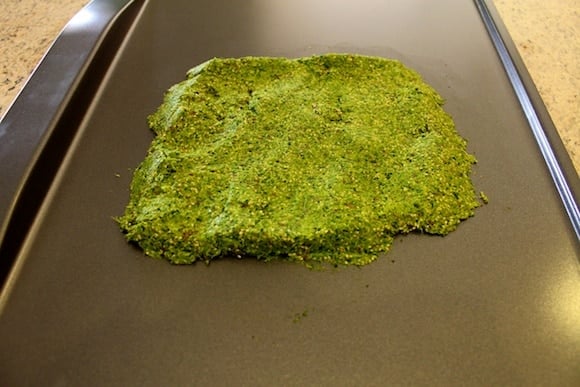 I used a spatula to flatten it out as much as possible and then used a knife to score the batter into cracker sizes: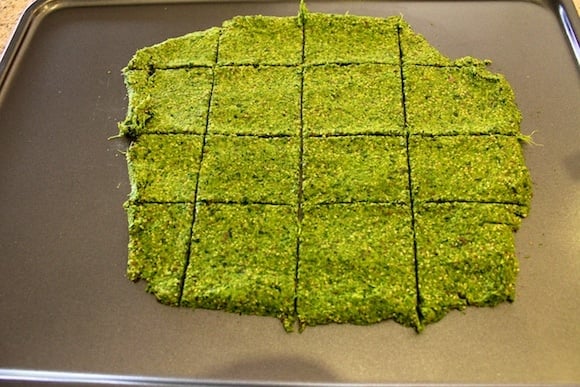 I flipped them once after 12 hours and then another 12 hours they were crispy and ready to eat!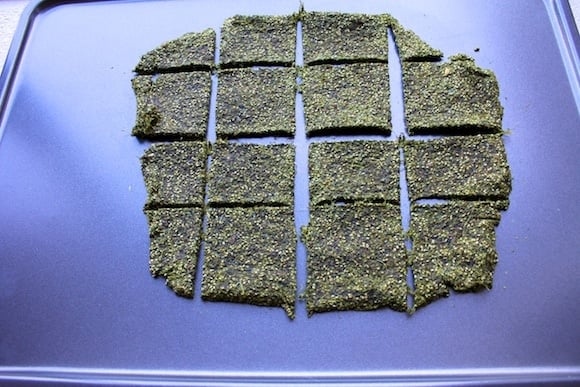 I really like the flavor of these crackers, it's pretty amazing that they are made from green pulp. The tamari and nutritional yeast pumps up the flavor and the pulp, flax and chia seeds give them a wonderful texture. I did a little photo shoot with them this morning:
See the printable recipe at the end of this post.
Print
How to Make Green Juice Pulp Crackers
Author:

Carrie Forrest, MPH in Nutrition

Prep Time:

15 mins

Cook Time:

12 hours

Total Time:

12 hours 15 minutes

Yield:

12

Category:

Side dishes

Method:

Raw food

Cuisine:

Vegan, Gluten-free
Ingredients
Pulp from 1 bunch of juiced kale leaves and stems and 1 bunch of parsley (about 1 1/2 cups of pulp total)
1/4 cup flax meal
1/4 cup chia seeds
1 tablespoon reduced-sodium soy sauce or tamari
1/4 cup nutritional yeast
1/4 cup water
Instructions
Combine ingredients in a food processor and whirl until combined.
Pour mixture onto a dehydrator sheet or baking sheet and flatten as much as possible using a spatula. Then, use a knife to score batter into crackers.
Dehydrate on 120 degrees for 12 hours and flip. Dehydrator for another 12 hours (24 hours total) or until completely dry and crispy.
If using an oven, use the minimum temperature setting with the convention fan on and keep a close eye on them so they don't burn. I did have not tried making them in an oven so I cannot recommend how long it will take to cook them (let me know if you try it this way!).
My goal is to provide inspiration for healthy, balanced living. You can find more links on my Recipes and Resources pages.
Also, please join my weekly newsletter list to get all the latest news and recipe links delivered directly to your inbox.
Sign up now and unsubscribe at any time. I will never sell your name or spam you, I promise!