Last Updated on
This is another post I've re-written several times, as  I start to think about recipes that I'm going to share with you in the future. My repertoire has certainly changed as I continue to learn more about health and nutrition and figure out which foods support my health the most. I'm still very hesitant to put a label on the way I've been eating, but what seems to be working is a continued whole foods approach and finding some sort of balance between nutritarianism and a version of the paleo diet that embraces a very high intake of vegetables (check out my updated Resources page or my Amazon store for links to specific books and websites).
Oh my gosh, I'm not even close to perfect when it comes to food choices, I don't want you to think that, but I can safely say that I do love "eating clean," so to speak, and feel my best when I'm rested, eating this way, and managing my stress. Also, a brief update on my challenges with disordered eating and that is that after working for a few months with a specialized therapist and doing some of the hard emotional work, I'm finding restrictive eating and thinking to not even be on my radar anymore. In other words, I'm feeling really balanced in that way and no longer obsessive about my food intake, although, as I've said before, I'm probably always going to reach for chocolate on a bad day.
I've had a few additional challenges. While I would say that my energy levels are back to normal, I was diagnosed with osteopenia earlier this spring. Although that diagnosis isn't overly worrisome and could simply be a genetic predisposition or a result of hormonal imbalances related to PCOS and hypothalamic amenorrhea, what was more concerning was finding from follow-up tests that my calcium intake levels were way, way too low, despite moderate supplementation and an intake of calcium-rich vegetables. So, I'm in the process of figuring out the balance on that front, trying to get as much calcium as I can from whole foods. I will likely write more about this in the future and might consider doing a dedicated calcium-rich recipe post.
The other issue I've become aware of is a FODMAPS food intolerance which is essentially a reaction of the gut to fermentable carbohydrates; Monash University in Australia is a leader in the research on this topic. I'd suffered from IBS symptoms years ago before I cleaned up my diet, but I'd noticed increased bloating after consuming certain foods, especially beans, despite cooking them from scratch, using kombu, skimming off the foam, and all of the other techniques for making them more digestible. The only plant-based protein-rich foods that aren't high FODMAPS are tofu and tempeh and some seeds which may explain why I had experienced so much fatigue in the past.
Again, these issues don't necessary make a plant-based diet impossible and I don't intend to imply that, but can make it more challenging or require some unorthodox modifications. I also think it's really important to talk about this stuff so people know they are not alone and that there are options available. For instance, through experimentation, I find that I can tolerate lentils pretty well, but just not other beans. If you are a member of Dr. Fuhrman's forums, then there are dedicated threads for FODMAPS and other digestive disorders, so I encourage you to get more support there. And, above all, be sure to talk about this stuff with your healthcare provider for individual care.
So, what am I eating? Rather than have me blabber on, I thought I'd share some food pictures from the last several weeks. If there are certain items for which you'd love to see the recipe, let me know! This is a process of experimentation and adjustment as both my blog and I transition and find a new space. I hope you feel inspired and interested to learn more; I can't wait to share some of what I've learned with you (trust me, it's delicious). 🙂
Gluten-free oat porridge made with homemade almond milk topped with yogurt, cacao nibs, and molasses:
Wild salmon salad with greens, tomatoes, and onion:
Shredded chicken, chard, and celery soft tacos, topped with avocado:
Slow-cooker bison, zucchini, and sweet potato stew:

Gluten-free honey bran muffins: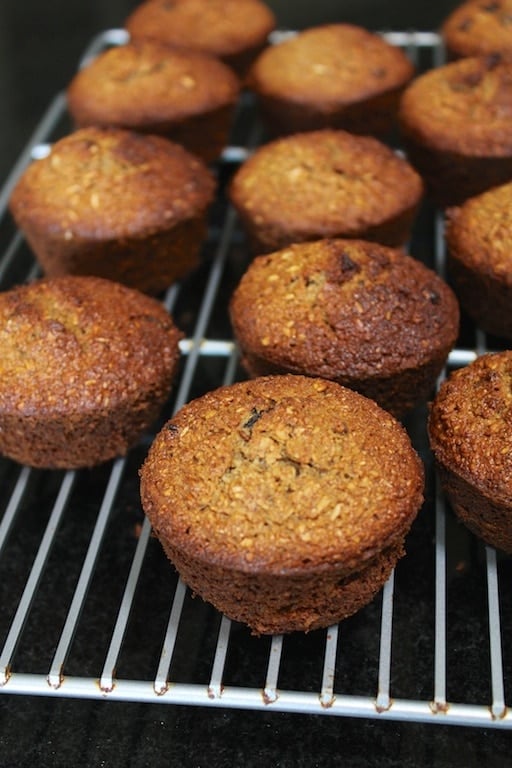 Bok choy, beet kraut, and chicken tacos (do you see a taco theme here…):

Maple baked tofu salad:
Kale, tomato, and egg scramble:
Sardine salad with greens, kraut, blue cheese, and green onions:
You may have noticed that my blogging frequency has diminished this summer which is mainly a result of me being occupied with moving to a new house, but also a reflection of the changes going on here. Expect that continue for the next couple of weeks as I get settled, but I am trying to get new posts up at least once every four days or so and I have a fun recipe coming up in the next few days. Plus, once everyone is back from summer vacation and we get into fall, I'm hopeful I'll be posting on more of a regular schedule.
Until next time, follow me on my social media accounts @carrieonliving: Facebook, Instagram, Pinterest, and Twitter.