Healthy Instant Pot Holiday Recipes
This post may contain affiliate links which won't change your price but will share some commission.
Here are the best Healthy Instant Pot Recipes that are quick and perfect for your holiday table. All of these Instapot dishes are gluten-free and dairy-free.
If you're looking to make your holiday cooking a little faster and easier, may I suggest cooking at least several of your recipes in the Instant Pot this year? I've linked to all my Thanksgiving Instant Pot recipes below, but you are welcome to download my free Instant Pot Holiday e-book!
Holiday Recipes
This is an easy side dish when you have cubed butternut squash on hand. I like to buy the 2-pound boxes at Costco and cook the squash in the Instant Pot.

This easy glazed carrot recipe is a great holiday side dish that even kids will like. You can use fresh or dried thyme, or whatever herb you like.
If you don't want to bother peeling and chopping a whole butternut squash, you can just pop it in your pressure cooker and let the device do all of the work. Butternut Squash puree can be mixed with a little healthy fat, salt, and pepper, and served as an easy side dish.
This is my absolute favorite recipe for cranberry sauce. I suggest using frozen cranberries for this one, with orange juice and maple syrup. You are going to love this one!!!
This recipe is the easiest way I know how to make mashed potatoes. You can add in your favorite flavors, but I just do a simple blend of healthy fat, almond milk, salt, and pepper.
If you want the flavor of a pumpkin pie without having to make a crust, you're going to love this recipe! I actually make this at all times of the year, not just the holidays. This is one of my all-time favorite desserts.
And, if you want a fancier dessert for your holiday table that is both gluten-free and vegan, then consider this recipe.
No holiday is complete without stuffing, and you can make it right in the Instant Pot. This recipe is gluten-free with lots of vegetables and herbs, plus dried cranberries.
This is one of the most popular recipes on my site, probably because it's so easy and versatile. You can serve mashed sweet potatoes for any holiday and it goes with almost anything.
Lastly, don't be overwhelmed by cooking a turkey in the oven, just cook it in the Instant Pot! The gravy gets made in the same pot while the turkey cooks. This is truly the easiest turkey recipe you'll ever find.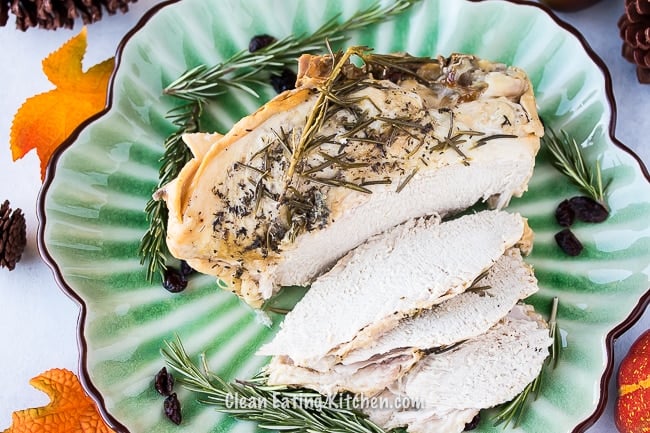 Instant Pot Holiday Challenge
When I started talking about making my entire Thanksgiving dinner in the Instant Pot last year, I had a few people laugh as they imagined my entire kitchen covered in Instant Pots. Actually, I only have two Instant Pots, both the 3-quart and the 6-quart.
The key to making several dishes in the Instant Pot, or even the entire meal, is to plan ahead. Here's a schedule for how it could work.
2 days before the holiday
Day before the holiday
Day of the holiday
Plus, re-heat sides cooked the day or days before!
Day or days after the holiday
See how easy it can be? I am so over stressing about how many side dishes I have to make, I am going to be following this schedule this year. Are you in?!
Healthy Holiday Instant Pot E-Book
I'm so excited to offer my Healthy Holiday Instant Pot E-Book to you for free. That's right, it's my gift to you. All  I ask is that you join my e-mail list.
If you like this post, consider following me on social media so we can stay connected. I'm on Facebook, Pinterest, Instagram, and YouTube!
This post may contain affiliate links which won't change your price but will share some commission. We are participant in the Amazon Services LLC Associates Program, an affiliate advertising program designed to provide a means for us to earn fees by linking to Amazon.com and affiliated sites.