Gluten-Free Pumpkin Recipes (That Aren't Pie)
This post may contain affiliate links which won't change your price but will share some commission.
If you're looking for healthy and gluten-free pumpkin recipes for fall desserts, then you're going to love this round-up of puddings, cakes, donuts, and ice cream.
Gluten-free Pumpkin Recipes
For any of the following recipes, I always recommend using canned organic pumpkin puree that is free from any other ingredients. This is my favorite brand of pumpkin puree. And, I also recommend using this Pumpkin Pie Spice blend.
This dairy-free Paleo Pumpkin Pie Pudding is so simple to make, but is decadent enough to serve on your holiday table! This healthy dessert is essentially the texture and flavor of the inside of a pumpkin pie, but without the crust.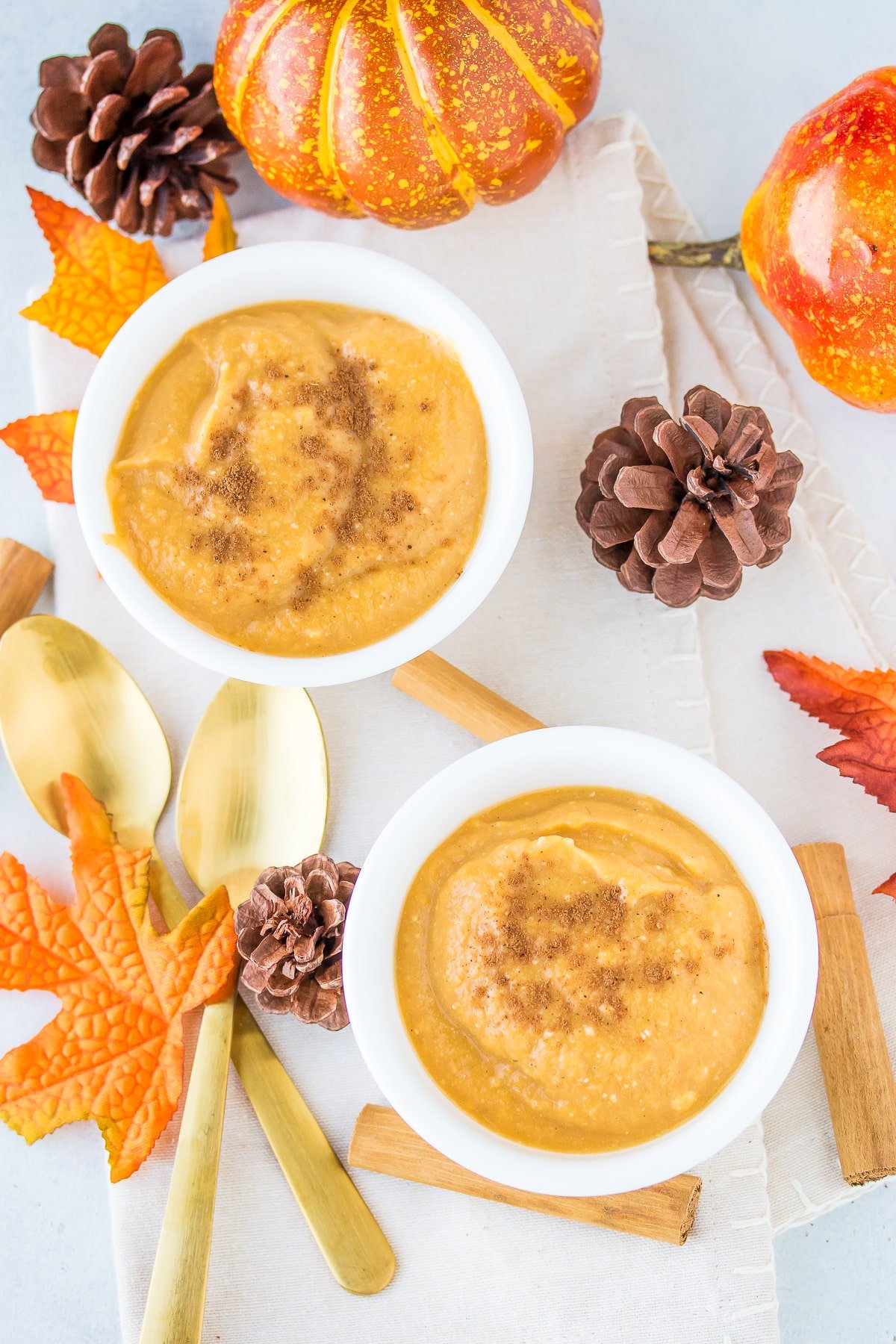 Calling all pumpkin spice lovers! These Gluten-Free Pumpkin Spice Baked Donuts are a healthy and delicious way to celebrate all things fall. This is one of my favorite gluten free pumpkin desserts.
You're going to love this Pumpkin Spice Chia Pudding that is made with coconut milk. It's a healthy and delicious breakfast or snack.
If you crave the flavor or pumpkin pie but don't want to bother with a crust, you'll love this easy Instant Pot Pumpkin Pudding. This recipe is dairy-free, but is so creamy and delicious.
Vegan Healthy Pumpkin Recipes
This Dairy-Free Pumpkin Dip is a healthy and delicious way to enjoy the flavors of the fall season. Serve this sweet, dairy-free dip with fruit, veggies, or pretzels at your next party.
These delicious Pumpkin Chocolate Chip Muffins are gluten-free and dairy-free, and a great way to enjoy pumpkin spice season. Serve this healthy pumpkin recipe as a healthy dessert or snack.
This creamy Vegan Pumpkin Ice Cream uses coconut milk as the base, so it's completely dairy-free and delicious! You'll love this recipe at any time of the year.
You'll love how easy it is to make a cake in the Instant Pot pressure cooker! This Instant Pot Pumpkin Spice Cake is gluten-free and vegan, with seasonal ingredients and flavor.
These vegan, gluten-free, and paleo-friendly Pumpkin Pie Bites are great for a seasonal, healthy treat.
Conclusions
I hope you love this round-up of delicious pumpkin recipes. There are so many great desserts you can make outside of pumpkin pie. Enjoy!
If you like this post, consider following me on social media so we can stay connected. I'm on Facebook, Pinterest, Instagram, and YouTube!
This post may contain affiliate links which won't change your price but will share some commission. We are participant in the Amazon Services LLC Associates Program, an affiliate advertising program designed to provide a means for us to earn fees by linking to Amazon.com and affiliated sites.