Hi there and happy Healthy Vegan Friday! This post is bittersweet as this is the last week I'll be co-hosting the recipe link-up party. After 72 weeks(!), my co-hosts and I have decided it's time for a break and a possible change in leadership. Don't worry, it's nothing dramatic, we all still love each other, but we collectively decided that it's the right thing to do to free up more time for other projects.
One aspect of this link-up that is so cool is seeing how international the world of healthy vegan food bloggers is. We routinely have submissions from Canada, Israel, Europe, Australia, Asia, and California (we are a country unto ourselves, 'dontcha know? HA!). I believe that Healthy Vegan Fridays is just one of several ways that the blogosphere further develops our community and it has truly be an honor to act as a creator and co-host for the past year and a half. Thank you.
I know some of you may be disappointed by this change, but I can promise you that the time saved for me will be used productively. While continuing to work on developing original whole food recipes using minimal oil, salt, and added sugars, I'll also be debuting a brand new blog project at the first of the year that is gonna be cool, I promise. For more about changes in my personal life, please see the end of this post.
Also, if you are interested in acting as a host or co-host of Healthy Vegan Fridays, please shoot me an e-mail: carrieonveganATgmailDOTcom.
Okay, onto the top recipes from this past week.
Reader Favorites (as selected by the total number of clicks):
1. Raw Gingerbread Cookies from The Healthy Maven:
2. Cardamom Eggnog from Ragdoll Kitchen:
3. Chocolate Frosting Oatmeal from Egginon:
My favorites (including recipes made with minimal oil, salt, and added sugars). All of these recipes are special and would be fantastic as part of my ideal healthy vegan holiday menu. Now who wants to come over and cook them all for me?:
Stuffed Bell Peppers from Because I Like Chocolate:
Black-Eyed Pea and Sweet Potato Chili from Lymie Eating Coconut:
Gluten-Free Vegan Stuffing from Strength and Sunshine: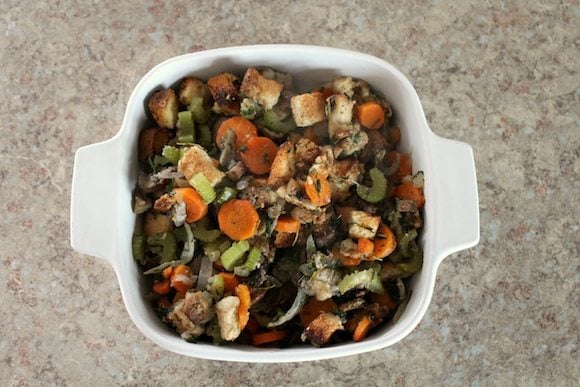 Spaghetti Squash Stir Fry from Rock My Vegan Socks:
Jamaican Jerk Cranberry Blackberry Sauce from Yup, It's Vegan:
Avocado Hot Chocolate from Hello Veggy:
Conclusion:
I finished the last class for my master's degree in public health nutrition this week. This is a big change for me, but I cannot tell you how ecstatic I am to be done. You probably don't know this, but I've been studying nutrition on a part-time basis for almost 10 years now, between taking the undergraduate classes in nutrition when I wanted to be a registered dietitian to then transitioning to the master's degree program instead. Needless to say, it's time for me to bring my academic career to a close, although I won't say that I'll never pursue a doctorate in public health at some point like, maybe, when I'm 60.
The first question I'm getting asked by friends is "what are you going to do now?" Great question! My best answer is that I want to continue practicing public health and inspiring healthy, compassionate living through my blog, app, and other projects.
I have decided, though, that it's time to evolve the format of my blog to really highlight whole food, plant-based recipes using a minimal amount of oil, salt, and added sugars. What this means is that I need more time for reseach, testing (and re-testing!), writing, and photographing. So, for at least the near future, my blogging frequency is going to slow way down.
I'm letting you know ahead of time so you don't worry. I know some of you have followed me for several years now and have read many intimate details about my emotional and physical health including my experience with PCOS, disordered eating, and stupid cancer. I want to assure you that I am doing great, I am probably feeling the best I have ever felt, and my first priority remains taking care of myself and my little family (hubby and fur-babies) so I can do my best work. I am very excited about the next chapter of my life and am enormously grateful for the opportunity to do what I love. Thank you for all of your amazing support.
I also wanted to say that even though I wrote last week about experimenting with intermittent fasting, I've amended that post with an update and you can see it here. The bottom line is that while IF gave me a chance to re-connect with my hunger cues, it's not something I am continuing consistently long-term and I wanted to keep you current.
I have two recipes I'm perfecting that I can't wait to share with you soon. As always, you can keep in touch with me through the comments on my blog, email, or on Facebook, Twitter, Pinterest, Instagram, or Google+.
Lastly, don't forget to enter my giveaway for a copy of Dr. Fuhrman's Eat to Live Cookbook; I'm picking a winner on Monday.
Have a wonderful weekend!