Hi there and happy Friday to you! I have a lot to cover in this post and want to start with the top picks for healthy, vegan recipes from our weekly link-up party.
Healthy Vegan Fridays:
As selected by the number of clicks, the most popular recipes from last week are:
1.Vegan Peanut Butter Cups from Sabrina @ Living, Learning, Eating:
2. Mint Chip Protein Shake from Heather @ Sweetly Raw:
3. Sweet Potato Pasta from Raechel @ rebel grrrl kitchen:
Congrats to the bloggers whose recipes were in the top, these recipes look incredible.
My favorites (see my guidelines here):
1. Easiest Nutritarian-Friendly Meal – Chickpea Pie Stew from Vegans Eat Yummy Food Too:
2. Most Creative Raw Food Meal (just try and guess what the tacos are made from) – Raw Cheesy Vegan Tacos from Gluten Free Cat:
3. Most Inspiring Salad – Sundried Tomato Chickpea Salad from Peaches and Greens:
Thank you to everyone who submitted a recipe or checked out the offerings. You can submit your link or see all of the recipes at the end of this post. Yay!
Homemade Vegan Series: How to Make Yogurt
So this section is where I'm trying to show how to make vegan stuff at home. Last week, I discussed how to dry your own herbs. This week, I'm addressing how to make yogurt which has been years in the process for me (not that it's hard or anything). Many vegans say that dairy cheese was the hardest product to move away from on a plant-based diet; mine was yogurt.
Turns out, non-dairy yogurt is super easy to make and, when you make it at home, you can leave out any nasties that you might find in store-bought versions. Okay, so you do need some supplies.
1. The yogurt machine. I bought my Euro Cuisine yogurt machine off Amazon (note: I am affiliate member of Amazon so if you use this link, you'll be supporting me; thank you!). There are several models you can choose from, I got the most basic model and it works great for me. Note: it is possible to make yogurt in a dehydrator, too. Here is a link for using that technique.
2. The ingredients. The most difficult part of making vegan yogurt was to find a starter that didn't come from a dairy source. You can use a probiotic supplement, but most of them aren't certified vegan. I found  a company that does offer one, it is called Cultures for Health (note: I am not affiliated with this company, but they did send me a sample of the vegan yogurt starter to test):
3. The non-dairy milk. Okay, this is where it gets a little tricky. I have tried making yogurt with both soy and almond milks, but the soy milk yogurt turned out a lot better than when using the almond milk (I encourage you to experiment). There is a whole section on the Cultures for Life about how to thicken yogurt here. I don't like to add anything (out of laziness, primarily), so I just like to use an unsweetened or regular version of soy milk like Eden brand:
 4. The process. So, to get started, you just blend your non-dairy milk with the culture. I use my blender on a very low speed so as not to harm the bacteria. You only need to blend it for 15 seconds or so:
Then, I pour the mixture into the glass jars (aren't they cute?) and let it cook with the cover for 6-8 hours: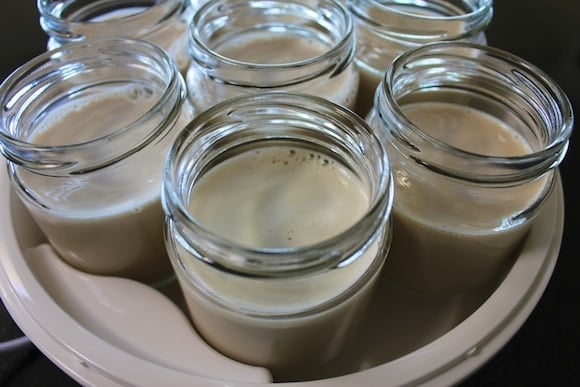 I love the smell of homemade, warm yogurt, it is that comforting sweet and sour odor that defines what yogurt really is. I always have jars of this in my fridge now and use it on my oatmeal or in green smoothies every morning for breakfast:
It's also great on top of stews or soups. Here, I served it with my some Tempting Tempeh Chili (look for the recipe on Vegan Delish here!):

I loved it on my Slow-Cooker Cauliflower Indian Stew:
I hope this explanation helped describe the process of making homemade vegan yogurt. It's fun, easy, and delicious!
Vegan Recipe Contest:
Before I go, I was honored to be invited to participate in a vegan recipe contest from Ethical Ocean. I decided to submit one of my favorite, healthy recipes to the contest, my Kale & Spring Pea Mash-Up:
If you made this recipe or think it looks good, would you consider voting for it HERE? If my recipe wins, you'll be entered to win a $250 gift card on the Ethical Ocean website which is a totally cool company. I am mainly just really humbled to have my recipe featured with 24 other really great vegan bloggers. Thank you in advance for your support!
Conclusion:
I hope you have a fantastic weekend. I'm a busy bee, but will be back here on Tuesday with a brand new post. "See" you soon. 🙂