This post may contain affiliate links which won't change your price but will share some commission.
Last Updated on
Hiya from beautiful cold and rainy Portland, Oregon! No worries, this traveler is all bundled up and braving the elements.
Healthy Vegan Friday:
I'm excited to share another round of vegan awesomeness today with our weekly link-up party, Healthy Vegan Fridays (you can read about it here). Essentially, this is a way for bloggers to post their favorite whole food, plant-based recipes for everyone to enjoy in a central location. To enter your recipe or to see all the submissions, just go to the thumbnails below this post. To see a listing of every single Healthy Vegan Friday blog post, you can click here.
The most popular submissions from this week were these:
1. Drink This, Lose Weight from Gluten Free A-Z Blog:
2. Dark Chocolate Brownies from Tessa the Domestic Diva:
3. Vegan Budget Project from My Healthy Chef:
My favorites (I select my personal faves each week that are on the "healthier" side made using little to no oil, salt, or added sugars):
1. Healthiest Easy Meal – Green Power Soups from Green Reset:
2. Most Inspiring Vegan Yogurt – Raspberry Yogurt from Almost Skinny Vegan Food:
3. Most Beautiful Seasonal Meal – Summer Vegetable Soup from Purely Nourished: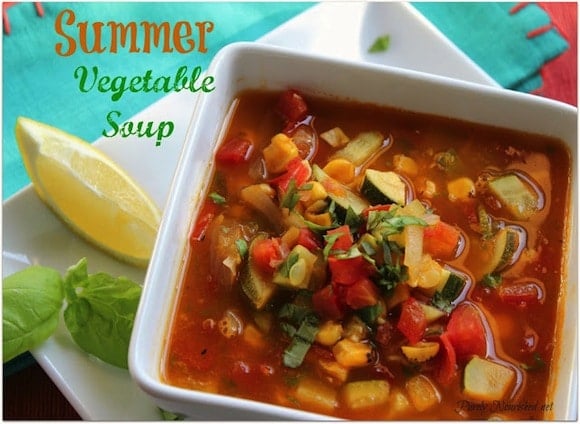 Honorable Mention for a Healthy Alternative to Guacamole & Chips – Easy Guacamole with Chile Lime Jicama Chips from Veggie Quest:
Yum! Now I can't wait to get home and start cooking again.
Vida Vegan Con:
In the meantime, I've been all around town enjoying the vegan yumminess that Portland has to offer. I got things started off right yesterday morning with a yoga class at Yoga Pearl, a green juice at Prasad, and then an amazing feast at Blossoming Lotus including the Masala Bowl that had tons of steamed kale and chickpeas in a coconut sauce and then a wildly indulgent slice of German Chocolate Cake:
Kale balances out sugar and chocolate, right? Yeah, okay, maybe not. 🙂
Thursday festivities also included a "meet and greet" at a cool bar where I got to meet some new and old friends and then a trip to the infamous vegan mini-mall where I picked up some goodies including this t-shirt, a sticker "Veganism is for lovers," and some soy curls (I have never eaten these, but decided to get all crazy and buy some):
So. Much. Fun!!!
Healthy Taste of Los Angeles:
As I experience everything that this blogging conference has to offer in Portland, I also wanted to remind you of an event happening on June 23rd in Los Angeles. It's called The Healthy Taste of LA and it's going to be fabulous. There will be several very influential speakers from the healthy plant-based movement, along with a catered lunch. You can check out the details here, please come!
Conclusion:
This is going to be an incredibly busy weekend and I can't wait to share more of it with you.