How to Make Dehydrated Beet Chips
This post may contain affiliate links which won't change your price but will share some commission.
Here is how to make Dehydrated Beet Chips in a Sedona Express Dehydrator. This is a healthy and delicious recipe that is vegan and gluten-free.
I took so many lessons from my 100% plant-based diet days and eating whole, nutrient-dense foods is at the top of the list. I continue to learn more each day, especially when it comes to making vegetables easy to prepare, digestible, and palatable.
Dehydrating is one of those techniques that can help with maximizing nutrition and I'm thrilled to be reviewing the Tribest Sedona Express Dehydrator today.
I have been looking for a new dehydrator for awhile, but with the caveats that it could actually fit on my countertop and that it is quiet (I can't emphasize enough how important the "quiet" aspect is when choosing a dehydrator because most foods generally require at the minimum 10 hours of running, and 'ya don't want to go insane during that time). I'm happy to report that the Sedona Express meets both of those requirements beautifully; here's how it appears in my kitchen: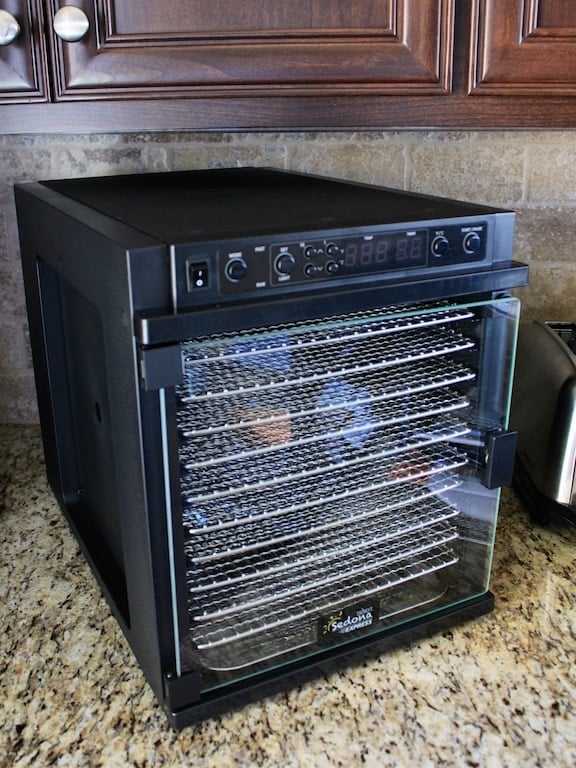 You'll have to trust me on the quiet thing, but I literally crossed my fingers and held my breath when I turned it on the first time, just hoping that it would work out that way (it did! It's suuuuper quiet). A few other extras about the dehydrator that I absolutely love include the stainless steel trays that are dishwasher-friendly:
And the glass hinged door on the front that makes for easy viewing, plus the removable stainless steel drip tray on the bottom (genius!):
The last highlight of the Sedona Express dehydrator is that it comes with a control system with three built-in modes for drying: FAST mode to get the job done, RAW mode with overheat protection, and COMBO mode with a temperature-timer that can be set for a higher temperature for a few hours and then automatically goes to a lower for the remaining time. Being the food science nerd I am, I love the electronics on this machine and the ability to adjust the temps to the specific needs of each recipe.
I've been having all kinds of fun getting re-acquainted with dehydrating foods and I think it continues to grow as a healthy trend. I made a new friend on Instagram recently who is making all kinds of wraps from vegetables, including an onion-based one that looks a-mah-zing.
Speaking of recipes, here's a pic of the handy book that comes with the dehydrator to get you started:
I kept it simple and made beet chips for my test run of the Sedona, just beets sliced in a food processor:
Reminds me of a deck of cards:
After 12 hours using the COMBO mode in my new toy:
This post may contain affiliate links which won't change your price but will share some commission. We are participant in the Amazon Services LLC Associates Program, an affiliate advertising program designed to provide a means for us to earn fees by linking to Amazon.com and affiliated sites.