Hi and happy Monday to 'ya! I was sent a copy of The China Study Cookbook recently for a review. The book features over 120 healthy, plant-based recipes and was written by Leanne Campbell, Ph.D., who is the daughter of the renowned China Study scientist, T. Colin Campbell, Ph.D.
This cookbook sounded right up my alley, so I was thrilled to receive a copy and check out some of the recipes. It starts with a nice introduction by the author who describes her journey to a plant-based diet including the influence of the work of her father and her experience as a member of the Peace Corps working in the Dominican Republic. She includes a Q&A section on how to raise plant-based kids and an overview of how to build a healthy lifestyle in the midst of busy, modern living.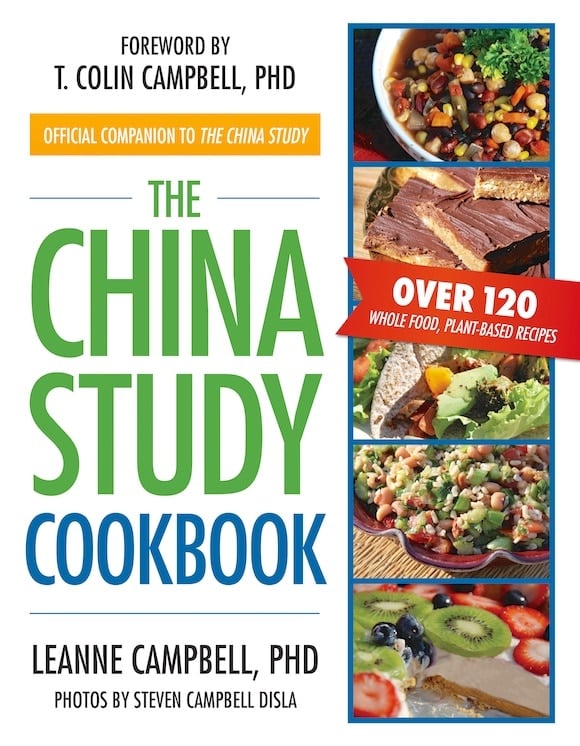 When selecting a recipe to share with you, my interest was peaked by the Macaroni Squash, especially because I had two pre-cooked sweet potatoes in the refrigerator just begging to be used. I substituted the sweet potatoes for the butternut squash and used my favorite brand of gluten-free pasta (Tinkyada brown rice spirals), and boy, oh boy, was I rewarded with a delicious, satisfying dish. Here's what it looked like before I baked it (I left out the salt in the recipe and topped the whole thing with some dried oregano):
To make it a more well-rounded meal, I served my serving with some steamed spinach just dressed with a squeeze of fresh lemon:
Here's the recipe as printed in the book:
Print
The China Study Cookbook: Recipe & Giveaway
---
Author:

Macaroni Squash from The China Study Cookbook

Yield:

4

Cuisine:

Main Dish
Ingredients
1 16-oz box cooked whole wheat macaroni
1 medium onion, diced
1 clove garlic, minced
2 tablespoons vegetable broth
2 cups cooked butternut squash, mashed
½ cup raw cashews
½ cup soy milk
½ cup water
2 tablespoons nutritional yeast
2 tablespoons white miso
Sea salt to taste
---
Instructions
Preheat oven to 350˚F.
Place cooked macaroni in a large baking dish and set aside.
Saute onion and garlic with 2 tablespoons vegetable broth in a large skillet over medium high heat. Add squash and cook until just heated through. Add to macaroni and mix well.
Process cashews, milk, water, nutritional yeast, and miso in a food processor until smooth.
Pour over macaroni mixture and mix well. Season with salt. Then cover with foil, and bake for 15 minutes.
Tip: Butternut squash can be purchased both in the frozen food section and in the produce section
I was more than pleased with how well this dish turned out and I can't wait to make more of the recipes including the Spicy Pumpkin Soup, Dominican Beans, and No-Bake Peanut Butter Bars. I love that all of the recipes have pictures, too, which I find to be an enticing feature of any cookbook.
The publisher, BenBella Books, has generously offered to send one lucky reader a copy of The China Study Cookbook. Use the Rafflecopter link below to enter and to read the rules and regulations (open to U.S. and Canadian residents):
My goal is to provide inspiration for healthy, balanced living. You can find more links on my Recipes and Resources pages.
I'd love to have you follow me on my social media accounts, too @carrieonliving: Facebook, Instagram, Pinterest, and Twitter. 
P.S. I also have a Carrie on Living Amazon affiliate store where I list all of my favorite beauty items, kitchen devices, books, and other cool stuff that supports my lifestyle. Your purchase of any item on Amazon helps support my blog so thank you in advance!