Last Updated on
Enviromedica's Ancient Minerals line of topical magnesium products are an effective and safe for symptoms including anxiety, insomnia, and migraines. 
How Magnesium Supplements Can Help Health Issues
Magnesium is seriously my favorite mineral out there, and I have found it to be transformative for the management of stress and symptoms related to PMS (here's a great article with some ways to determine if you might have a deficiency).
Ancient Minerals Topical Magnesium Supplements
I was first introduced to the Austin, TX-based company Enviromedica when I attended the PaleoFx show back in 2016. I got to chat with the representatives and take home some samples. I never knew products like topical magnesium oil and magnesium lotions existed before then.
A major benefit of using topical magnesium products is that this type of use is not associated with digestive stress that can occur with other magnesium supplements that you take orally.
Additionally, here's some information about the benefits of using the Ancient Minerals magnesium products by Enviromedica:
Enviromedica is the only company that sources Genuine Zechstein® magnesium chloride source. Other manufacturers use inferior forms of magnesium, sourced from impure ocean deposits and contaminated inland water sources
Enviromedica doesn't use fragrances or toxic preservatives in its products. I'm particularly in love with the magnesium lotions that are so simple to apply and aren't greasy at all. You may have heard me rave about the Goodnight lotion on my podcast; this one includes melatonin and it's been awesome for helping me sleep through the night.
It's difficult to overdose using these topical magnesium products by Enviromedica because the skin self-regulates; that means they are even safe for kiddos and folks usually sensitivity to oral magnesium supplements
To learn more about these magnesium products including best practices for application, please check out the FAQs here.
Topical Magnesium Supplements
Magnesium in general is one of my favorite and most healing supplements (read about how magnesium helps with insomnia, anxiety, and migraines here), and using it topically is one of my daily self-care routines. I buy the 8-pound bags of magnesium flakes and take a regular bath or a foot bath with them at least 3-4 times a week. I always sleep like a baby, too!
Pin this image on Pinterest to save this post and share it with your friends!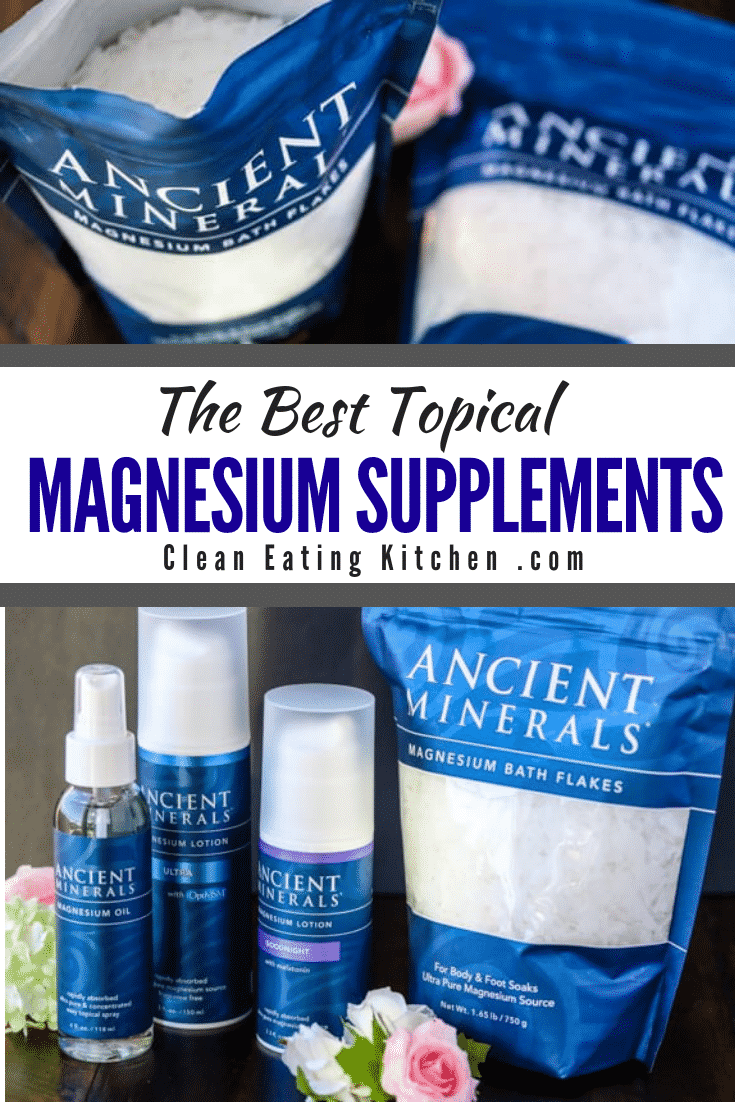 READ NEXT: Magnesium Supplementation for PMS, Anxiety, & Migraines
Don't miss a post! Join my weekly newsletter list to get all the latest news and recipe links delivered directly to your inbox.
Sign up now and unsubscribe at any time. I will never sell your name or spam you, I promise.