Good morning! I hope you are having a good week so far.
Photo Food Journal:
I took pictures yesterday of all the food I ate as part of the "What I Ate Wednesday" series. I love showcasing all of the healthy vegan foods that I make and consume (you can see a whole list of these posts here). I can't believe I forgot to take a picture of my green smoothie for breakfast, but it looked much like this:
I've been hungrier in the mornings lately so I've needed that extra little shot of smoothie. I had some herbal tea (unsweetened) to warm up (note to self: get windows washed):
I had to travel to Santa Barbara for a couple of doctors' appointment, so I packed this lunch, along with a giant Fuji apple (unpictured). The salad had romaine, dressing, onion sprouts, avocado, lentils, almond butter, shredded carrots and shredded beets:
It was such a gorgeous, warm day so I found a park in which to eat and relax for a few minutes:
All is good on the health front, I met with my surgeon who wants to do a little cosmetic work on my scar by injecting it with cortisone and zapping it with a laser because it is forming a keloid. That should be fun, yikes!
After a very long day, dinner was some leftovers from Monday night when I made this Roasted Squash & Kale Medley:
I have started roasting vegetables with no oil after I attended the cooking class with Chef Bravo from True North Health Center. I now just use parchment paper for the veggies and season them as usual with various spices and herbs. So far, I've tried this technique using squash and tomatoes. I put the oven at 375 degrees F and let them go for about 45 minutes: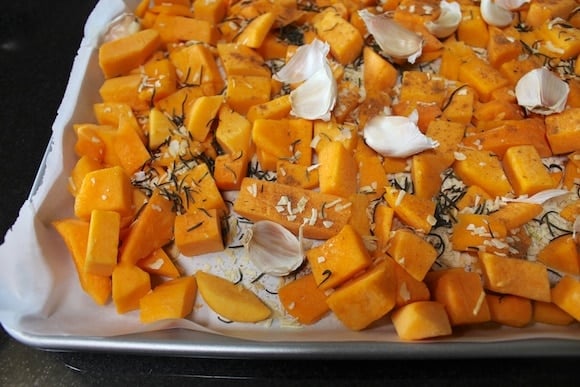 It takes awhile, but the natural juices eventually come out of the squash and provide for a little browning. The squash works great served on top of a salad which I did earlier in the week:
Or you can make it in to the vegetable dish like I did for dinner. I started with these ingredients, garbanzo beans, mushrooms, kale, roasted squash and garlic, onion and tomatoes:
I then water-sauteed the onion and mushrooms, and then added the other ingredients in layers:
This dish turned out so delicious because the squash is tender and sweet and the tomatoes give it a lot of moistness:
I served it with my World's Easiest Guacamole recipe. Here is the recipe for the dish:
Roasted Squash & Kale Medley
6 servings
Ingredients:
1 large red onion, chopped
2 cups chopped mushrooms
1 1/2 cups chopped tomatoes
1 teaspoon dried marjoram
1 teaspoon cumin
1 tablespoon no-salt seasoning
1 teaspoon curry powder
1 cup garbanzo beans, rinsed and drained
1 lb. butternut squash, cut into 1/4″ cubes and roasted in a 375 degree oven for 45 minutes
6 garlic cloves, roasted in a 375 degree oven for 45 minutes
2 bunches kale, washed with leaves removed from stems and shredded
2 tablespoons plus 1/2 cup water
Directions:
Heat a few tablespoons of water in a large pan. Add onion and water-saute for a few minutes. Add mushrooms and cook until softened. Add tomatoes and spices and cooked for several more minutes. Finally, add beans, squash, garlic and kale and water. Turn the heat to low and place the lid on the pot. Cook for several minutes or until the kale is wilted. Serve hot with guacamole, if desired.
SOS-Free Cooking Tips:
I promised in an earlier post to share some more tips I learned at the cooking class. First off, I would encourage you to get Chef Bravo's cookbook:
He has a Facebook page devoted to the book here. This book is essential reading for anyone who wants to build more skills cooking without salt, oil, or sugar (he calls it SOS-free).
Chef Bravo is a really nice guy, too, here's a picture I took of him with Chef AJ at the Healthy Taste of LA (note: I'll be attending the Healthy Taste of Ventura on April 7th, can you come?):
We discussed a lot in the cooking class I attended and I took away these notes:
Sunflower seeds work great in savory dishes, cashews work great for sweet ones.

Save all of your vegetable scraps to make homemade vegetable broth, this will help add flavor to cooked dishes.
To make homemade vegetable broth, fill your pot with your scraps and add water so it covers the scraps plus 1-2″ above. Simmer for 30 minutes.
Try freezing your homemade broth in ice cube trays so you can use it for water-sauteeing.
To add flavor to raw nuts or seeds, heat them in a dry pan for a few minutes. Put them in a bowl and pour on some lemon juice or vinegar plus some spices or herbs. Then, put them back in the pan to evaporate the rest of the moisture. <—-I haven't tried this technique, but I am very anxious to do so.
One reason not to use oil in cooking is because it coats the palate and dulls the tastebuds, making it necessary to add salt for flavor.
I will certainly continue sharing cooking tips as I practice them and learn more.
Cookbook Giveaway:
Chef Bravo and his publisher have generously agreed to send one lucky reader a copy of his book! To be entered to win, please leave a comment on this post with your tip for adding flavor to your cooking without salt, sugar or oil. If you don't have any tips, then let me know why you think it is important to prepare food this way.
I will randomly select a winner on Monday, March 18th. This giveaway is open to U.S. residents only and you must be 18 years or older. [Editor's note: this giveaway is now closed].
Conclusion:
Yes, I am the queen of giveaways right now. I have another one going for a Navitas gift pack here. You have until Friday to enter to win that. Have a great rest of your week and I'll see you back here then.