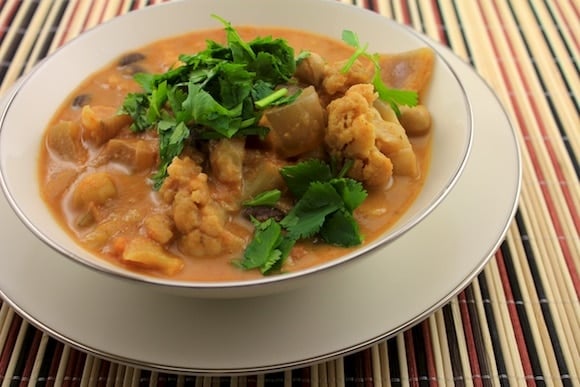 After The Battle of the Pressure Cooker last week, I decided to go back to basics with my trusty slow cooker. Where the pressure cooker might be called temperamental, the slow cooker is dependable and flexible. There are no "min" and "max" lines other than the top of the pot, and you can add water, not add water, mix ingredients, add spices, etc.
I can't believe the only other recipe I've posted using the slow cooker has been my World's Easiest Applesauce! It is high time for me to start making more dishes using this wonderful device. I may also have a particular fondness for the slow cooker because my husband introduced me to it when we first started dating. Since we were both working busy jobs at the time, he showed off by making me Curry Chicken (this was nearly 14 years ago so long before we became vegan). I still remember visiting his apartment after work one day and opening the door to the wonderful, warming aroma of a ready-to-go dinner. Come to think of it, that may be the only time he ever cooked me dinner! Now he is not really allowed in the kitchen. 🙂
The slow cooker is perfect for when you are really busy and want to pre-make a meal that will be ready hours later. Since I am inundated with work right now, I shopped in my pantry for supplies:
You could absolutely use beans that you have cooked yourself in this recipe, but it was all I could do this weekend to open and rinse these canned beans.
There are no tricks to making this recipe. I just started adding the ingredients to the pot, starting with the beans, two chopped onions, diced tomatoes, tomato sauce and spices:
I then added a chopped sweet potato and a whole head of cauliflower broken into florets:
I let that baby sit on high for hours while I worked my brains out at the computer, and then was treated to this fragrant, hot result:
The final step was to stir in a can of coconut milk and top my bowl with chopped cilantro and fresh lime juice:
For an even heartier meal, you could serve the stew over cooked brown rice. Here is the recipe:
Print
Slow Cooker Cauliflower Indian Stew
---
Author:

Yield:

8

Category:

Stew
Ingredients
1 1/2 cups cooked or canned garbanzo beans
1 1/2 cups cooked or canned black beans
1 1/2 cups cooked or canned red kidney beans
2 onions
5 cloves garlic
2 medium sweet potato
1 medium head cauliflower
2 cups canned no-salt added diced tomatoes
1 cup canned no-salt added tomato sauce
1 tablespoon dried oregano
1 1/2 teaspoons ground cumin
1 teaspoon ground cinnamon
1/2 teaspoon ground ginger
1/2 teaspoon ground turmeric
1/4 teaspoon chili powder
1 1/2 cups full-fat coconut milk
fresh cilantro
2 limes
---
Instructions
Rinse and drain garbanzo beans, black beans, and kidney beans. Transfer to a 6½ quart slow cooker.
Chop onions and mince garlic.
Peel sweet potatoes and cut into large chunks.
Wash cauliflower and divide into florets.
Transfer onions, garlic, potato, and cauliflower to slow cooker.
Stir in diced tomatoes, tomato sauce, oregano, cumin, allspice, ginger, turmeric, and chili powder. Cook on high for 6 hours. Stir in coconut milk.
Just before serving, pull leaves from cilantro and chop. Cut limes into wedges.
Serve stew hot with cilantro and lime wedges.
Just a note, I have a pretty large slow cooker, it is 6 1/2 quarts. A more basic model is usually about half this size. So, if you are using the smaller version, just cut the ingredients in half and you should be fine.
I'm still intending on using my pressure cooker again this week, I'm just going to try making beans and see how that works. But, for now, my slow cooker is the current favorite child. Do you have any favorite slow cooker recipes to share with me? I am all about "fix it and forget it" meals right now!
My goal is to provide inspiration for healthy, balanced living. You can find more links on my Recipes and Resources pages.
I'd love to have you follow me on my social media accounts, too @carrieonliving: Facebook, Instagram, Pinterest, and Twitter.