This post may contain affiliate links which won't change your price but will share some commission.
Last Updated on
Learn how to sprout lentils to make them easier to digest in this easy step-by-step sprouting guide. 
This post also includes a recipe for making baked Sprouted Lentil Burgers for a healthy, vegan and plant-based meal!
Ohhhh, legumes are back in my life in a big way which checks off one of my New Year's Resolutions, woo-hoo!
I took a break from beans awhile back while I worked on my gut health and got familiar with the paleo approach, which has now further evolved into something else. I've flirted with eating legumes again, especially when I re-discovered pasta made with lentils and they seem to be working out for me which makes me very happy!
There's no doubt that for those of us who can tolerate legumes, they are part of a healthy diet. They are rich in vitamins and minerals and so a nutrient-dense food, but they are also really high in fiber which aids in weight management.
You can find packaged dried sprouted lentils and I have bought them frequently in the past, but making them at home is really easy and inexpensive. Trust me!
Easy Guide for Sprouting Lentils
1. To start, you'll want to find some dried organic lentils.
2. You will also need some sort of sprouting vessel and lid, which can be fancy as a sprouting kit or as simple as cheesecloth secured with a rubber band over a mason jar. I prefer to use the system of just using a quart-size glass Ball jar with the sprouting/straining lid for ease of use:
3. Besides just the 30-second task of straining the water out and re-filling it 2-3x a day, the process of sprouting is the easiest "gardening" I've ever done.
In fact, I'm always so surprised when I first see the sprouts. I can't help but feel like a proud parent or something that I actually grew something, you know, that's alive:
4. Once the sprouts are about 1/4 of an inch long, they are ready to be eaten. I suggest rinsing them one last time really well, and then cooking them as the final step for optimal digestion, i.e. for people who have sensitive tummies like me: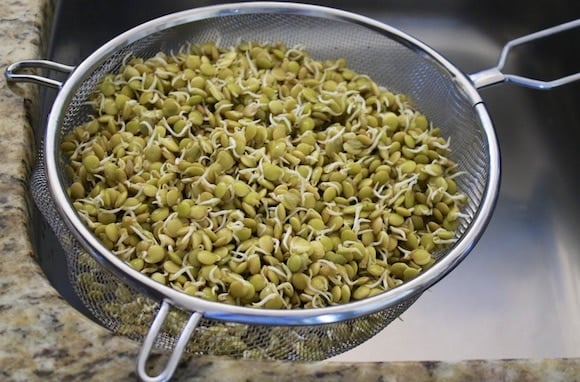 Now comes the question of what to do with these beauties? That's up to you! You can just consume sprouted lentils like any other bean, like on a salad, but I decided to make burgers with mine.
The flavor of lentils is mild, I would even say bland, so this is when spicing is important.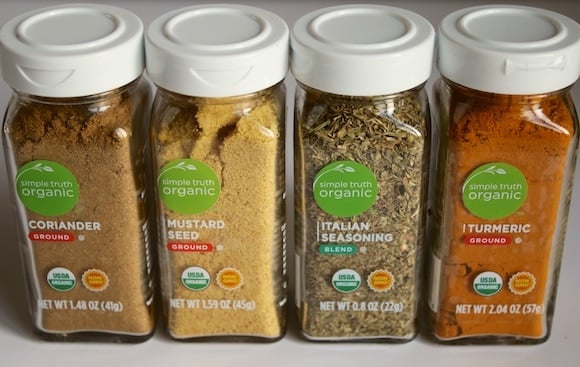 I am particularly fascinated by ground turmeric (last one on the right), for its proven anti-inflammatory properties:
I also found the turmeric root in its whole form which I've been adding in small nobs to my morning green smoothie of late, but using the dried ground version is easier for this recipe:
Be sure to add some black pepper to the mix to enhance turmeric's effectiveness, too.
Anyway, these sprouted lentil burgers turned out pretty special. They're plant-based with lots of flavor from the spices and texture from the other ingredients. This is what they look like after they are formed and ready to be baked:
Feel free to serve them on a bun just like a "real" burger, or on top of a salad as the featured protein of the meal:
Or, you can serve your sprouted lentil burger with a side of steamed bok chow and a homemade tortilla like I did here:
Here's my printable recipe for these Baked Sprouted Lentil Burgers:
Print
Sprouted Lentil Burgers
---
Author:

Prep Time:

15 minutes

Cook Time:

30 mins

Total Time:

45 minutes

Yield:

8

1

x
Category:

Main dish

Method:

Baked

Cuisine:

Vegan, Gluten-Free
Description
Sprouted legumes make them easier to digest. You can even purchase sprouted lentils, although doing it at home is easy and budget-friendly. These burgers are 100% plant-based with lots of flavor from the spices and texture from the other ingredients.
---
Ingredients
1 cup

lentils, sprouted, cooked, and cooled (see directions)

½ cup

walnuts

¼ cup

ground flaxseed

¼ cup

gluten-free oats

½ teaspoon

ground coriander

¼ teaspoon

ground mustard seed

½ teaspoon

Italian seasoning

¼ teaspoon

ground turmeric

½ teaspoon

sea salt

¼ teaspoon

ground black pepper
---
Instructions
To sprout: Rinse lentils in a strainer and pick through for any debris like small pebbles. Place lentils in a bowl or sprouting jar and cover with filtered water. Cover loosely and let sit for 8-12 hours. Add more water if necessary to keep the lentils completely submerged.
After soaking, rinse the lentils with fresh water, discarding the soaking water. Sprout the lentils in the sprouting jar over the course of 1-2 days, rinsing them every 8-12 hours. They are ready when the sprouts are about ¼" long.
Once you are ready to make the burgers, it's also a nice step to cook and cool the sprouted lentils to further enhance their digestibility. They can be cooked by placing them in a medium saucepan and covering with filtered water. Bring to a boil and lower the heat to simmer. Cook the lentils for 20-25 minutes and drain. Transfer lentils to a glass bowl, cover, and refrigerate until cool.
To make the burgers, preheat your oven to 350°F. Spread a sheet of parchment paper over a baking sheet and spray lightly with non-stick cooking spray for easy clean-up.
Place the cooked and cooled lentils into the base of a food processor. Add the walnuts, ground flax, oats, coriander, mustard seed, Italian seasoning, turmeric, sea salt, and black pepper to the lentils. Turn on the food processor and run on high until ingredients are combined, stopping to scrape down the sides of the bowl if necessary.
Transfer the burger mixture into a medium sized mixing bowl and use your hands to form 8 patties. Bake the patties for 30 minutes on the baking sheet until they are golden brown on top (you can also freeze the uncooked patties to bake at a later date). Serve hot.
Be sure to pin this image to save this How to Sprout Lentils Guide for later: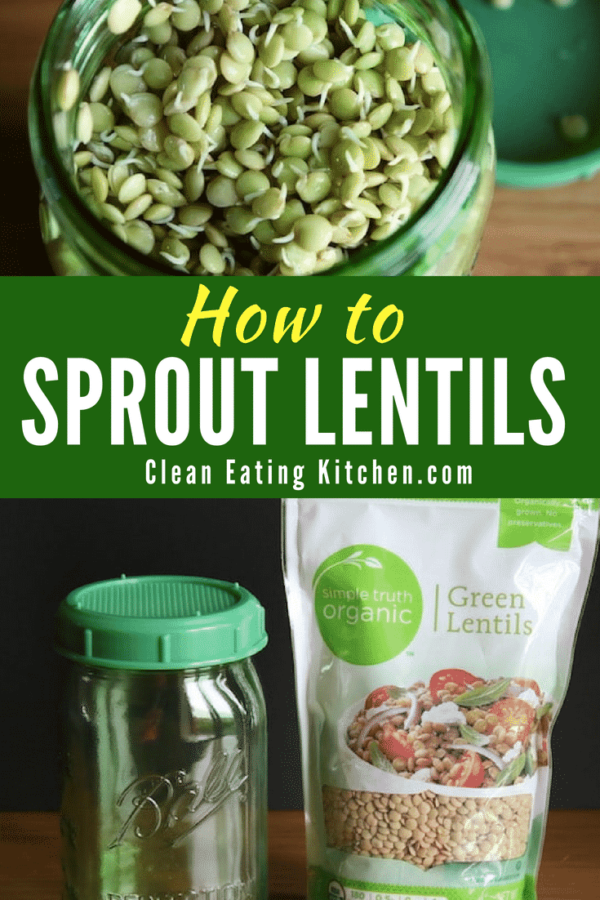 READ NEXT: HOW TO GROW BROCCOLI SPROUTS (NO DIRT REQUIRED)!
My goal is to provide inspiration for healthy, balanced living. You can find more links on my Recipes and Resources pages.