This post may contain affiliate links which won't change your price but will share some commission.
Last Updated on
I don't claim to be a trend-setter. I've been late to the party with everything from raw buckwheat groat cereal to green smoothies. Raw kale salad is the next recipe on that list.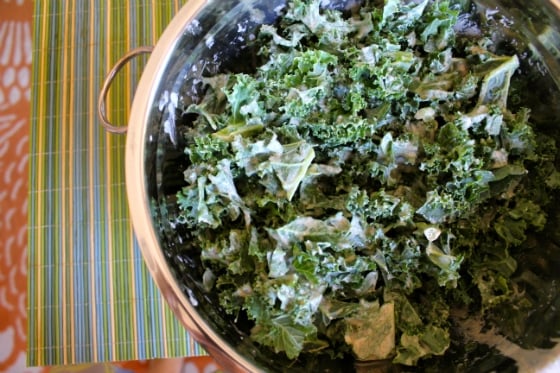 I only wish I had started making (and eating) this ages ago. Using the ANDI score system for nutrient density developed by Dr. Fuhrman and used by Whole Foods market, kale and collards share the #1 spot. Even though nutrient density is really important to me, I gotta be honest: if I don't like how it tastes, I ain't gonna eat it. Or, at least, I'm not going to be happy about it.
But, this recipe for kale salad make me happy. Hence, the name, Strangely Addictive Almond Butter & Kale Salad.
For the record, I was inspired by Chef AJ's Hail to the Kale salad recipe. You can watch the video on YouTube here. I made my salad following her recipe the first time, but I found it to be a bit too rich and salty. So, I adjusted some of the ingredients and proportions to lighten it up a bit without compromising the addictiveness, I mean, flavor.
To make my life even easier, I used a 10 ounce bag of pre-washed kale from Trader Joe's. You could use one large bunch of curly kale if you prefer, but you'll need to wash the leaves and dry them well before adding the dressing.
The deliciousness of this particular recipe comes from the combination of sweet and sour/salty. At this point, I could eat it every day. Another key element is using scissors to work the dressing into the leaves. This helps tenderize the kale while ensuring each leaf is well-coated.
Strangely Addictive Almond Butter & Kale Salad – Serves 4
Ingredients:
1 10-ounce bag of pre-washed curly kale or 1 large bunch (washed and torn into small pieces)
2 tablespoons hemp seeds
1 cup water
1/2 cup raw, unsalted almond butter
juice and zest of 2 limes
2 cloves of garlic
1 1″ piece of ginger, peeled
5 large dates, pitted
1/2 teaspoon low-sodium soy sauce or tamari
1 tablespoon apple cider vinegar
1/2 teaspoon ground pepper
Directions:
Combine all ingredients except kale in a high-speed blender and whirl until smooth. Pour over kale leaves in a large bowl and use scissors to chop the dressing into the leaves. Continue until leaves have softened and dressing has fully coated all of the kale.
I've been packing up this salad to take on my recent trips to Portland and Seattle. I've had a few comments on how wonderful is smells from people on the planes. Sorry, I didn't have enough to share! This one I served over cooked quinoa and topped with some chopped onions:
Do you have any variations of kale salad that you make? Do you love it as much as I do?