10 Meal Prep Tips for Beginners (2023)
This post may contain affiliate links which won't change your price but will share some commission.
Meal prepping can help you reach your health goals by having healthy foods ready to go. Here are 10 meal prep tips for beginners and busy people. These ideas are meant to make your life easier and to help you succeed with a healthier diet.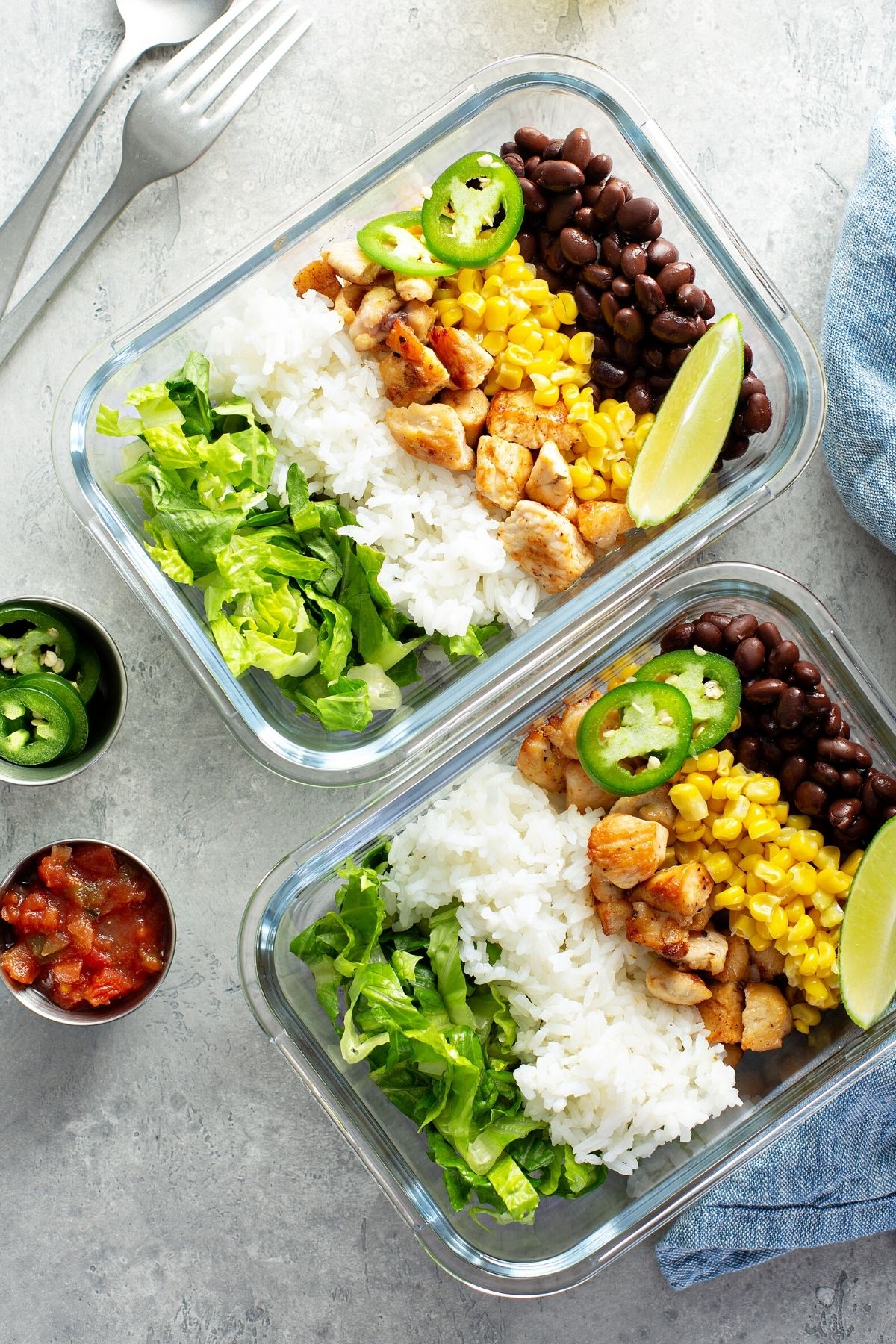 Don't let the term scare you. Meal prep simply means working ahead of time to either get the ingredients for a recipe ready to cook or cooking one to several recipes ahead of time before eating them.
Hardly anyone has the time anymore to prepare and cook every single meal. The fact is that it takes less time to microwave a frozen meal or order out than to cook a homemade meal from scratch–unless you're meal prepping.
Meal prepping can help you save money and reach your health goals.
Benefits of Meal Prepping
Meal prepping truly lives up to the hype once you get the hang of it.
When you set aside the time each week to meal prep you clean eating recipes, there are several benefits that might just make all the difference for your health and your budget.
Here are some ways meal prepping can benefit your health and budget.
Control over the ingredients
By following a clean eating meal prep, you can avoid questionable oils, preservatives, or quality issues, and you can create meals that follow your family's dietary/allergy needs. You can also eat seasonally and choose organic ingredients when you want to.
This is opposed to eating out when you really don't have any control over what is going into your food. Research also shows that people who eat more often at home are healthier!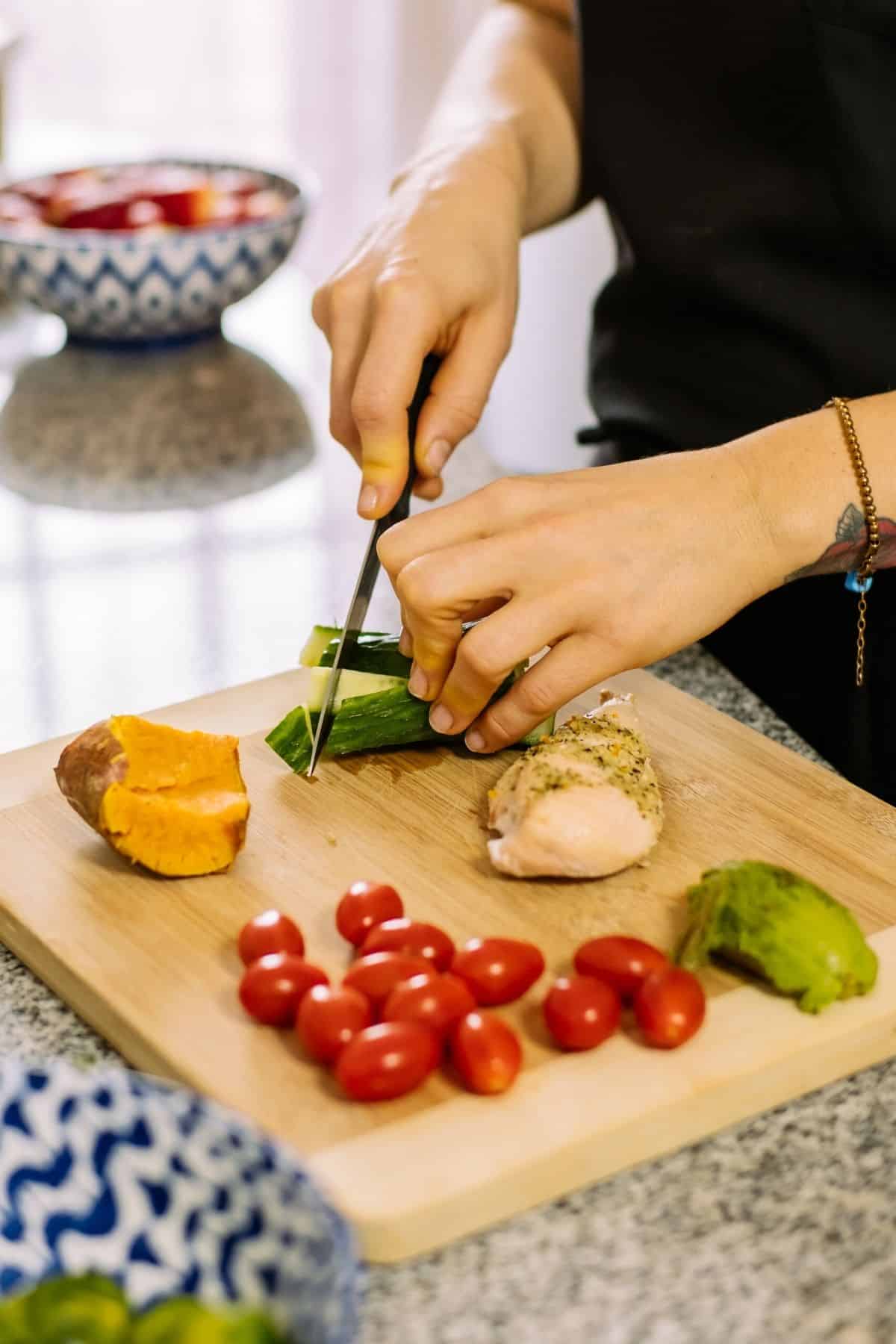 Saves time throughout the week
Meal prepping also helps you save time in the kitchen.
There's no need to scramble to think of what you can make and then go through the entire prep/cook process. With meal prepping, you have healthy food ready to go.
Reduces meal time stress
Most of us aren't in tune with our bodies enough to recognize creeping hunger or blood sugar signals–it's something you learn!
By the time you recognize that you need food, you still have to think of a meal and cook. By then, your blood sugar is already declining and sending stress signals throughout your body.
By meal prepping, you can get healthy food when you need it. This is true "fast food!"
Saves money and decreases food waste
Meal prepping will undoubtedly help you save money and reduce waste as opposed to eating out.
With meal prepping, you decide your meals ahead of time, write out your list of ingredients, and buy only what you need.
Whole food ingredients are often cheaper than pre-packaged meals. When you stick to your list, you decrease impulse buys, lower your grocery budget, and decrease the amount of food you're throwing away each week. It's a win-win for your wallet and the environment!
See more of my tips on how to eat clean on a budget.
Helps control your portion sizes better
Everyone's caloric needs are different–when your default is a frozen meal or box dinner, you have a portion size prescribed to you. You could be eating too much, or not enough.
By meal prepping, you can pre-portion your meals to what you KNOW is the right amount of food for you. Over time, this will help you manage your weight and reach more of your health goals.
See my whole article with weight loss tips for women.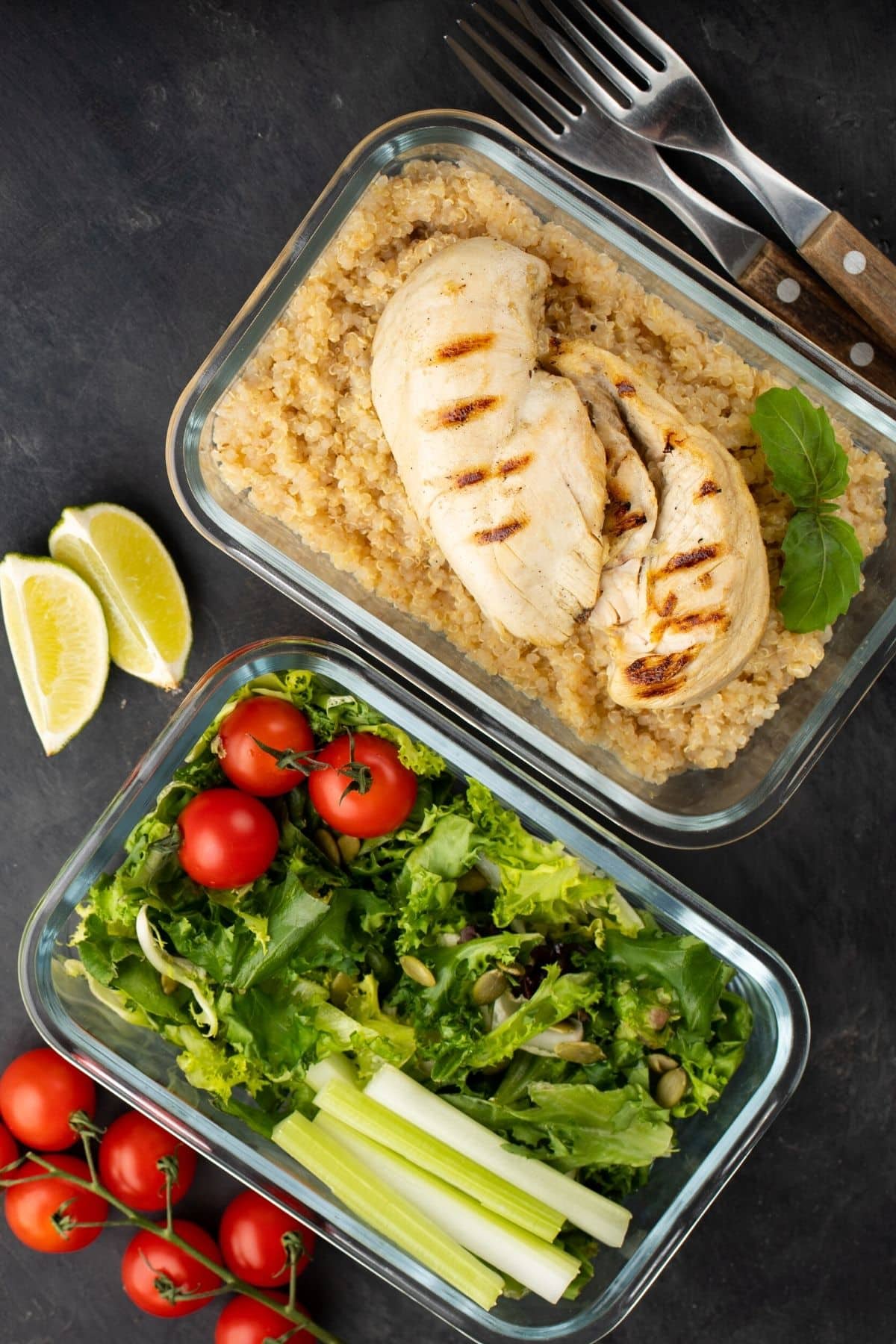 Results in more family time
Meal prepping can either be a relaxing few hours by yourself in the kitchen, or a great bonding experience to teach your kids about healthy food and cooking. Even the littlest of kiddos can help with washing or slicing veggies.
In addition to getting your family involved with the process of meal prepping, it also leaves more time to do other family activities outside of the kitchen.
Meal Prep Tips for Beginners
Now that you're ready to try meal prepping, how do you get started? And what are the best ways to organize, store, and prepare your meal prepped meals? Here are my top ten best ideas for beginners.
1. Choose buffet-style meal prepping
Buffet-style meal prepping is also known as batch cooking.
While some meal preppers make one big batch of the same thing to eat for the week, buffet-style meal prepping is different. In this method, you make a few different items and mix and match them into different meals.
A good way to follow this style of meal prepping is to batch prep a couple of proteins, some veggies, and some healthy carbs.
Many people, including me, find that this buffet style of meal prepping lends enough freedom and variety to keep them from getting bored and giving up.
I use a small white board in my kitchen to plan my clean eating meal prep for up to 2-4 days at a time.
See all of my recommendations for healthy cooking appliances.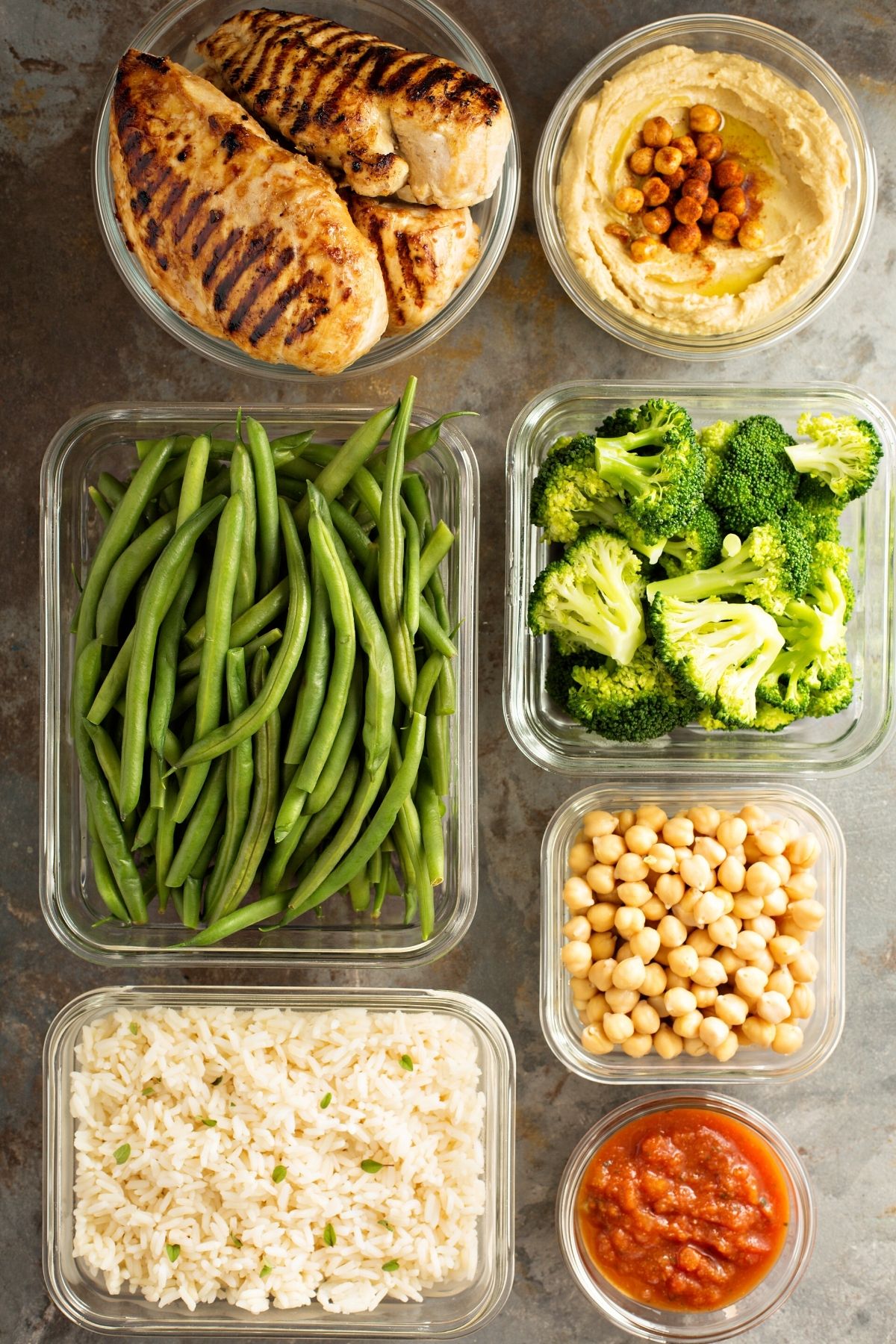 2. Go the leftovers route
With leftovers meal prepping, you meal prep one or two meals, and then commit to cooking once every other day. For instance: you have breakfast and lunch meal prepped, but have time to cook dinner.
A good way to do a "leftovers meal prep" is to double whatever recipe you are making so you'll have extras. In this way, you are actually planning for leftovers and that's your meal prep.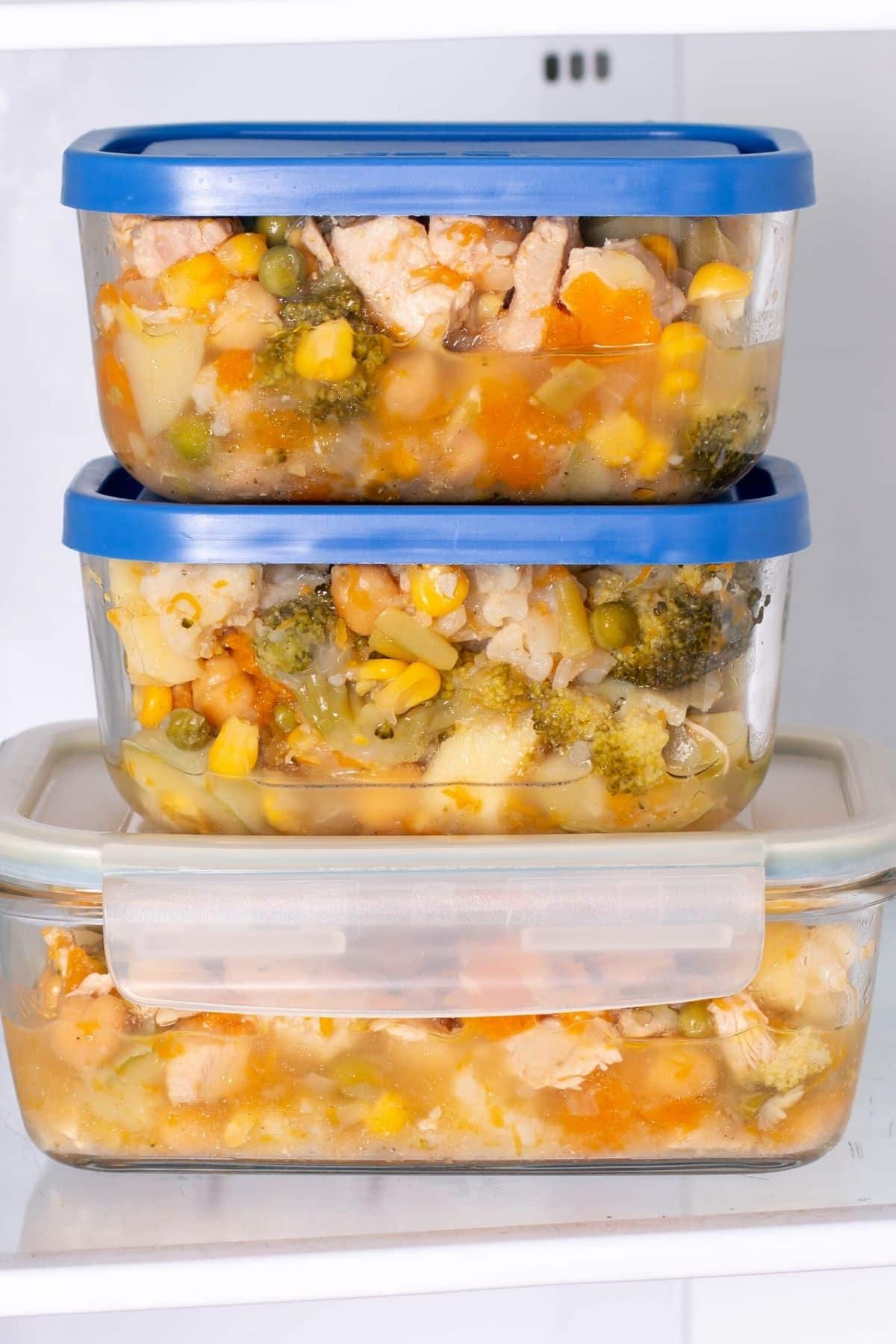 3. Divide your prep
Another meal prep idea is rather than prepping everything all at once, try prepping just one thing a day. For instance: your main dish on Sunday, veggies on Monday, snacks on Tuesday, etc.
Besides buffet-style prepping, this is my favorite way to meal prep to not get overwhelmed.
5. Multi-task several items at once
Organize your prep by cook time. For example: baked sweet potatoes may take an hour at 400 degrees. While those are cooking, you can also roast other veggies on a sheet pan and get twice the cooking out of turning your oven on just once.
Here's how to make fajita veggies which you could make while you cook another dish in the Instant Pot. By the time your most time-intensive item is done, you have everything else done as well.
This is when following a meal prep guide or making a plan ahead of time will really pay off. Don't just go into the kitchen and try to make 3 recipes at once. Set some time ahead of time to evaluate which recipe needs to be made first and how you can strategize to get the most done in the least amount of time.
6. Invest in quality storage containers
High-quality glass or stainless steel containers make your food taste better, last longer, and remove the risk of chemical leaching–especially if you're heating your food in the containers.
To celebrate the kick-off of your new meal prep habit, invest in a matching set of high-quality containers.
7. Buy pre-chopped and pre-washed produce
Just because you want roasted squash for the week doesn't mean you have to block out an extra ten minutes of time to go through the hassle of chopping! Take advantage of pre-packaged, pre-chopped, and pre-washed produce.
Trader Joe's, Whole Foods, and most nicer grocery stores have extensive sections with pre-chopped veggies. If you can't afford pre-chopped vegetables, then set aside time to meal prep your veggies.
Yes, even chopping vegetables ahead of time counts as meal prepping!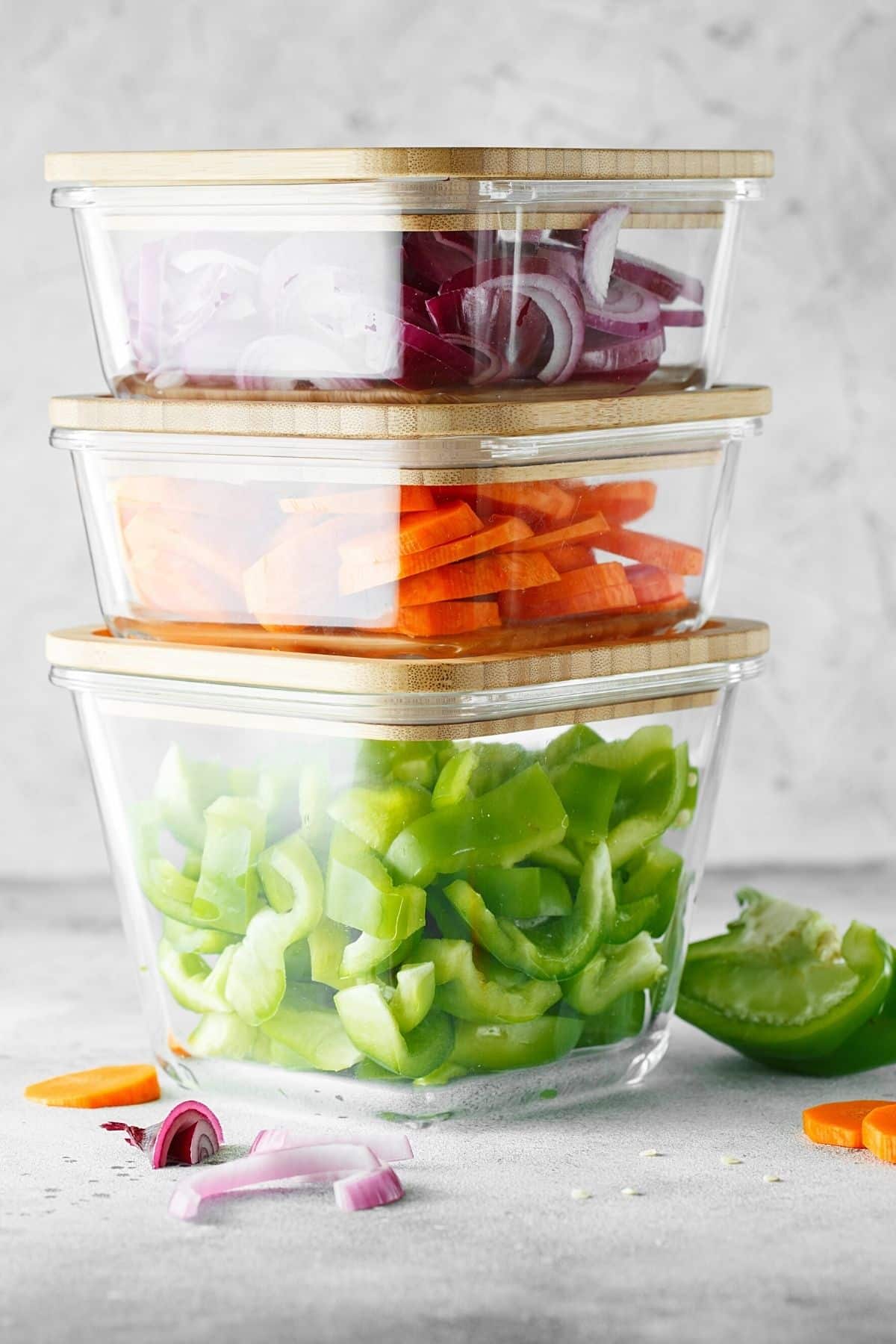 8. Spice it up for some variety
Clean eating meal prep doesn't mean your dishes have to be boring.
Don't underestimate the value of spices. For example: use cinnamon and rosemary to bring out the sweetness of roasted veggies, or use salt and garlic to make them savory. In this way, you can use different spice profiles to mix up the flavor of the same item. This is especially true for foods like chicken that can get boring if you use the same spices.
Free free to get creative with your spices and flavor profiles. Experiment with different combinations and see what you like.
You can also use my list of the best gluten-free sauces to help change up the flavorings.
9. Make freezer-friendly meals
If meal prepping every week isn't realistic, try meal prepping for two-week stretches instead. You can freeze almost anything without losing flavor, texture, or nutrients.
Freeze components separately or mix together for pre-frozen meals. Store in Stasher reusable silicone bags or air-tight glass containers.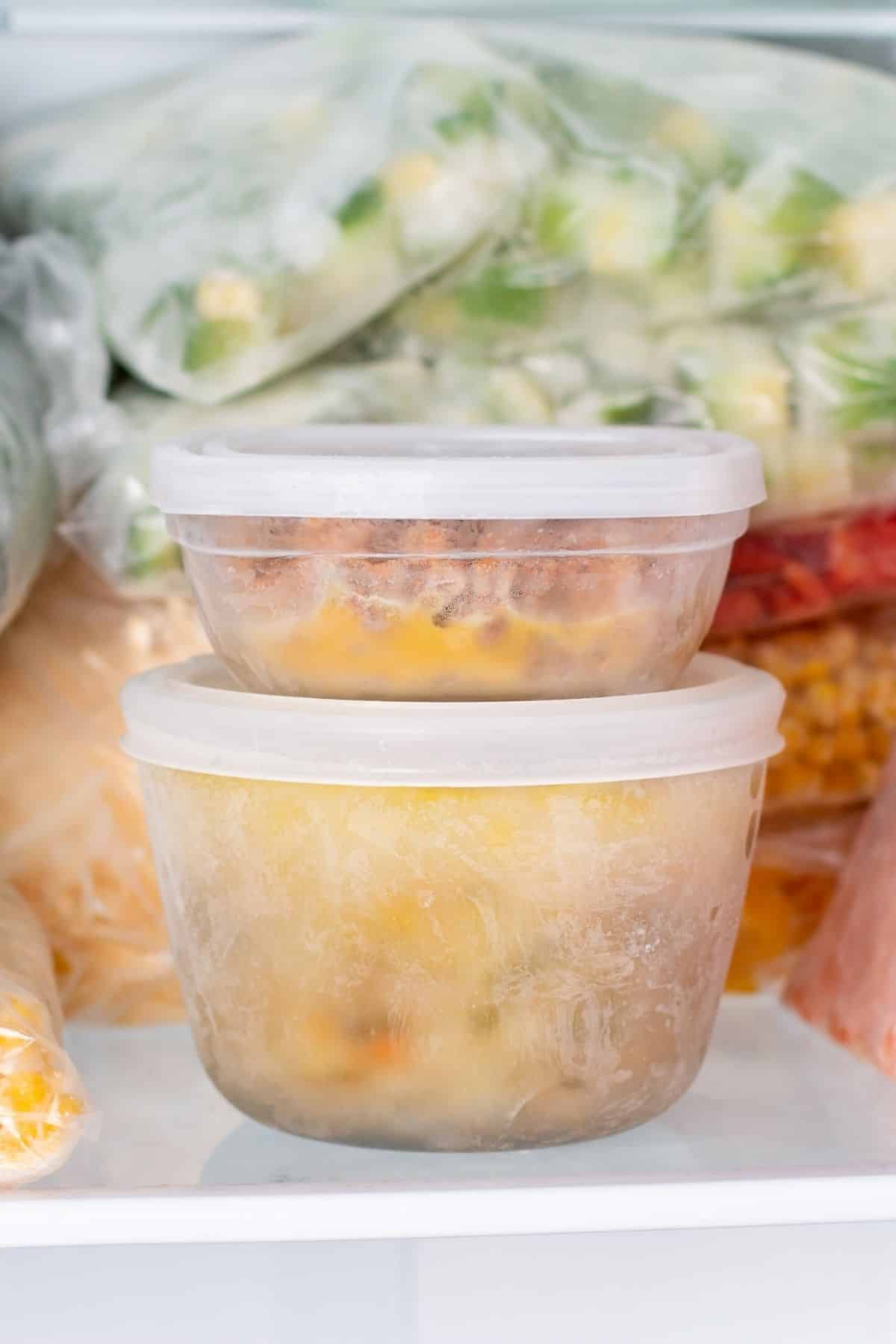 10. Cook what you love
Meal prepping and eating healthy does not mean you can't eat delicious foods that make you happy. You can make this a sustainable part of your life by prepping the meals and foods that you already love. You can also challenge yourself each week to cook something new.
You can always refer to my index of clean eating recipes for inspiration. You might also want to check out my 5-Ingredient Healthy Recipe E-book!
FAQs About Meal Prepping
What food is good to meal prep?
Most real foods and healthy foods can be meal prepped, especially if they are recipes that can be re-heated without losing their quality. Stick with fruits, vegetables, grains, lean proteins, and beans.
Is meal prepping good for weight loss?
Meal prepping can be good for weight loss because it helps control portion size and quality of food. Meal prepping also means you're less likely to have to eat fast food because you already have your food prepared. Meal prepping is also perfect for people with chronic health issues who don't have the energy to cook every day.
How long can you keep meal prep in the fridge?
I recommend keeping meal prepped foods no longer than 4 days in the fridge.
How does meal prepped food stay fresh?
It's important to keep prepared foods in tightly sealed containers in the refrigerator. This will help your meal prep stay fresh.
How much does it cost to meal prep for a week?
It depends, but you definitely will save money if you meal prep compared to the amount you'd spend eating out or buying prepared foods.
How do you successfully meal prep?
Plan ahead and make recipes that you know and trust. Meal prep foods and flavors you like so you'll be more motivated and enjoy your food more. Remember, the point of meal prep is to have healthy and delicious food at your disposal. It's not about just making diet food or bland basics. Have fun and enjoy your food.
Meal Prep Recipes for Beginners
More Meal Prep Resources You Might Like!
Conclusions
I hope you feel inspired with this post including meal prep ideas. Meal prepping is the best way to save time, money, food waste, and your diet. By setting aside a few hours one day, you set yourself up for success for the entire week. You can control the ingredients and portions and save yourself a lot of stress.
If you like this post, consider following me on social media so we can stay connected. I'm on Facebook, Pinterest, Instagram, and YouTube!
About the Author: Carrie Forrest has a master's degree in public health with a specialty in nutrition. She is a top wellness and food blogger with over 10 million annual visitors to her site. Carrie has an incredible story of recovery from chronic illness and is passionate about helping other women transform their health. Send Carrie a message through her contact form.
This post may contain affiliate links which won't change your price but will share some commission. We are participant in the Amazon Services LLC Associates Program, an affiliate advertising program designed to provide a means for us to earn fees by linking to Amazon.com and affiliated sites.