Good morning! I hope you had a nice weekend. Mine was good, especially after I started feeling a lot better yesterday likely due to another change in my medication. I was craving a protein shake on Saturday when I really wasn't feeling well and thought you might be interested to know about some protein supplements that I occasionally use. These are the three that I have purchased in the past and live in my pantry:
I ordered them all from Vitacost, you can see my personal shopping list here (plus, use this link for $10 off if you're a new customer).
I made a simple shake with hemp seeds, water, frozen berries, frozen banana, almond butter, maqui berries, fresh baby spinach and two scoops of protein powder (I used a combo of the Sacha Inchi and the Raw Protein for this one):
I recently bought these maqui berries so I added them for a superfood punch:
Here we go:
All done: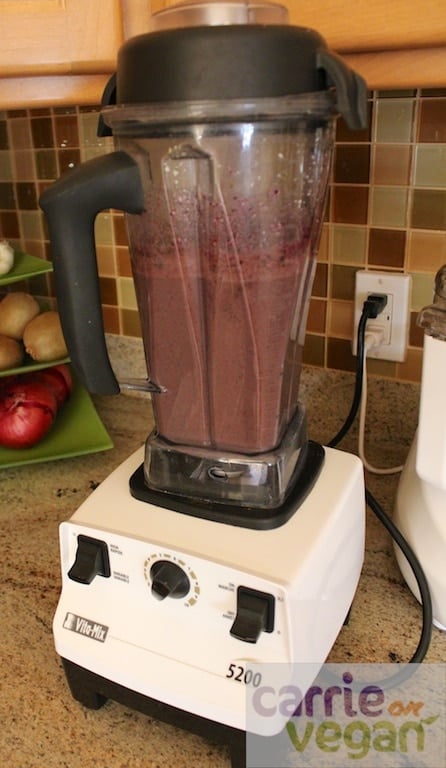 This really did hit the spot:
Here's an outtake:
The recipe:
Vegan Berry Protein Shake
2 Servings
Ingredients:
1/4 cup hemp seeds
2 1/2 cups cold water
1 cup frozen berries
1 frozen banana
2 tablespoons raw almond butter
2 scoops/servings your favorite vegan protein powder
1 tablespoon your choice dried superfood berries such as maqui berries, golden berries, mulberries, etc.
2 large handfuls baby spinach
Directions:
Combine hemp seeds and water in a high-speed blender and process for 20 seconds. Add remaining ingredients and process again until smooth.
Although I generally don't worry about getting enough protein, I think there are instances when the protein powders can come in handy. My criteria for selecting a supplement include that it is vegan and that it doesn't contain too many vitamins/minerals that I don't need. I also like using a combination of different brands from different sources so I get variety in my diet.
Once I started feeling better, I went for a hike. It felt so good to have my normal energy back and to get out in the sun and fresh air:
I also got some retail therapy when I went shopping for some new shoes for some upcoming events. Did you know that vegan shoe shopping is easy and inexpensive? That's because shoes made with non-leather materials are readily available in most discount stores. I love, love,  love the store DSW and that's where I found these:
How to tell if the shoes are vegan? Just look for the materials list on the inside of the shoe and make sure that there are no leather products listed. This one says "all man made materials":
You can do the same for clothes and bags, just check the "ingredients."
I do realize that these discount items are often made in countries under horrible conditions for the workers, so I do try to be conscious about over consuming and recycling whenever possible. I recently went through my closet and gathered up two giant bags of clothes that no longer fit and donated them to a local charity.
What are your tips for finding vegan shoes and clothes?
Have a great day and I'll see you back here on Wednesday. In the meantime, you can "like" my Facebook page here and find over 70 0f my best vegan recipes on my app, Vegan Delish, here.