I'm back from Austin, TX, and Paleo Fx! Phew, what a whirlwind, exciting adventure I had last weekend.
After giant thunderstorms turned a quick 3-hour flight into an overnight debacle complete with a middle of the night taxi ride from San Antonio to Austin, I was pretty zonked that first day at the conference.
Butter coffee helped. A lot:
The first paleo "celebrity" I ran into was Mark Sisson, creator of The Primal Blueprint book and empire:
The expo area was incredible! I got to meet my Otto's Cassava Flour friends in person and eat their delicious concoctions. That's a whole yuca, or cassava in the pic. BTW, cassava differs from tapioca in that it is the whole food:
Cassava flour cookies and coffee go nicely with toasted coconut dark chocolate samples, especially when you've only slept 3 hours, ha: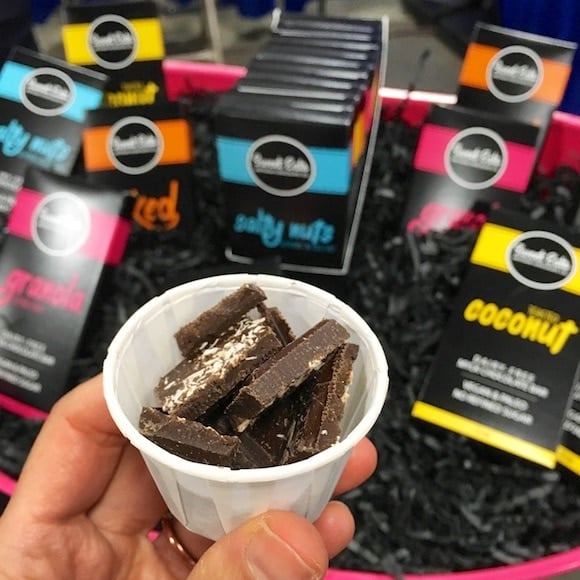 The folks at the Vital Proteins booth were also sampling their great products, including the Collagen Beauty Greens I just reviewed:
Another male paleo celeb I accosted, I mean ran into, was the "Fat Burning Man," Abel James:
I was in Austin for only about 2 days total, but I made some really amazing connections and friendships.
This beautiful lady, Jennifer Warden, and I met virtually about a year ago and bonded over similar life experiences. I was so thrilled that when we met in person, it was as if we have known each other forever:
Since Jennifer and I have a shared love of nutrient-dense foods, you better believe a trip to the flagship Whole Foods Market was in order:
I was so happy to see this giant organic salad bar where I filled up a box for dinner one of the nights:
In front of the store with a giant watermelon popsicle stick, 'natch:
I don't have any great photos to share of the talks at the conference. And, to be honest, I was so overstimulated from all the people and noise and such, that I couldn't really sit still very well to absorb information. Also, I was also too busy running from dinosaurs:
You can bet that I'll be at this conference again next year, come h*ll, high water, or both! ????
My goal is to provide inspiration for healthy, balanced living. You can find more links on my Recipes and Resources pages.
I'd love to have you follow me on my social media accounts, too @carrieonliving: Facebook, Instagram, Pinterest, and Twitter. 
P.S. I also have a Carrie on Living Amazon affiliate store where I list all of my favorite beauty items, kitchen devices, books, and other cool stuff that supports my lifestyle. Your purchase of any item on Amazon helps support my blog so thank you in advance. Note: there may be some affiliate links within this post.