This post may contain affiliate links which won't change your price but will share some commission.
Last Updated on
I can't believe it's September already! I think I'll continue to draw out summer with these weekly food photo journals from my trip to Europe if that's okay with you! Today's daily food round-up come from Wiesbaden, Germany.
Americans may recognize or know the city because of its military base, but we went there because it was close to Frankfurt and a friend happened to be there visiting her German in-laws. What a fun coincidence!
Since Alan and I were staying on the river boat for this part of our vacation, we started off with our typical breakfast that I showed you last week. (For other photo food journals, you can check out my listing here).
On the morning that Alan and I reunited with our friends, they picked us up and then we drove the 20-ish mile distance from Frankfurt to Wiesbaden (did I say drive? I mean flew…we were on the Autobahn after all…no speed limits)! ????
It was a gorgeous day for sight-seeing:
The "green market," otherwise known as the farmers' market, was in full swing, too:
The berry and grape section:
Most of the fruits and veggies were familiar, but the names sure are different: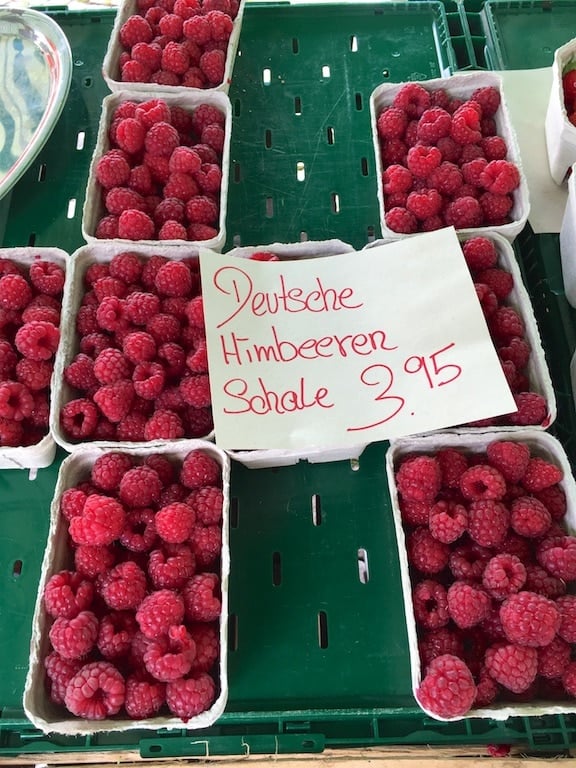 Our friends took us to a gorgeous old world restaurant in the heart of downtown Wiesbaden:
We ate on the patio and I had a Caesar salad with chicken:
I ended up skipping the bread and creamy stuff that came with it, but this was definitely the first sign that we were firmly in the land of bread and cheese, ha ha.
After lunch, we went back to Frankfurt and visited an indoor food market, the Kleinmarkthallen, with all kinds of cool stalls:
The curries!
More fruit and veg:
And Belgian chocolates (I had a mint truffle…sorry no picture):
A few hours later, our friends introduced us to the totally awesome German tradition of "Kaffee und Kuchen," which translates to coffee and cake. I went with just tea, but here's the tray that the other three enjoyed. What a beautiful reminder to sit down, relax, and enjoy time with each other. I loved seeing Germans and tourists alike indulging in this tradition:
Our friends dropped us off at our river boat just in time for sailing, and dinner was on-board, including sliced beef, rice, taters, sauerkraut, and a big salad:
Let's stay connected by e-mail! Sign up here to receive my weekly newsletter with all kinds of fresh recipes and inspiration, plus a sneak-peek into upcoming giveaways and blog posts.