How to Make Green Juice Pulp Crackers
This post may contain affiliate links which won't change your price but will share some commission.
This post shares how to make crisp and tasty Green Juice Pulp Crackers using the leftover pulp from juicing vegetables. This recipe is gluten-free, vegan, and oil-free.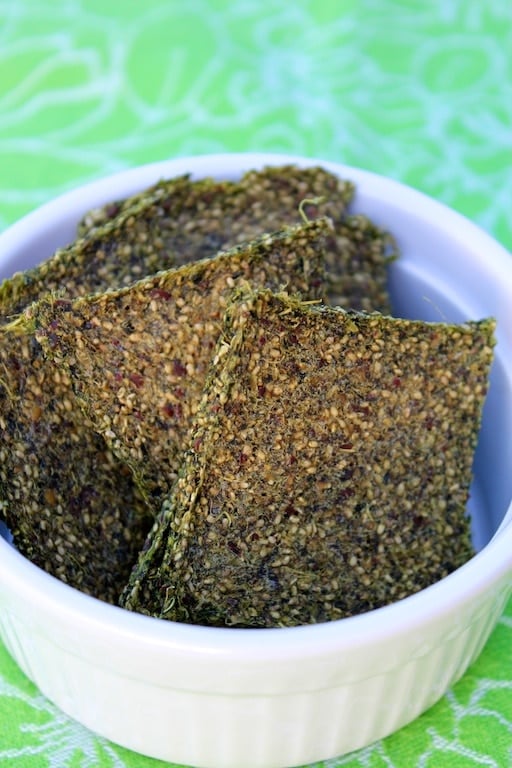 Juicing is a really great way to get extra micronutrients from fruits and vegetables.
But, a lot of people wonder what to do with the pulp that is leftover form juicing? It seems like a shame to throw it all away, especially if you've gone to the effort and expense of buying organic produce to juice.
I think you're really going to like this solution of making delicious Green Juice Pulp Crackers that are full of healthy fiber. 
Recipe Steps
It took me a few tries to figure out a juice pulp cracker recipe that actually tastes good and holds together well. I hope you will agree that this recipe fits the bill. In addition, this recipe is gluten-free, vegan, and made without any oils. Let's get started!
Step One
The first step, of course, is to make your green juice.
If you are going to make this recipe using the pulp, then I am going to ask that you only include the pulp from vegetables, not from fruit. If you use the pulp from juicing fruits, then that will alter that flavor of the crackers. 
So, juice all of the greens you are going to use first, and then you can always reserve the pulp, juice your fruit, and mix it in with your vegetable juice. That way, the vegetable pulp is kept separate from any fruit pulp.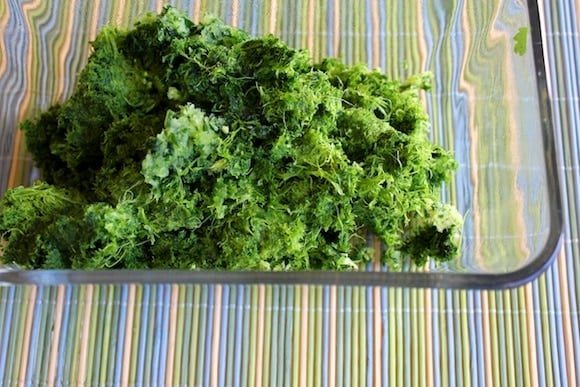 Step Two
The second step in making your pulp crackers is to mix the pulp with the other cracker ingredients.
For this recipe, I used nutritional yeast, coconut aminos, ground flax seeds, chia seeds, and a little bit of water to blend. 
Step Three
The third step is to transfer the mixture onto a baking sheet to go into the dehydrator (you could also use your oven if it has a fan and has a minimum temperature setting close to 135 degrees at the most).
I recommend an Excalibur dehydrator.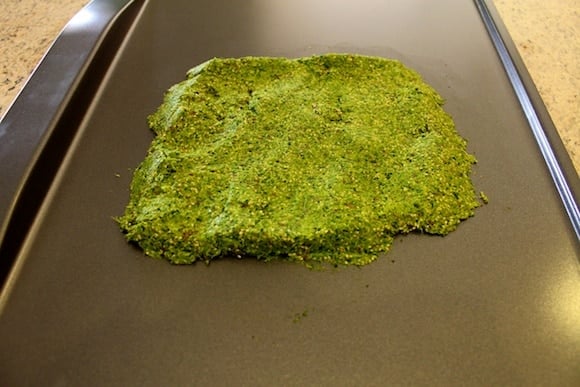 I used a spatula to flatten it out as much as possible and then used a knife to score the batter into cracker sizes.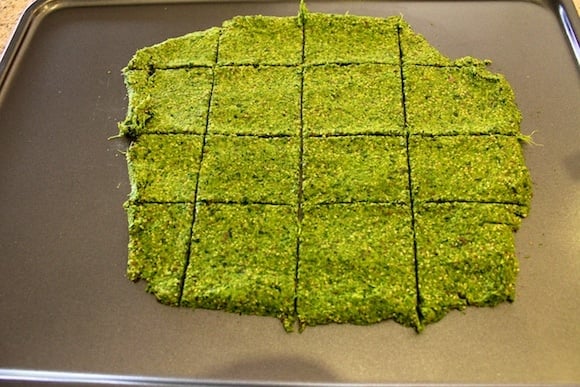 Step Four
The last steps are to flip the crackers once after 12 hours (or midway into oven-baking). Then, let them continue to bake until they are crisp and completely dry (about another 12 hours in the dehydrator).
In the oven, it may take from 30 minutes to 90 minutes to get the same result.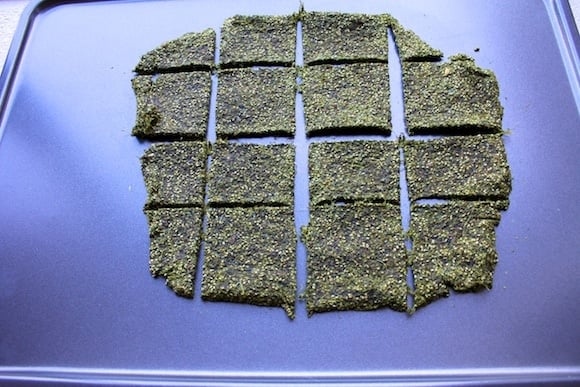 What Do They Taste Like?
I really like the flavor of these green juice pulp fiber crackers. It's pretty amazing that they are made from green pulp that otherwise would have been discarded.
The coconut aminos and nutritional yeast pumps up the flavor and the pulp, and the flax and chia seeds give them a wonderful texture. 
Recipe FAQs
Do I need to use a dehydrator to make juice pulp crackers?
You don't have to. You can use an oven set on the lowest setting. It will take between 30-90 minutes in the oven. The benefit of using a dehydrator is that the crackers will be both raw and vegan, so may potentially have health benefits.
What do these vegetable crackers taste like?
They're really good! You would never guess they are made from vegetable pulp. They have a nice salty flavor that is savory and very satisfying.
More Green Juice Recipes You Might Like
Print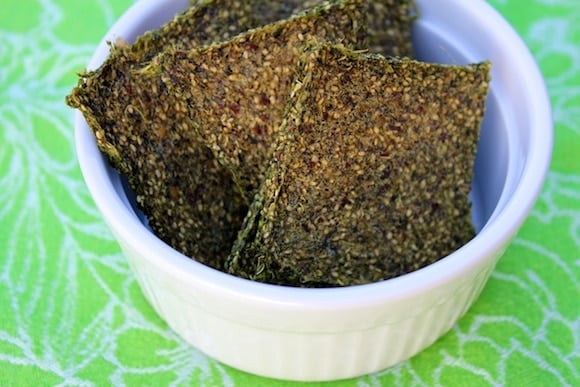 Green Juice Pulp Crackers
These crisp and tasty green juice crackers are a great way to use up the pulp leftover from green juicing. These crackers are vegan and gluten-free!
Total Time: 12 hours 15 minutes
Yield: 12 1x
Pulp from 1 bunch of juiced kale leaves and stems and 1 bunch of parsley, or your favorite blend of green vegetables (you will need about 1 1/2 cups of pulp total)
1/4 cup ground flax seeds
1/4 cup chia seeds
1/4 cup coconut aminos
1/4 cup nutritional yeast
1–2 tablespoons of water, if needed
Instructions
Combine the juice pulp, ground flax seeds, chia seeds, coconut aminos, and nutritional yeast in a food processor and pulse on high until combined, about 45 seconds. The texture of the dough should be fairly soft, but not too wet. If you need more moisture in your dough, add 1-2 tablespoons of water.
Transfer the mixture onto a dehydrator sheet or baking sheet and flatten as much as possible using a spatula. The thickness of the crackers should be only about 1/4-inch of less. Then, use a knife to score the dough into crackers.
Dehydrate on 120 degrees for 12 hours and then carefully flip over the crackers. Dehydrate for another 12 hours (24 hours total) or until the crackers are completely dry and crispy.
Notes
If using an oven, use the minimum temperature setting with the convention fan on and keep a close eye on them so they don't burn. It will take between 30 minutes to 90 minutes to get them fully crisp in the oven.
Store the crackers in an air-tight bag at room temperature for up to 5 days.
Keywords: how to make crackers from the pulp of green juice, green juice pulp crackers, vegetable juice pulp crackers
If you like this post, consider following me on social media so we can stay connected. I'm on Facebook, Pinterest, Instagram, and YouTube!
About the Author: Carrie Forrest has a master's degree in public health with a specialty in nutrition. She is a top wellness and food blogger with nearly 10 million annual visitors to her site. Carrie has an incredible story of recovery from chronic illness and is passionate about helping other women transform their health. Send Carrie a message through her contact form.
This post may contain affiliate links which won't change your price but will share some commission. We are participant in the Amazon Services LLC Associates Program, an affiliate advertising program designed to provide a means for us to earn fees by linking to Amazon.com and affiliated sites.