It's been awhile since we talked juice and I was recently asked by the folks at Williams-Sonoma to answer some questions on the topic (when WS calls, I answer, ha ha).
Anywho, after about a year of not juicing out of sheer laziness, I've gotten back in the swing of things. I find there are two main obstacles in juicing regularly: 1. having enough produce on hand and 2. making time to prep the vegetables. Since I live in an area of California where there are farm stands and farmers' markets nearly every day of the week year-round (yah, I know, I'm spoiled), I can't really claim not to have enough produce, it's more than I just have to get my tookus out of the house. 🙂
Assuming I have veggies to burn, my motto is to prep them the night before I am going to juice. Otherwise, there's no way I'm going to wash, chop, clean up, and juice in the morning, it just ain't gonna happen. This is a typical bowlful of prepped veggies that makes enough juice for two:
The next step in the game is having an easy-to-use juicer (check out the Williams-Sonoma Juicing Resource page here). I prefer a masticating version over a centrifugal type, but whatever you have is perfectly fine, as long as you are comfortable using it.
Since I'm being extra careful with my sugar intake lately, I don't add fruit to my juices anymore, other than the occasional small apple or pear. Instead, I've been using beets and carrots which have enough natural sweetness that fruit isn't even necessary, IMHO.
It's also interesting to note that even using just one large beet will turn the juice red, no matter what other vegetables are included:
This is the recipe that I'm loving right now:
Print
Can\'t Be Beet Juice
---
Author:

Yield:

2

Category:

Juice
Ingredients
1 large beet
2 medium cucumbers, preferably organic
2 large carrots
1 lemon, skin cut off
1 lime, skin cut off
1 small bunch of flat-leaf parsley
1 1/2″-inch piece of fresh ginger, skin cut off
---
Instructions
Wash produce and chop so pieces will fit into the feeder tube of your juicer.
Pass vegetable pieces through the juicer, alternating harder and softer textured pieces to aid in the juicing process.
Serve immediately.
Williams-Sonoma asked me some specific questions about juicing; I would love to hear your thoughts, too!
1. Williams-Sonoma (WS): If someone is new to juicing it may be very overwhelming to get started. How did you get started with juicing, or what would be the first steps you'd suggest for someone beginning their juicing journey?
Carrie: I started juicing to just get more nutrition into my diet. I'm a thyroid cancer survivor, so anything I can do to stay healthy is important to me. Since I'm a healthy food blogger, I mainly used the internet to learn the ins and outs of juicing.
2. WS: From yoga to extreme fitness, is it more beneficial to juice before or after a workout? What is your number one recommended juice for the fitness enthusiast?
Carrie: I prefer to juice before a workout along with a regular meal to provide energy, but juicing afterwards works, too. I like any kind of juice that includes lots of vegetables and isn't too sweet.
3. WS: Juice cleanses are very popular right now, and for many people it can be a very daunting task. What are your thoughts on meal replacement juice cleanses versus juicing while eating a meal?
Carrie: I like to have a juice with a meal, otherwise I often get a sugar rush, even from a vegetable juice. I'm not personally a fan of juice cleanses, although I think they can be great to meet the needs of people looking to lose weight or detox.
4. WS: Is it necessary to use organic produce when juicing?
Carrie: I shop at a lot of farmers' markets, so most of the produce I buy is pesticide-free, but not necessarily organic. I do recommend that people are familiar with the "Dirty Dozen" list of vegetables from the Environmental Working Group, and not consuming conventionally-raised items from that list.
5. WS: What are other creative ways to use juice?
Carrie: Vegetable juices make great soup bases, and can also be added to smoothies for a meal replacement (just blend avocado with your fave juice for a super easy option).
6. WS: Last thoughts on juicing?
Carrie: It's taken me some time to make juicing a part of my regular routine, but I sincerely believe it's an excellent (and delicious) way to add more nutrients to one's diet. There are so many combinations that can be made, so I encourage everyone to just experiment to find your favorites.
Happy juicing, everyone!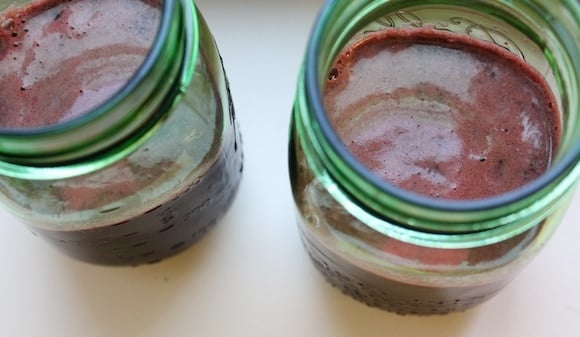 My goal is to provide inspiration for healthy, balanced living. I'd love to have you follow me on my social media accounts, too @carrieonliving: Facebook, Instagram, Pinterest, and Twitter.
P.S. I also have a Carrie on Living Amazon affiliate store where I list all of my favorite beauty items, kitchen devices, books, and other cool stuff that supports my lifestyle. Your purchase of any item on Amazon helps support my blog so thank you in advance!