This post may contain affiliate links which won't change your price but will share some commission.
If you're looking for some easy juicing recipes, you're going to love this round-up of celery juice, cucumber juice, carrot juice, and more.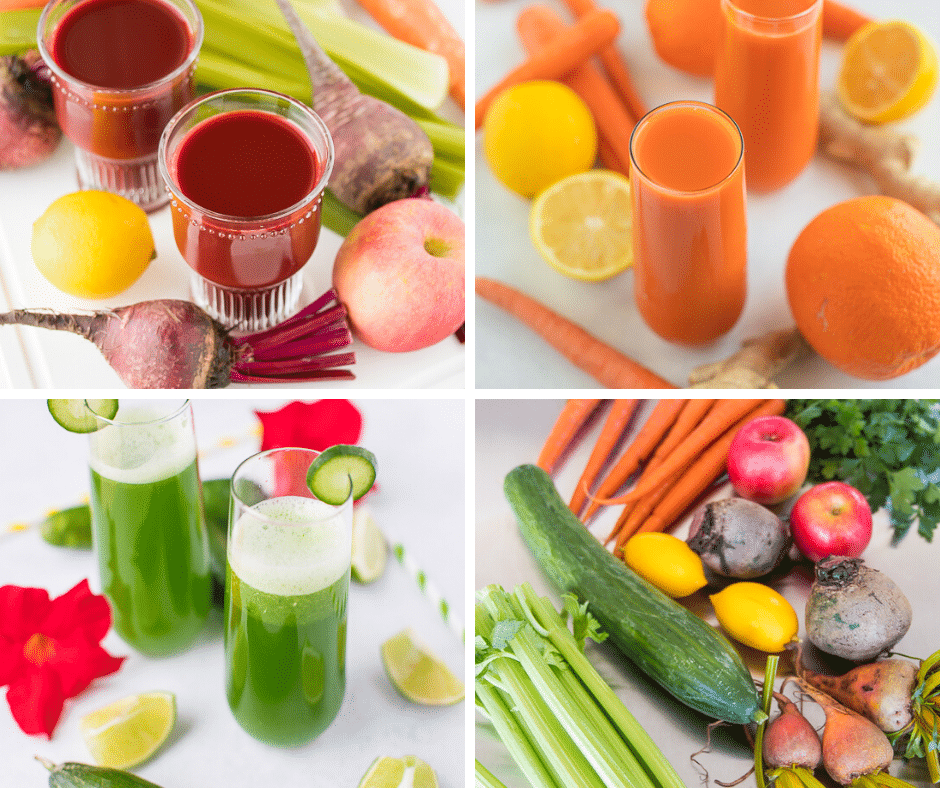 Juicing Routine
I've been making juices for about a decade now, and it's part of my wellness routine. Juicing is a great way to add extra nutrition to your diet, and they can be very hydrating and refreshing.
Depending on the season, juicing can also be a really effective way to use up extra produce. I know that certain times of the year in California, it's almost impossible to use up the bounty from the garden, including lemons, limes, oranges, kale, and zucchini.
If you are interested in doing an actual juice cleanse, you might want to read the article I wrote with some of the positive and negatives. A more moderate approach to juicing is to incorporate it into your regular diet. One way that might look is to drink 4-6 ounces of juice before, during, or after a regular meal.
There are no scientific studies that show that juicing is any healthier than just eating more fruits and vegetables. But, since juicing removes the bulk of the fiber from these foods, it might be easier for some people to get the nutrition without having to digest all of the fiber.
Favorite Juicers
I've had several different juicers over the years, but my absolute favorite juicer is my Omega masticating juicer. It is super efficient and easy to clean, plus it's very well made. I've reviewed all of the best juicers, including how to pic the right one for you.
Tips for Beginners
If you're new to juicing, here are some of my tips.
For the best flavor combinations, use a recipe until you have a good idea of which fruits and vegetables go well together.
Try to use as many vegetables as possible in your juice to keep the sugar content low.
Don't forget about juicing herbs! Parsley is one of my favorites, but you can also juice cilantro, mint, and dill.
You can prep your fruits and vegetables up to a few days before juicing to help spread out the work. After you make the juice, try to drink it within 3 days of juicing for the optimal nutrition and flavor.
Always be careful giving unpasteurized juices to kids, elderly, pregnant women, and anyone with a compromised immune system.
Best Recipes
Best Juicing Recipes for Beginners
This list includes the easiest and best recipes if you're new to juicing. Find celery juice, carrot juice, cucumber juice, and more. All of these recipes are healthy and perfect for a juice cleanse, a juice detox, or just for everyday juicing.
If you like this post, consider following me on social media so we can stay connected. I'm on Facebook, Pinterest, Instagram, and YouTube!