Here's how to make homemade celery juice. This post includes a recipe, plus some info about the health benefits of drinking celery juice.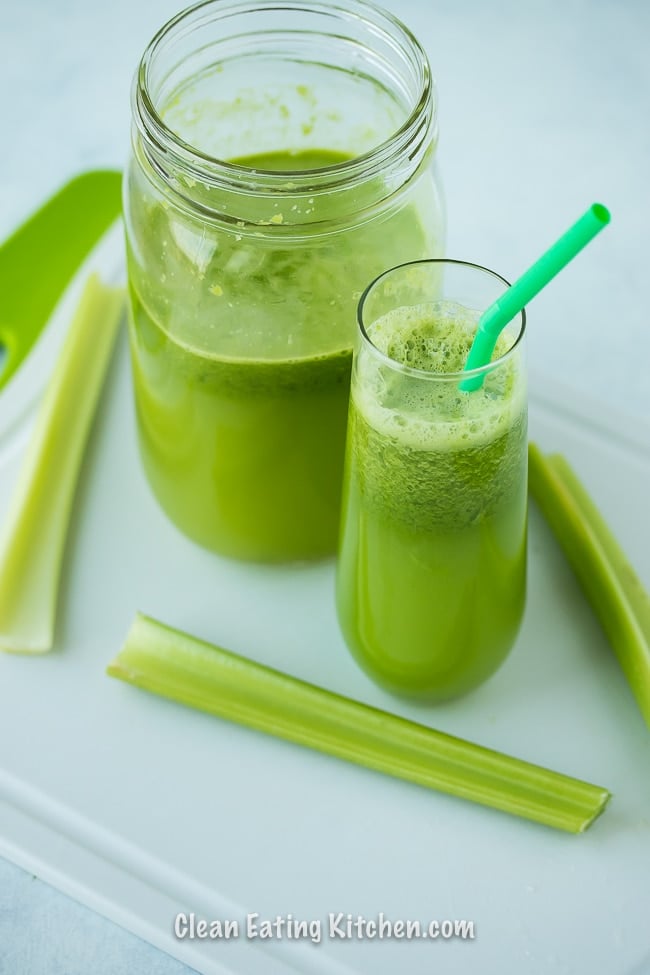 Celery Juice from The Medical Medium
Drinking celery juice is one of the hottest health trends for health and healing. I first heard about the health benefit of celery juice from the Medical Medium podcast and books. His book Thyroid Healing was especially of interest to me, given my history of thyroid disease and a recent recurrence of Epstein Barr, as diagnosed by my functional medicine doctor.
I couldn't find any hard scientific research that supports his statements that celery juice can reverse medical conditions, but we do know that celery juice is high in natural sodium and micronutrients.
Health Benefits of Celery Juice
As mentioned, celery is naturally loaded with sodium and antioxidants. Here's a great article from a functional medicine website about the risks and benefits on drinking celery juice.
From my own research, it appears that celery, also known as Apium graveolens, has been traditionally used in Chinese medicine for centuries. When I delved into the scientific evidence using the latin term, I found a ton of studies showing the benefits of celery, including on high cholesterol, Parkinson's disease, infertility, and cancer.

Celery Juice Recipe
Making celery juice is actually really easy! You only need fresh celery stalks and a juicer. If you have a high-speed blender and a nut milk bag, you can make it that way too.
I included a fresh, peeled lime as an optional ingredient in my celery juice. I like how it adds brightness and some extra flavor. I've been known to juice an apple with the celery, too, but that's also optional and increases the sugar content.
Grab two bunches of celery and cut off the base and the top of the stalks.
Wash them gently in a colander.
Feed the celery through the feeding tube of your juicer.
Serve the juice immediately and keep any leftovers in a tightly sealed jar in the fridge.

Questions About Drinking Celery Juice
Is drinking celery juice good for you? There are only anecdotal reports that drinking celery juice can help resolve autoimmune disease, heal thyroid disease, and help recover from the Epstein-Barr virus. That said, drinking celery juice might have some benefits, along with some risks.
The benefits of drinking celery juice is that its high in micronutrients, especially when you drink it right after you make it. The risks of drinking celery juice include that it might raise the blood sugar of some people.
How do you make celery juice? See my recipe below! It's really easy. You can use a juicer or a blender to make celery juice.
Does celery juice make you go to the bathroom? Well, I suppose if you're not used to ingesting juice, it might have that effect. There is some fiber in fresh juice, but juice is usually safe for people with digestive issues. I would suggest starting with 2 ounces of celery juice to make sure your digestive system can handle it.
Why do people drink celery juice on an empty stomach? It's thought that drinking celery juice on an empty stomach helps the body absorb more of the nourishing and healing micronutrients.
What does celery juice taste like? Not surprisingly, it tastes like celery. I am a fan of the flavor, but sometimes I'll juice a peeled lime and maybe an apple along with the celery for added sweetness and brightness.
Items recommended for this Celery Juice recipe (some affiliate links included):
Here's the Celery Juice Recipe with Instructions for Both a Juicer and a Blender:
Print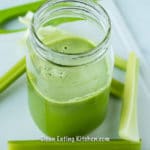 Celery Juice Recipe
---
Author:

Prep Time:

10 minutes

Cook Time:

1 minute

Total Time:

11 minutes

Yield:

4

Category:

Juice

Method:

Juicer

Cuisine:

vegan, raw vegan, healthy, medical medium
Description
Here's how to make homemade celery juice. This post includes a recipe, plus some info about the health benefits of drinking celery juice.
---
Ingredients
2 bunches of celery, prepped for juicing
1 lime, skin removed (optional)
---
Instructions
Prep the celery for juicing by chopping off the base and tops of the stalks of both bunches.
Wash the celery gently and pat dry.
Run the celery through the feeding tube of juicer (see blender instructions below). Juice the lime (optional).
Serve the juice immediately, or keep any leftovers in an air-tight jar in the fridge. Consume within 3 days of juicing.
Notes
To make celery juice using a blender, you'll need a nut milk bag or some kind of very fine mesh strainer to strain out the pulp. To make the juice in a blender, add the celery stalks in batches to your high-speed blender. Add ¼ cup of water to help get the blender started. Use your tamper to push the celery stalks into the blade. Keep adding the celery until you've blended it all. Then, pour the blended celery through the nut milk bag or strainer so remove the pulp from the juice. Serve immediately and discard the pulp.
And, here's a list of other green juice recipes you might like:
Be sure to pin this Celery Juice Recipe image to Pinterest to save it for later!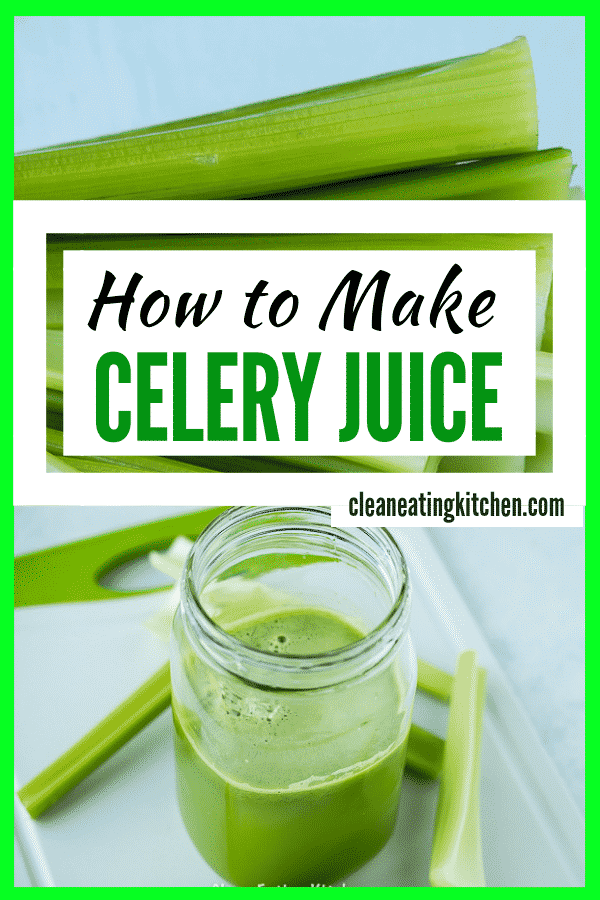 READ NEXT: WELLNESS GIFT GUIDE FOR HEALTH NUTS (LIKE ME)! 
Don't miss a recipe! Join my weekly newsletter list to get all the latest news and recipe links delivered directly to your inbox.
Sign up now and unsubscribe at any time. I will never sell your name or spam you, I promise!