7 Best Sugar-Free Beef Jerky Brands
This post may contain affiliate links which won't change your price but will share some commission.
When you want a protein-rich snack without added sugar, check out this list of the Best Sugar-Free Jerky. This list includes all types of jerky flavors and types to ensure that there is something for everyone.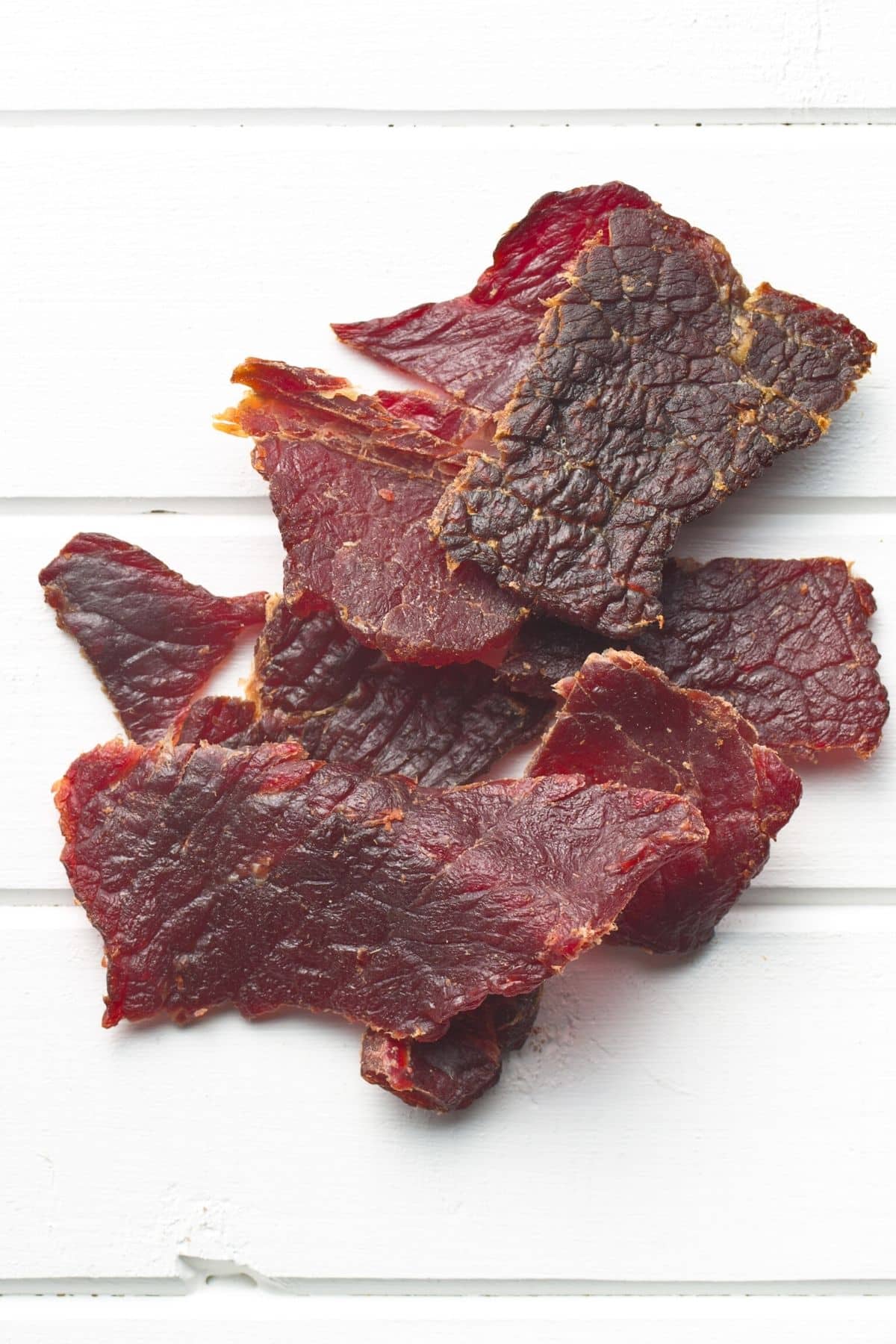 What is Jerky?
Jerky is lean meat that has been seasoned and dehydrated. This means cooking very "low and slow" to remove all moisture from the meat to make it shelf-stable.
Shelf-stable gives you the perfect snacks for on-the-go, whether it's keeping some in your purse or diaper bag, or packing it for a hiking adventure. It's also great to keep in a "snack drawer" at work for when the mid-afternoon slump arrives.
Jerky can be made from just about any animal meat, and can also be made at home. Keep in mind that if jerky is too tough for you or your children to bite and chew, that often you can make your own from ground meat which is easier to eat than simply slicing something like a steak.
As with most snack foods on the market, make sure and read ingredients. Sugar and MSG can easily sneak into jerky treats so you can't just grab any one off the shelf if you have specific dietary needs.
To make your life easier, I've rounded up the best Sugar Free Beef Jerky brands on the market. Grab a bag and enjoy your healthy snack!
Best Sugar-Free Beef Jerky (Plus Other Types)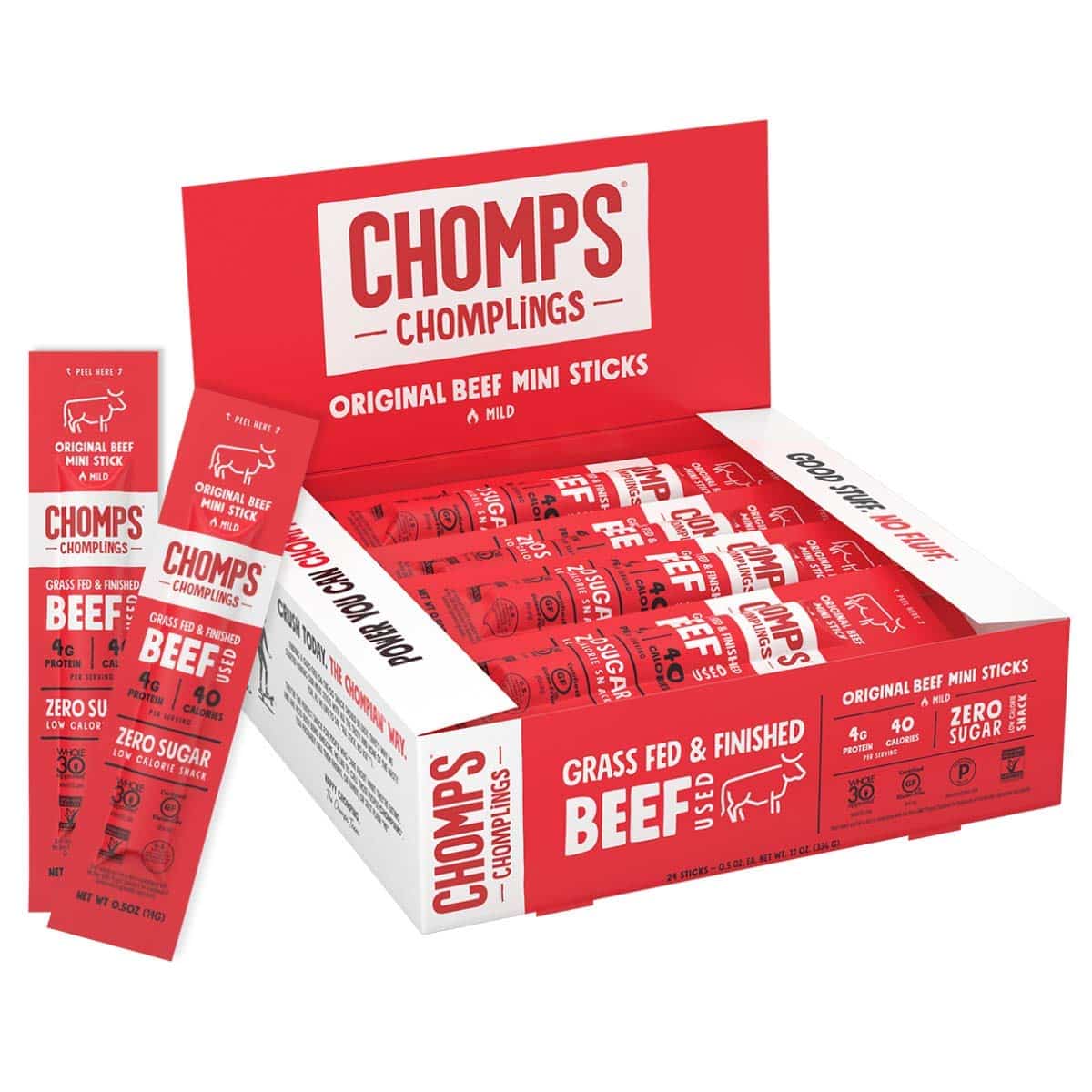 Chomps Beef Jerky has that classic jerky flavor. It's a crowd favorite and one of the best. Grass-fed means the cows were raised naturally and not in a feedlot. This brand comes in a fun snack size perfect for kids and stashing in a bag or pocket.
Chomps is Whole30-approved, gluten-free, and paleo.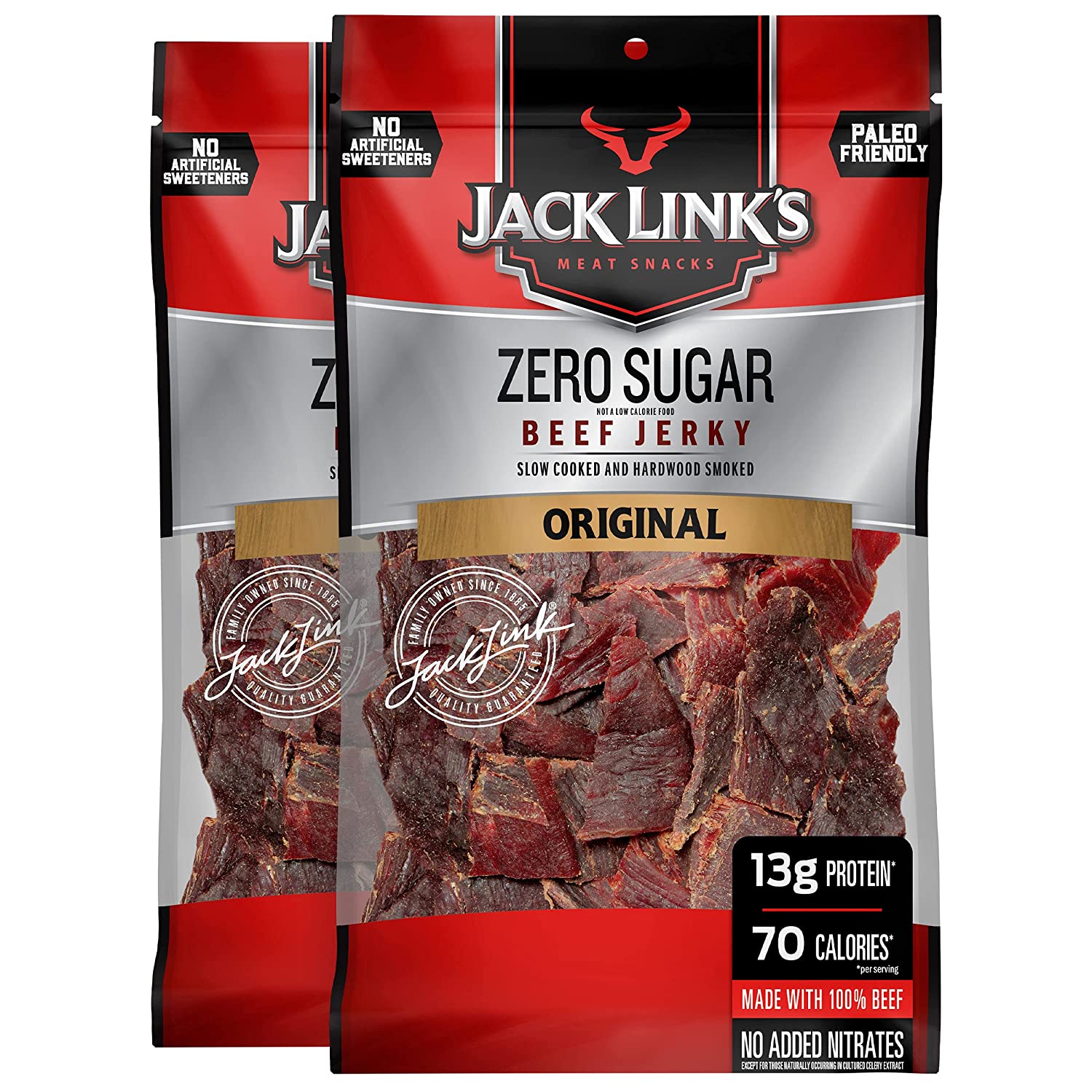 This brand can be found in conventional grocery stores and is a great budget-friendly options. With brands like Jack Link's, you don't always have to seek out a health food store or shop online.
Jack Link's is sugar-free, and doesn't have added MSG or nitrates.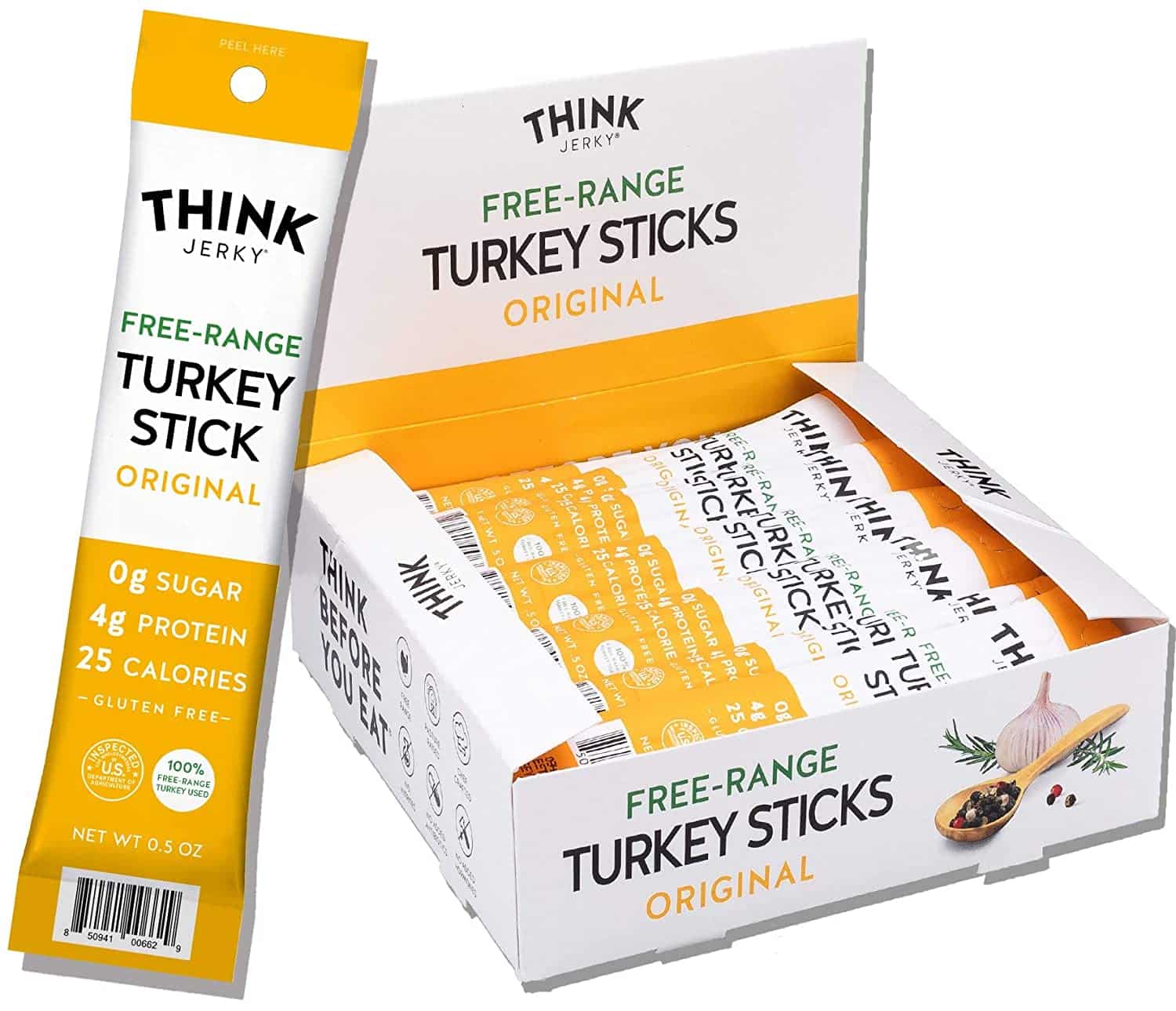 Poultry jerky is a great option when you want to vary your proteins. Hormone-free and antibiotic-free, this brand is a really high-quality option.
Think Jerky is also keto-friendly and gluten-free, and also comes in a beef jerky option.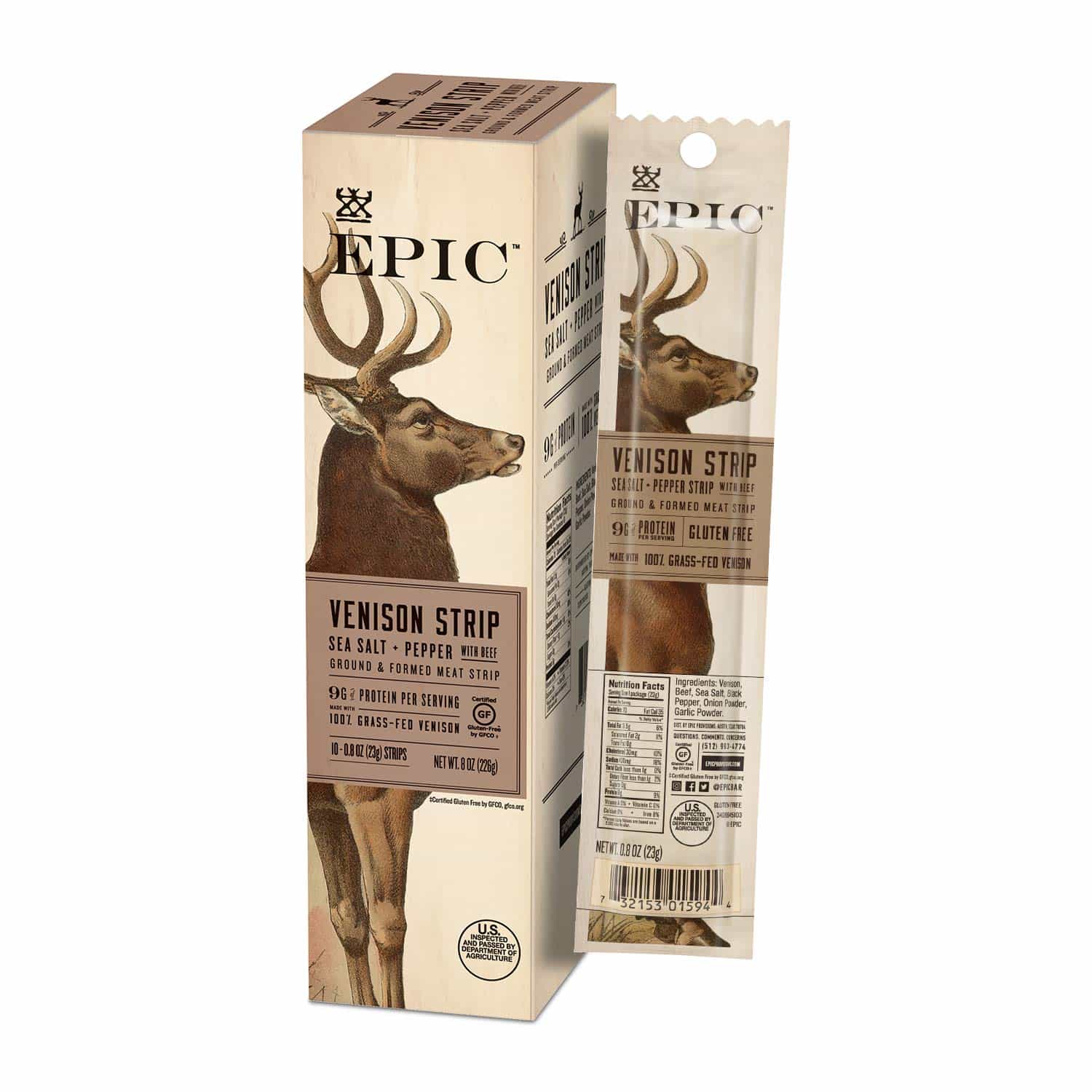 Epic has a wide range of options, including salmon, beef, and bison. This venison one is a great way to try some more exotic flavor and see what you think. These are also made from ground meat shaped into strips, so they have a softer bite.
Epic jerky is Whole30-approved, sugar-free, and keto-friendly.
This sugar-free paleo and keto-friendly brand of jerky has several fun flavors. In addition to the original flavor, the company offers Mesquite BBQ, Smoked, Spicy Peri Peri, and Teriyaki.
This cod has nothing added to it and the texture is described as more freeze-dried so it's a great option for those who consider jerky too tough to chew or when you want a beef alternative.
Check out these crunchy beef jerky chips for a satisfying Paleo snack.
This brand is Hawaiian and is free from sugar, preservatives, MSG, and gluten.
More Healthy Snack Articles You Might Like
Don't Miss These Sugar-Free Resources
Conclusions
There are a variety of affordable, tasty, and sugar-free jerky options on the market. If you're avoiding added sugars but want a protein-rich snack, this list is for you.
About the Author: Carrie Forrest has a master's degree in public health with a specialty in nutrition. She is a top wellness and food blogger with more than 7 million annual visitors to her site. Carrie has an incredible story of recovery from chronic illness and is passionate about helping other women transform their health. Send Carrie a message through her contact form.
If you like this post, consider following me on social media so we can stay connected. I'm on Facebook, Pinterest, Instagram, and YouTube!
Note: this post is for informational purposes only and is not intended as medical advice. Please consult your healthcare provider for recommendations related to your individual situation.
This post may contain affiliate links which won't change your price but will share some commission. We are participant in the Amazon Services LLC Associates Program, an affiliate advertising program designed to provide a means for us to earn fees by linking to Amazon.com and affiliated sites.