7 Best Sugar-Free Coffee Creamers for 2023
This post may contain affiliate links which won't change your price but will share some commission.
Even if you're on a sugar-free diet or lifestyle, you can still enjoy coffee creamer. Just be sure to watch out for artificial sweeteners and hydrogenated oils. This post includes the best healthy sugar-free coffee creamers.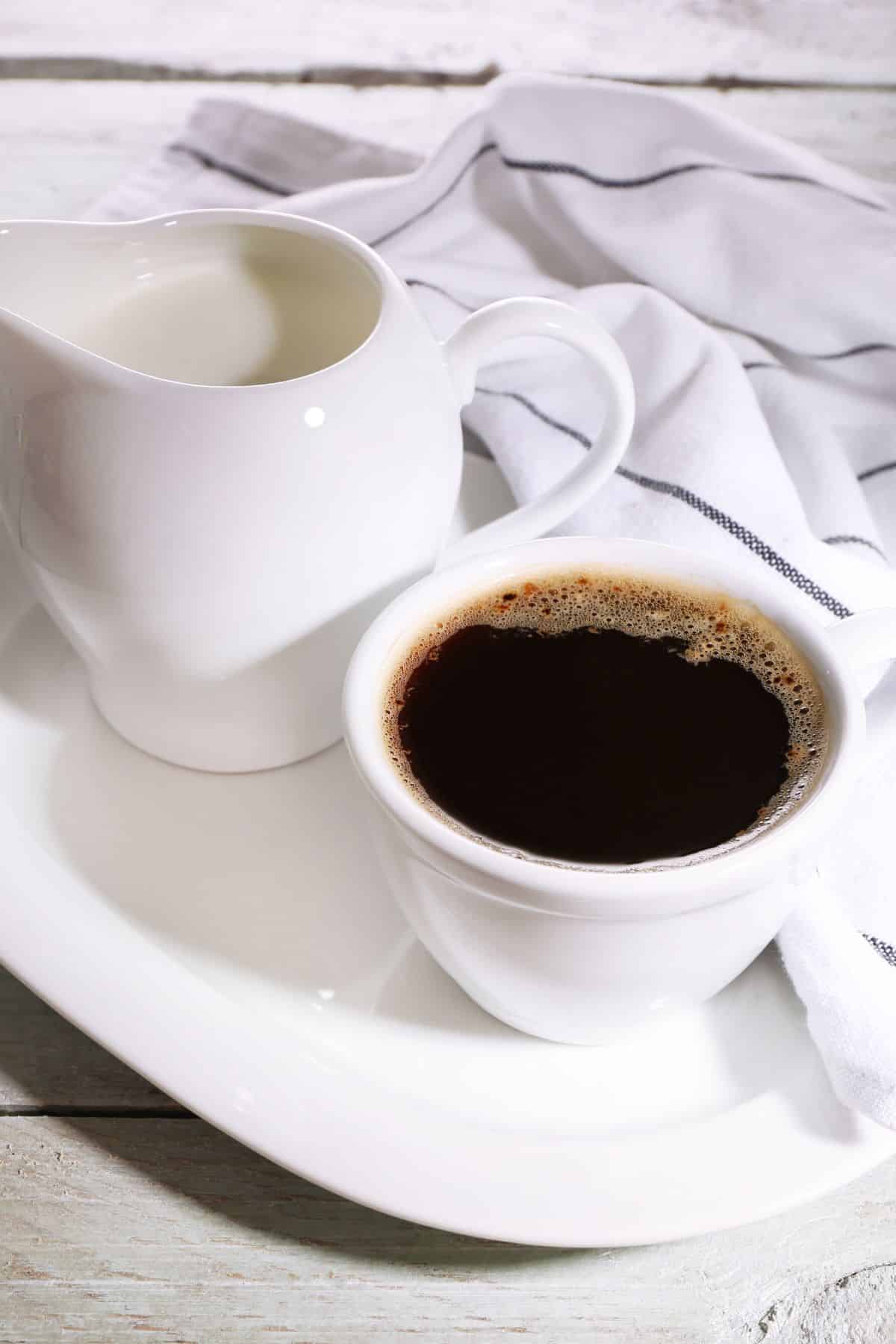 Unless you prefer your coffee black, you might like a little sweetness and creaminess with your morning cup of coffee.
I'm hopeful that this list of the best Sugar-Free Coffee Creamers will come in handy.
Below are my top picks for sugar-free creamers without any unnecessary chemicals like artificial sweeteners, artificial flavor, or hydrogenated oils.
My focus is to offer you the best options—without scary ingredients, additives, or ingredients like corn syrup solids that just don't do us (or our gut) service.
If you want a little more sweetness for any of these unsweetened options, add your preferred sugar-free sweetener.
My favorite non-nutritive zero-calorie sweetener is monk fruit, but you can also read more about the best natural sugar substitutes and the difference between them and added sugars before you test and find your favorite.
Best Sugar-Free Coffee Creamers
This unsweetened nut milk creamer is half almond milk, half coconut cream, and all delicious.
With no added sugar, this is a great dairy-free alternative to half and half. I could swear it tastes like heavy cream!
It's vegan, but not nut-free, just to keep in mind if you have a nut allergy.
Just add a splash (or two!) to your favorite coffee! Keep refrigerated. Califia Farms also has an unsweetened Vanilla flavor with zero sugar.
Mastermind Coffee's French Vanilla Focus Creamer is made with organic ingredients and sweetened with monk fruit. It's vegan, dairy-free, and soy-free.
There are no additives to the all-natural powdered ingredients, so they recommend adding a few spoonfuls to your coffee and then mixing with a milk frother or hand blender for the creamiest result!
This is not your average oat milk creamer…VitaCup's vanilla oat milk creamer has energizing fats from avocado oil and MCT oil, plus L-Theanine to provide natural mental clarity and focus.
Not only do you have a delicious cup of coffee but a boosted brain! It's gluten-free, dairy-free, soy-free, and vegan-friendly.
Just add 2 spoonfuls of the powdered oat milk and blend or froth into your coffee. It's creamy and flavorful with no added sweetener. VitaCup also has a Mocha-flavored oat milk creamer.
NutPods' Hazelnut creamer is unsweetened and dairy-free with all the flavor of your favorite hazelnut! Add your preferred amount to your favorite coffee for optimal flavor.
It's vegan but does contain tree nuts, so keep that in mind if you have a nut allergy. It's shelf-stable but you should refrigerate it after opening.
NutPods also has several other unsweetened flavored creamers such as: toasted marshmallow, french vanilla, cinnamon swirl, and caramel.
This is the best single-ingredient vegan coffee creamer. It's just organic powdered coconut milk.
It's vegan, dairy-free, and unsweetened. All you need to do is add a spoonful to your coffee and mix or froth.
It's a dry powder that you can keep in your pantry and add to any beverage including hot or iced coffee.
6. Best Unsweetened Organic Half & Half: Clover Sonoma
The simplest of creamers: No sugar added, just organic milk and organic cream. Great for those who can tolerate dairy!
This one does have natural sugars from the lactose, but it has no added sugars.
Just a splash and you'll transform your coffee. Keep refrigerated, and enjoy.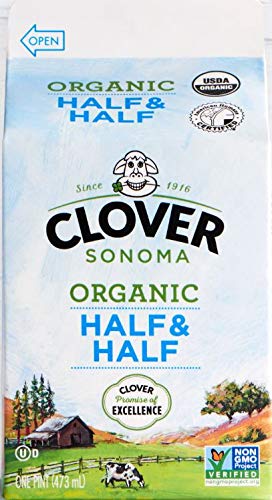 I might be a little bit biased because this is my recipe, but, sometimes the best way to get coffee creamer exactly how you want it is to make it yourself.
This is a gluten-free, dairy-free, nut-free recipe that is quick and easy to make. It just requires a little prep to soak the oats for a few hours, and then it's smooth sailing.
I use maple syrup in this recipe, so to be sugar-free either add monk fruit sweetener instead or omit it altogether for an unsweetened version!
You can also add vanilla bean or vanilla extract for a vanilla-flavored oat milk creamer.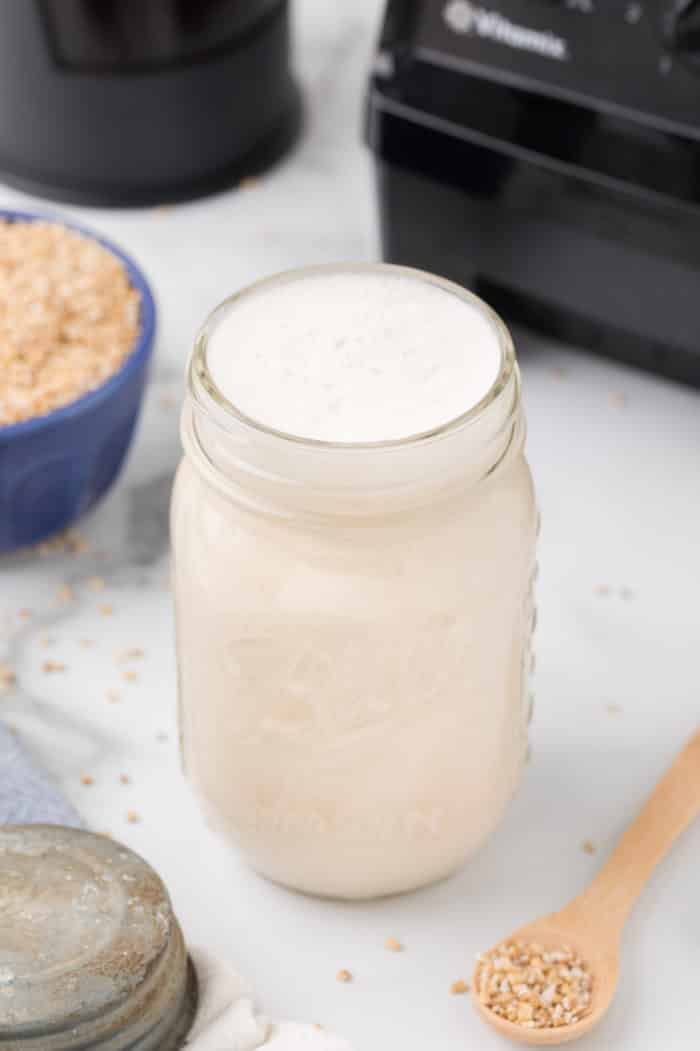 FAQs
What is dipotassium phosphate?
Dipotassium Phosphate is a synthetic salt used as an emulsifier and shelf-stabilizer in foods such as dairy and non-dairy creamers. It is considered safe to consume as a food ingredient in the US, Canada, and Europe and is vegetarian and vegan. If you don't want it in your food, then make your own coffee creamer instead. Or, look for a brand that doesn't have it in the ingredient list.
What is acesulfame potassium?
Acesulfame potassium is an artificial sweetener added to food and beverages. It's also known as Ace-K or Acesulfame K, and is sold by manufacturers such as Sweet One and Sunett.

It's about 200 times sweeter than conventional sugar, which means much less is needed to achieve that sweet taste.

It's deemed safe for consumption by the FDA, but some studies suggest it can shift the gut's microbiome and cause inflammation over time. Because it is an artificial sweetener, I recommend avoiding this ingredient.
What is sodium caseinate?
Sodium caseinate is derived from casein, a protein found in milk from mammals (most commonly, cows). It is often used in protein powder, coffee creamer including the non-dairy kind, cheese, cheese flavoring, whipped topping, and more.

It is used as an emulsifier and frother and is deemed safe for consumption except for those with a milk-protein allergy. If you are lactose-free, you can still consume sodium caseinate, but if you are vegan you'll want to skip this ingredient.
Don't Miss These Coffee Resources!

Conclusions
If you want to drink coffee but are sugar-free, you don't have to stick to plain black coffee! There are many sugar-free coffee creamers out there, both sweetened and unsweetened so you can still have your perfect cup and be mindful of your dietary needs.
About the Author: Carrie Forrest has a master's degree in public health with a specialty in nutrition. She is a top wellness and food blogger with over 10 million annual visitors to her site. Carrie has an incredible story of recovery from chronic illness and is passionate about helping other women transform their health. Send Carrie a message through her contact form.
Note: this post is for informational purposes only and is not intended as medical advice. Please consult your healthcare provider for recommendations related to your individual situation.
This post may contain affiliate links which won't change your price but will share some commission. We are participant in the Amazon Services LLC Associates Program, an affiliate advertising program designed to provide a means for us to earn fees by linking to Amazon.com and affiliated sites.