Clean Eating Food List with 25 Pantry Favorites
This post may contain affiliate links which won't change your price but will share some commission.
Whether you're new to healthy eating or you've been eating clean for awhile, you'll love this gluten-free and dairy-free Clean Eating Food List with 25 Pantry Favorites.
I believe having an organized, well-stocked kitchen is one of the keys to success on a clean eating diet. Would you agree? I'm a fairly organized person by nature, but my pantry tends to get a little messy and cluttered.
As part of my spring cleaning efforts, I recently re-organized my pantry, kept only the necessities, and created a clean eating food list with 25 pantry favorites to share with you today.
Clean Eating Food List
Here's a basic clean eating food list that meets the standards of most healthy diets. I follow and promote a gluten-free and dairy-free approach to minimize inflammation, so all of the items I've included are both gluten-free and dairy-free.
I find that when my fridge and pantry are well stocked, it's much easier to plan and prep meals and always have something healthy available. I don't eat out that much which saves me money and helps me stay on track with my health goals.
While I believe that everyone is different and diet isn't a one-size-fits-all situation, this clean eating food list is a great place to start. If you want more guidance on how to fill a clean eating plate, then you can get my Clean Eating Meal & Snack Guide here. And, don't miss my special Sugar Free Pantry Guide too!
Also, if you're confused about the differences between clean eating, paleo, keto, Whole30, and vegan diets, then check out my article that explains it all.
Overview of Foods
Vegetables: starchy and non-starchy
Fruits: fresh, dried, and frozen
Proteins: meat, poultry, eggs, collagen powder, and plant-based proteins
Nuts and seeds: whole nuts and seeds, and nut butters
Legumes: beans, peanuts, and green peas
Cooking oils and other healthy fats: avocado, coconut, lard, ghee (not appropriate for dairy allergies), etc.
Whole grains (gluten-free): buckwheat, oats, rice, millet, corn, etc.
Pantry items: salt and seasonings, snacks, condiments, sweeteners, baking supplies, other basics and convenience items
Pantry Favorites
To help make a clean eating lifestyle easier, I like to stock my pantry with these gluten-free and dairy-free pantry favorites.
I've organized my 25 clean eating favorites into categories and linked to all of them below. I hope you find some new items to help stock your healthy pantry and support your clean eating diet.
Basic cooking supplies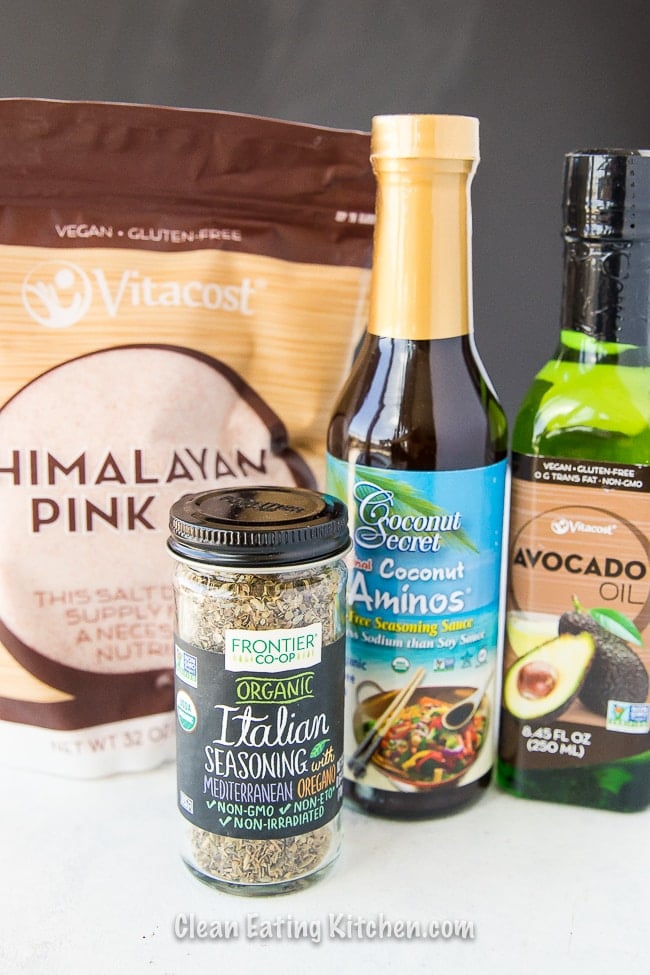 I always have a small bowl of sea salt by my stove and cook space. Adding sea salt to recipes is a healthy way to bring out the flavors of the dish.
2. Frontier Co-Op Organic Italian Seasoning with Oregano
Italian seasoning is my 2nd favorite way to add flavor to my savory recipes. I love this particular brand because it's organic and non-irradiated. I always have it on hand.
3. Coconut Secret The Original Coconut Aminos Soy-Free Seasoning Sauce
For a soy-free and gluten-free seasoning that takes the place of soy sauce, I always recommend using coconut aminos. It's extremely versatile and can be used as the base of teriyaki sauce or any kind of savory sauce. It's also a great condiment to add extra flavor to savory dishes without being overly salty.
4. Avocado Oil – Non-GMO and Gluten Free
If you're still using canola or vegetable oils in your kitchen, then it's time to upgrade to a safer cooking oil. Avocado oil is perfect for cooking because it's safe at high temperatures. It has a neutral flavor. I use it anytime I'm cooking and need to sauté. Read more about the healthiest and safest cooking oils.
Pantry staples
5. Pacific Foods Organic Low Sodium Free Range Broth Chicken
This is my favorite broth to have in my pantry. I use a lot more broth now that I cooks much in my Instant Pot pressure cooker. I like using broth instead of water to cook since it adds a lot more flavor and nutrition.
6. Eden Foods Organic Black Beans
I adore the Eden Foods brand, and I love the prices at Vitacost. This is the brand of black beans I use in my black bean brownie recipe.
7. Farmer's Market Organic Butternut Squash
Using canned pureed butternut squash and pumpkin in my baking is a little clean eating secret of mine. I sneak it into almost all of my baked goods to help reduce the amount of oil I need without sacrificing moisture. I also add it to stews and smoothies. You can't taste it, but pureed squashes are full of healthy beta-carotene.
See my Vegan Pumpkin Ice Cream recipe here.
8. Bionaturae Organic Tomato Paste No Salt Added
Adding tomato paste to stews and savory dishes is another way to add healthy nutrition and flavor. This is my favorite brand because it comes in glass and can be stored in the fridge if you just want to use a tablespoon or two at a time.
9. Lundberg Organic Long Grain Brown Rice
This is hands-down my favorite brand of rice. I've recently started making rice in the pressure cooker and made it part of my weekly meal prep. Brown rice bowls with roasted veggies and a protein like roast chicken is one of my favorite lunches. I also use it to make Instant Pot Rice Pudding!
10. Westbrae Natural Dijon Style Mustard
Dijon mustard is great for making oil and vinegar vinaigrettes, or for just adding flavor to almost any dish.
Baking supplies
11. Nutiva Organic Coconut Sugar Unrefined
Coconut sugar is my favorite sweetener for baking. It's lower glycemic than other options, and tastes great. I use it in my Black Bean Brownies, Air-Fryer Blueberry Muffins, and almost all of my baked goodies.
12. Pacific Foods Organic Almond Non-Dairy Beverage Unsweetened Original
This is the brand of almond milk I keep in my pantry for use in baking or enjoying with granola.
13. Simply Organic Madagascar Pure Vanilla Extract
Adding vanilla extract to baked goods is a great way to add complexity and depth to the flavor. This is the brand I use most often.
14. Pure Living Organic Sprouted Rolled Oats
This is the brand of oats I've been using lately for oatmeal or for adding to baked goods to add fiber and nutrition.
15. Pamela's Products Gluten Free Baking Powder
Every baker needs baking powder and this is the certified gluten-free brand I use and trust.
16. Frontier Co-Op Organic Ceylon Cinnamon Ground
Did you know there is real cinnamon and fake cinnamon? This is the real stuff and I add it all my baked goods, smoothies, and desserts.
17. Arrowhead Mills Organic White Rice Flour Gluten Free
There are tons of gluten-free flours available, and this is one of my favorites. I also love cassava flour and anything from Bob's Red Mill.
Smoothie ingredients
18. SunFood Organic Cacao Nibs
I make all my green smoothies taste like a chocolate milkshake using cacao nibs or cocoa powder. This is my favorite version of cacao nibs.
19. Navitas Organics Lucuma Powder
I've been using lucuma powder for many years now to add a very mild sweetness to my smoothies. It's a superfood and helps mask that veggie flavor in my Collard Greens Smoothie.
20. Ancient Nutrition Multi Collagen Protein
I'm a huge collagen protein fan and love that it's another ingredient I can find at Vitacost. This is a great brand. Read more about collagen protein in this article.
21. Windy City Organics Dastony Sprouted Pumpkin Seed Butter
Adding a healthy fat source to smoothies is a must, and I love using this sprouted pumpkin seed butter for that purpose. It has a delicious flavor and is super nutritious.
Clean Eating Snacks & Extras
22. Califia Farms Dairy Free Better Half Coconut Cream & Almond Milk Unsweetened
This is the brand of dairy-free creamer that I use and recommend.
23. Go Raw Organic Sprouted Pumpkin Seeds
I love the Go Raw brand of sprouted nuts and seeds. Pumpkin seeds are perfect for adding onto salads for crunch and flavor.
24. Siete Grain Free Tortilla Chips Gluten Free Sea Salt
These are the best tortilla chips you'll ever have. They're made from cassava flour so they're grain-free. So yum!
25. Green & Black's Organic Dark Chocolate 85%
I'm a chocoholic and this is one of my top 3 favorite brands of chocolate bars. It's so creamy, yet it's dairy-free.
Conclusions
I hope this list of the foods that are included on a clean eating diet is helpful to you. Feel free to share with me your favorite pantry items in the comments. 
Note: this post is for informational purposes only and is not intended as medical advice. Please consult your healthcare provider for recommendations related to your individual situation.
If you like this post, consider following me on social media so we can stay connected. I'm on Facebook, Pinterest, Instagram, and YouTube!
This post may contain affiliate links which won't change your price but will share some commission. We are participant in the Amazon Services LLC Associates Program, an affiliate advertising program designed to provide a means for us to earn fees by linking to Amazon.com and affiliated sites.