Gluten-Free Pasta Salad with Tuna
This post may contain affiliate links which won't change your price but will share some commission.
This gluten-free Pasta Salad with canned tuna is a delicious recipe that you can make for lunch or dinner. This easy meal has a ton of flavor and nutrition.
Have you tried chickpea pasta yet? I am a big fan. I actually love it more than lentil pasta because it tastes more like the real thing to me. What are you thoughts if you've tried it? This is the brand of chickpea pasta that I like the most.
One box of chickpea pasta has four servings, and each one has 14 grams of protein and 8 grams of fiber. And, 30% of the RDA for iron.
But, if you don't have chickpea pasta on hand, you can actually use whatever pasta type you like.
Steps & Ingredients
I'm going to show you exactly how I made this delicious recipe that is perfect for meal prepping. In other words, make it today, and enjoy it for at least several days after. You only really need four ingredients, and you can make it in less than 30 minutes.
Prepare the pasta according to the directions on the box.
After the pasta is done cooking, rinse and drain and place in a bowl.
Add the chopped parsley, almond milk cheese, and tuna.
Top with dried cranberries (optional), and serve!
As always, please do see the recipe card at the end of this post for the exact ingredients and measurements.
See how easy?! I mentioned that chickpea pasta tastes the most like "real" pasta than any other gluten-free version I've tried, especially one that is legume-based. I'm sharing this up-close picture so you can get an idea of what the shells look like after cooking.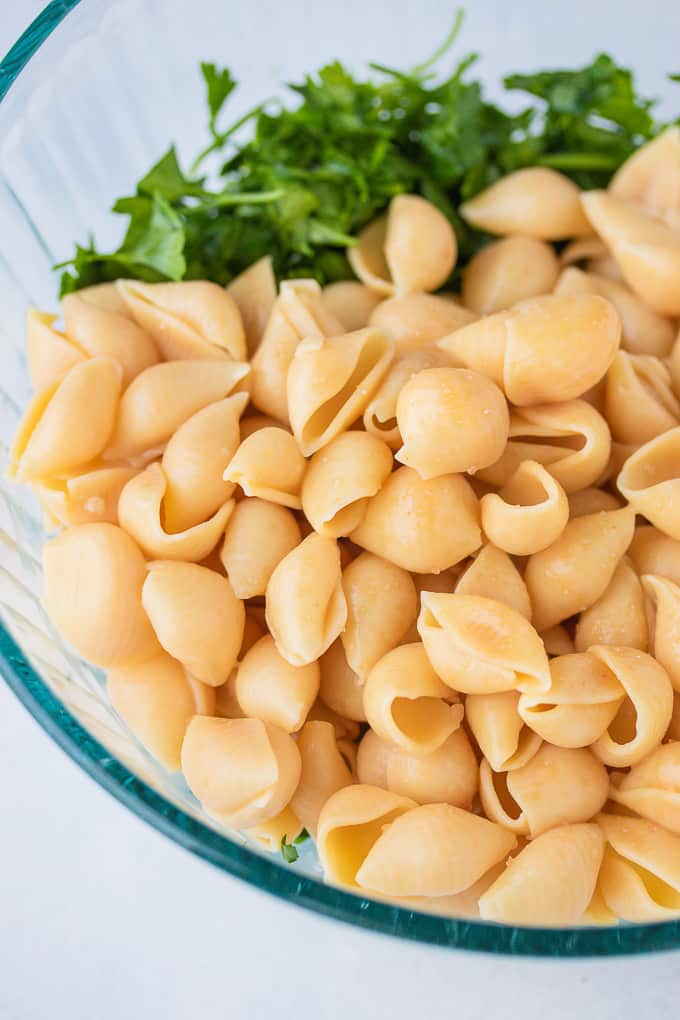 Salad Simple Dressing
I made the simplest dressing for this pasta salad with extra virgin olive oil, salt, and pepper. Honestly, between the other flavors of the dish, including the almond milk ricotta cheese, the parsley, tuna, and dried cranberries, it's tastes amazing just like that.
If you don't have dairy-free cheese or you don't need to eat dairy-free, you can use whatever cheese you have on hand. Goat cheese would be an amazing option.
Meal Prep Lunch
I mentioned that this dish is perfect for meal prep. When I took it along for an appointment that ran into lunch, I served it with some sun-dried tomato almond flour crackers and fresh organic green grapes.
I hope you love this recipe as much as I do.
More Healthy Salad Recipes You Might Like
I hope you make this recipe! If you do, please leave a comment and a starred review below.
And, consider following me on social media so we can stay connected. I'm on Facebook, Pinterest, Instagram, and YouTube!
Print
Chickpea Pasta Salad with Tuna (Gluten-Free)
---
Description
This pasta salad is gluten-free, dairy-free, and a great meal prep option.
---
1 8-ounce box of chickpea pasta
1 bunch flat-leaf parsley, chopped
4 ounces dairy-free almond ricotta cheese
2 5-ounce cans of tuna
2 teaspoons extra virgin olive oil
salt and pepper, to taste
Dried cranberries (optional, for topping)
---
Instructions
Cook the chickpea pasta according to the directions on the package. Rinse and drain the pasta once it's done cooking, and transfer the cooked pasta to a large mixing bowl.
Add the chopped parsley to the bowl and stir to combine.
Use a spoon or your fingers to dollop out the almond ricotta cheese over the pasta and stir to combine.
Use a fork to flake the tuna into the bowl, and stir one last time.
Serve cold or at room temperature, with a sprinkling of dried cranberries, if desired.
Notes
This salad will keep in a tightly-sealed container in the refrigerator for up to 4 days.
Category: Salad
Method: Stovetop
Cuisine: Healthy
Keywords: chickpea pasta, banza pasta recipe, chickpea pasta salad, pasta salad, meal prep, lunch, gluten-free
Don't forget to join the Clean Eating Kitchen newsletter. You'll get my Clean Eating Quick Start Guide, plus links to all the latest recipes.
This post may contain affiliate links which won't change your price but will share some commission. We are participant in the Amazon Services LLC Associates Program, an affiliate advertising program designed to provide a means for us to earn fees by linking to Amazon.com and affiliated sites.