7+ Best Organic Decaf Coffee Brands (2023)
This post may contain affiliate links which won't change your price but will share some commission.
If you love the flavor of coffee but can't handle the caffeine, then decaffeinated coffee may be the best answer for you. Here is my list of the best organic decaf coffee brands that taste as good as the real thing.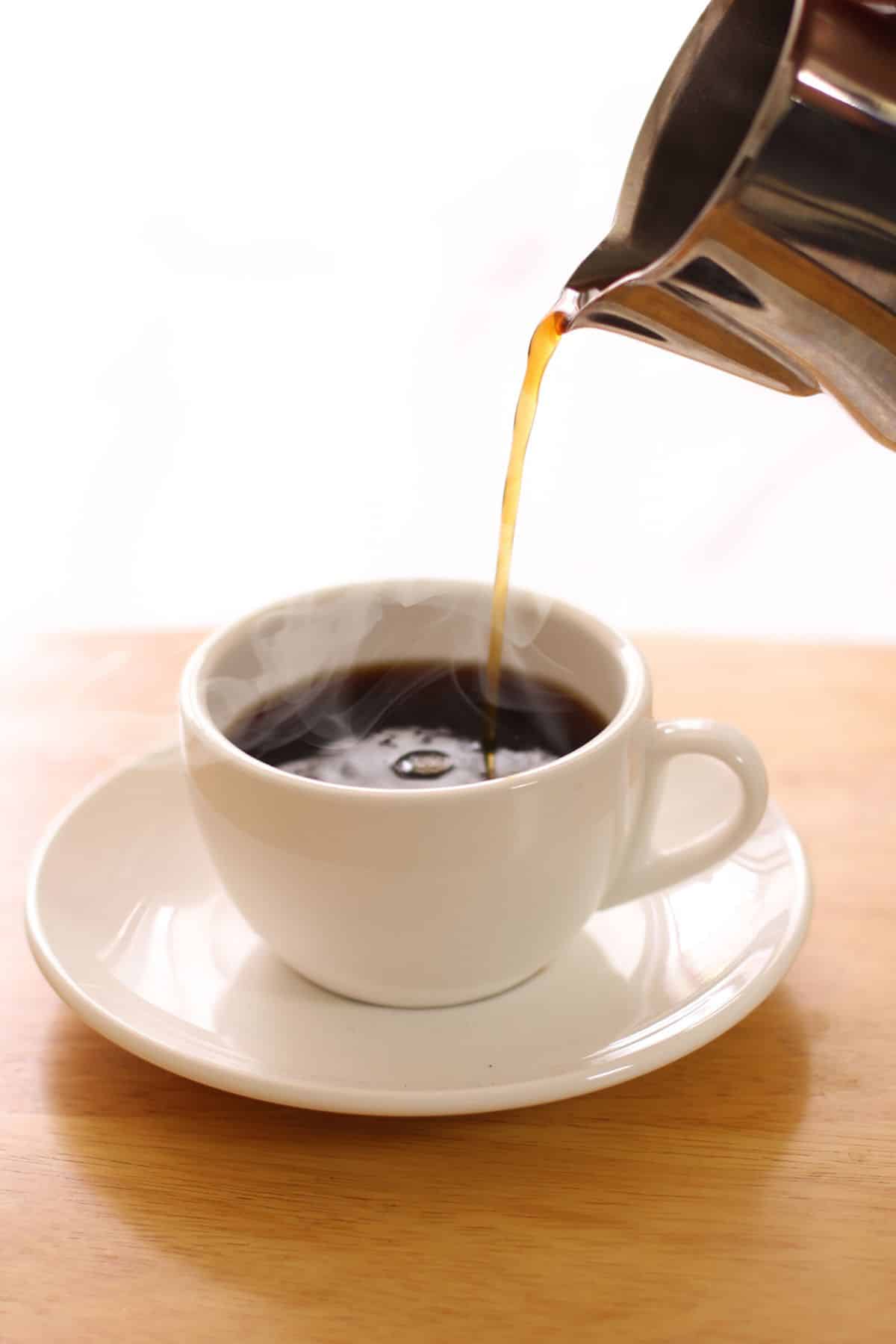 Benefits of Decaffeinated Coffee
Did you know that decaf coffee offers most of the same health benefits as regular coffee?
Many of us drink at least some variation of coffee each morning to get our day started, but not everyone can consume higher levels of caffeine.
If you have high blood pressure, are pregnant or breastfeeding, or are more prone to anxiety, sticking to decaf coffee could be the way to go (always speak to your doctor if you have specific health questions). But, when it comes to how coffee becomes decaffeinated, and which decaf coffee to try, I can help!
Typically, an 8-ounce cup of coffee has 95 mg of caffeine, while a cup of decaf coffee has about 3 mg of caffeine.
There are a few methods to removing caffeine from coffee beans, but the best decaffeination method is Swiss Water Processed because it uses zero chemicals in the decaffeination process.
Instead, the Swiss Water method uses water to remove 99.9% of caffeine from coffee beans. This is a completely chemical-free process without using a chemical solvent that is better for the environment and your health.
Decaf coffee may also help reduce heartburn and coffee.
If you've ever consumed coffee too late in the day and been kept awake at night, or find yourself feeling jittery after sipping coffee, try any of these decaf coffees for the same great flavor without the extra jolt!
Choosing Organic Decaf Coffee
By purchasing certified organic coffee beans, you can maximize the benefits of your beans without risk of consuming pesticides that may have been sprayed on the coffee.
It you take the extra step and choose coffee beans that are both organic and fair trade, that benefits both the farmers and the planet. Fair trade means the farmers are paid a living wage and given the resources to offset potentially harmful farming practices.
You can buy organic (and often fair trade) decaf coffee in whole beans, ground, and even coffee pods now. I've included the best organic decaf coffee brands below.
Note: this post is not sponsored; all opinions are my own!
You might also want to check out my list of the best Decaf Starbucks Drinks!
How To Make Delicious Decaf Coffee Drinks
This may come to you as a surprise, but decaf coffee brews the exact same way as regular coffee!
So, if you're a two-cups-in-the-morning kind of person, you don't have to change a thing. Love a sweet treat in the afternoon with a latte or Frappuccino? You can make the same drinks with decaf coffee and decaf espresso beans.
Let me share the best decaf coffee beans on the market today.
Best Organic Decaf Coffee
Dark Roast and chocolate lovers, this one's for you!
This dark roast whole bean coffee has a rich, chocolatey finish that pairs well with the French Press, a pour over, or cold brew brewing method.
See my related list of the best French Press coffee.
Plus, it is certified USDA Organic and Fairtrade International, which means it's good for you and the globe.
Kicking Horse Coffee is one of the best options if you're searching for a new brand of decaf beans. It is also Swiss water processed.
2. Best Organic Medium Dark Roast: No Fun Jo by Jo Coffee
Small Business Jo Coffee offers a decaf coffee with complex notes of blueberry and milk chocolate, with no flavors added!
This decaf organic ground coffee is a medium dark roast, giving you something easy to sip on. It's also worry-free with its certified USDA Organic, Fairtrade, Kosher ground coffee beans. It has a rich flavor and is a great choice when you want a great ground decaf coffee option.
I love this one for making my Maca Coffee recipe.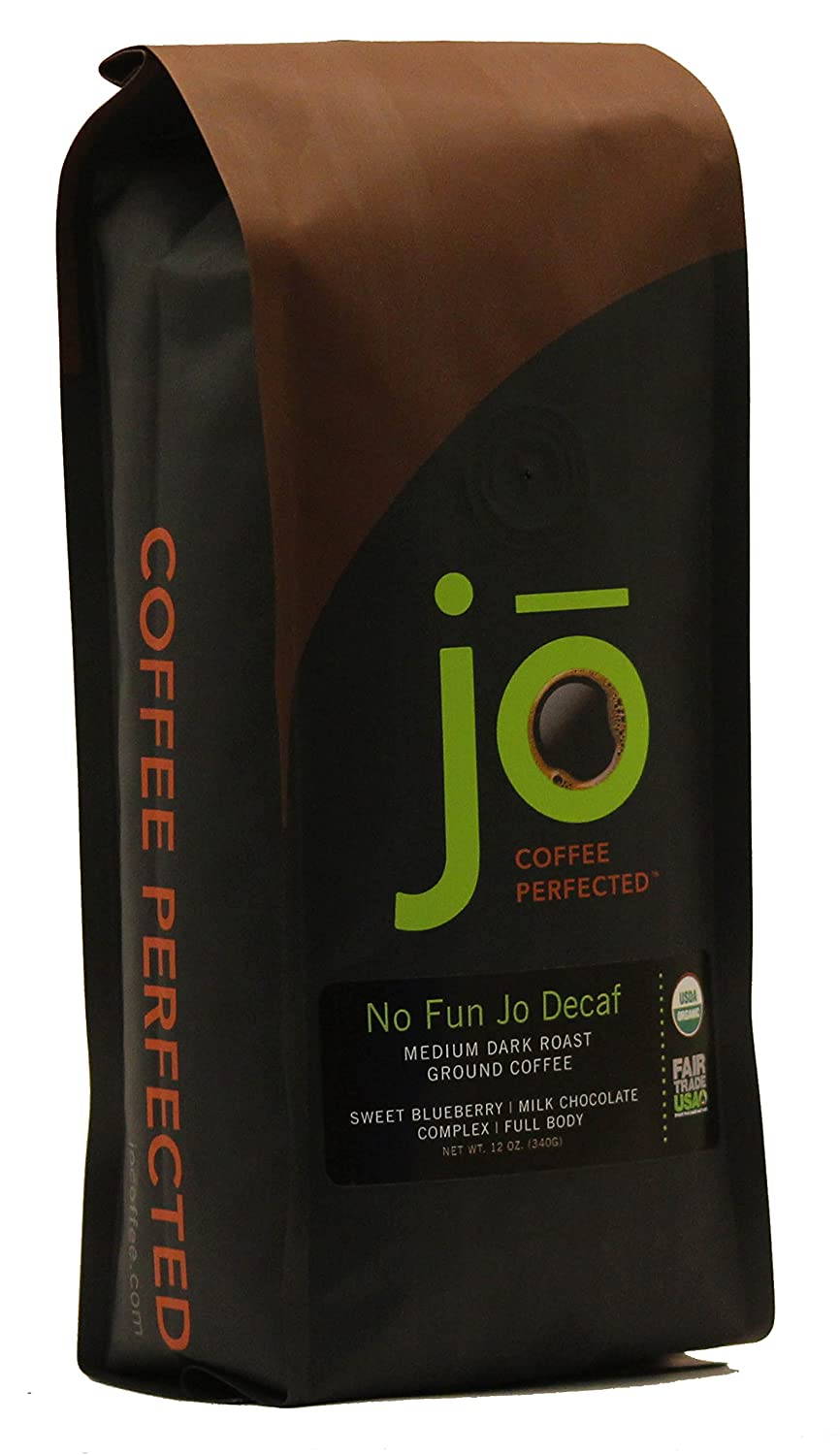 With a name like "hurricane espresso" you'd guess this coffee would give you quite the jolt! But this Swiss Water Process decaf whole bean espresso leaves you with a full-bodied cup of coffee and calm aftertaste.
Well suited for all types of coffee brewing (drip machines, espresso maker, French press, Aeropress, pour over, moka pot) these whole beans are a great value as well.
This brand has been Swiss water processed and is certified organic.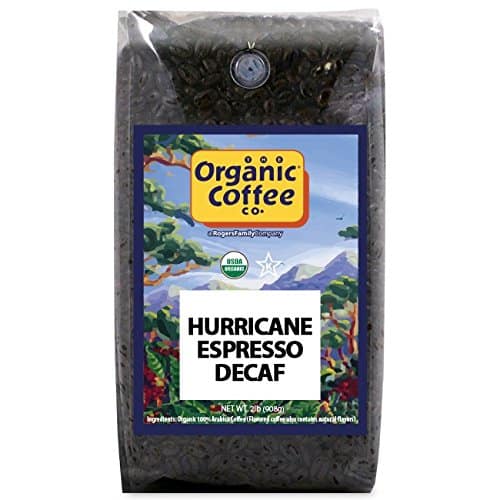 For coffee drinkers on a budget, this Buzz Free decaf ground coffee is perfect for a mellow cup.
It's a medium roast Swiss Water Process decaf coffee that is certified USDA organic. This one is made using Arabica beans which tend to be lower in acids as well.
Great for your daily morning coffee routine! You can find these at all Whole Foods grocery stores or online.
This Swiss water decaf ground coffee is nutrient-packed and is very smooth in flavor.
It's a decaf blend that's great for coffee lovers who also want some additional potential health benefits.
This coffee is infused with two mushroom extracts to help you chill and relax: Reishi mushroom extract can help reduce stress levels and improve sleep, while Chaga mushroom extract may support the immune system by helping to reduce inflammation and lower blood sugar.
As always, consult your doctor before trying supplements, but this is a great, mellow medium roast and specialty coffee that you're sure to enjoy!
6. Best Organic Low Acid Coffee: Lifeboost Coffee
Lifeboost is a small business with big goals: to bring you the best, ethically-sourced organic coffee that is low in acids and 3rd-party tested for pesticides and mycotoxins.
The decaf medium ground coffee is Swiss Water Processed, certified organic, and single-origin non-GMO low acid coffee.
A smooth brew that is easy on your stomach. See my full list of the best low acid coffees!
Lifeboost is perfect for daily sipping by coffee lovers.
7. Best Organic Decaf K-Cups: Gorilla Decaf
As a decaf drinker myself, I've experimented with a lot of different brands and brewing methods. My daily favorite is to use my Keurig machine with a Gorilla Decaf pod.
These are a medium light roast made in a compostable coffee pod. Not to mention, the coffee is decaffeinated using the water process method. The coffee is also organic and fair-trade. It's yummy and is a great option if you want to use a Keurig machine (this is similar the one I have).
Purity was recommended by one of my blog readers. It looks great! It is 3rd party tested for mold, mycotoxins, and pesticides, and comes in several varieties of roasts.
Conclusions
Whether you're ready to ditch caffeine or have already long enjoyed decaf coffee, these best coffee brands will have you sipping without the buzz. Enjoy your cup hot, iced, sweetened, or frothed without any jitters.
Choosing organic, fair trade, and Swiss Water processed is the best way to get great coffee that's good for you and our planet. By exploring the brands on this list you'll find the best brew for your budget and your tastebuds!
Don't Miss These Coffee Resources
If you like this post, consider following me on social media so we can stay connected. I'm on Facebook, Pinterest, Instagram, and YouTube!
Note: this post is for informational purposes only and is not intended as medical advice. Please consult your healthcare provider for recommendations related to your individual situation.
About the Author: Carrie Forrest has a master's degree in public health with a specialty in nutrition. She is a top wellness and food blogger with nearly 10 million annual visitors to her site. Carrie has an incredible story of recovery from chronic illness and is passionate about helping other women transform their health. Send Carrie a message through her contact form.
This post may contain affiliate links which won't change your price but will share some commission. We are participant in the Amazon Services LLC Associates Program, an affiliate advertising program designed to provide a means for us to earn fees by linking to Amazon.com and affiliated sites.