Last Updated on
Learn about the benefits of CBD and how to use it in your kitchen. Plus, download my new ebook, Clean Eating with CBD, for free!
Before we talk about using CBD in the kitchen, let's review what it is and some of the research on how it's being used. As an affiliate with Medterra CBD, I earn a commission on qualifying purchases.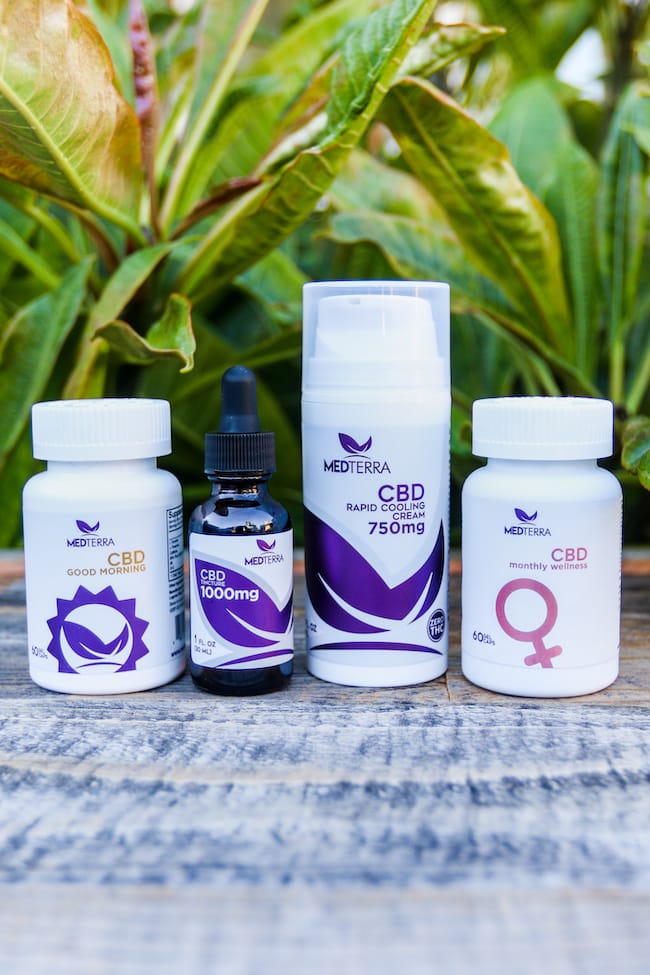 What is CBD Oil?
CBD oil is gaining popularity by the day. CBD oil is an extraction of the cannabinoid directly from a cannabis plant's stalk, seeds, and flowers. CBD, short for cannabidiol, is one of the most prevalent cannabinoids found in cannabis plants. When extracted from the hemp plant and mixed with a quality carrier oil or solvent, CBD oil is turned into a tincture.
The human body has a system called the endocannabinoid system, complete with receptors sites for phytocannabinoids. CBD is one of many safe, non-psychoactive phytocannabinoids that attach to these receptor sites and interact with our endocannabinoid system.
CBD is different from THC (tetrahydrocannabinol), the psychoactive cannabinoid found in marijuana plants. Quality CBD is derived from hemp plants, not marijuana plants. CBD has no psychoactive qualities, instead nourishing your endocannabinoid system safely and with very few side effects in most people.
Disclaimer: Please consult your healthcare provider before making any changes to your supplement routine.
What is CBD Used For?
CBD oil is being researched for its benefits in a variety of health conditions and symptoms, including anxiety and depression, chronic pain and joint issues, migraines, skin issues, epilepsy, alcoholism, and sleep issues.
Anxiety & Depression
Further research is needed, as it is with all uses for CBD oil, but CBD oil is a promising addition to treatment regimens for anxiety disorders and depression. It's even said to have an antidepressant effect! CBD oil works to alleviate anxiety disorders and depression by interacting with the 5-HT1A neuro-receptor of the endocannabinoid system. It has a slight sedative effect, which can help calm anxiety sufferers.
Chronic Pain and Joint Issues
Studies have shown significant pain relief with topical application of CBD to pain sites and joints. CBD reduces inflammation and has been found to reduce joint swelling, making it a popular treatment for arthritis. Cannabinoids in general are becoming popular treatments for chronic pain associated with multiple sclerosis, fibromyalgia, and cancer.
Migraines
CBD oil offers effective relief for some migraine sufferers, as it interacts with the pathways associated with migraines.
Psoriasis & Eczema
There's some anecdotal evidence that incorporating CBD oil into a treatment regimen for psoriasis can offer relief to psoriasis sufferers, due to its inflammation-reducing properties. Preliminary studies have also found CBD use beneficial for other skin conditions such as acne and various types of dermatitis.
Epilepsy
There's some promising research showing the anticonvulsant properties of cannabinoids. CBD has been shown in studies to offer significant relief to epileptic patients. The Epilepsy Foundation now acknowledges the ability of cannabinoids (CBD, specifically) to reduce seizures.
Alcoholism
There's evidence that the use of CBD oil can reduce the neurodegenerative effects of binge alcohol use, thus preventing further cognitive decline.
Insomnia & Sleep disorders
A small study has shown sleep pattern improvement in individuals with sleep disorders and/or anxiety disorders, with more research being conducted to further explore the effects of CBD on sleep. The sedative effect that higher doses of CBD can have, combined with the anti-anxiety benefits may make CBD oil an effective treatment for insomnia and other sleep disorders.
Is CBD Legal?
CBD derived from hemp plants has been legal nationwide for only a few months now, with the passing of the Agriculture Improvement Act in December, 2018. CBD extracted from other cannabis plants (such as marijuana) is not legal nationwide, but may be legal depending on your state.
Currently, you can buy CBD oil online and have it shipped to you only if it is hemp-derived and contains less than 0.3% THC. The federal legality of all cannabis-derived substances is a gray area for now, but the federal and state governments are taking notice of the interest in these substances.
Medterra CBD
The company that I trust and recommend is called Medterra CBD. I interviewed the CEO of the company on my podcast when I was first starting to learn about CBD.
Does CBD Get You High?
No, CBD is a non-psychoactive compound present in cannabis plants. It does not contain high enough levels of THC, the psychoactive compound in cannabis, to have a psychoactive effect. CBD and THC are cousins, not twins. Both stimulate your endocannabinoid system but only THC is psychoactive.
You will not fail a drug test while consuming hemp-derived CBD, either. A quality hemp-extracted CBD oil will not contain high enough levels of THC to show up on a drug test.
Does CBD Help With Anxiety?
The slightly sedative effect of CBD can be an effective part of a treatment regimen for anxiety, according to both anecdotal evidence and preclinical research. There have been relatively few studies directly researching the effects of CBD on anxiety, and no large-scale studies, though this is a popular area for research at the moment.
Can CBD Be Used for Pain?
Chronic pain treatment is a very popular use for CBD right now, with research indicating its effectiveness in relieving chronic pain associated with multiple disorders. Quality CBD has an anti-inflammatory effect in the body when consumed or used transdermally. Combined with its anti-anxiety properties, the anti-inflammatory effect of CBD can be an effective treatment for chronic pain.
Does CBD Have Side Effects?
Quality CBD oil has very few side effects with the appropriate dosage, but you might want to watch out for the following symptoms after you first start taking CBD. If symptoms become severe, consult a healthcare provider at once.
Drowsiness/fatigue
Dizziness
Nausea/diarrhea
Also keep in mind that quality is important with CBD oil. Be sure you trust the brand and that they have been tested for purity, such as Medterra CBD. Always be sure you research and look out for any potential interference with other medications or supplements when introducing a supplement (such as CBD) to your routine.
Is it Okay to Cook with CBD?
Yes, but it's generally recommended you heat dishes containing CBD oil up to only 350F, as the CBD may start to dissipate at higher heats. It's also a good idea to include fat with any recipe including CBD, to help the antioxidants' bioavailability.
What Types of Recipes Can You Make with CBD?
Some of the recipes that I like to make with CBD include drinks, smoothies, energy bites, gummies, and no-bake desserts.
I've included ten of my favorite CBD-infused recipes in my new e-book, Clean Eating with CBD. Download it for free when you join my e-mail VIP list!
And, if you're already on my list, go ahead and click on the link, confirm your subscription, and download the book.
Don't miss a recipe! Join my weekly newsletter list to get all the latest news and recipe links delivered directly to your inbox.
Sign up now and unsubscribe at any time. I will never sell your name or spam you, I promise!