6 Best Omega Juicers (2023)
This post may contain affiliate links which won't change your price but will share some commission.
Omega Juicers are known for their juicing abilities and long-term use. But, what is the best model of Omega juicer to get? Here are the Best Omega Juicers for any household and budget.
Fresh fruit or vegetable juice is a wonderful way to start your day and it's a refreshing boost in the afternoon.
Store-bought juice can have added sugars and other stabilizers, which is why I love fresh, homemade juice using the best ingredients.
It's easy to do with the right equipment, which is why I have a list of the best Omega juicers to fit your lifestyle, counter space, and budget needs.
As with anything, there isn't just one best juicer that will fit everyone's needs. That's why I've tried to include several options in this list of the best Omega juicer. Read through the options to find your personal top pick.
Best Omega Juicers
The Omega H3000D is a budget-friendly masticating juicer built for your needs. It's BPA-free, and most removable parts are easy to clean with a simple rinse.
All removable parts, except the drum, are dishwasher safe, as well. It's a slow-speed masticating juicer which means that there is minimal heat from the motor and you'll have the maximum juice benefits.
This is a "workhorse" juicer and is great for most households. From leafy greens to nut butter, you can make a variety of juices and foods with this option.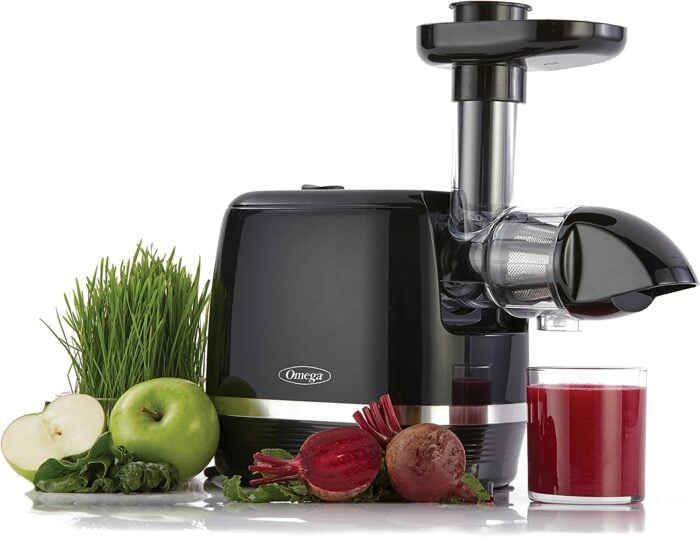 This luxury option is great if you're a big juicer, or want to make a lot of juice in one sitting.
The Pulp Catch Bucket alone holds up to 1 gallon of pulp! It's designed for large-volume juicing and has a 3" chute to fit whole fruits and vegetables (or at least very large chunks).
It's easy to use, just flip the switch and it will start juicing. This is my favorite of the Omega centrifugal models.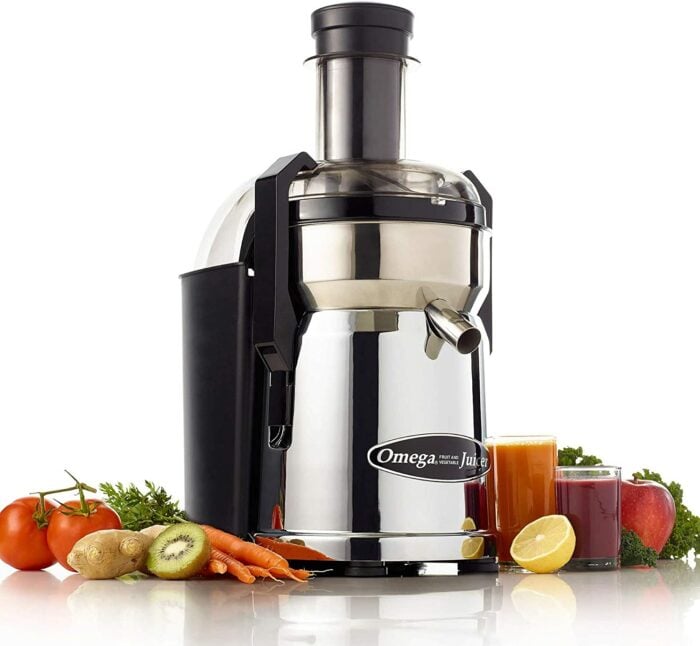 Not only is the Omega 365 vertical juicer a space-saver, it's a mess-saver too.
With the no-drip spout, you can easily juice directly into your favorite to-go container.
It's easy to take apart and reassemble, and a quick, simple rinse will do the trick to clean it.
This is my favorite of the vertical juicers and I think you will love it too. It is a great juicer with the best value for a cold press juicer.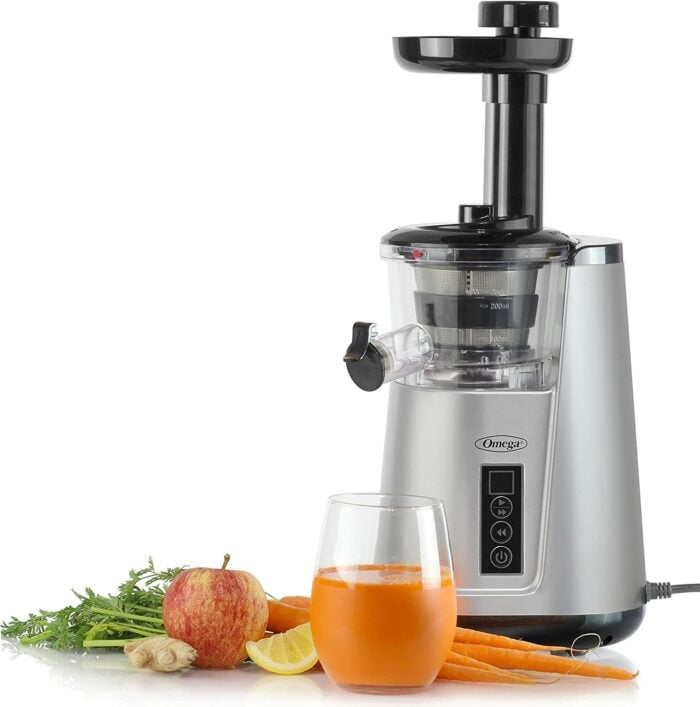 This compact juicer is great for small spaces like apartments and for kitchens short on countertop space. You could even take it with you on your travels if you wish.
It has an 80 RPM motor which minimizes heat buildup and oxidation, allowing for the most nutrient-rich juice. It's quiet and effective, and easy to clean.
This slow masticating juicer will give you high-quality juice with ease of use.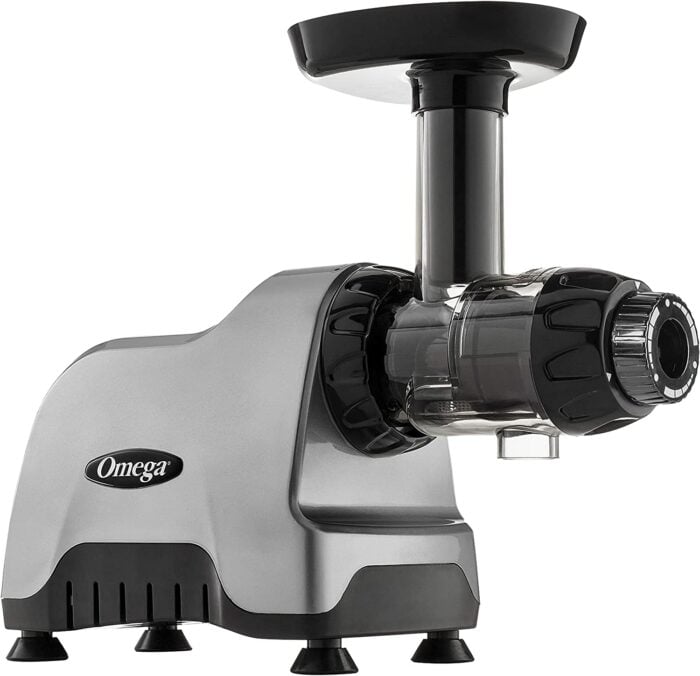 This centrifugal juicer is so easy to use and bonus, really easy to clean.
It has an automatic pulp ejection that is continuous as the pulp is pushed into the container at the back of the juicer and said container is removable so that cleaning up is simple and quick.
The 250 watts make this juicer powerful and efficient so you can make your juice and get on with your morning!
It's great for citrus fruits and is one of the best of any citrus juicer I've seen.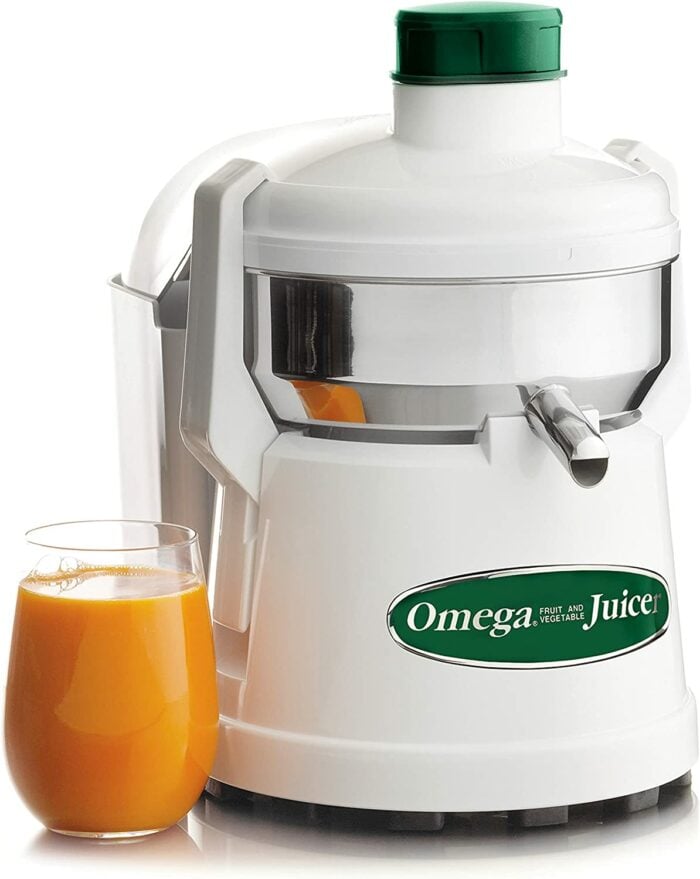 I currently use this juicer – and I have for years. It works hard and makes the most out of the investment I made! It's my favorite of all the slow juicers and the best option for most households.
I love that it has cold-press technology, which means you get the maximum nutrients out of your veggies because the juice never touches heat. It works so well to extract the juice from soft to tough vegetables.
I make Celery Cucumber green juice with it almost every morning! It's very easy to use, easy to clean, and it works quietly for the machine it is.
This low-speed juicer will have a high yield which means it extracts as much juice as possible from fruits and veggies. It can also be used to make baby food and nut milk.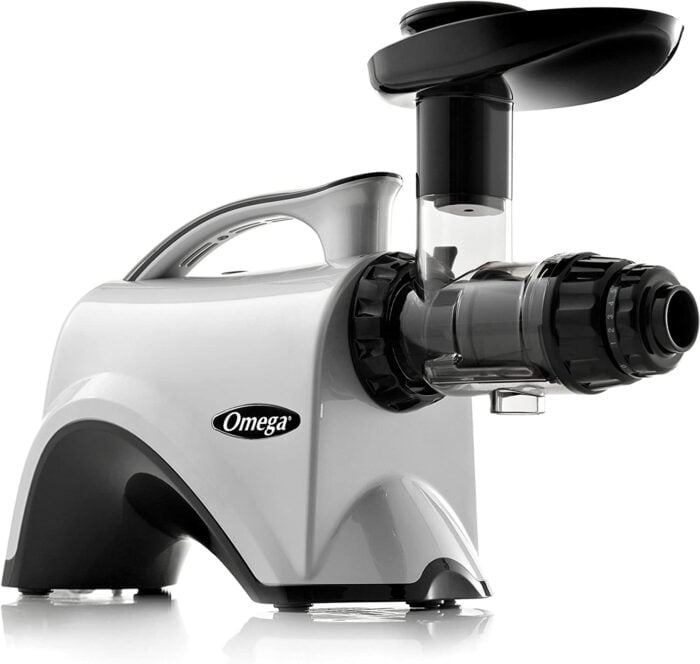 Try These Vegetable Juice Recipes
Omega Juicer FAQs
Is a juicer worth investing in?
Yes! Personally, I enjoy fresh juice often and use my juicer to extract juice from tough veggies like carrots or ginger to make wellness shots or add to my smoothies alongside fresh juice.

I also make refreshing drinks to sip in the afternoon like this Watermelon Mint juice. Most juicers are well-equipped to make juice, blend nuts into butters, and even grind coffee beans and spices!

Depending on your lifestyle, there is a juicer out there to fit your budget and your needs. Use this list to find the best Omega juicers on the market.
Is a Juice press the same as a juicer?
No, juice presses are different from juicers.

A juice press takes finely chopped produce and presses it between two presses using immense force. Juicers extract juice from produce by forcing it against a sharp screen.

A centrifugal juicer uses centrifugal force (by spinning very fast). Masticating juicers use a slow-turning screw to force produce through the screen. 
What's the difference between a Masticating and Centrifugal juicer?
Both juicers use a sharp screen or blade to juice fruits and vegetables.

Masticating juicers use a slow screw to force the produce through the screen, while centrifugal juicers use a high-speed spinning blade.

Masticating juicers are often called "slow juicers" and will take a little longer to juice your fruits and vegetables. Centrifugal juicers tend to have frothier juices because of the speed of the process, but often they come equipped with a catch-all to separate the juice. If not, the froth is usually easily separated once poured into a cup.
Is juice healthy? 
Yes, it can be! As I mentioned earlier, juice is a great way to get vitamins and nutrients from fruits and vegetables.

But, you'll want to make sure there is no sugar added and that's why I love to make juice at home. Don't miss this article with the best juicing recipes for energy!
Can juice be low-sugar?
Yes, you can make fresh juice at home lower in sugar by swapping certain fruits for low-sugar fruits, like green apples.

You can also incorporate vegetables in your juice for more balance. Try this Green Lemon Ginger juice.

Talk to your doctor before incorporating juice into your diet if you have to monitor your blood sugar levels for health reasons such as Type 1 or 2 diabetes.
How long does fresh juice keep?
Fresh juice is best served immediately, but it can be kept in the refrigerator for several days. Just make sure to keep it in a sealed container.
Conclusions
Juicing is a beneficial way to get nutrients and vitamins from fruits and veggies, and a great way to use up produce before it perishes. The Omega Juicer brand has juicers for every need and preference, from slow to centrifugal to compact to luxury. There's a juicer for each price point and storage space, too!
If you like this post, consider following me on social media so we can stay connected. I'm on Facebook, Pinterest, Instagram, and YouTube!
About the Author: Carrie Forrest has a master's degree in public health with a specialty in nutrition. She is a top wellness and food blogger with over 10 million annual visitors to her site. Carrie has an incredible story of recovery from chronic illness and is passionate about helping other women transform their health. Send Carrie a message through her contact form.
Note: this post is for informational purposes only and is not intended as medical advice. Please consult your healthcare provider for recommendations related to your individual situation.
This post may contain affiliate links which won't change your price but will share some commission. We are participant in the Amazon Services LLC Associates Program, an affiliate advertising program designed to provide a means for us to earn fees by linking to Amazon.com and affiliated sites.