6 Best Juicers for Carrots (2023)
This post may contain affiliate links which won't change your price but will share some commission.
Carrot Juice is a nutritious and delicious beverage. Here are the six best juicers for making your own carrot juice at home. Find the best budget-friendly and luxury options, plus options if you are short on counter space.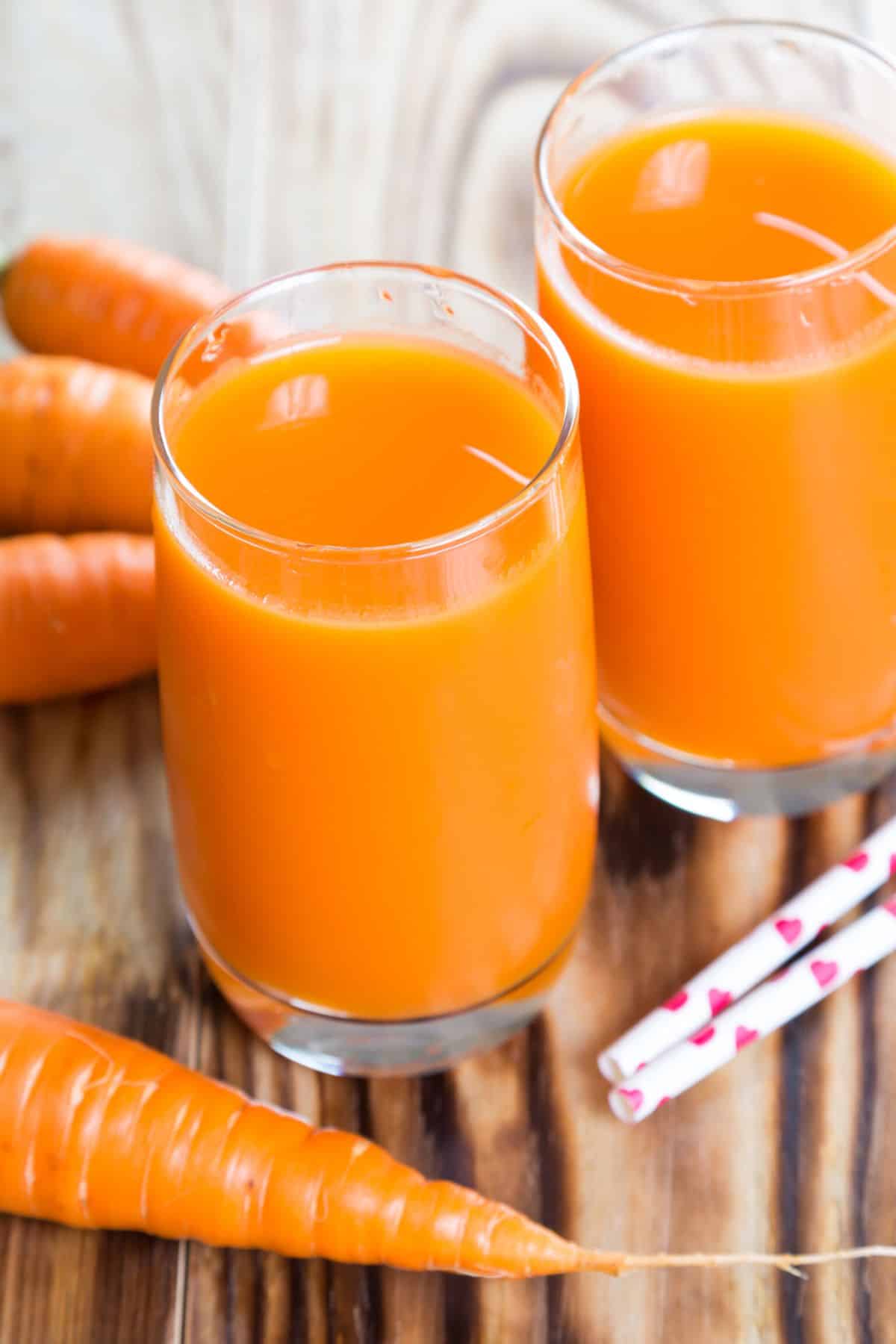 The number of juicers on the market can be overwhelming, but don't worry. Not all juicers are the same and that's why I've found the best of the best for you.
Carrots are a tough vegetable, but juicing doesn't have to be! This list includes the best kitchen appliances that will provide as much juice as possible from these hard vegetables.
From slow juicers to cold press juicers to the best masticating juicers, this list covers them all.
Best Carrot Juicers 
1. Best budget-friendly option: Mueller Juicer
This affordable juicer is great because it has multiple settings to juice the softest and hardest fruits and veggies. It is great for tougher veggies like carrots and, with its 3-inch chute, you can juice whole carrots at a time!
It's easy to clean and great if you're just starting out or on a budget. They also have a customer care promise to make things right if you're unhappy with your juicer, which makes this a safe bet to try.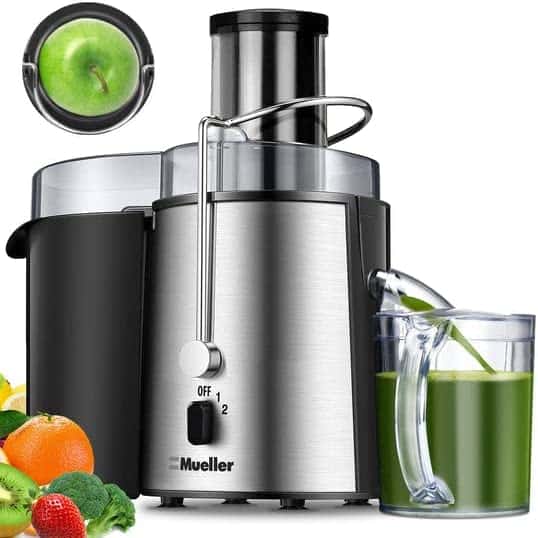 The Breville Juice Fountain Cold XL features a bigger 3.5 inch feed chute for larger fruits and veggies. You can put whole carrots or large halves in without worrying about jamming the machine. It's great if you don't have a lot of time in the morning, and it's quick to clean.
I love that it has a quiet setting, too. You can make juice for your family without waking anyone up in the morning.
The container that catches juice can be sealed so you can store up to 70 fl oz of juice in the fridge after you finish juicing your carrots. Very efficient and clever!
The Breville with the wide chute is a top pick and for sure a best juicer. This type of juicer can also handle fresh fruit and leafy greens.
The easiest juicers to clean are the ones that have fewer parts and are dishwasher-safe.
This Orfeld juicer does both–a single button to assemble and disassemble, and the separate parts are made with dishwasher-safe materials.
It also comes with a cleaning brush to aid with any blockages. It has an anti-drip design to prevent spills and messes. Plus, it has a reverse switch to help unclog any veggie-fiber buildup.
Easy cleaning helps with ease of use and makes it perfect for home use.
I love this type of juicer that runs at a slower speed to help preserve the nutritional value of the produce.
With measurements of 3.9″D x 4.9″W x 14.23″H, this is perfect for small spaces. The slim design can be stored away out of sight or left on the countertop without taking over.
As a "slow juicer" the masticating design will help you get the most out of your carrots. It's really easy to use and great for juicing carrots. It also has a frozen attachment so you can make icy treats like banana ice cream after you've made your lovely fresh carrot juice.
If you have a small kitchen, then this Dash Juicer will be the best option.
This juicer has a powerful motor that can turn carrots to juice in seconds thanks to its 800w power. The extra-large 3-inch chute means you can put whole carrots in at a time.
It's easy to clean thanks to its quick disassembly and dishwasher-safe parts. Try my orange carrot ginger juice recipe, and you'll have delicious, healthy carrot juice in mere minutes.
Centrifugal juicers also have a compact design and are great for making orange juice! They are also easy to use so they're perfect for beginners.
I may be biased but I LOVE this juicer. It's an investment but a total workhorse. I've used it for years and it has never slowed down!
It's easy to use, easy to clean, and works quietly for the machine it is. I also like that it has cold-press technology, which means you get the maximum nutrients out of your veggies because the juice never touches heat.
This is one of my top picks and maybe even my favorite juicer. It doesn't have a large feed chute like some of the others, but it is excellent for working at a slow speed and for handling hard fruits and vegetables, plus leafy greens. You can also juice citrus fruits and other soft fruits in this juicer.
I always get a delicious juice when using my Omega!
Try making my Carrot Celery juice using this juicer, and the healthy veggies will be juiced to perfection.
See my complete list of the Best Omega Juicers.
Carrot Juicing FAQs
What's the benefit of juicing carrots?
Carrots are low in calories and high in nutrition. They are rich in Vitamin A, beta-carotene, biotin, and potassium. They're also known for keeping eyes healthy, benefiting the immune system, and reducing the risk of cancer.

Juicing carrots is a great way to use up any older produce that may be less-than-beautiful, and a healthy, beneficial way to consume them.

Be aware, though, a lot of carrot juice could change your skin color temporarily thanks to the antioxidants found in carrots called carotenoids. If you're worried, speak to your healthcare provider before you make any changes to your diet.
Can you juice whole carrots?
Yes! The juicers with chutes 3 inches or wider can take whole carrots. Otherwise cut them in half or smaller chunks so they fit into the mouth of the juicer.

As always, wash your produce beforehand, and don't be afraid to peel away any wonky spots and use up the rest of the carrot!
What are the best fruits to add to carrot juice?
Carrots are naturally sweet but have a bit of an earthy flavor. You can pair them with virtually any fruit or vegetable! I like to juice carrots, apples, and cucumbers for a refreshing and sweet juice. Try this recipe for my Carrot Cucumber juice.
What's the difference between a Masticating and Centrifugal juicer?
Both juicers use a sharp screen or blade to juice fruits and vegetables.

Masticating juicers use a slow screw to force the produce through the screen, while centrifugal juicers use a high-speed spinning blade. Masticating juicers are often called "slow juicers" and will take a little longer to juice your fruits and vegetables.

Centrifugal juicers tend to have frothier juices because of the speed of the process, but often they come equipped with a catch-all to separate the juice. If not, the froth is usually easily separated once poured into a cup.
More Vegetable Juice Recipes You Might Like
Don't Miss These Juicing Resources!
Conclusions
Whether you're new to juicing or a longtime lover, these juicers are the best of the best when it comes to juicing your carrots. They're sturdy, hardy, and easy to use. Best of all, they'll give you nutrient-rich carrot juice no matter your juicing needs, counter space, or budget.
If you like this post, consider following me on social media so we can stay connected. I'm on Facebook, Pinterest, Instagram, and YouTube!
About the Author: Carrie Forrest has a master's degree in public health with a specialty in nutrition. She is a top wellness and food blogger with nearly 10 million annual visitors to her site. Carrie has an incredible story of recovery from chronic illness and is passionate about helping other women transform their health. Send Carrie a message through her contact form.
Note: this post is for informational purposes only and is not intended as medical advice. Please consult your healthcare provider for recommendations related to your individual situation.
This post may contain affiliate links which won't change your price but will share some commission. We are participant in the Amazon Services LLC Associates Program, an affiliate advertising program designed to provide a means for us to earn fees by linking to Amazon.com and affiliated sites.