8+ Healthy Halloween Treats
This post may contain affiliate links which won't change your price but will share some commission.
Make Halloween fun, scary, and safe with these Healthy Halloween Treats and Snacks that are all homemade and made allergy-friendly without dairy or gluten. These DIY treats and snacks are perfect for the spooky holiday. Find recipes plus inspiration for the cutest Halloween foods you've ever seen.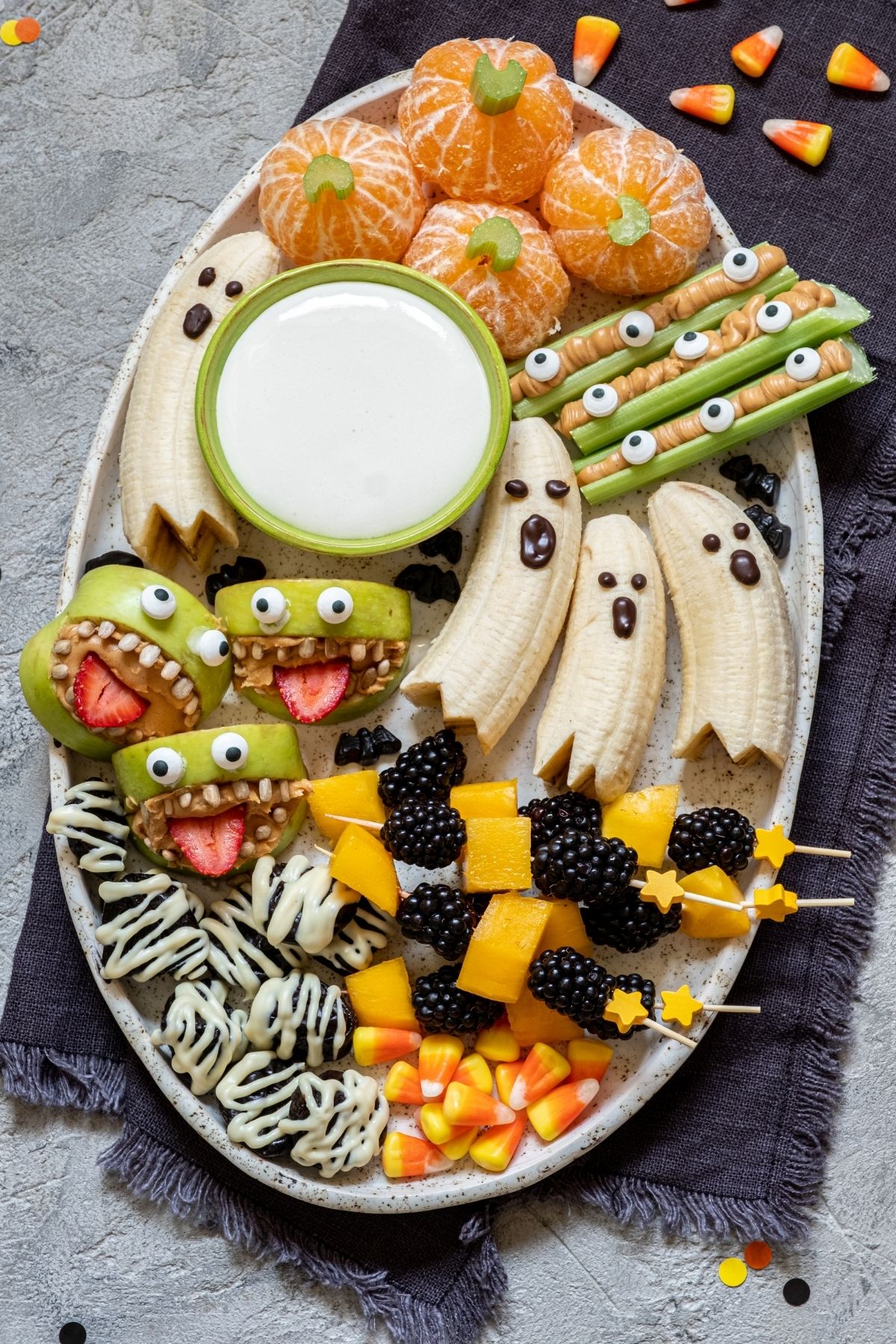 I hope you enjoy this round-up of healthy Halloween treats.
These adorable treats are great for Halloween and autumn-themed parties and potlucks, plus ideas for trick-or-treaters too. Make them for a family party or just for you and your kids.
I've tried to include allergy-friendly options, all using real food ingredients. Whatever you choose, I hope you have a healthy, safe, and happy Halloween!
8 Healthy Snacks for Your Halloween Foods
1. Spooky Fruit Slices
There are so many creative ways to cut fruit into Halloween shapes.
Try cutting a green apple into a wedge, cut out a section, and put some almond butter inside. Add a slice of strawberry for the tongue, capers or raisins for the teeth, and candy googly-eyes for extra effect.
You can also add some healthy fruit kabobs to your Halloween snack tray as well. See how I made these Patriotic Fruit Kabobs or these Grinch Fruit Kabobs.
2. Black and Orange Colorful Popcorn
To make this Halloween version of popcorn, you'll need one cup of corn kernels, plus some natural black and orange food colorings.
The black color can come from 2-3 capsules of activated charcoal and the orange can come from mixing a 1/4 teaspoon each of dried beet powder and dried turmeric.
Pop the popcorn as you would normally, either on the stovetop or in a popcorn machine. Divide the popped popcorn into two large bowls.
Then, grab two small bowls and put a tablespoon of melted coconut oil in each one. Whisk in the natural food coloring in each bowl, and then pour the coconut oil over the popcorn. Toss to disperse the food coloring.
3. Homemade Halloween Gummies
These adorable Halloween molds are so fun and perfect for making Halloween gummies!
Use 100% juice and grass-fed gelatin, plus raw honey or maple syrup to sweeten. You'll need about 1 cup of juice to two tablespoons of gelatin and sweetener to make your gummies.
You can use my recipe for Homemade Gummy Bears as a tutorial.
Or, check out these Vegan Gummies if you don't want to use gelatin.
4. Spooky Green Smoothie
For extra nutrition and fun on Halloween, try serving a green smoothie in chocolate-rimmed Halloween-themed glasses.
The ones featured in the photo are Frankenstein-themed and made by dipping glasses in melted chocolate to make the hair and then using piped melted chocolate to make the face.
Your kiddos won't complain about drinking their greens from these adorable glasses (plus the chocolate helps the smoothie taste better too)!
5. Black and orange chia pudding
Layered chia puddings are one of my favorite healthy Halloween or anytime-of-year snacks.
For this fun Halloween Chia Pudding, I divided two cups of almond milk and mixed each cup with 1/4 cup of chia seeds, plus my all natural orange and black food colorings.
I topped the chia pudding with a scary eyeball gummy!
6. Candy made without hydrogenated oils
It is possible to find healthier candy made without those nasty trans fats and artificial colors and flavors.
Surf Sweets, Smart Sweets, and YumEarth are my favorite brand for a wholesome candy. YumEarth makes pre-portioned lolly pops for handing out to trick-or-treaters. Smart Sweets also has some small bags for handing out.
7. Sweet Potato Jack O'Lanterns
These super fun jack o'lanterns are cut out of sweet potato slices! They, they are baked in the oven for a simple Halloween-themed side dish or snack. This recipe is vegan, vegetarian, and gluten-free.
Get the recipe for these sweet potato jack o'lanterns.
8. Halloween Cookies
I get that you aren't supposed to give out homemade treats to kids on Halloween, but for your own family and friends, making a wholesome homemade treat using real food is such a great way to celebrate.
And, cookies or cupcakes always look inviting on your Halloween snack board.
There are some amazing mixes out there that are free from preservatives and make home baking so easy! Simple Mills makes a great gluten-free cupcake mix, and King Arthur makes a perfect gluten-free sugar cookie mix.
FAQs Halloween Treat Ideas
Where can you buy vegan candy corn?
As far as I know, there are not any readily available vegan candy corn brands on the market. If you are gluten-free, you can buy this brand of kosher and gluten-free candy corn (contains egg and honey).
What should I not include on my Halloween snack tray?
It's always a good idea to only include edible items on your snack tray. So, leave off any toys or garnishes that aren't edible. You wouldn't want someone to eat something that isn't meant to be eaten.
You may also wish to avoid any small foods or candy that might be a choking hazard for small children.
What is the best food to eat on Halloween?
Halloween foods range from sweet treats to festive meals. Popular options include candies like candy corn and chocolates, seasonal delights like pumpkin pie and caramel apples, and themed snacks like mummy dogs and monster cookies. Many also enjoy beverages like apple cider or Halloween punch, while others choose healthier treats like ghost bananas and tangerine pumpkins. Ultimately, the best Halloween food depends on individual tastes and the nature of the celebration.
What kind of food do you have at a kid's Halloween party?
At a kid's Halloween party, you don't have to serve just candy. Consider serving ghost bananas (halved bananas with raisin or blueberry eyes), tangerine pumpkins (peeled tangerines with a celery stick as the stem), or apple slices with a strawberry slice tongue. Veggie platters can be arranged in spooky shapes or designs, and dips like hummus or yogurt can be dyed with natural colors to fit the theme. For drinks, unsweetened apple cider or water with creepy ice cubes (frozen berries inside) can be refreshing and in line with the Halloween spirit.

If your child or other children have food allergies, be sure to offer these treats on a separate platter and let everyone know which treats are appropriate for which children.
How Can I Make Halloween Healthier?
Instead of traditional Halloween candy, consider healthier snack alternatives that still capture the festive spirit.
Try roasted pumpkin seeds seasoned with various spices, dark chocolate-covered almonds or dried fruit, and trail mix blends that combine nuts, seeds, and a hint of natural sweetness from raisins or dried cranberries. Fresh fruit, like apple slices with nut butter or ghost banana bites, can also be satisfying treats.
Or, try any of the other options and recipes listed in this post.
Choosing these alternatives not only reduces sugar intake but also provides nutritional benefits.
Now it's your turn! Share with me your favorite healthy Halloween treats, either ones you enjoy at home or ones you plan to share with kids this year.
P.S. Don't miss my Roasted Cauliflower Brain recipe if you're hosting a Halloween dinner party and want a ghoulish side dish.
Halloween is so much more about candy! You can share healthy treats and fun activities to keep your children healthy and safe.
Print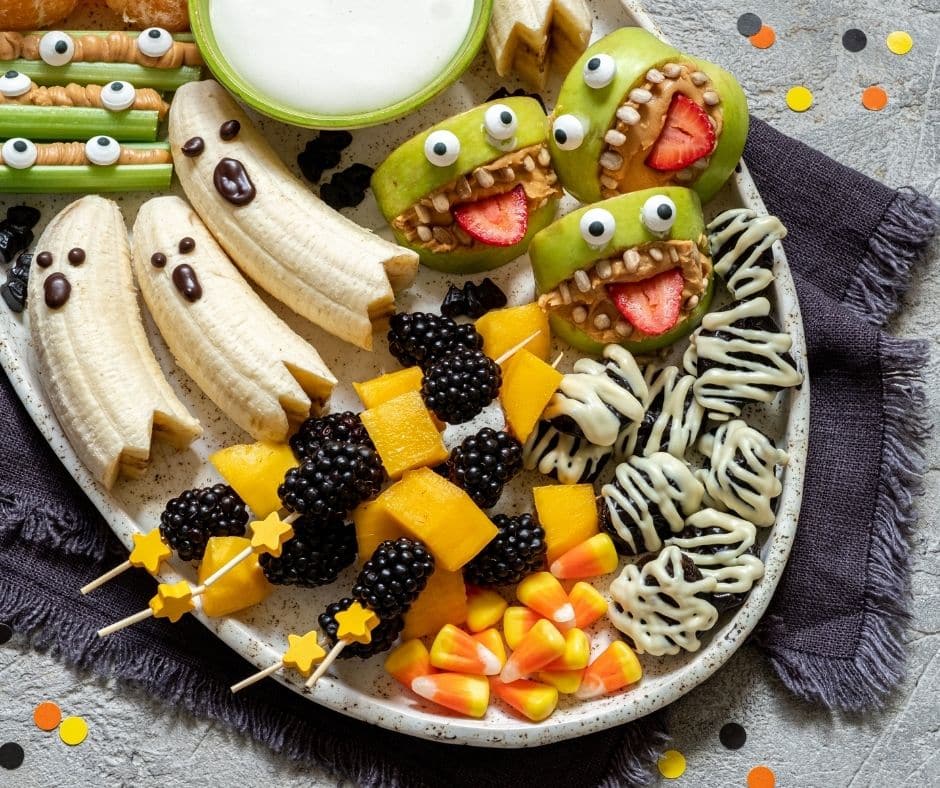 Halloween Treat Ideas
Make Halloween fun, scary, and safe with these Healthy Halloween Treats and Snacks that are all homemade and made allergy-friendly without dairy or gluten.
Total Time: 1 hour 15 minutes
Yield: 8 1x
3 bananas
5 celery sticks
2 green apples
4 mandarin oranges
1/4 cup peanut butter
Halloween gummies
1 package of Halloween candies
Instructions
Assemble the individual snack tray components and then place them on a large platter.
Notes
The ingredient list contains just the bare necessities for a snack tray. Feel free to add other elements to make it more substantial.
Nutrition
Serving Size:
Calories: 122
Sugar: 11.5 g
Sodium: 55.3 mg
Fat: 4.4 g
Saturated Fat: 0.9 g
Carbohydrates: 19.7 g
Fiber: 3.4 g
Protein: 2.7 g
Cholesterol: 0 mg
Keywords: vegan halloween treats, vegetarian halloween snacks
If you like this post, consider following me on social media so we can stay connected. I'm on Facebook, Pinterest, Instagram, and YouTube!
About the Author: Carrie Forrest has a master's degree in public health with a specialty in nutrition. She is a top wellness and food blogger with over 10 million annual visitors to her site. Carrie has an incredible story of recovery from chronic illness and is passionate about helping other women transform their health. Send Carrie a message through her contact form.
This post may contain affiliate links which won't change your price but will share some commission. We are participant in the Amazon Services LLC Associates Program, an affiliate advertising program designed to provide a means for us to earn fees by linking to Amazon.com and affiliated sites.