Choosing Between Paleo, Keto, Whole30, Vegan, & Clean Eating Diets
This post may contain affiliate links which won't change your price but will share some commission.
Confused about which healthy diet to choose? This article shares some of the differences between paleo, keto, Whole30, vegan, and clean eating diets. You can decide which variation of these healthy diets works best for you.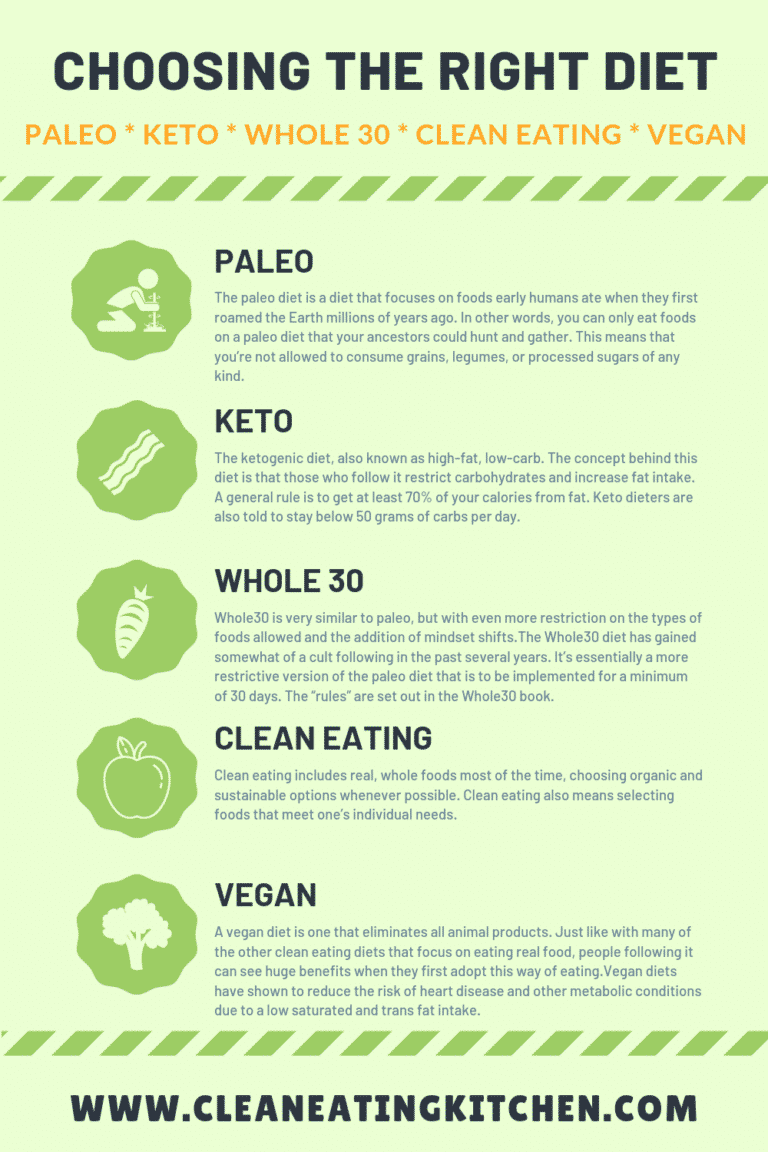 Variations of a Healthy Diet
Are you paleo, keto, or vegan? Are you following a Whole30 approach or do you just prefer to eat clean? These days it seems like nearly everyone is something when it comes to their diet.
Some reasons people may choose to follow certain ways of eating include a need for addressing certain health concerns or just for weight loss and overall health.
Whatever your reason, it's important to realize that each of these different ways of eating can have both benefits and drawbacks. In addition, they may not be right for everyone.
So how do you know which diet is right for you? Let's take a look at the different variations of some of the most popular healthy diets, including clean eating, paleo, Whole30, vegan, and keto. 
Clean Eating Diet
Clean eating includes real, whole foods most of the time, choosing organic and sustainable options whenever possible. Clean eating also means selecting foods that meet one's individual needs.
People following a clean eating diet are advised to eat minimally processed foods and be more mindful of how their food is sourced. A clean eating diet is a great one to follow because of its elimination of processed foods. Check out my clean eating food list with my pantry favorites. 
Many of the diseases that currently plague our society are in large part caused by processed foods that have recently been introduced into our food system. Avoiding processed foods is a great way to avoid modern diseases.
The main drawback of clean eating is that some individuals may become overly obsessive with it. This can lead to orthorexia, which is a recognized eating disorder in which the sufferer systematically avoids specific foods that they see as harmful. Read about how to eat clean without starving yourself. You might also like this article with the best weight loss tips for women.
The benefits of a clean eating approach is that it is flexible and allows for individuality. If I've learned anything at all from both my professional and personal experience in the health industry, it is that everyone is different and there is no "one size fits all" approach when it comes to diet. So, clean eating is general enough to apply to most diets that fall in the healthy eating realm.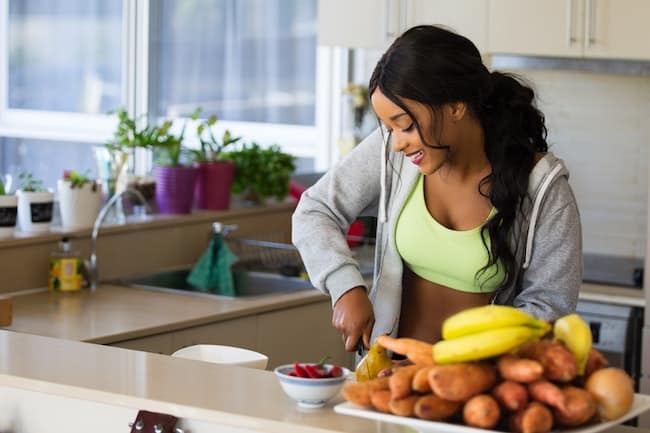 Paleo Diet
A paleo diet is more specific than a clean eating diet, because it is both gluten-free and dairy-free, with no refined sugars or processed ingredients.
The paleo diet is a diet that focuses on foods early humans ate when they first roamed the Earth millions of years ago. In other words, you can only eat foods on a paleo diet that your ancestors could hunt and gather. This means that you're not allowed to consume grains, legumes, or processed sugars of any kind.
People who oppose the paleo approach do so because this way of eating can be very restrictive. This is especially worrisome for someone with a past history of disordered eating. Restricting foods with a dieting mentality can lead them down a path of disordered eating once again.
Additionally, by avoiding foods that don't negatively impact your individual health, you might actually be reducing your nutrient intake just to meet someone else's guidelines. Opponents of the paleo diet also say that we cannot be sure that our paleolithic ancestors all ate the same diet. Just as there are various diets today, there too could have been various diets in the paleolithic era.
Another argument against the paleo diet is that it is very focused on meat consumption. The recommendation is generally to consume grass-fed, pasture-raised, and wild-caught animal products, yet some anthropologists that have studied our paleolithic ancestors claim that they didn't eat meat at every meal. In fact, they could have gone several days without consuming it based on availability. 
Proponents of the paleo diet claim that it can improve your health by eliminating processed foods and increasing the intake of fruits and vegetables for more phytonutrient and fiber consumption. The paleo diet has also shown improvement in blood sugar levels and waist circumference. People who follow a paleo approach usually lose weight because they are eliminating inflammatory, highly refined and overly processed foods.
For more about a paleo diet, plus a great resource for recipes, check out Irena Macri's site.
Whole30 Diet
Whole30 is very similar to paleo, but with even more restriction on the types of foods allowed and the addition of mindset shifts.
The Whole30 diet has gained somewhat of a cult following in the past several years. It's essentially a more restrictive version of the paleo diet that is to be implemented for a minimum of 30 days. The "rules" are set out in the Whole30 book.
In addition to being instructed to avoid things that our paleolithic ancestors didn't eat, you are also told to avoid eating anything that resembles things that our paleolithic ancestors couldn't hunt or gather in the wild. This means no paleo pancakes, muffins, chips, bars, etc. The idea is to get you to stop craving that stuff once the 30 day diet period is over.
The pros and cons of the Whole30 approach are very similar to those of the paleo approach. The Whole30 diet was ranked one of the worst diets in 2016. The reasons being that it's not convenient, it can be expensive, it excludes all alcohol, and it's time-consuming since almost every food has to be prepared at home.
If these things plus its restrictiveness are things you can overlook, then I'm not against trying it out for yourself. However, if you have a history of disordered eating or orthorexia, you may want to steer clear of this one.
Keto Diet
The ketogenic diet, also known as high-fat, low-carb, has been dramatically increasing in popularity thanks to celebrity endorsers like Kim Kardashian, Lebron James and Halle Berry, just to name a few.
The concept behind this diet is that those who follow it restrict carbohydrates and increase fat intake. A general rule is to get at least 70% of your calories from fat. Keto dieters are also told to stay below 50 grams of carbs per day, and those with a significant amount of weight to lose are instructed to stay at or below 20 grams of carbs per day.
Some people who follow a ketogenic diet choose not to consume carbs at all. Others include a carb-up practice where they may eat a piece of fruit or a sweet potato every few days.
As you can see, the ketogenic diet is another restrictive one. It has been used with a lot of success to treat patients with epilepsy and cancer. It can also help people who have a significant amount of weight to lose shed excess pounds rather quickly. However, I'd advise against following this dieting approach long-term if you do not fit into one of those categories.
US News and World Report ranks the ketogenic diet as one of the worst diets. They gave it a 1.9 out of 5, claiming that it can cause severe nutritional imbalances, requires medical supervision, is too rigid, and is too difficult to sustain.
Proponents of the ketogenic diet say they like it because it allows them to eat butter, bacon, and more animal fat. Opponents of this diet dislike it for the same reason. I know some people who have benefitted from following a ketogenic diet. It improved their mental clarity, lowered their waist circumference and increased their energy.
However, I know a lot more individuals who did not see much benefit from this way of eating and, in fact, experience a decline in health when they tried a keto diet. I wrote a blog post detailing more about the groups of people who definitely should avoid keto and some of the potential dangers around a ketogenic diet. You might also like the articles about how to follow a no-sugar diet or the pros and cons of a low-carb diet that could potentially have the benefits of a keto diet without the risks. 
Vegan Diet
A vegan diet is one that eliminates all animal products. Just like with many of the other clean eating diets that focus on eating real food, people following it can see huge benefits when they first adopt this way of eating.
Vegan diets have shown to reduce the risk of heart disease and other metabolic conditions due to a low saturated and trans fat intake. People who follow a vegan diet tend to make healthier choices in general. 
However, a vegan diet is not right for everyone. There are a handful of people following a vegan diet who become deficient in critical nutrients rather quickly.
Vegan diets limit or restrict some of the nutrients our bodies need to function on a daily basis. Vitamin B12 being one of them. Most vegans are aware of this and supplement wisely. But even then, supplementing is not the same as obtaining these nutrients from whole food sources. You can read about my experience with being vegan and experiencing health issues with that approach here. 
Becoming vegan has many health benefits, but it also comes with just as many drawbacks. It is restrictive and can have negative effects on individuals who have a past history of disordered eating. This seems to be true with all restrictive diets. If you're vegan for ethical reasons, please understand that I respect your choice. But please also make sure that you are supplementing properly and discussing your diet with a medical professional.
You should read this article with the dangers of a vegan diet, including one irreversible health consequence that can happen.
Adopting a Flexible Approach
Adopting a dieting mentality can be dangerous for those who have struggled with anxiety or an eating disorder in the past. My belief is that we need to stop pigeonholing ourselves into one dieting style, and instead focus on eating nutrient-dense real foods like green vegetables without feeling guilty if we indulge every once in a while. Grains, when sourced and prepared properly, can be very nourishing for people, too.
Restricting whole categories of foods or macronutrients can lead to obsessive behavior surrounding food. That's just not healthy for anyone. Ditch a dieting mentality and free yourself when it comes to food. Don't create guilt and shame around eating carbs. Don't tell yourself that you cannot enjoy certain things you used to love just because the diet you've chosen to follow forbids it.
As long as you are making food choices that nourish you and make you happy, you are on your way to freeing yourself of dieting mentality.
I'd love to know more about your experience with dieting and how you figured out which approach works best for you. Please leave me a comment!
READ NEXT: HOW TO EAT CLEAN WITHOUT STARVING YOURSELF
Note: this post is for informational purposes only and is not intended as medical advice. Please consult your healthcare provider for recommendations related to your individual situation.
Don't forget to join the Clean Eating Kitchen newsletter. You'll get my Clean Eating Quick Start Guide, plus links to all the latest recipes.
This post may contain affiliate links which won't change your price but will share some commission. We are participant in the Amazon Services LLC Associates Program, an affiliate advertising program designed to provide a means for us to earn fees by linking to Amazon.com and affiliated sites.