20+ Gluten-Free Vegan Recipes (Main Dishes)
This post may contain affiliate links which won't change your price but will share some commission.
If you're trying to eat healthier with more plant-based meals, you need these Best Gluten-Free Vegan recipes. These plant-based main dish meals use easy-to-find ingredients and are not complicated. Try one of the delicious recipes today!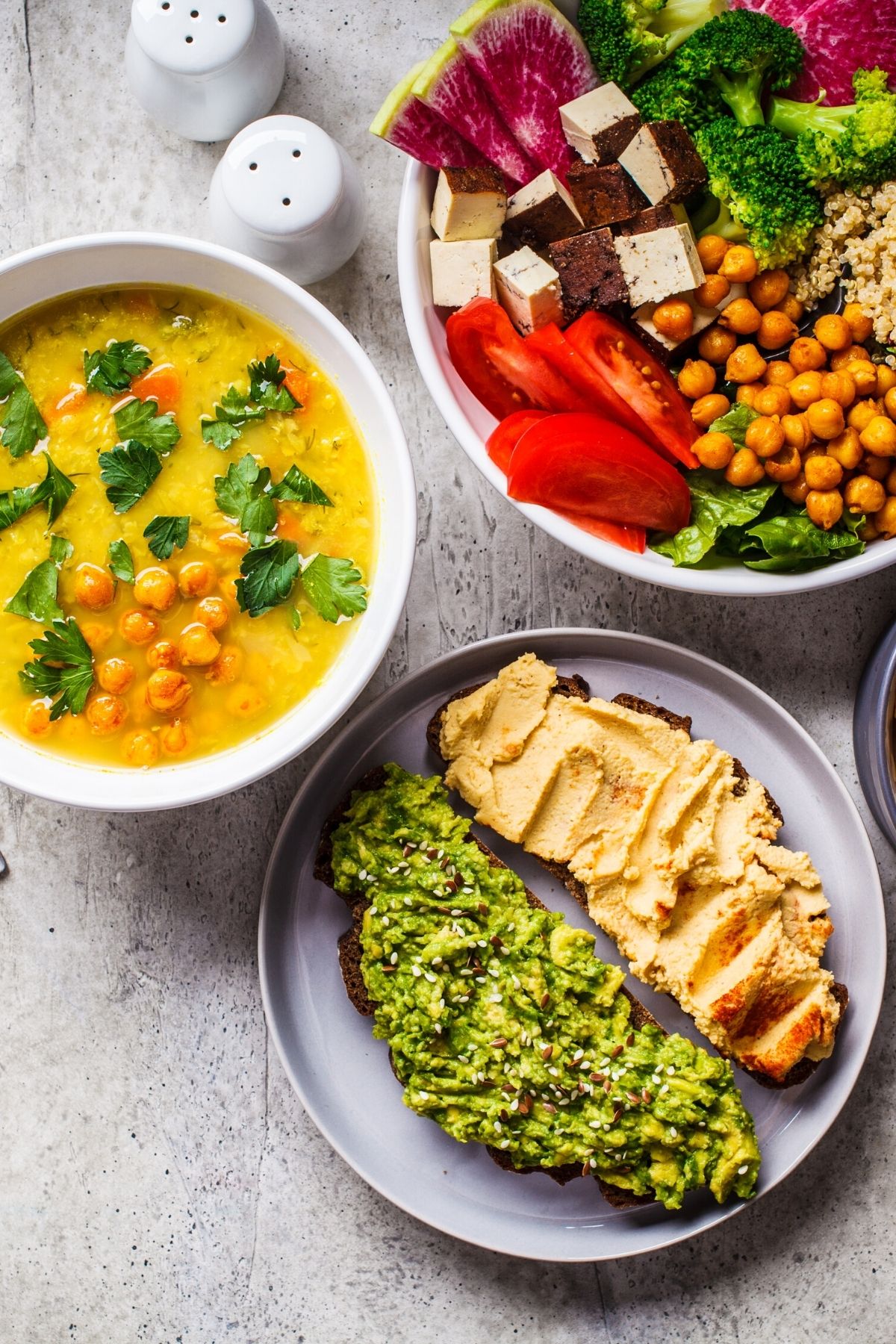 Gluten-Free Vegan Recipes
A lot of people try a vegan diet in January or early in the year. Some call it "Veganuary"!
Going vegan means that you avoid all animal foods, plus eggs, dairy, and even honey. Learn more about the differences between clean eating, vegan, paleo, keto, and Whole30 or the differences between vegan and vegetarian diets.
While most people can stick with a plant-based diet for a few days or weeks, some stick with it for years. You might think that eating just plants can get boring, but it's more about how it makes you feel.
If you feel energized eating this way, then go for it!
Either way, you'll find some yummy lunch and dinner options with this list of almost 20 gluten-free vegan recipes. These recipes are healthy and appropriate for people who want to or need to avoid animal foods and gluten.
From this list of delicious gluten-free, plant-based recipes, you're sure to find some new favorite recipes for the whole family. You might also like my round-up of the Best Eat to Live Recipes!
What If I Don't Know How to Cook?
One of the hardest parts about going vegan is that you'll likely need to start preparing more meals at home. This ensures that you have control over the ingredients. This is especially true when you are on a gluten-free diet, since many foods can be made or prepared in a facility that contains gluten.
If you are brand new to cooking, then try to focus on using recipes with simple ingredients. You don't want to have to hunt all around for fancy ingredients when you are new to cooking.
Instead, keep it simple with fresh vegetables, and foods like beans, grains, nuts, and seeds. To make your recipes gluten free, you'll also need to use ingredients like coconut aminos instead of soy sauce and gluten-free bread and gluten-free flours.
Believe it or not, but you can make a plant-based main course meal with sweet potatoes, black beans, corn tortillas, and brussels sprouts. Or, try making a vegan taco salad, lentil soup, or portobello fajitas. Or, try any of the gluten-free dinner recipes below which are appropriate for people with celiac disease and gluten sensitivity.
Best Gluten-Free Vegan Recipes
If you're trying to eat healthier in the new year, you might want to check out this round-up of easy Gluten-Free Vegan recipes.
More Healthy Resources You Might Like
If you're new to eating this way, you might also like the following healthy resources:
Or, see my entire index of resources for a clean eating diet.
More Vegan & Gluten-Free Resources
Conclusions
You may think that it's hard to find good vegan gluten-free recipes, but this round-up of over 20 recipes proves otherwise. Try making one of these plant-based recipes for lunch or dinner today!
If you want even more options including breakfast and snack recipes, check out my complete vegan and gluten-free recipe index.
If you like this post, consider following me on social media so we can stay connected. I'm on Facebook, Pinterest, Instagram, and YouTube!
About the Author: Carrie Forrest has a master's degree in public health with a specialty in nutrition. She is a top wellness and food blogger with over 10 million annual visitors to her site. Carrie has an incredible story of recovery from chronic illness and is passionate about helping other women transform their health. Send Carrie a message through her contact form.
This post may contain affiliate links which won't change your price but will share some commission. We are participant in the Amazon Services LLC Associates Program, an affiliate advertising program designed to provide a means for us to earn fees by linking to Amazon.com and affiliated sites.