Supercharge your morning cup of coffee with the addition of fresh rosemary. This easy upgrade benefits your memory and health!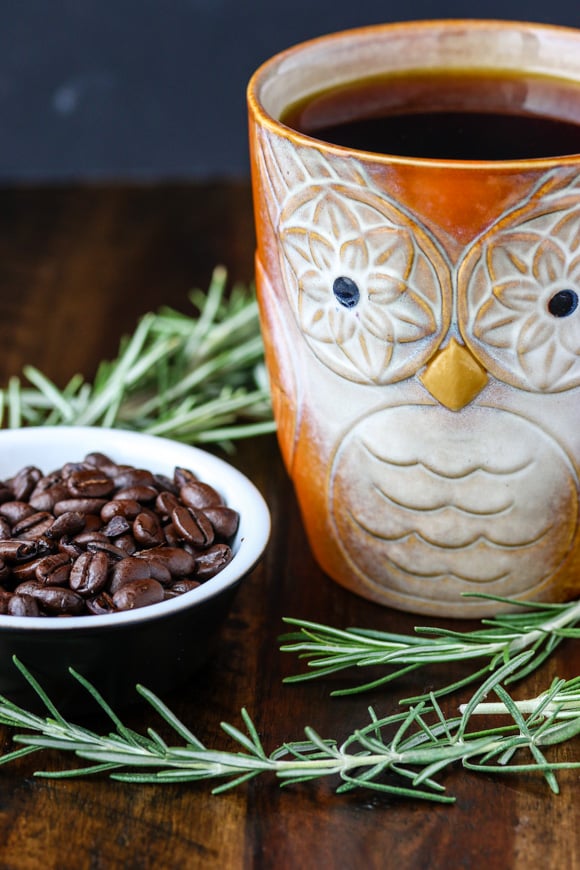 How to Make Rosemary Coffee
You'll never believe how easy it is to make this rosemary coffee. You really just need a sprig of fresh rosemary that will infuse the coffee as the hot water runs over it.
To start, just place a fresh sprig at the bottom of your coffee filter. Then, add your ground coffee (I recommend always using fair-trade, organic coffee beans like these that you grind yourself).
Rosemary Coffee Upgrade
This health upgrade couldn't be easier! I'm sure you're wondering how this Rosemary Coffee tastes? I wasn't sure if it would be too strong even though I love the flavor and odor of rosemary. You can definitely taste it, but it's a mild flavor, as if you added a few drops of a flavor extract. But, this flavor is 100% real and healthy and awesome.
Also, in case you were wondering, it's the antioxidant properties in the rosemary that give it its superfood status, namely, caffeic acid and rosmarinic acid.
Caffeine & Adrenal Fatigue
You might be wondering if coffee is a healthy beverage, especially for women with autoimmune disease? I most definitely battle with adrenal fatigue as well, not to mention living in a state of hypothyroidism now that I don't have a thyroid. That one cup of coffee is just enough to get me going without getting jittery. I've done a lot of reading on adrenal fatigue and find that many practitioners recommend cutting coffee out completely.
I've also seen recommendations to limit intake to before 9 am or to try drinking tea or matcha instead. For me, nothing matches the flavor and feeling that coffee gives me. Maybe it's a comfort thing, but I really love the routine of relaxing with a hot mug of coffee after breakfast.
I guess all of this is to say that a coffee habit isn't a bad thing, and might actually benefit your health. I'm sure you have undergone your own health journey or are perhaps dealing with something big right now. Whatever the case, I just don't want you to feel guilty for drinking coffee, especially if you make the effort to avoid adding sugar or processed fake stuff.
You get bonus points for using organic beans and for trying this super-simple coffee upgrade using a sprig of rosemary. Rosemary is one of those herbs that has substantial research supporting its health benefits, including for Alzheimer's and cancer prevention. And, incidentally, coffee has a ton of research supporting its health benefits, too.
Items recommended for this Rosemary Coffee recipe (some affiliate links included):
Now It's Your Turn!
I'd love to know what you think of the recipe if you try it, plus any other thoughts you have about your health journey or about what I wrote. Just to wrap up what I wrote above, I'm super grateful to have been on the journey I've been on. It's been tough, not gonna lie, but I'm in a place now where I'm more confident and happy and at peace than ever. I consider you as a friend if you're reading this, even if we don't agree 100% on everything.
Also, if you are looking for innovative coffee recipes, you might like my post on how I make butter coffee fast. I include a substitution for dairy-free folks using ghee instead of butter. This recipe is keto-friendly and great for intermittent fasting.
Here's the recipe for this memory-boosting Rosemary Coffee:
Print
Rosemary Coffee to Boost Memory & Health
---
Author:

Prep Time:

5 minutes

Cook Time:

1 minute

Total Time:

6 minutes

Yield:

2

1

x
Category:

Beverage

Method:

Coffee maker

Cuisine:

Vegan, paleo, healthy
Description
A super simple upgrade for your basic cup of black coffee.
---
Ingredients
1

batch freshly-ground coffee beans

1

sprig fresh rosemary

6 cup

s filtered water
---
Instructions
Combine ground coffee and rosemary sprig into your coffee filter basket.
Prepare coffee according to your coffee maker instructions.
Serve hot.
Pin this Rosemary Coffee recipe to save it!
READ NEXT: HOW TO MAKE COLD-PRESS COFFEE
Don't miss a recipe! Join my weekly newsletter list to get all the latest news and recipe links delivered directly to your inbox.
Sign up now and unsubscribe at any time. I will never sell your name or spam you, I promise!