Supercharge your morning cup of coffee with the addition of fresh rosemary. This easy upgrade benefits your memory and health!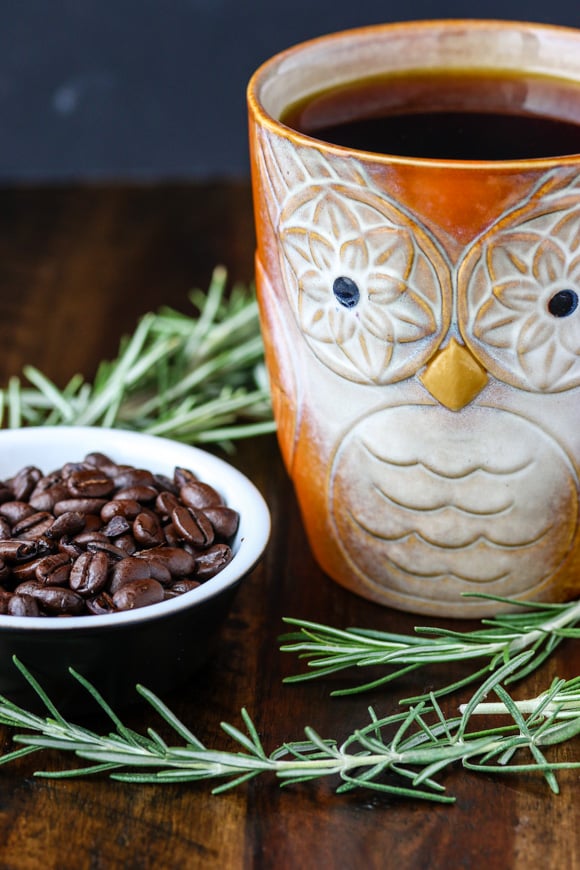 My Healthy Journey & Experience with Caffeine
At the start of my health journey over a decade ago, I was fully addicted to diet soda and I never drank coffee. I couldn't fathom breakfast or lunch without that cold, sickly-sweet beverage to wash it down. Looking back on it, I can see it was a dependence on both the caffeine and the sweetness. For my New Year's Resolution in 2007, I cut out diet soda cold turkey.
I moved onto hot chocolate as my beverage of choice which wasn't that much healthier, given that I used a pre-made mix made with sugar. But, at least I had gotten away from the artificial sweeteners that have now been linked to health problems, including cancer.
Fast forward to 2012, and I was diagnosed with thyroid cancer. What a bummer. <- Understatement of the year.  At the time, I had been following a vegan diet for more than two years and I was convinced that strict avoidance of animal products was the answer to all of my problems.
I could not have been more wrong. Not only did my dependence on soy for protein likely exacerbate my thyroid problems, but my suboptimal intake of protein also increased my inflammation and hormone problems. Being over-restrictive with my diet also led to a recurrence of disordered eating patterns. I came out publicly that I was no longer going to follow a vegan diet, and experienced online bullying and the loss of a community. Needless to say, I hit rock bottom with my health.
Since that day almost four years ago, I've been on quite the journey to recover my health, re-build my self-confidence, and find a community of friends who support me for being me. I've experimented with paleo and keto diets, only to realize that I thrive on a balanced approach, including more carbs with dinner to help me sleep. I do try to keep my sugar intake to a minimum, without being all sugar-police about it. And, when it comes to caffeine, I find that I do really well with a cup of coffee in the morning.
Caffeine & Adrenal Fatigue
I most definitely battle with adrenal fatigue as well, not to mention living in a state of hypothyroidism now that I don't have a thyroid. That one cup of coffee is just enough to get me going without getting jittery. I've done a lot of reading on adrenal fatigue and find that many practitioners recommend cutting coffee out completely.
I've also seen recommendations to limit intake to before 9 am or to try drinking tea or matcha instead. For me, nothing matches the flavor and feeling that coffee gives me. Maybe it's a comfort thing, but I really love the routine of relaxing with a hot mug of coffee after breakfast.
I guess all of this is to say that a coffee habit isn't a bad thing, and might actually benefit your health. I'm sure you have undergone your own health journey or are perhaps dealing with something big right now. Whatever the case, I just don't want you to feel guilty for drinking coffee, especially if you make the effort to avoid adding sugar or processed fake stuff.
You get bonus points for using organic beans and for trying this super-simple coffee upgrade using a sprig of rosemary. Rosemary is one of those herbs that has substantial research supporting its health benefits, including for Alzheimer's and cancer prevention. And, incidentally, coffee has a ton of research supporting its health benefits, too.
To make Rosemary Coffee, you just place a fresh sprig at the bottom of your coffee filter. Then, add your ground coffee (I recommend always using fair-trade, organic coffee beans like these that you grind yourself).
Rosemary Coffee Upgrade
This health upgrade couldn't be easier! I'm sure you're wondering how this Rosemary Coffee tastes? I wasn't sure if it would be too strong even though I love the flavor and odor of rosemary. You can definitely taste it, but it's a mild flavor, as if you added a few drops of a flavor extract. But, this flavor is 100% real and healthy and awesome.
Also, in case you were wondering, it's the antioxidant properties in the rosemary that give it its superfood status, namely, caffeic acid and rosmarinic acid (read more here).
Items recommended for this Rosemary Coffee recipe (some affiliate links included):
Here's the recipe for this memory-boosting Rosemary Coffee:
Print
Rosemary Coffee to Boost Memory & Health
---
Author:

Prep Time:

5 minutes

Cook Time:

1 minute

Total Time:

6 minutes

Yield:

2

Category:

Beverage

Method:

Coffee maker

Cuisine:

Vegan, paleo, healthy
Description
A super simple upgrade for your basic cup of black coffee.
---
Ingredients
1 batch freshly-ground coffee beans
1 sprig fresh rosemary
6 cups filtered water
---
Instructions
Combine ground coffee and rosemary sprig into your coffee filter basket.
Prepare coffee according to your coffee maker instructions.
Serve hot.
Now It's Your Turn!
I'd love to know what you think of the recipe if you try it, plus any other thoughts you have about your health journey or about what I wrote. Just to wrap up what I wrote above, I'm super grateful to have been on the journey I've been on. It's been tough, not gonna lie, but I'm in a place now where I'm more confident and happy and at peace than ever. I consider you as a friend if you're reading this, even if we don't agree 100% on everything.
Also, if you are looking for innovative coffee recipes, you might like my post on how I make butter coffee fast. I include a substitution for dairy-free folks using ghee instead of butter. This recipe is keto-friendly and you can find that one here.
Pin this Rosemary Coffee recipe to save it!
READ NEXT: HOW TO MAKE HOMEMADE VANILLA COCONUT BEVERAGE
Don't miss a recipe! Join my weekly newsletter list to get all the latest news and recipe links delivered directly to your inbox.
Sign up now and unsubscribe at any time. I will never sell your name or spam you, I promise!