9 Best Vegan Creamers (Sugar-Free)
This post may contain affiliate links which won't change your price but will share some commission.
There are now several excellent dairy-free and unsweetened coffee creamers on the market. This article shares the top nine best vegan creamers so you can buy the best choice. All of the creamers are made sugar-free, dairy-free, and 100% plant-based.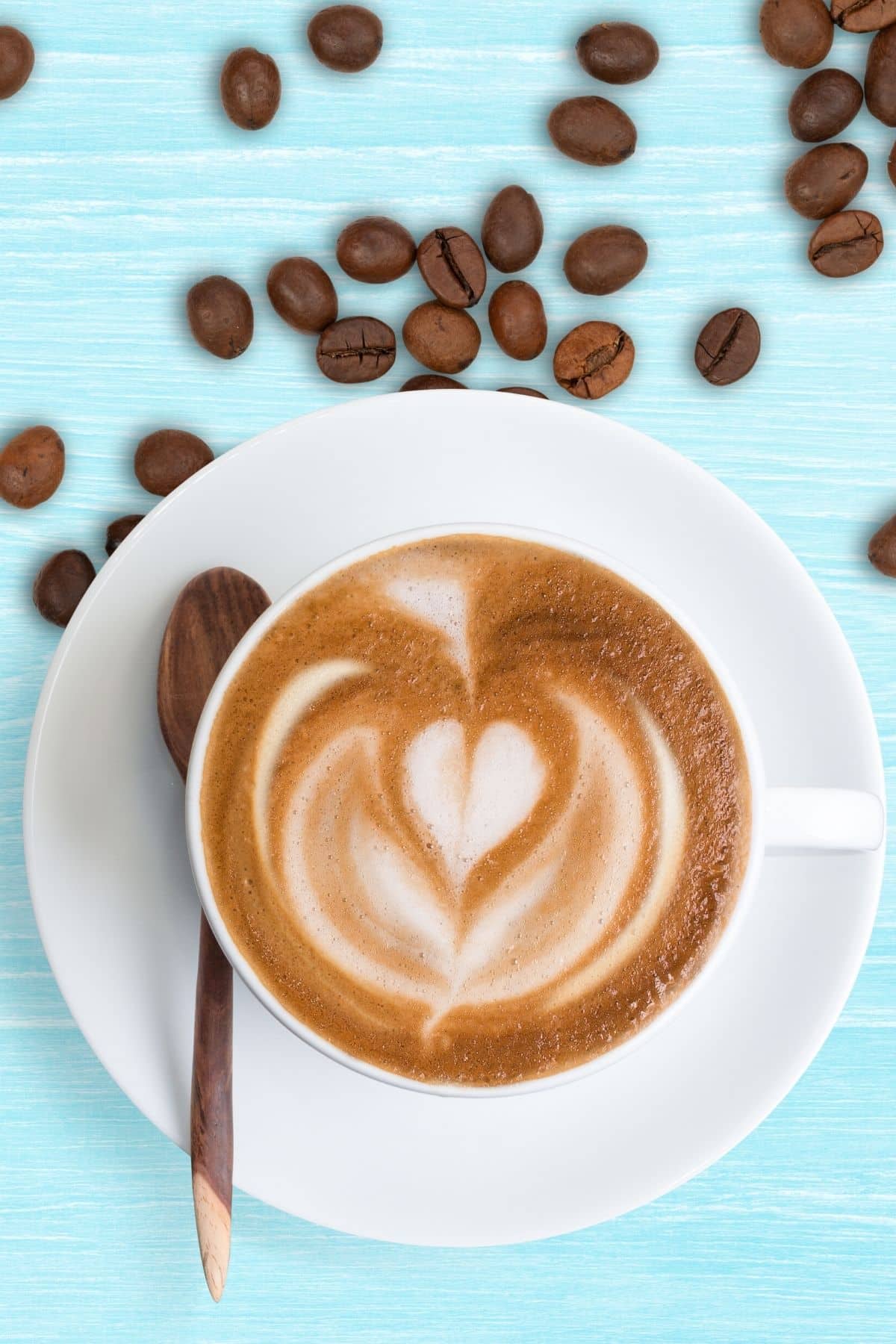 How to Use Creamers
Think outside the box (mug?) and find lots of reasons to buy and use vegan creamers. Besides using in a regular cup of coffee, you can use these vegan coffee creamers to make your favorite barista drinks such as lattes and cappuccinos.
They are also the perfect complement to a bowl of hot oats or used to prepare overnight oats (see my recipe for Overnight Protein Oats).
Why Dairy-Free?
Allergies and intolerances are a big reason people turn to dairy alternatives. There are many views on how animals are treated and how dairy farming affects the planet, so some people also choose to avoid dairy for ethical reasons.
Consuming dairy also has health concerns as well. Dairy is one of the top allergens and can cause issues for many people. See my full article on the health reasons to go dairy-free.
The good news is that we've come a long way since it was almost impossible to find a decent tasting vegan creamer! Most people think of nuts as the main alternative, but even those with nut allergies now have oat and pea options.
Type of Vegan Creamers
Most of us prefer liquid creamers as opposed to powders. It's the easiest way to froth milk for a latte, for example. Because it's ready to use, you can simply pour and go. These will also be the creamiest types, as you aren't mixing with water.
If you work outside the home and don't have access to a fridge, you may look into powdered options that you can store in your desk drawer. This gives you a convenience way to add creamer to your coffee when you are away from home. It would also be easier to pack on vacation if you want to have your favorite options on hand.
The benefit to most of these is that even several of the liquid options are shelf-stable before opening. So you can certainly travel with them as long as you have a way to refrigerate them at your end destination.
It's worth noting that actual creamers and varieties called "barista" are more likely to give the desired result in drinks. For example, almond milk on its own is very thin, but creamer versions will be thicker and more similar to a traditional coffee creamer. Especially if you are looking for foamy lattes, you will want to select the right milk for the job.
Don't miss my article on the best organic coffee brands or my article with the Best Plant-Based Substitutes for Heavy Cream.
Best Vegan Creamers
Without further ado, here are my picks for the best vegan coffee creamers that are all dairy-free, plant-based, and made without added sugars. If you like a sweetened coffee, feel free to add your choice of sweetener. Enjoy!
This Califia Better Half vegan creamer is the one most similar to dairy half and half. Mixing almond and coconut means the coconut flavor won't be as strong and it also help cut the calories.
Being unsweetened and unflavored, it is a great choice to use in savory options like sauces.
Many people reach for oat creamers because they use less water in production than almonds. This one is a natural vanilla flavor, which can be a great option when switching from sweetened products. Vanilla will give a sweeter flavor. This is perfect to use in baked goods as well.
See my recipe for homemade oat milk creamer.
Another oat option, this vegan creamer from SOWN comes in a quart container. If you use a lot of creamer for baking, you'll want to get a larger, more economical option like this one. It is made from whole oats to get the best texture in the final product.
This unsweetened powder by surfer Laird Hamilton is a blend of coconut milk powder and coconut oil, which will give a really rich flavor.
Try using this to make a really rich mug of my healthy hot cocoa on a cold winter's day.
This barista version of Califia Almond Milk will give the best results for espresso-type drinks. Whether you are making your own latte art or just giving a quick whisk, you can really get some air into the milk.
Unsweetened almond milk means you can easily add extracts and other natural flavors to get exactly the drink you are looking for.
Soy milk can be an acquired taste for some. This vegan coffee creamer from NOW Foods is very creamy, and soy naturally has more protein in it than its other plant-based counterparts.
Powdered milk is great for adding to smoothies as you can use just enough water to blend your fruit and add a bit of powder for a creamy taste without too many calories.
This milk-free creamer option contains MCT oil and coconut oil powders. You can achieve a wonderful coffee drink close to butter coffee but without the dairy.
This one is perfect for an active lifestyle because it doesn't require refrigeration once opened.
Made from raw macadamia nuts, this may be the best choice if you are your own barista! It is creamy and rich and froths just like dairy. Because the nuts are raw you retain all the health benefits, and you don't have a roasted taste to overtake your coffee.
Try this milk in my Matcha Coffee recipe!
If you don't want to buy the boxed version, try my recipe for Homemade Macadamia Milk.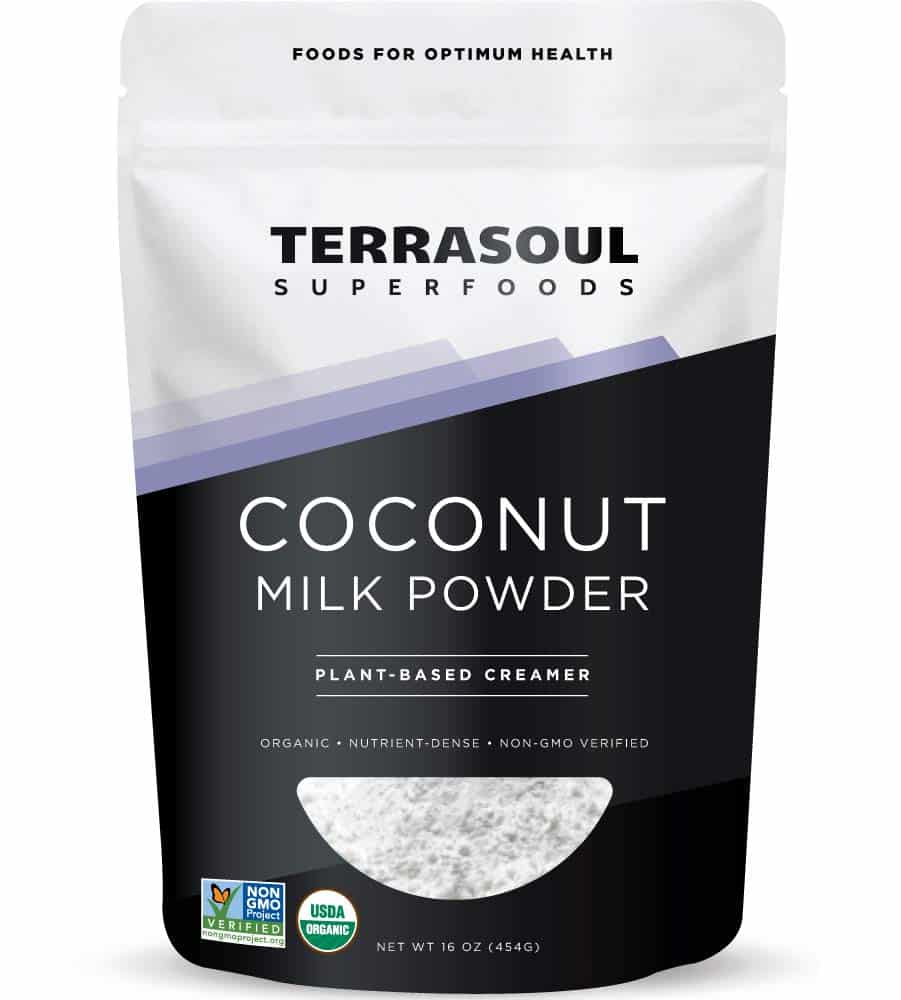 This organic powdered coconut milk will be great in hot cocoa. I also love to use it to prepare a bowl of oatmeal. Milk powder is a great pantry staple to have on hand to be prepared at all times. They can satisfy a creamy craving without any added sugar.
Conclusions
Non-dairy milk alternatives have come a long way in recent years. No matter if you have allergies, intolerances, or ethical concerns, you can find a product that is right for you. No longer is there just soy and almond milk, but we now have oat milk and gourmet options like macadamia nut milks. Remember to pick the right format for each application, from baking to smoothies to coffee.
Don't Miss These Coffee Resources
If you like this post, consider following me on social media so we can stay connected. I'm on Facebook, Pinterest, Instagram, and YouTube!
Note: this post is for informational purposes only and is not intended as medical advice. Please consult your healthcare provider for recommendations related to your individual situation.
This post may contain affiliate links which won't change your price but will share some commission. We are participant in the Amazon Services LLC Associates Program, an affiliate advertising program designed to provide a means for us to earn fees by linking to Amazon.com and affiliated sites.