Best Organic Coffee for 2024 (Whole, Ground, & Pods)
This post may contain affiliate links which won't change your price but will share some commission.
It may sound too good to be true, but coffee is incredibly healthy for most people! Rich in polyphenols and other protective compounds, quality, organic coffee can be part of an overall healthy lifestyle. This article shares the best organic coffee including whole bean, ground, and coffee pods.
Health Benefits of Coffee
Coffee has been shown to help protect against disease. It is rich in a type of antioxidant known as polyphenols, plus other protective compounds.
Research also shows that drinking coffee can help protect against liver disease, colon cancer, Parkinson's disease, and more.
You can even make a simple recipe like Rosemary Coffee that can help with memory.
Choosing Organic Coffee
It's important to choose quality coffee beans that haven't been sprayed with pesticides. By purchasing certified organic coffee beans, you can rest assured that your coffee is clean and clear.
Some people also like to take the extra step and choose coffee beans that are both organic and fair-trade. Fair-trade certification means the farmers are paid a living wage.
Certified organic means that the coffee plants were grown using organic means without synthetic fertilizers.
You can buy organic (and often fair-trade) coffee in whole beans, ground, and even coffee pods now. I've included the best organic coffee brands below.
Note: this post is not sponsored; all opinions are my own!
I am a certified coffee lover and enjoy trying different organic brands to find the best balance of value, taste, and quality.
Best Organic Coffee Beans and Organic Ground Coffee
In this article, I'll share the best coffee beans that are certified organic. I'll also offer some organic and fair-trade options.
For the best results, buy the roasted beans and a quality coffee grinder.
If you don't have a huge budget for coffee, then these whole beans are a great value at a fair price!
They are organic and fair trade and made using 100% Arabica beans from Africa and Central and South America. They have the organic label with organic certification.
This is also a sustainably-sourced product from coffee plantations using organic practices.
This dark roast coffee from Allegro is both organic and fair-trade certified, and a fantastic choice for dark roast lovers.
Dark roasts are also lower in acid which can help reduce heartburn after coffee. See my related article on the best low-acid coffee from Starbucks.
You can also buy the Allegro organic dark roast ground coffee.
This organic whole bean coffee goes above and beyond. Not only is it organic, it is also single origin, non-GMO and 3rd party tested for mycotoxins and pesticides.
While the company has several blends, their half-caffeinated blend with low acidity is a winner.
The bag also has a zip top, making it easier to stay fresh. One of the hardest parts about good coffee is keeping the beans fresh once you open the bag.
This one is a "medium dark roast" so it's strong but not bitter or burnt as some dark roasts tend to be. It is rich in flavor to please dark roast fanatics but easy enough to share with those that prefer something lighter.
This is my husbands's favorite coffee brand and a top pick for coffee drinkers who love arabica coffee.
Portland knows coffee, and Stumptown is no exception. Hugely popular on the internet, they have fans around the country. I've personally been a fan for over 10 years.
This blend is interesting since they aren't using single origin beans, so they can combine unique flavors into one.
With stone fruit and cocoa flavors, this is my best pick for a medium roast.
In addition to treating the farmers well, this brand strives to treat the planet well too, making sure your coffee is a sustainable morning treat.
8. Best Organic Decaf: No Fun Jo by Jo Coffee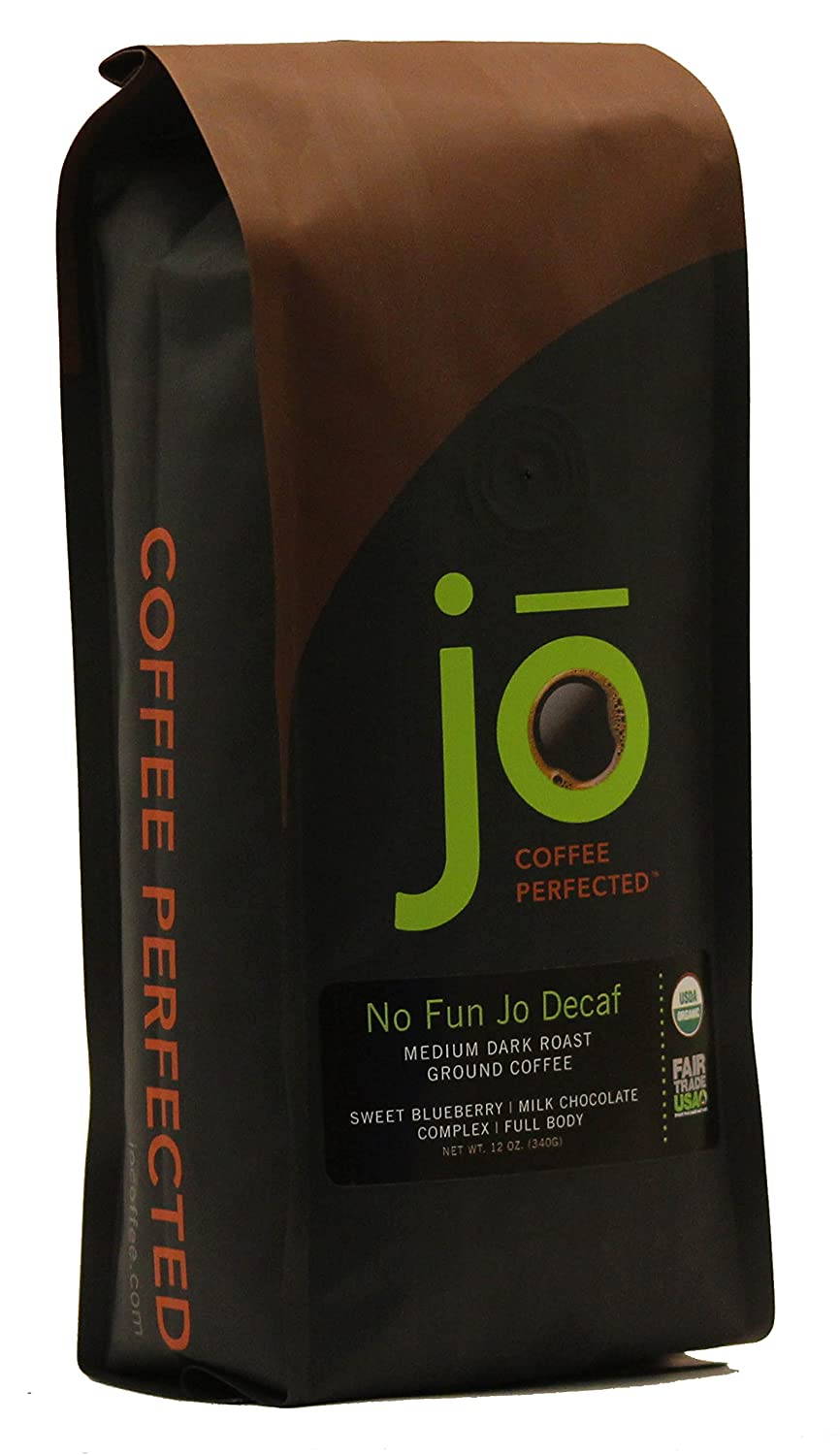 There are a few things to look for when buying decaffeinated coffee.
First, you want a coffee that has been decaffeinated using the "Swiss water process." Second, you want to buy organic.
Check my related list of the Best Organic Decaf Coffee.
While grinding your own coffee beans at home will give you the best flavor overall, some of us prefer the convenience of coffee pods.
These organic and fair-trade pods from AmazonFresh offer convenience, value, and great flavor. They are compatible with Keureg and yield a really great cup of coffee.
How to Make Coffee Using Organic Beans
If you've only purchased ground coffee to make at home before, it's time to consider buying the beans.
By purchasing the whole bean, you'll also have the oils intact which can lead to a more flavorful result. Then, you'll just need to use a grinder to grind the beans before brewing the coffee.
After you grind the beans, place the ground coffee into a filter. Then, run hot water through the filter by using a coffee maker or a drip-device. Either way, you'll be rewarded with the best cup of coffee you've ever had, right in your own kitchen!
See my related recipes for how to make butter coffee or my Maca Coffee recipe. For those on a dairy-free diet, don't miss my round-up of the best non-dairy creamers without sugar.
Additionally, see my recipes for Iced Americano and Iced Coffee if you want a cold drink instead of hot.
Best Organic Coffee FAQs
Don't Miss These Coffee Posts
Organic Coffee Conclusions
Once you learn the lingo of fair-trade, direct trade, organic, and more, you will discover why it is so important to buy high-quality coffee. Not only are you getting the best flavor, you are also supporting the planet and farmers. Once you experiment with different brands on this list, you can really learn to enjoy what roasts and brewing method you like best.
From Central America to all of Latin America, you're sure to find the best organic coffee beans for your taste buds. Try to choose organic products over conventional coffee to avoid toxic chemicals used in coffee production.
If you like this post, consider following me on social media so we can stay connected. I'm on Facebook, Pinterest, Instagram, and YouTube!
About the Author: Carrie Forrest has a master's degree in public health with a specialty in nutrition. She is a top wellness and food blogger with over 10 million annual visitors to her site. Carrie has an incredible story of recovery from chronic illness and is passionate about helping other women transform their health. Send Carrie a message through her contact form.
Note: this post is for informational purposes only and is not intended as medical advice. Please consult your healthcare provider for recommendations related to your individual situation.
This post may contain affiliate links which won't change your price but will share some commission. We are participant in the Amazon Services LLC Associates Program, an affiliate advertising program designed to provide a means for us to earn fees by linking to Amazon.com and affiliated sites.