This post may contain affiliate links which won't change your price but will share some commission.
Last Updated on
This post includes six health reasons why you might want to consider a gluten-free diet, even if you don't have celiac disease.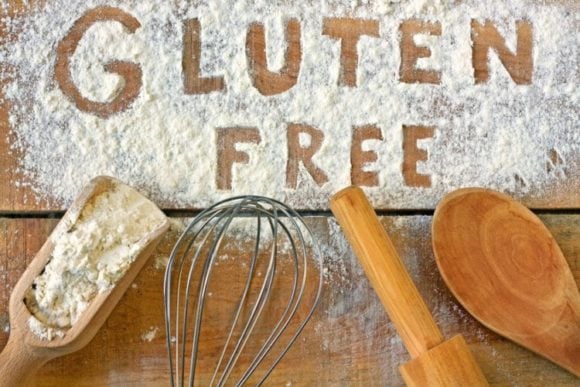 Turns out, there are many reasons why you  might want to go gluten-free, even if you don't have celiac disease. If you're considering making changes to your diet, this might be one of the first things you want to try.
There are several reasons why you might want to try going gluten-free, but let's review the basics first.
What is Gluten?
Gluten is the general term for a group of proteins found in grains such as wheat, barley, and rye. Gluten acts as the "glue" that holds the grain together and allows it to keep its shape.
Gluten can be found in breads, pastas, doughs, baked goods, cereals, and more unsuspecting places like cross-contaminated oats, soy sauce, salad dressings, condiments, deli meats, cheeses, fried foods, candy, alcohol, medications, supplements, cosmetics, and more. Check out this list of thirty places gluten hides.
If you're trying to avoid gluten, then paying attention to food labels is a must. 
Why Has Gluten Become a Problem?
The gluten-containing grains we consume today are not the same ones our grandparents or great-grandparents consumed. Our modern wheat is a hybrid plant that food scientists have modified to increase yield-per-acre. The result is a genetically unique plant that stands about two feet tall. Even just 50 years ago, wheat stood about four and half feet tall. It also contained more nutritional value and was sprayed with far less pesticides.
What is Non-Celiac Gluten Sensitivity?
There are many people who have been diagnosed with a wheat allergy or Celiac Disease, but there are also millions of individuals who have not been diagnosed with either of these conditions that feel better once they stop consuming gluten. They may have something that health professionals refer to as "Non-Celiac Gluten Sensitivity."
How do you know if you have Non-Celiac Gluten Sensitivity? Some common reported symptoms include:
Stomach upset
Headaches and migraines
Brain fog
Fatigue
Depression, anxiety and other mood disorders
Joint pain and muscle cramps
Rheumatoid arthritis
Tingling and numbness in the extremities
Skin problems like acne, eczema, or unexplained rash
These signs and symptoms may show up immediately following gluten consumption or they may take up to several days to appear. The only way to know for sure if gluten is causing these symptoms is to try eliminating it from your diet to see if symptoms improve.
6 Reasons to Go Gluten-Free:
1. Wheat contains gluten and wheat is one of the top eight allergens
Some people who are allergic to it may not even know that they suffer from a wheat allergy.
2. Wheat is pro-inflammatory
It can rapidly convert to glucose in the body causing a spike in insulin levels which in turn can cause a rise of inflammation at the cellular level.
3. Wheat and gluten can cause leaky gut syndrome
The gluten proteins can leak into your bloodstream through compromised junctions in your gut. It may also be the cause of the compromised junctions, which can cause other things like toxins to leak into your bloodstream as well.
4. Modern wheat has little to no nutritional value.
Today's wheat manufacturers take out all the nutrients from wheat in the refining process. They actually have to enrich wheat products with (sometimes) synthetic nutrients. But even then, wheat has never been a nutritional superfood.
5. Many people may be gluten-sensitive and not even know it
It's estimated that up to 70% of the human population suffers from gluten sensitivity. Though some health professionals think that as much as 100% of the human population has some type of sensitivity to gluten.
6. Gluten-containing foods may block absorption of key vitamins and minerals in the gut
Gluten can reduce the production of digestive enzymes that are needed to help break down foods and aid in nutrient absorption.
My Gluten-Free Journey
I never even considered going gluten-free until I developed chronic hives about seven years ago. Up until that point, my mainstream doctors never mentioned gluten sensitivities, even though I had autoimmune thyroid disease.
Nowadays, the alternative health community is very aware of research and anecdotal evidence that shows the links between autoimmunity and gluten consumption (here's a great interview with one of the leading researchers of this connection), but it wasn't a connection that I was aware of until I started experiencing the hives.
At that point, I came across the term "non-celiac gluten sensitivity" and I decided to try going gluten-free. My hives slowly started to go away and I've never gone back to eating gluten after that.
You can read more about my health journey here or see all my gluten-free recipes here. You can also check out my podcast episode devoted specifically to identifying food sensitivities.
Should Everyone Go Gluten-Free?
For people with Celiac disease, going gluten-free is a must. Some critics consider going gluten-free to be a fad-diet that isn't completely necessary. Dr. Thomas O'Bryan, however, considers a gluten-free diet necessary for nearly everyone. In a New York Times interview, he was quoted saying that, "If a person has a choice between eating wheat and not eating wheat, then for most people avoiding wheat would be ideal."
What Gluten-Free Alternatives Are Recommended?
White flour and wheat flour aren't generally good for health. You do have to be careful about using gluten-free flours since some of them can contain other additives or preservatives that aren't necessarily healthy.
Also, if you're sensitive to gluten, you might very well be sensitive to grains in general. Some flours that can replace glutenous flours are (some affiliate links included):
A quick internet search for "gluten-free recipes" will lead you to countless recipes using these gluten-free alternatives. All of the recipes on my blog are gluten-free, too!
Some of my favorite gluten-free recipes and posts include:
Conclusion
It's really up to you to determine if adopting a gluten-free diet is right for you. Many people choose to try eliminating it for a while to see if it makes them feel better.
The recommended elimination time is roughly around 3 weeks. Then, you can add it back in gradually if you want to test your reaction to gluten. But remember that gluten lurks in unsuspecting places and gluten-free alternative baked goods aren't necessarily any better for you than their wheat counterparts.
A lot of people who decide to try a gluten-free diet opt for a Paleo diet in which they are eliminating grains altogether based on the way their hunter-gatherer ancestors ate. A common Paleo protocol that many follow is the Whole30 diet.
You'll never know if you can feel better without consuming gluten if you don't give it a try. You really have nothing to lose by giving up the wheat.
READ NEXT: DIFFERENCES BETWEEN PALEO, KETO, CLEAN EATING, VEGAN, AND WHOLE30 DIETS
Don't miss a recipe! Join my weekly newsletter list to get all the latest news and recipe links delivered directly to your inbox.
Sign up now and unsubscribe at any time. I will never sell your name or spam you, I promise!