13+ Best Greens for Smoothies
This post may contain affiliate links which won't change your price but will share some commission.
Have you ever tried adding greens to your smoothies? If not, you're missing out on a great way to get more nutrients into your diet. This article includes the best greens for smoothies including spinach, kale, collard greens, Swiss chard, and more. I've also included a basic green smoothie recipe to help get you started!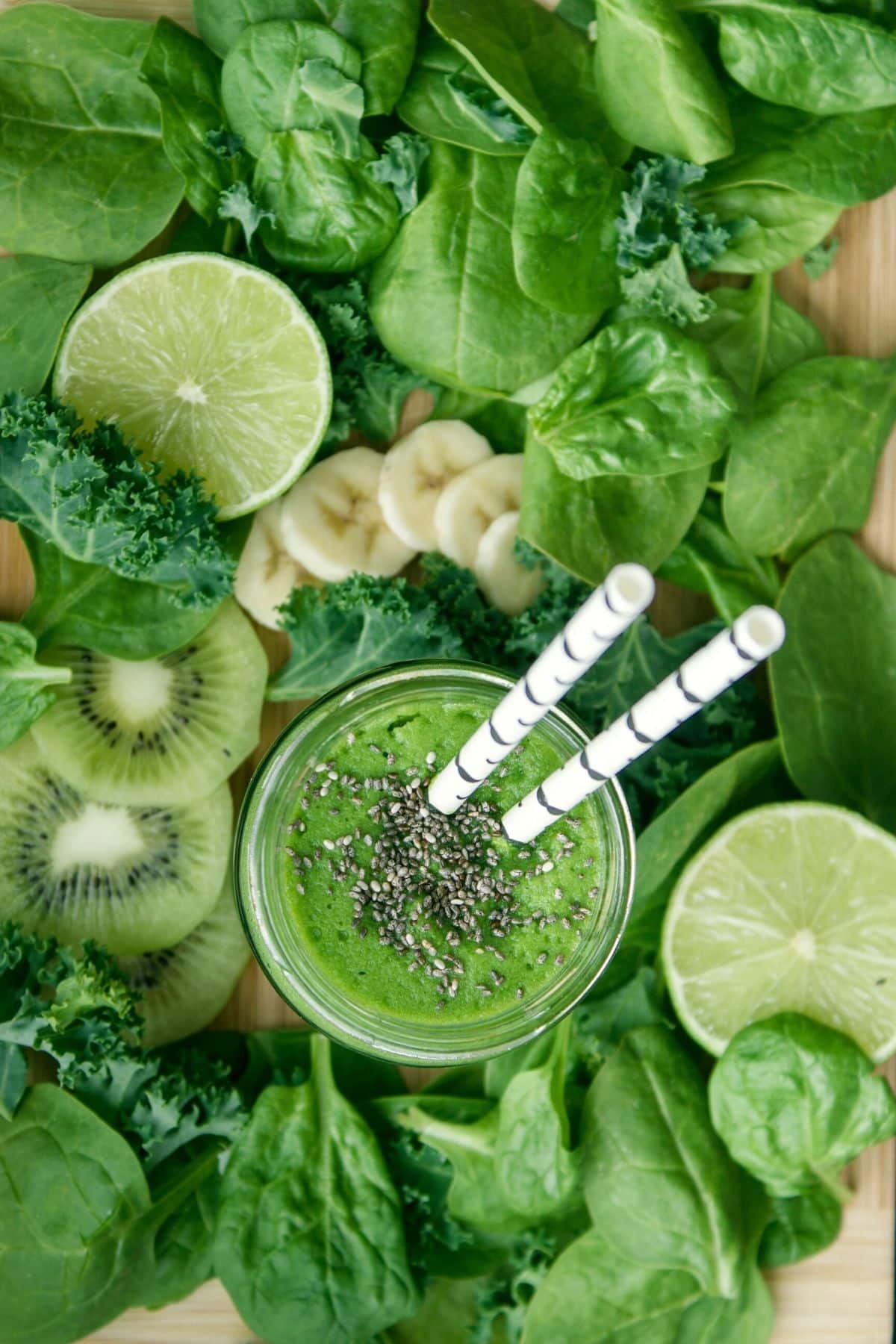 What are Green Smoothies?
Green smoothies are simply blended drinks made with green vegetables. They often also include fruit to help mask the flavor of the vegetables.
Unfortunately, many of us struggle to eat enough vegetables on a daily basis. So if you're looking for a way to add more healthy foods to your diet, give green smoothies a try!
Reasons to drink green smoothies
Green smoothies are generally considered better for you than green juices or fruit juices because veggie smoothies retain the beneficial fiber of the whole vegetable.
Smoothies can help increase your intake of healthy vegetables such as kale, spinach, and chard.
You can easily meal prep your smoothies to make them easy to blend and go.
Adapt your smoothie to your individual needs and preferences. Add protein powder and use your favorite frozen fruits or other ingredients.
A green smoothie can be full of nutrition and can act as a meal replacement. It's also often easier to digest green vegetables if they are blended. The blender essentially "pre-digests" the ingredients for you.
Ingredients to include to make green smoothies taste better
Some people are reluctant to try green smoothies as they worry that the taste won't be to their liking. But it's definitely worth experimenting with the veggies on this list, as some are much milder in flavor than others. 
Here are some ingredients to consider:
Banana
Green apple
Mango
Sweet cherries
Carrots
Beets
Cocoa powder
Nut butters such as peanut butter or almond butter
Yogurt, milk, or nut milk
Try to avoid adding ingredients with added sugar to keep them as healthy as possible.
See my list of the best vegetable and fruit smoothies or my full article on the health benefits of green smoothies.
Best Greens for Smoothies
Here are the best greens for smoothies, in no particular order.
1. Spinach
2. Kale
3. Swiss chard
4. Collard greens
Collard greens.
5. Bok choy
6. Herbs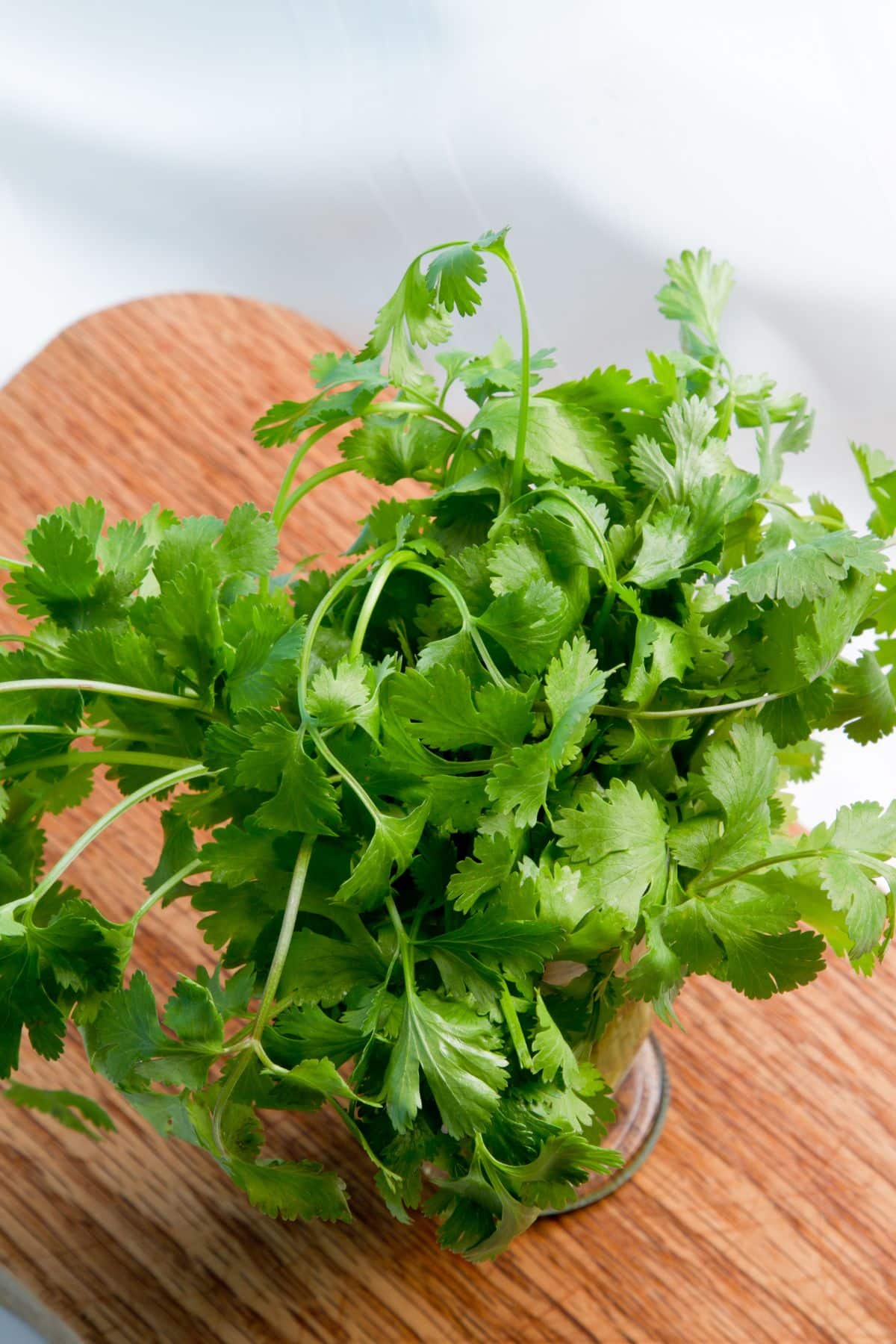 7. Dandelion greens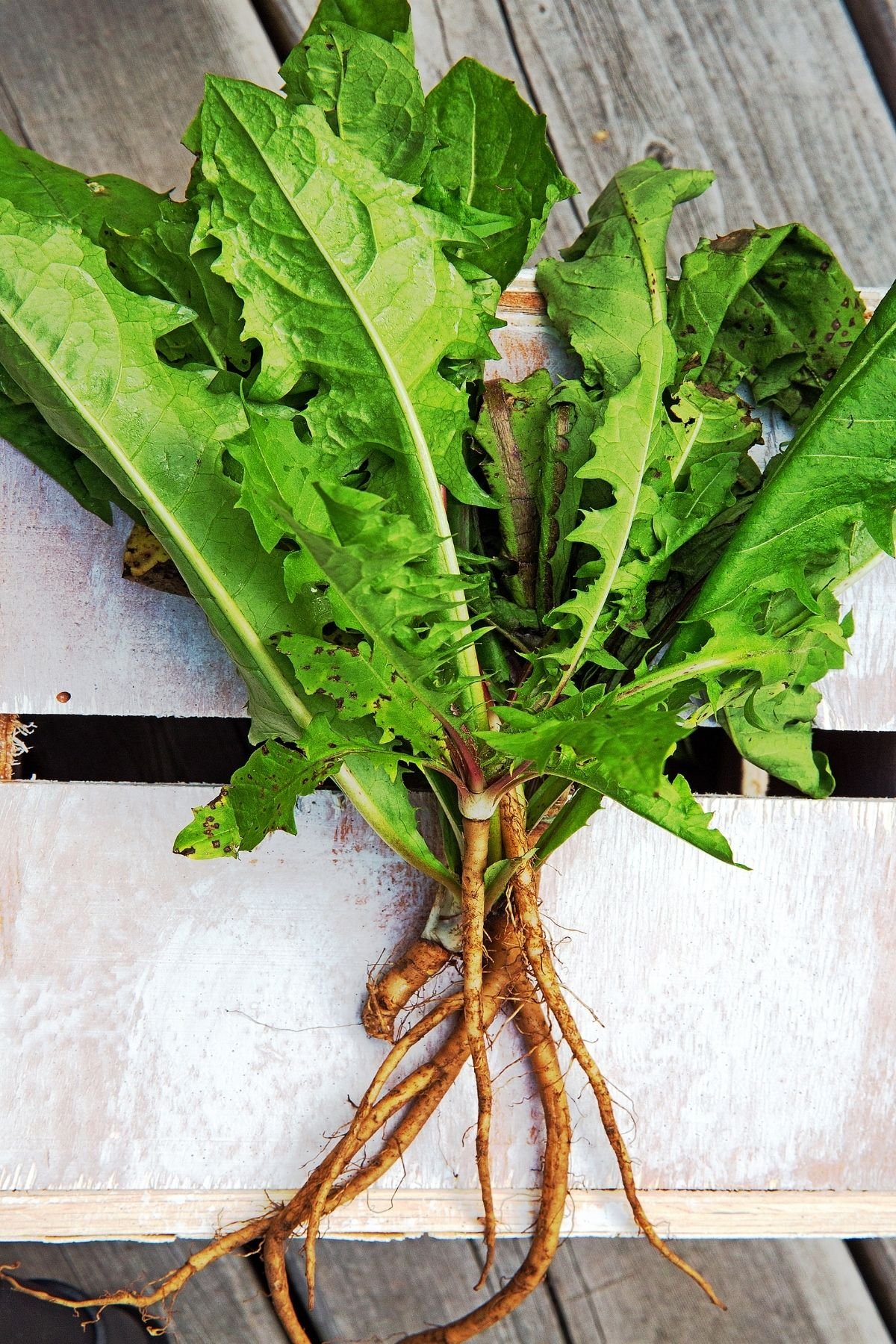 8. Romaine lettuce
9. Watercress
10. Frozen broccoli florets
11. Frozen zucchini
12. Beet Greens
13. Microgreens
Bonus: Moringa
Moringa is a plant that has been studied for its antioxidants and other health properties.
This list is my no means comprehensive. You can explore other green vegetables to use in smoothies.
See my Moringa Smoothie recipe.
Best Green Smoothie FAQs
Green Smoothie Ingredients
If you are new to making green smoothies, I've included a super simple recipe for you below! The ingredients include:
Banana: Provides natural sweetness and a creamy texture
Almond milk: A dairy-free alternative that adds smoothness
Greek yogurt: Adds a nice amount of protein and a tangy flavor
Frozen strawberries: Offers a refreshing, cool element and fruity flavor
Baby spinach: Adds a nutritious green touch without overpowering the taste
Chia seeds: Tiny seeds packed with fiber and omega-3s for a health boost
How to Make the Best Green Smoothies
Use cold ingredients, like frozen fruits or chilled liquids, to help ensure your smoothie remains refreshing without diluting it with too much ice.
Use a high-speed blender to make sure that ingredients like leafy greens or seeds get fully blended and creamy. I use a Vitamix!
Balance your ingredients so it's green, but not too green! Start with a 1:2 ratio of vegetables to fruit to ensure your smoothie doesn't taste like cold vegetable soup. Fruits like banana, cherries, and mango really help mask the flavor of the greens.
Add superfoods like protein powder, cocoa powder, chia seeds, flaxseeds, and broccoli powder to add nutrition to your green smoothie.
Rotate your greens to ensure you aren't getting too much of anything in your smoothie concoction. For instance, try baby kale, rainbow chard, dandelion greens, or collard greens instead of spinach.
What to Put in Green Smoothies?
Besides green leafy vegetables, there are lots of other healthy ingredients you can put in your green smoothies.
Protein powder (I like the ones on this list of the best clean protein powders)
Cucumber
Celery
Green apple
Kiwi
Pear
Pineapple
Mango
Ginger
Lemon or lime juice
Mint leaves or other fresh herbs
Coconut water
Greek yogurt
Protein powder
Spirulina
Bee pollen
Turmeric
Matcha powder
Hemp seeds
Almond butter or peanut butter
Best Green Smoothie Blending Advice
Layering is key meaning that you should start with liquids at the bottom, followed by soft ingredients, and finish with harder, frozen items on top for efficient blending.
Pulse when starting to blend. For tougher ingredients like kale or frozen fruit, begin with quick pulses to break them down before continuous blending.
Try to use frozen fruits to achieve a thick and chilly texture without watering down the flavor with ice.
Avoid overloading the blender which can make it really hard to fully blend the smoothie. Try not to fill past the "max" line on the blender pitcher.
Rinse and clean your blender right after use to prevent ingredients from drying and sticking, ensuring longevity and easy maintenance.
Print
More Green Smoothie Resources You Might Like
Conclusions
If you like this post, consider following me on social media so we can stay connected. I'm on Facebook, Pinterest, Instagram, and YouTube!
About the Author: Carrie Forrest has a master's degree in public health with a specialty in nutrition. She is a top wellness and food blogger with over 10 million annual visitors to her site. Carrie has an incredible story of recovery from chronic illness and is passionate about helping other women transform their health. Send Carrie a message through her contact form.
Note: this post is for informational purposes only and is not intended as medical advice. Please consult your healthcare provider for recommendations related to your individual situation.
This post may contain affiliate links which won't change your price but will share some commission. We are participant in the Amazon Services LLC Associates Program, an affiliate advertising program designed to provide a means for us to earn fees by linking to Amazon.com and affiliated sites.