Meatloaf Without Breadcrumbs
This post may contain affiliate links which won't change your price but will share some commission.
When you want a satisfying and nutritious dinner recipe, try this juicy meatloaf recipe made without breadcrumbs. Instead, I used almond flour in this classic American dish made gluten-free, grain-free, and perfect for your hungry family.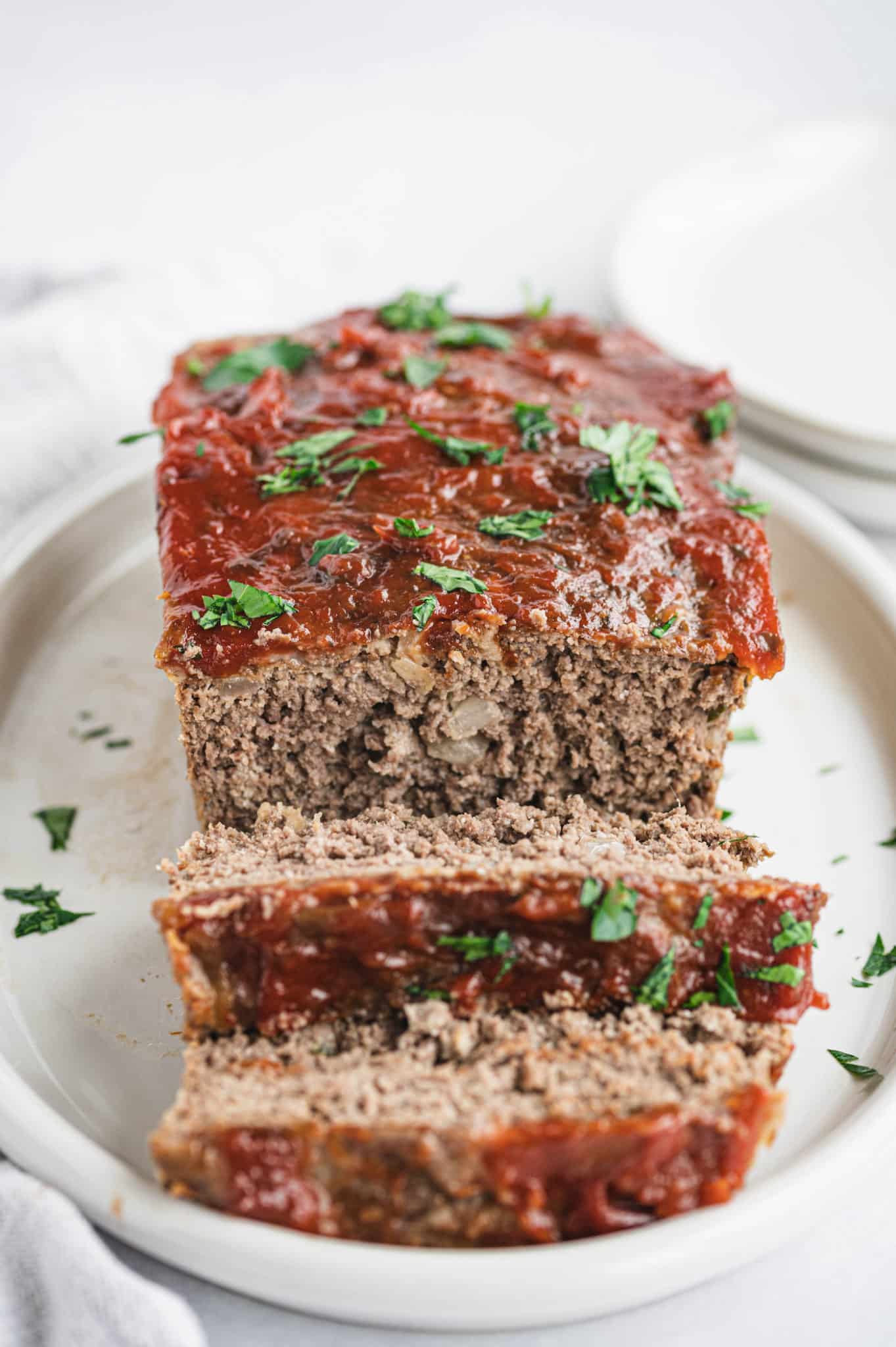 Lean ground beef and almond flour put a healthy spin on a family classic! It's an easy meatloaf recipe that the whole family will love.
Whether you want a lower-carb easy classic meatloaf or you're don't have bread crumbs on hand, this family favorite recipe is the answer. This recipe is also great for people on a grain-free diet.
Almond flour takes the place of breadcrumbs and helps make this a low carb recipe. The almond flour also helps the meatloaf hold together so you can slice it and enjoy it out of the pan or in a sandwich.
Why You Need This Recipe
Most meatloaf recipes use breadcrumbs to help keep the loaf shape. This version ditches the gluten and the grains without losing any of the flavor or great texture. It's perfect if you're watching carbs or you're on a gluten-free diet.
The oven does most of the work. Prep time is only 10 minutes which means you have ample time to work on side dishes (or do other things) while it cooks.
Meatloaf makes amazing leftovers. Eat it as-is or make it into a delicious sandwich, crumble it onto cooked rice, or add it to chili.
Key Ingredients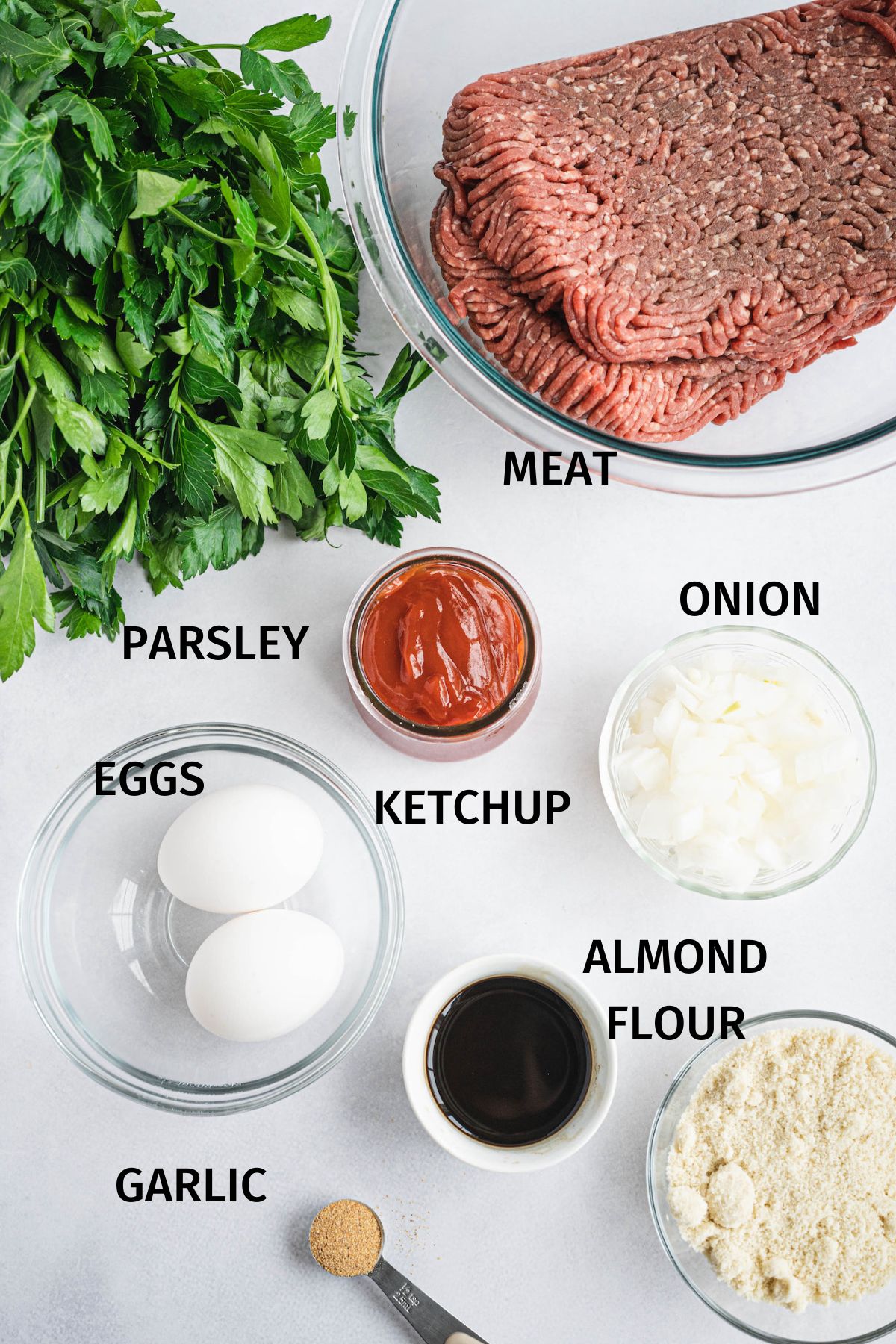 Ground beef makes the base of this healthy meatloaf. I love using grass-fed ground beef to get the benefits of grass-fed meat. You can use any ground meat, though.
Almond flour acts as a grain-free binder for the meat mixture.
Eggs also help bind the meatloaf with no need for breadcrumbs. The eggs also help make this a moist meatloaf.
Flavor comes from garlic, Worcestershire sauce, onion, parsley, and ketchup. Be sure to use sugar-free ketchup if you are on a low-carb diet. I skipped adding brown sugar to help keep this recipe lower in sugar.
Please see the recipe card at the end of this post for the exact ingredients and measurements.
Recipe Steps
Let me show you how to make this gluten-free meatloaf with simple ingredients.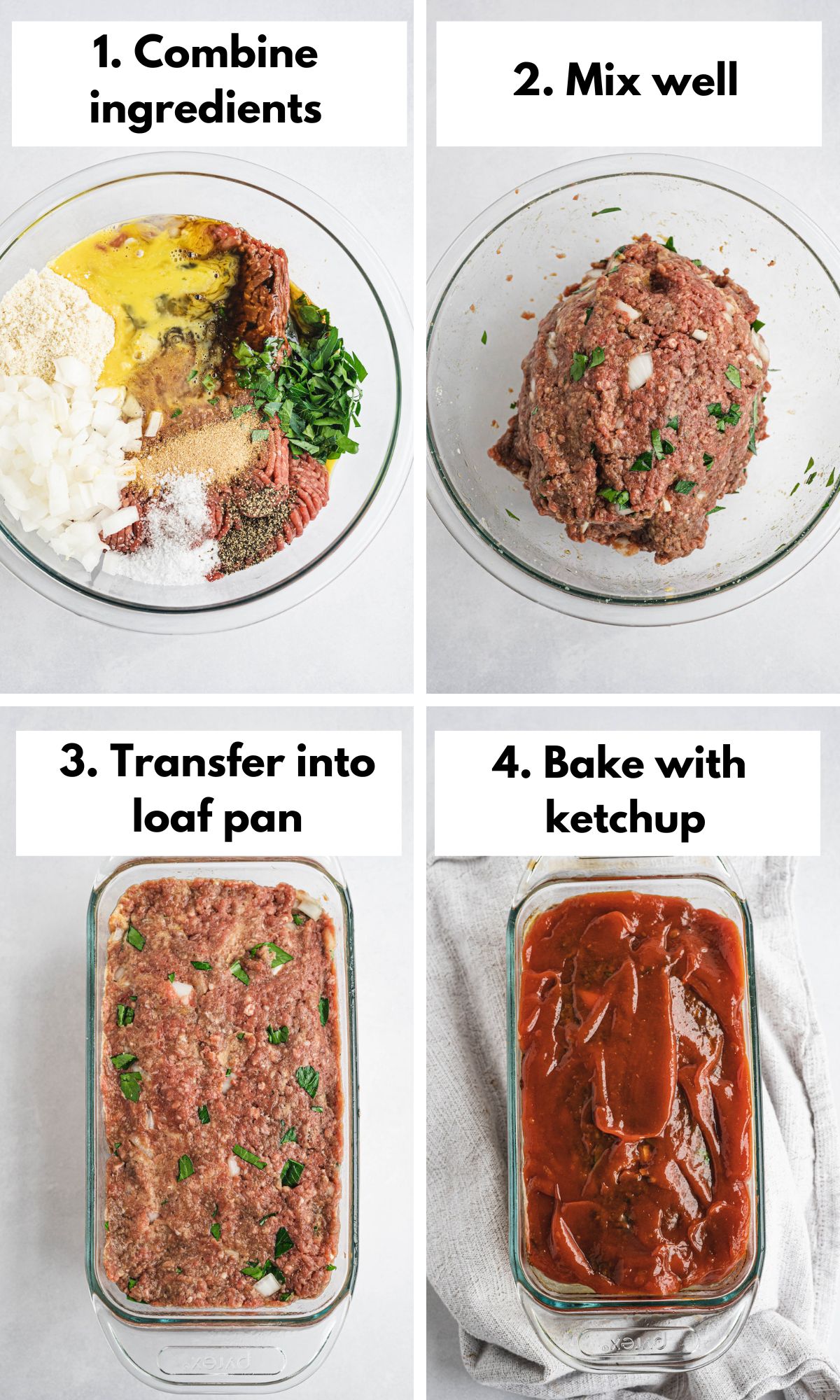 Step One
Preheat the oven and spray a loaf pan with nonstick spray.
In a large bowl, mix everything together except the ketchup. You can use a food processor but I prefer to just use my hands.
Please see the recipe card below for the exact recipe plus nutritional information.
Step Two
Transfer beef mixture to the loaf pan and spread evenly with a spatula.
Step Three
Bake for 30 minutes and then remove from oven. Spread the ketchup evenly on top.
Step Four
Return the meatloaf to the oven and bake until the internal temperature using a meat thermometer reaches 160 degrees F – about 35 minutes longer for a total of 65 minutes cooking time.
Let meatloaf cool for 10 minutes and then slice and enjoy!
I hope you agree that this comforting meal is your new favorite classic meatloaf recipe that the entire family loves. Serve it with vegetables like green beans or mashed potatoes for a delicious meal that your taste buds will love.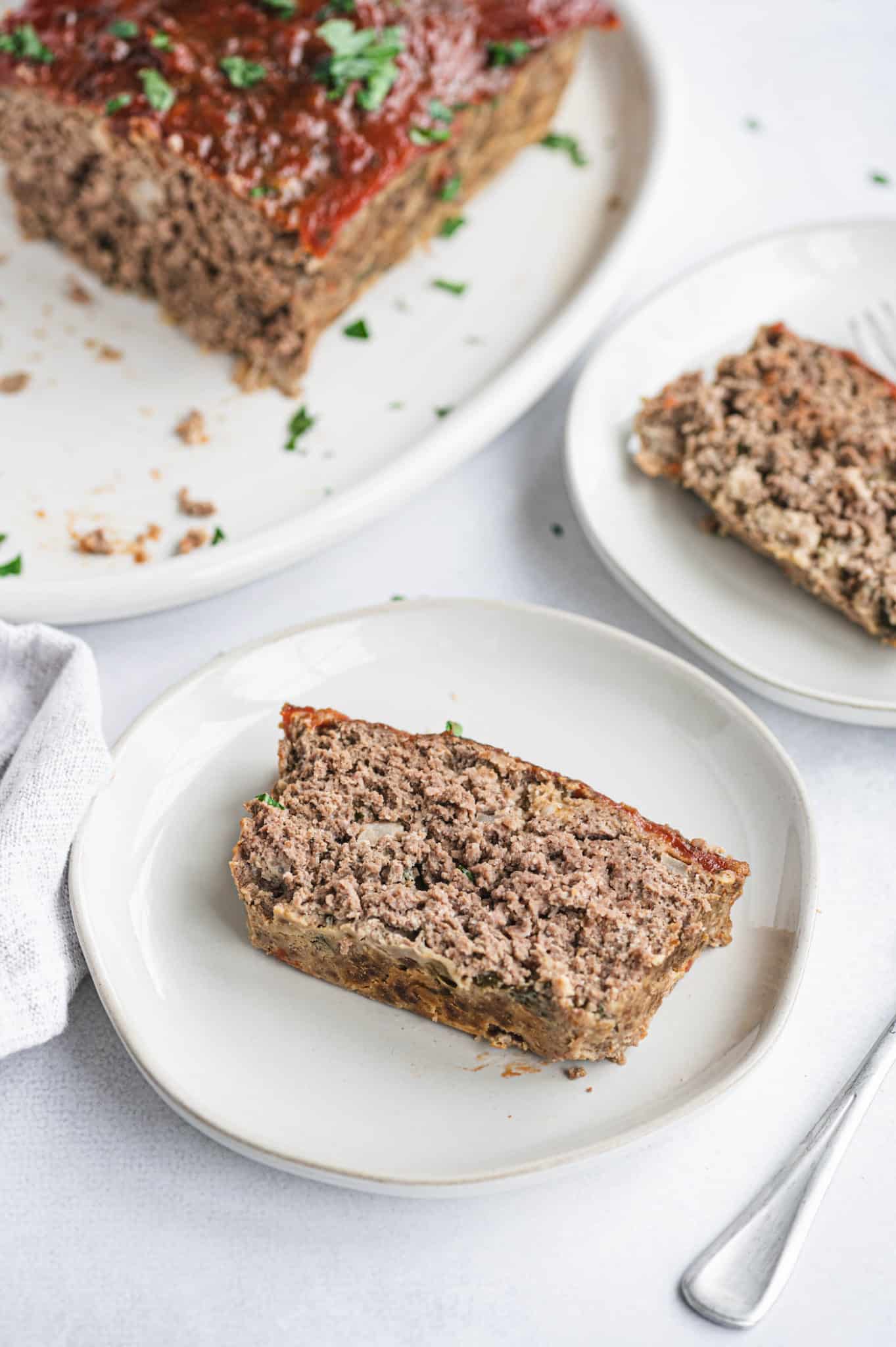 Recipe FAQs
Can I use ground turkey instead of ground beef?
Yes but ground turkey does have a different flavor. If you love ground turkey or that's what you have, then go for it! You might want to check out my recipe for Ground Turkey Meatloaf Muffins.
How long does this meatloaf stay good for?
It will stay good for up to 4 days in a covered airtight container in the refrigerator.
Can this recipe be frozen?
Yes it can! I recommend assembling it up to the part when you bake it. Instead of baking it, freeze the assembled meatloaf. Then, defrost it and bake it when you're ready to enjoy it.
Is Worcestershire sauce gluten-free?
Most brands of Worcestershire sauce are not gluten-free because they contain soy sauce. Be sure to find a certified gluten-free Worcestershire sauce. You can also use bbq sauce if you prefer.
Recipes to Serve with Meatloaf
More Easy Dinner Recipes You Might Like
Don't Miss These Comfort Food Recipes
Print
Gluten-Free Meatloaf Without Breadcrumbs
When you want a satisfying and nutritious dinner recipe, try this Gluten-Free Meatloaf. I've swapped out breadcrumbs with almond flour in this classic American dish made gluten-free, grain-free, and perfect for your hungry family.
Total Time: 1 hour 15 minutes
Yield: 6 1x
Nonstick cooking spray
2 pounds 90% lean grass-fed ground beef
1/2cup almond flour
1/2 onion, diced
2eggs, beaten
1/4 cup chopped flat-leaf parsley
2 tablespoons Worcestershire sauce (be sure that you are using a gluten-free version)
1/2 teaspoon garlic powder
1 teaspoon sea salt
1/4 teaspoon ground black pepper
1/2 cup prepared ketchup
Instructions
Preheat your oven to 350°F. Spray an 8×4-inch loaf pan with nonstick cooking spray and set aside.
In a medium bowl, combine the beef, almond flour, onion, eggs, parsley, Worcestershire sauce, garlic powder, sea salt, and black pepper.
Use your hands or a spatula to mix together the ingredients. Transfer the mixture to your loaf pan and use a spatula or your hands to spread the mixture into all corners of the pan.
Bake the meatloaf for 30 minutes. Then, carefully remove it from the oven and spread the ketchup on top.
Return the meatloaf to the oven to cook for another 35 minutes, or until an instant-read thermometer inserted into the center of the meatloaf reads 160°F.
Let the meatloaf cool for 10 minutes in the pan before slicing it and serving it.
Enjoy warm.
Notes
Use a serrated knife when slicing the meatloaf to help make clean slices.
Store any leftovers in a covered container in the refrigerator for up to 4 days. Reheat before serving.
Nutrition
Serving Size:
Calories: 299
Sugar: 6.9 g
Sodium: 782 mg
Fat: 7.9 g
Saturated Fat: 2.8 g
Carbohydrates: 11.2 g
Fiber: 0.7 g
Protein: 36.9 g
Cholesterol: 152.7 mg
Keywords: grain-free meatloaf, gluten-free baked meatloaf, dairy-free meatloaf
If you like this post, consider following me on social media so we can stay connected. I'm on Facebook, Pinterest, Instagram, and YouTube!
About the Author: Carrie Forrest has a master's degree in public health with a specialty in nutrition. She is a top wellness and food blogger with over 10 million annual visitors to her site. Carrie has an incredible story of recovery from chronic illness and is passionate about helping other women transform their health. Send Carrie a message through her contact form.
This post may contain affiliate links which won't change your price but will share some commission. We are participant in the Amazon Services LLC Associates Program, an affiliate advertising program designed to provide a means for us to earn fees by linking to Amazon.com and affiliated sites.