Is Simply Orange Juice Healthy (Nutrition Pros and Cons)?
This post may contain affiliate links which won't change your price but will share some commission.
In this blog post, I'll review the question of whether Simply Orange Juice is healthy or not? Find out this product's nutrition pros and cons, plus some better options to consider.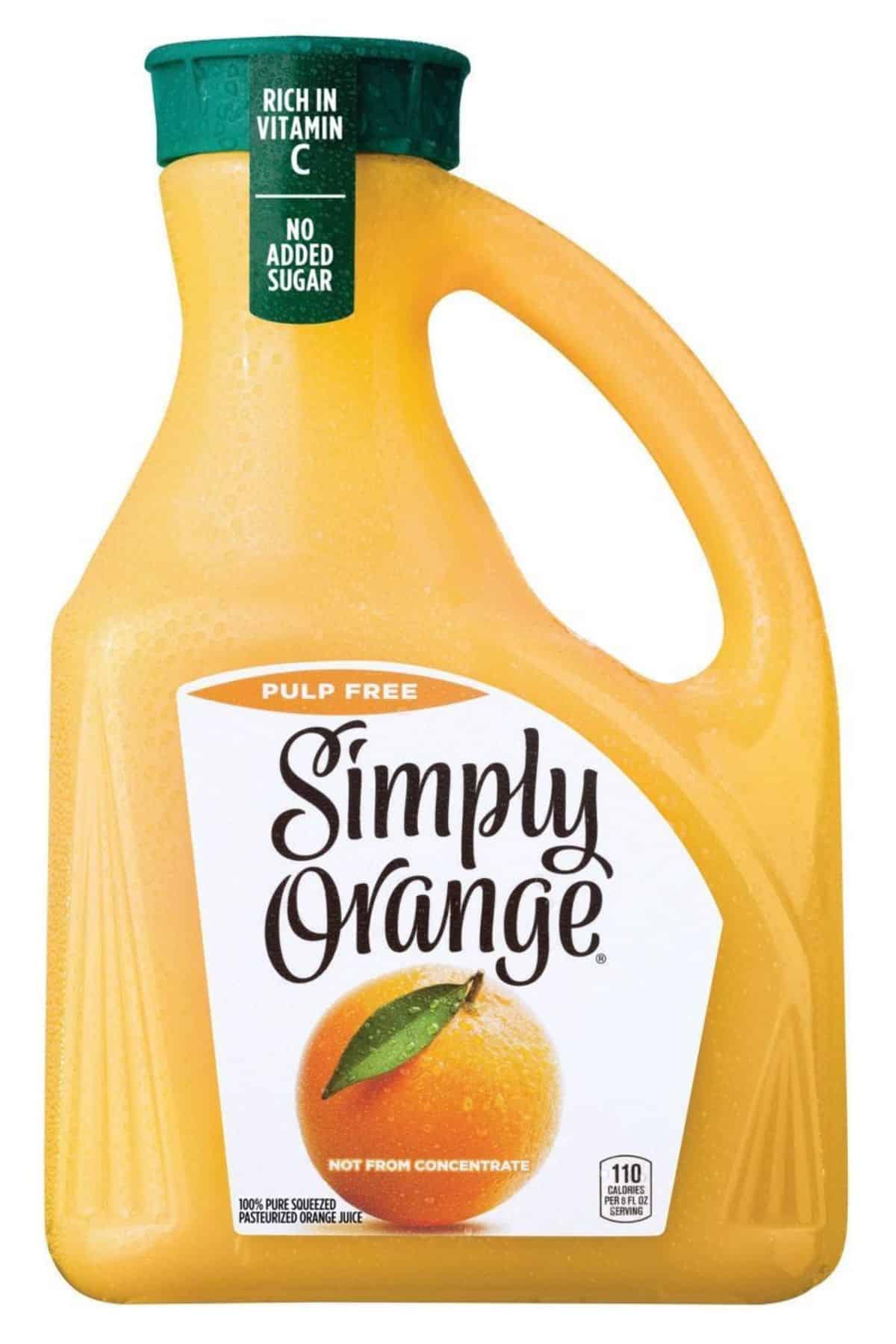 Simply Orange Juice Facts
Simply Orange Juice Company was launched in 2001 by Minute Maid and later bought by The Coca-Cola Company. The company is now known as Simply and manufactures various not-from-concentrate fruit juices sold in plastic bottles.
The target market is health-conscious consumers who enjoy fruit juice and choose not to drink juice made from concentrate.
The Simply Orange Juice line includes the following variations:
Pulp Free
Low Acid
Calcium & Vitamin D
Medium Pulp With Calcium And Vitamin D
High Pulp
With Mango
With Pineapple
According to the Simply website, the beverages are 100% pure and natural and only contain real fruit from the United States, Brazil, and Mexico.
Besides the orange juice variations, Simply also sells:
Simply Lemonade with a variety of fruit infusions
Simply Juices is a range that features various fruit juices including Simply Tropical Juice
Simply Light, a low-sugar, low-calorie range sweetened with stevia
Simply Mixology, a range made for cocktails and mocktails
Simply Smoothies with 100% natural fruit ingredients
Juices are available in 11.5oz, 32oz, and 52oz bottles and larger, 2.63-liter bottles.
Simply Orange Juice Ingredients
According to the ingredient label and nutritional information, every Simply Orange Juice variation contains 100% orange juice, not from concentrate.
Some variations contain added nutrients, including calcium phosphate, calcium lactate, and vitamin D.
The reduced acid version of Simply Orange Juice contains calcium hydroxide to reduce acid and calcium lactate for added calcium.
The Simply Orange Juice With Mango and Simply Orange Juice With Pineapple contain "natural flavoring."
Let's look at what some of these ingredients may mean for your health.
Oranges
Oranges contain tons of vitamins and minerals.
These delicious citrus fruits are best known for their vitamin C content. Vitamin C is a water-soluble antioxidant with incredible health benefits. Antioxidants can help fight free radicals and reduce oxidative stress.
In addition to all the benefits of vitamin C for human health, oranges also contain fiber which can help keep blood sugar levels stable and reduce cholesterol levels, which is probably good for heart health and preventing heart disease.
Oranges are naturally sweet. These natural sugars from whole fruits contains fewer calories and more nutrients than processed sugars or added sugars.
Calcium Phosphate E341
Calcium Phosphate is a compound that contains calcium and phosphorous. It occurs naturally in bones and teeth.
Although the Food and Drug Administration (FDA) of the United States classifies calcium phosphate as a safe food additive that regulates acidity and stabilizes processed foods, it may not be safe in large quantities over time.
Some possible side effects are diarrhea, nausea, vomiting, loss of appetite, headaches, weakness, muscle and bone pain, and kidney problems.
Calcium Lactate E327
Calcium lactate is a food additive that enhances texture and flavor, preserves, and provides added calcium.
Supplement manufacturers also use it in calcium supplements. To make calcium lactate, calcium hydroxide or calcium carbonate is processed.
Although it's generally assumed to be safe, infant food and formula manufacturers are not allowed to add calcium lactate to their products.
If used in excess, this additive can cause hypercalcemia in some people. Hypercalcemia can cause heart and kidney problems.
Calcium Hydroxide E526
Calcium hydroxide is also known as slaked lime. It's a common food additive used to enhance the texture, preserve, and reduce acidity in foods.
Calcium hydroxide is also used as a disinfectant and is one of the ingredients in cement production.
While food-grade calcium hydroxide is generally considered safe, it can have side effects in some people, including stomach pain, nausea and vomiting, constipation, diarrhea, low blood pressure, headaches, and difficulty breathing.
Vitamin D
Each 8oz serving of Simply Orange Juice contains 2.5mg of vitamin D.
Too much vitamin D over a long period can cause a calcium buildup in the body, which can cause health problems like weakened bones and damaged kidneys.
It's important to have your vitamin D tested occasionally to make sure your levels aren't too high. See how to order your own vitamin D test without a doctor or how to find a functional medicine doctor near where you live.
Natural Flavoring
Natural flavoring is not always genuinely natural.
Since there's no formal definition for it, it may be produced in a lab using dangerous chemicals. Simply does not specify how they produce the natural flavoring used in its products.
Although these flavors may be truly natural, it is also possible that the manufacturer uses potentially dangerous solvents in a process called enzyme-assisted extraction to produce them.
Nutrition Pros
Simply Orange Juice is made with non-GMO oranges and contains no preservatives or added sugar like high fructose corn syrup.
The juice is not made from concentrate or frozen at any point during the manufacturing process.
Nutrition Cons
Although Simply Orange Juice is made with real oranges, it's still a processed product.
As the oranges are sorted and squeezed, the manufacturer collects natural oils to blend into the juice to ensure a consistent taste. One of the steps in the manufacturing process is pasteurizing the juice, which reduces the amount of vitamin C in it and takes away some of its health benefits.
Another potential nutrition con is that the added natural flavoring in the Simply Orange Juice With Mango and Simply Orange Juice With Pineapple may not be truly natural.
Although Simply Orange Juice is manufactured in BPA-free plastic bottles, it's still plastic and contributes to plastic pollution.
Additionally, in late 2022 a man named Joseph Lurenz filed a lawsuit against the manufacturer of Simply Orange Juice. The case claims that the tropical fruit juice product contains toxic chemicals above the federal advisory limits.
The lawsuit discusses the presence of PFAS chemicals discovered by third-party testing. PFAS refers to a category of synthetic chemicals found in food products and other consumer products which may be harmful.
A truly healthy product from the grocery store would have simple ingredients without any preservatives or flavorings. Additionally, pasteurized orange juice doesn't have the same amount of vitamins as juicing fresh fruits at home.
Simply Orange Nutrition FAQs
Can you make Simply Orange Juice at home?
Yes! Just juice ripe oranges! You will have a 100% natural product with all the vitamin C and other healthy compounds it naturally contains. You'll also get that deliciously fresh-squeezed taste without any unnatural ingredients.
How is Simply Orange Juice different from other packaged orange juice brands?
Simply Orange Juice is made from real oranges and does not contain added sugar or preservatives. It's not made from concentrate and never frozen. 
Can I freeze Simply Orange Juice for later use?
Yes, you can freeze Simply Orange Juice. However, the manufacturer does not recommend it. The juice may expand and cause the bottle to crack. Freezing may also deteriorate the taste. 
Can I buy Simply Orange Juice in a glass bottle?
No, this product is only available in plastic bottles.
Can children drink Simply Orange Juice?
Yes, they can. Simply Orange Juice contains no added preservatives or sugar and is made with real oranges.

However, since some people are sensitive to additives, they should stick to the basic Simply Orange Juice without anything added.

Children can eat oranges or enjoy freshly squeezed orange juice made at home for an even healthier option. 
Conclusions
Although Simply Orange Juice is a natural product with minimal processing, it's still pasteurized, which degrades its nutritional value. The oranges are not only sourced from the United States; some come from Brazil and Mexico, leaving a carbon footprint. Simply sells its juices in plastic bottles, which are not good for the environment. For a healthier, more delicious, and earth-friendly choice, buy locally-grown oranges, and squeeze them.
Don't Miss These Product Reviews
If you like this post, consider following me on social media so we can stay connected. I'm on Facebook, Pinterest, Instagram, and YouTube!
About the Author: Carrie Forrest has a master's degree in public health with a specialty in nutrition. She is a top wellness and food blogger with over 10 million annual visitors to her site. Carrie has an incredible story of recovery from chronic illness and is passionate about helping other women transform their health. Send Carrie a message through her contact form.
Note: this post is for informational purposes only and is not intended as medical advice. Please consult your healthcare provider for recommendations related to your individual situation.
This post may contain affiliate links which won't change your price but will share some commission. We are participant in the Amazon Services LLC Associates Program, an affiliate advertising program designed to provide a means for us to earn fees by linking to Amazon.com and affiliated sites.