Oh She Glows Eat Your Greens Detox Soup
This post may contain affiliate links which won't change your price but will share some commission.
If you're looking for an easy, vegan soup that is detoxifying and cleansing, then you'll love this Eat Your Greens Detox Soup. This recipe comes from Angela Liddon's Oh She Glows Cookbook!
Oh She Glows Cookbook Review
Who's a fan of the incredibly talented food blogger, Angela Liddon? <raises hand>
I feel so lucky to have been sent a copy of Angela's gorgeous book, The Oh She Glows Cookbook: Over 100 Vegan Recipes to Glow From the Inside Out, and it is absolutely filled to the brim with everything that we've come to expect from her: inviting, healthful, often decadent, yet totally manageable recipes that are made using real food ingredients.
Besides tons of new, never-been-published recipes, my favorite part of this book is the gorgeous photography. I am such a visual person and nothing inspires me more to get busy in the kitchen than to look at mouth-watering photos.
I would estimate that nearly every two or three recipes has a full color photo and that really makes this book something special in my opinion. Oh, okay, fine. I also admit that I immediately flipped to the Dessert section of Angela's book.
I had the opportunity to meet Angela in person at Vida Vegan Con 2012 and she is as beautiful and sweet in person as she comes across online (that's Ms. Gena Hamshaw between us):
In honor of U.S. VegWeek and Earth Day, Angela's publisher has generously offered to send one lucky reader a copy of the book (note: this giveaway is closed), as well as allowing me to share her recipe for Eat Your Greens Detox Soup with you.
I'm thinking that the Oh She Glows Cookbook would make a fantastic Mother's Day gift or birthday present for anyone celebrating this spring; I'm proud to add it to my cookbook collection:
Eat Your Greens Detox Soup
Sometimes you just need a detoxifying meal, and this soup fits the bill. Whether it's just after the holidays or a seasonal detox, there's nothing like gently cooked vegetables and greens to support the body's natural detox pathways. This recipe has it all! The ingredients include:
onion
carrots
broccoli
mushrooms
turmeric
kale
vegetable broth
fresh ginger
lemon juice
Such amazing, fresh ingredients, and easy to make too. You literally just pile all the veggies into a big pot and let them cook down. In less than 30 minutes, you'll have this detox soup ready.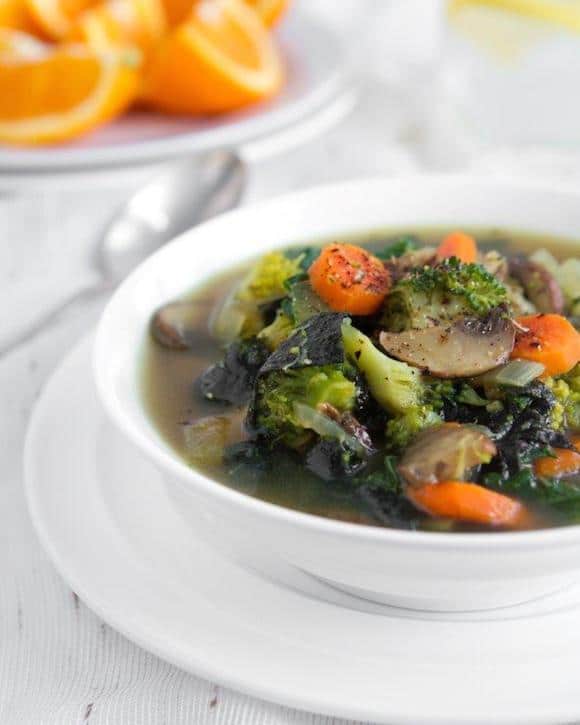 If you are interested in a juice recipe that supports your body's natural detoxification process, try my Detox Juice!
More Healthy Detox Recipes
I hope you make this recipe! If you do, please leave a comment and a starred review below.
And, consider following me on social media so we can stay connected. I'm on Facebook, Pinterest, Instagram, and YouTube!
Print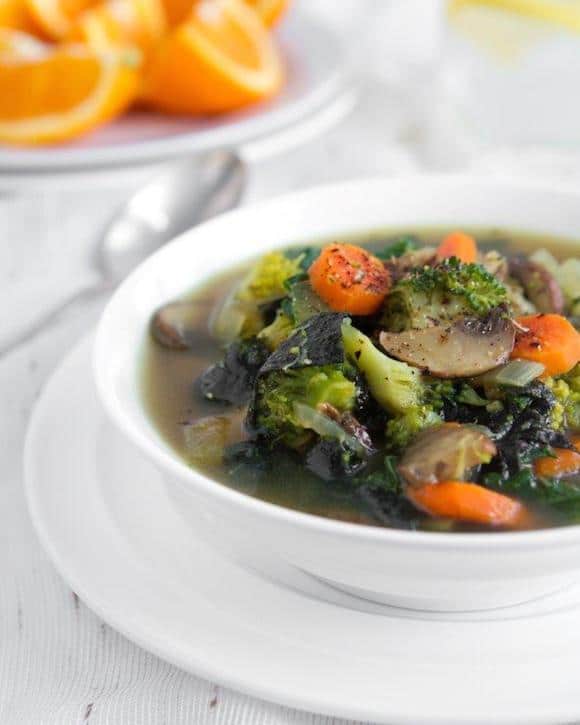 Eat Your Greens Detox Soup
If you're looking for an easy, vegan soup that is detoxifying and cleansing, then you'll love this Eat Your Greens Detox Soup.
Total Time: 45 minutes
Yield: 3 1x
1 1⁄2 teaspoons coconut oil or olive oil
1 sweet onion, diced
3 cloves garlic, minced
3 cups sliced cremini or white button mushrooms (about 8 ounces)
1 cup chopped carrots
2 cups chopped broccoli florets
Fine-grain sea salt and freshly ground black pepper, to taste
1 1⁄2 to 3 teaspoons grated peeled fresh ginger
1⁄2 teaspoon ground turmeric
2 teaspoons ground cumin
1⁄8 teaspoon ground cinnamon
5 cups vegetable broth
2 large nori seaweed sheets, cut into 1-inch (2.5-cm) strips (optional)
2 cups torn kale leaves
Fresh lemon juice, for serving (optional)
Instructions
In a large saucepan, heat the oil over medium heat. Add the onion and garlic and sauté for about 5 minutes, until the onion is soft and translucent.
Add the mushrooms, carrots, and broccoli and stir to combine. Season generously with salt and pepper and sauté for 5 minutes more.
Stir in the ginger, turmeric, cumin, and cinnamon and sauté for 1 to 2 minutes, until fragrant.
Add the broth and stir to combine. Bring the mixture to a boil and then reduce the heat to medium-low and simmer until the vegetables are tender, 10 to 20 minutes.
Just before serving, stir in the nori (if using) and kale and cook until wilted. Season with salt and pepper and a squeeze of fresh lemon juice, if desired.
Notes
Reprinted by arrangement with AVERY, a member of Penguin Group (USA) LLC, A Penguin Random House Company. Copyright © GLO BAKERY CORPORATION, 2014.
Author: Angela Liddon
Prep Time: 25 mins
Cook Time: 20 mins
Category: Soup
Method: Stovetop
Cuisine: Vegan
Nutrition
Serving Size: 1
Calories: 200
Keywords: oh she glows eat your greens detox soup
This post may contain affiliate links which won't change your price but will share some commission. We are participant in the Amazon Services LLC Associates Program, an affiliate advertising program designed to provide a means for us to earn fees by linking to Amazon.com and affiliated sites.