7 Best Substitutes for Ghee
This post may contain affiliate links which won't change your price but will share some commission.
Ghee is a wonderful cooking fat, but it can be expensive and hard to find. If you're looking for a substitute for ghee in your recipes, this article includes seven excellent alternatives.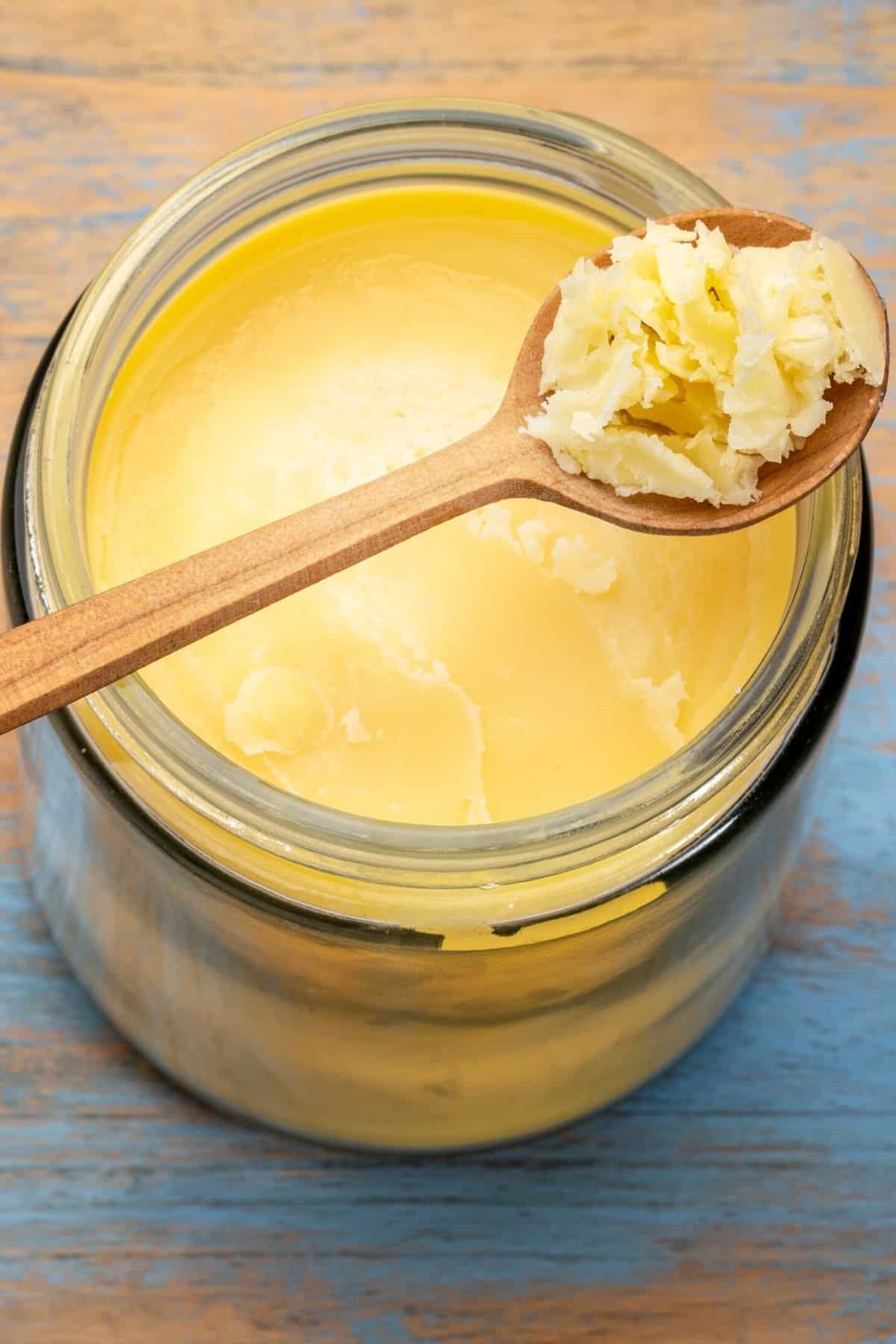 What is Ghee?
Ghee is highly clarified butter, produced using an Indian technique. Indeed, the word "ghee" is Hindi for "fat."
The start of the clarifying process is the same as with the French technique. This is where the milk solids and butterfat in regular butter are separated and the water is cooked out.
But the Indian technique goes one step further, simmering the milk solids for a while until they become slightly caramelized before straining. This extra step gives ghee a delicious, nutty flavor and a deeper color than butter.
Ghee has been an important part of East Asian and Indian cooking for many years because of its rich flavor. But there are other advantages to using ghee too.
Because it does not contain water, it has a higher smoke point than butter – 485º F for ghee compared to 350º F for butter.
When it comes to cooking, a high smoke point is a good thing. When oils and fats are heated above their smoke points, they can impart a burnt flavor to foods. Exceeding the smoke point may also lead to the formation of carcinogens (see my related article on the healthiest cooking oils).
Because the smoke point of ghee is so high, it is suitable for high-heat cooking like sauteing and frying.
In addition, the clarifying process makes ghee shelf-stable, so it doesn't have to be stored in the fridge. It also reduces its lactose content, although it's important to note that it is not completely lactose-free.
Is Ghee Healthier than Butter?
Although you will often read that ghee is a healthier alternative to butter, experts agree that this isn't really the case.
Both ghee and butter contain roughly the same amount of fat and calories and share very similar nutritional profiles. Both are free of trans fats, which are the unhealthy hydrogenated oils that you tend to find in processed foods like cakes and cookies.
The main benefits of ghee over butter in terms of health are the higher smoke point and the slightly reduced lactose levels, which may make ghee better tolerated by people sensitive to dairy (see my related post on the reasons to go on a dairy-free diet).
Uses for Ghee
Ghee can be used just like any cooking fat and is a great choice for high-heat cooking. It is also a good alternative to coconut or vegetable oil in baked goods. Because it has such a rich flavor, it is an excellent finishing oil too!
Here are some great ideas for using ghee:
Drizzle it over cooked vegetables before serving (or use it to make ghee-roasted vegetables)
Pour melted ghee over your popcorn
Use it as an alternative to butter in your mashed potatoes
Spread it on a piece of toast
Best Substitutes for Ghee
Because of the way it is made, ghee is pretty expensive. It also contains dairy, so it may be unsuitable for someone with lactose intolerance or following a plant-based diet.
Whether these are the reasons you need a substitute for ghee – or you simply don't have any to hand – the good news is that there are plenty of good alternatives. What's more, these are all ingredients that you are likely to already have at home!
1. Avocado Oil
Another simple ghee substitute, avocado oil is a safe and available cooking oil.
While it has a similar smoke point to ghee and is ideal for high-heat cooking, it has very little flavor. If you are preparing a recipe where the flavor of the ghee is important, I would recommend mixing a little butter with the avocado oil.
I wouldn't recommend avocado oil as a substitute for ghee or butter in baked goods, as it tends to produce slightly denser results.
For every 1 cup of ghee use 3/4 cup of avocado oil.
2. Olive Oil
Olive oil makes an interesting alternative to ghee. It is darker in color – particularly if you use extra virgin olive oil – but, like ghee, it is rich and aromatic. Research has also shown it to be one of the healthiest oils around!
You can use it as a replacement for ghee in recipes where a nutty flavor profile is required and it is good for salad dressings, pan-frying, and stir-frying. You can also use it for baked goods like cookies or brownies, although it doesn't work well in cakes as it can give them a heavy texture.
For every 1 cup of ghee use 3/4 cup of olive oil.
3. Coconut oil
Coconut oil has a very similar structure to ghee and comes in two varieties – refined and unrefined. Unrefined is the tastiest and has quite a strong flavor of coconut. It is very good for baked goods and adds an interesting element to desserts in particular!
Refined coconut oil has a higher smoking point than unrefined and is the better choice for frying or cooking at higher temperatures.
For every 1 cup of ghee use 1 cup of coconut oil.
4. Sesame Oil
Sesame oil is another flavorsome oil that makes a good substitute for ghee. It is rich in antioxidants and has been shown to have anti-inflammatory properties.
It is also a good source of healthy omega 6 fatty acids.
There are a few varieties of sesame oil, including cold-pressed, light, and toasted. The toasting process gives the sesame seeds quite an intense, nutty flavor, so toasted sesame oil is probably the best one to choose for dishes where the flavor is important.
Since it has a high smoking point, you can use sesame oil for everything from sauteing to roasting. It also makes a delicious finishing oil for noodles, rice dishes, and salads.
For every 1 cup of ghee use 3/4 cup of sesame oil.
5. Butter
As the basis for ghee, butter is a natural alternative and works particularly well in baked goods!
But it is important to remember that it has a much lower smoking point. Mixing butter with olive oil can help prevent burning your food, whilst still ensuring the flavor is rich and nutty.
For every 1 cup of ghee use 1 cup of butter.
6. Sunflower Oil
Just like ghee, sunflower oil has a high smoking point of 450º F. This means you can confidently use it for deep-frying, pan-frying, and stir-fries. It is also aromatic, with a slightly nutty flavor, so you can use it for dressings, too.
For every 1 cup of ghee use 3/4 cup of sunflower oil.
Homemade Ghee
It's not too difficult to make your own ghee, and if it's an ingredient that you use often then you might find the homemade version a cheaper option.
Just simmer a block of butter in a saucepan very gently until it separates and the milk solids sink to the bottom. Continue to cook very gently until the milk solids turn golden in color, skimming off the foam that rises to the top. For a pound of butter, this can take around 30 to 45 minutes.
Strain the liquid through a fine-mesh strainer. You should now be left with the ghee, which will be gold in color. For the very best results, start with a good quality unsalted butter made from the milk of grass-fed cows.
Best Recipes Using Ghee
Here are some yummy and easy recipes using ghee that you might like.
Conclusions
Fortunately, there are plenty of ingredients you can use in place of ghee, some with their own unique health benefits! I hope this guide has helped you find a suitable substitute to use in your recipe and that you enjoy any subtle but delicious differences to your finished dish.
If you like this post, consider following me on social media so we can stay connected. I'm on Facebook, Pinterest, Instagram, and YouTube!
This post may contain affiliate links which won't change your price but will share some commission. We are participant in the Amazon Services LLC Associates Program, an affiliate advertising program designed to provide a means for us to earn fees by linking to Amazon.com and affiliated sites.