If you're into juicing, you might be wondering how you can use the pulp? I have an answer in these delicious, healthy dehydrated Carrot Juice Pulp Crackers that are vegan and gluten-free.
These crackers are an evolution of my Green Juice Crackers, with the most significant change being the inclusion of raw, soaked almonds.
It all starts with carrot pulp, saved from my juicer (I linked to the one I have using my affiliate link on Amazon). These Carrot Juice Pulp  Crackers call for about 2 cups of firmly packed carrot pulp, this results from the juicing of about 1 pound of carrots.
I'm not huge into juicing mainly because I prefer to just put my veggies in a smoothie, but it's something I do now and again, either to drink or to use as a base for a soup.
For this recipe, you need to soak raw almonds in water overnight, and then rinse and drain them. Feel free to take a further step of removing the skins from each almond, but that's a lot of work. You can also use a different nut such as cashews, if you prefer.
After putting the almonds in a food processor and blending them into a chunky texture, you then add the carrot pulp, ground flax seeds, ground chia seeds, coconut aminos, and all sorts of seasonings:
It's kind of a messy process getting everything together, but it's worth it, I promise!
Water helps make it easily blend into a healthy batter for these Carrot Juice Pulp Crackers:
This recipe makes enough for two dehydrator sheets. Again, another appliance is required for these vegan Carrot Juice Pulp Crackers. I used an Excalibur dehydrator for these.
I recommend using an off-set spatula like this one to spread the dough thinly: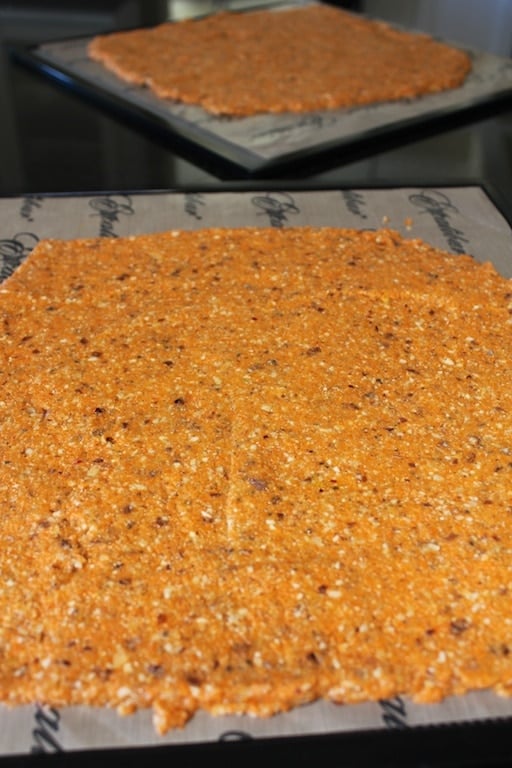 You can read in the recipe directions how long I bake the crackers, but you'll need to score it into cracker shapes fairly early in the baking process:
Am I the only one who keeps her dehydrator in the laundry room next to the dust buster? It was either there or in the bathroom with the litter box (gross!):
It takes many hours to get these Carrot Juice Pulp Crackers crisp, but this is my new favorite snack. They're so crisp and flavorful!
Print
Carrot Pulp Crackers (Vegan & Gluten-Free)
---
Author:

Prep Time:

30 mins

Cook Time:

16 hours

Total Time:

16 hours 30 minutes

Yield:

1 dozen

Category:

Side dish

Method:

Dehydrator

Cuisine:

Raw food, vegan, gluten-free
Description
A unique cracker recipe made using the pulp from juicing!
---
Ingredients
1 cup almonds, soaked overnight, rinsed, and drained
2 cups firmly packed carrot pulp
2 tablespoons ground flax seed
1 tablespoon ground chia seeds
1 tablespoon coconut aminos
1 teaspoon no-salt seasoning
½ teaspoon red pepper flakes
1 tablespoon dried onion
½ teaspoon smoked paprika
3 saffron threads (optional)
2 cups water
---
Instructions
Place almonds in a food processor and process on high until broken into medium crumbles.
Add carrot pulp, ground flax seed, ground chia seeds, coconut aminos, no-salt seasoning, red pepper flakes, dried onion, smoked paprika, and saffron threads (optional). Pulse ingredients to combine and then turn the processor on high, pouring in the water through the feeder tube. Add enough water that ingredients form a pourable dough.
Divide the dough between two Teflex-lined dehydrator trays. Use an offset spatula to spread thinly. Dehydrate at 125 degrees for 2 hours. Use a knife to score the dough into cracker shapes and dehydrate for 8 hours at 115 degrees. Break the dough into crackers, flip, and bake for 6-8 more hours at 115 degrees.
Store crackers in an air-tight container for up to 5-7 days.
Items recommended for this Vegan & Gluten-Free Carrot Juice Pulp recipe:
Other healthy recipes you might like made in the dehydrator (all vegan and gluten-free):
I love serving these healthy crackers with a green salad for some extra crunch and flavor:
Be sure to pin this recipe to your favorite healthy Pinterest board to save it for later!
Join my weekly newsletter list to get all the latest news and recipe links delivered directly to your inbox.
Sign up now and unsubscribe at any time. I will never sell your name or spam you, I promise!