10+ Best Juices for Bloating
This post may contain affiliate links which won't change your price but will share some commission.
Are you looking to reduce bloating with a tasty and refreshing juice? Here are some of my favorite juicing recipes that are specifically for reducing bloating. These juice recipes are made with common ingredients that are known to help with bloating.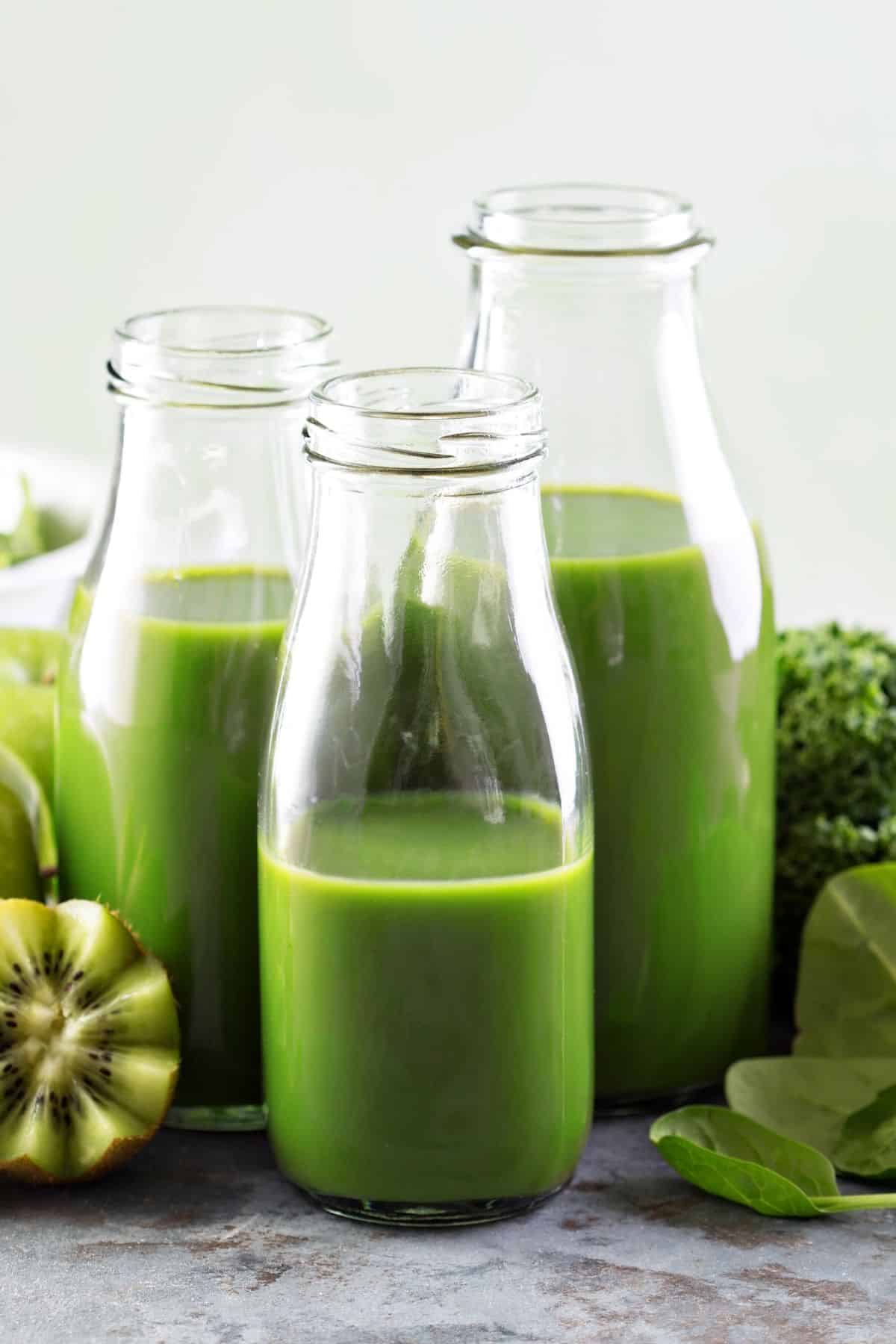 Bloating can be described as an uncomfortable feeling of fullness or even swelling in the stomach area.
It may be due to a variety of reasons including water retention, digestive issues like constipation or irritable bowel syndrome, eating too much, or eating foods that don't agree with you.
Some foods like cruciferous vegetables are notorious for causing some people to feel bloated. This is because these vegetables can be more difficult on the digestive system.
Most healthy people will have 1-3 bowel movements per day which is a sign of healthy digestion.
There may be other reasons that cause bloating as well, including hormonal imbalances and issues with the small intestine.
See my related article on how to reduce bloating with perimenopause and my round-up of the best smoothies to lose belly fat.
Ingredients to Decrease Bloating
The good news is that there are natural ways to help feel less full or bloated, and juicing is one of those ways!
Juicing in particular may be a great way for some people to feel slimmer, and this is because the process of juicing helps reduce the amount of fiber found in both fruits and vegetables. This means that you can consume juice recipes without having to eat too much fiber which can slow down the digestive process in the GI tract.
Here are some ingredients that contain special characteristics to help reduce bloating.
Pineapple: Contains bromelain, an enzyme that can help break down proteins and improve digestion.
Ginger: Known for its anti-inflammatory properties, it also helps with digestion and can soothe the stomach, reducing bloating and gas. Ginger is such a great ingredient to add to most juices.
Peppermint: Peppermint has been shown to relax the gastrointestinal tract, which can help reduce bloating.
Fennel: Fennel seeds have been used for centuries to soothe the digestive tract and reduce bloating.
Cucumber: Cucumbers are high in water and promote hydration, which can help prevent and alleviate bloating. These vegetables contain excess water which helps them act as a natural diuretic.
Celery: It has a high water content and is great for hydration and reducing bloating.
Lemon: Its high acidity level can stimulate the production of hydrochloric acid, which can improve digestion and reduce bloating. You can either juice a whole peeled lemon or add lemon juice to your juices.
Papaya: It contains an enzyme called papain which aids digestion and can help reduce bloating.
There are of course lots of other foods and ingredients that can help with bloating, from green tea, peppermint tea, peppermint oil, whole grains, and sweet potatoes, but these aren't necessarily great ingredients for putting into juices.
FAQs
Is juicing better than eating whole fruits and vegetables for reducing bloating?
While juicing can provide a quick and easy way to consume fruits and vegetables, it does not necessarily mean it's better than eating whole fruits and vegetables. Juicing removes most of the fiber from these foods, but may also negatively affect blood sugar and gut health.
How often should I drink these juices to see an effect on bloating?
Drinking these juices once or twice a day could potentially help with bloating. However, it's important to remember that everybody is different and what might work for one person might not work for another. Also, it's important to consume a balanced diet and not just rely on juices to get your nutrients.
Can I drink these juices if I'm on medication?
While the ingredients listed are generally safe for most people, certain ones like grapefruit can interact with medications. It's always recommended to check with a healthcare provider before starting any new diet or supplement routine.
Can juicing cause bloating?
Some people may find that certain types of fruits and vegetables cause bloating, particularly if they're not used to consuming them. Starting with smaller quantities and gradually increasing them can help your body adjust.
Can I just use juice cleanses for bloating?
While juice cleanses might help temporarily, they're not a long-term solution for bloating or other health issues. It's important to maintain a balanced diet and lifestyle, including regular exercise, plenty of water, and a diet rich in fiber.

Remember, if bloating is a chronic issue for you, it's important to seek medical advice. Persistent bloating can sometimes be a sign of more serious health issues.
Best Juices for Bloating
There is not just one best juice for bloating, but this round-up includes over 10 of the best juicing recipes that might help with feeling less bloated. They dot his by reducing fluid retention and sometimes even having a gentle laxative effect.
Be sure to ask your healthcare provider if you experience bloating for longer than a few days, as bloating may be a sign of other issues.
Now, onto the recipes!
More Helpful Juice Resources!
Conclusions
Incorporating juices that feature digestion-boosting ingredients such as pineapple, ginger, peppermint, fennel, cucumber, celery, lemon, and papaya is a flavorful and refreshing way to combat bloating. These juices can beautifully complement a balanced diet filled with other whole fruits and vegetables, enhancing your overall wellness.
If you like this post, consider following me on social media so we can stay connected. I'm on Facebook, Pinterest, Instagram, and YouTube!
About the Author: Carrie Forrest has a master's degree in public health with a specialty in nutrition. She is a top wellness and food blogger with nearly 10 million annual visitors to her site. Carrie has an incredible story of recovery from chronic illness and is passionate about helping other women transform their health. Send Carrie a message through her contact form.
Note: this post is for informational purposes only and is not intended as medical advice. Please consult your healthcare provider for recommendations related to your individual situation.
This post may contain affiliate links which won't change your price but will share some commission. We are participant in the Amazon Services LLC Associates Program, an affiliate advertising program designed to provide a means for us to earn fees by linking to Amazon.com and affiliated sites.